LetsRun.com's 2009 USATF Coverage: Day 2 Recap: Men's 5k - Jerry Schumacher's Boys Shine
by: LetsRun.com
June 26, 2009

*More Photos
Eugene, OR - Friday, June 26 - This race was a thriller.
At the bell, seven guys - yes seven guys were still within striking distance of each other. In fact all seven were less than 1 second apart. Bolota Asmerson was in the lead at 12:26.86 and he was followed closely by Chris Solinsky, Matt Tegenkamp, Evan Jager, German Ferandez, Jonatahn Riley, and Sean Quigley (listed in order). Quigley was only .99 behind.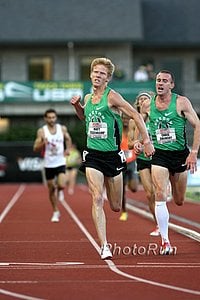 Over the last lap, Tegenkamp and Solinksy let it rip. In the end, it wasn't a surprise that the veteran Tegenkamp had the best speed as the guy just missed a medal at the 2007 world champs when the race was extremely tactical. Tegenkamp's blistering last lap of 53.47 gave him his first US 5k title as he pulled away in the last 50 to win in 13:20.57. Solinsky also ran a 53 last lap (53.90) and was a well-deserved 2nd in 13:20.82.
The surprise of the evening however was 20-year old Evan Jager who ended up 3rd. The guy who just missed out on competing at last year's US Olympic Trials in the 1,500 as the first guy not to make the field, more than made up for that exclusion this year as he finished third in 13:22.18. Has the US ever had a 20-year old run 13:22? Please tell us as we seriously doubt it.
All of the top 3 train in Portland under the watchful eyes of Jerry Schumacher.
Bolota Asmeron was 4th in 13:24.00 and German Fernandez ended up 5th in a new American junior record of 13:25.46. Another Schumacher coached athelte, Jonathon Riley, was 6th in 13:26.90. Quigley was 7th and Fam who did much of the early leading was 8th.
5k Race Video (You Can Drag the Slider to Watch the End of the Race if You Want to Skip to the End)

*Lap by Lap Splits Here.
Finals                                                          
  1 Matt Tegenkamp               Oregon TC Elite       13:20.57 
  2 Chris Solinsky               Oregon TC Elite       13:20.82 
  3 Evan Jager                   Oregon TC Elite       13:22.18 
  4 Bolota Asmerom               Nike                  13:24.00 
  5 German Fernandez             Oklahoma State        13:25.46 
  6 Jonathon Riley               Nike                  13:26.90 
  7 Sean Quigley                 Puma                  13:31.98 
  8 Anthony Famiglietti          Saucony               13:33.63 
  9 Brent Vaughn                 Nike                  13:38.30 
 10 Scott Bauhs                  adidas                13:39.06 
 11 Stephen Furst                Adidas Raleigh TC     13:54.39 
 12 Aaron Braun                  Adams State           13:56.29 
 13 Matt Clark                   McMillan Elite        13:56.84 
 14 Ryan Bak                     Oregon TC Elite       13:58.76 
 15 Brandon Bethke               Arizona State         13:59.47 
 16 Stephen Haas                 Team Indiana/Brk      14:02.36 
 17 Brian Medigovich             unattached            14:14.09 
 18 Jordan Horn                  McMillan Elite        14:14.33 
 19 Scott Wall                   unattached            14:15.63 
 20 Andrew Bumbalough            Georgetown            14:15.95 
 21 David Nightingale            ZAP Fitness           14:16.02 
 22 Michael Maag                 Princeton             14:16.72 
 23 Thomas Morgan                ZAP Fitness           14:26.55 
 24 Matthew DeBole               N Y A C               14:37.50 
 -- Galen Rupp                   Oregon                     DNS 
 -- Mikhail Sayenko              unattached                 DNS 
 -- Stephen Pifer                Oregon TC Elite            DNS 
 -- Derek Scott                  Team Indiana/Brk           DNS