Women's 1,500m: Shannon Rowbury Back Atop US 1,500m Ranks
by: LetsRun.com
June 27, 2009
*Day 3 Photos (1,500, Steeple, 400, PV)
Shannon Rowbury used a strong final lap to overcome a gutsy mid-race surge by Christin Wurth to defend her USATF 1,500m title and regain her position atop the US 1,500m ranks (with the caveat that 3:59 1,500 meter runner Jenny Barringer wasn't in the field).
The 2008 Olympian Rowbury had dominated the US ranks at 1,500m in 2008 (she ran 4:00.33 for 2nd in the prestigous Gaz De France Paris Golden League meet and ended up the season a comfortable US #1), but despite having run 4:03.92 to start her 2009 1,500 season at the Prefontaine meet, she was surpsrisingly beaten by 3 Americans in that race (Jenny Barringer (3:59.90), Anna Willard (4:01.44), and Christin Wurth (4:01.72)). The formidable field also included Rowbury's former training partner and 2008 Olympian Erin Donohue.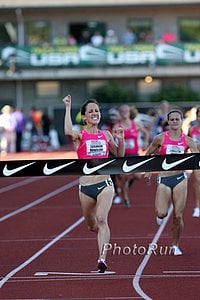 Christin Wurth Gets Big Lead On Field
After a fast opening 100, the pace slowed tremendously (67.75 at the 400) and got slower. Then, Christin Wurth blew things open 600m into the race. She went to the front very hard and did not look back. The pace had gotten so slow the 3rd 200, that despite gapping the field, she only ran 66.8 for the 2nd 400 (1:14.5). Wurth extended her lead even further on the third lap and she was three seconds ahead of the nearest chaser, Erin Donohue, at the bell (Wurth ran a blazing 62.25 to reach the bell in 3:01.64 to Donohue's 3:04.65). If we had to guess, we'd estimate Wurth's middle 600 of the race - from 600 to 1,200 - was probably in the neighborhood of 1:33.
Rowbury and Willard were right with Donohue at the bell and it appeared perhaps they might be playing it safe to just try and get top 3 and lock up the World Championships spots.
Rowbury, however, was not content to battle it out for top 3 and she began her chase after Wurth on the turn after the bell. With 200 to go, it was clear she was gaining on Wurth as she was just less than two seconds down and charging hard. Coming off the final turn, it was clear she was going to pass Wurth. Rowbury did pass her on the final straight as she ran a stellar 1:00.30 over the final 400 to get the US crown as she punched her fist in the air triumphantly at the line. A very strong race for Rowbury with great tactics and tremendous closing speed.
Wurth held on for a much-deserved 2nd as she created all of the race's drama. Willard passed Donohue for 3rd on the final lap. Willard is attempting the unprecedented 1,500/steeplechase double at these championships.
A very exciting race indeed.
Post Race Comments: Willard Confirms Steeple Barriers At Wrong Height, Donohue Now Training With Legends Gags And John Trautmann
In her post-race comments, Willard said she did not feel great on Saturday evening in the 1,500 final and confirmed that the steeplechase water barrier in Friday's semifinals was set at the wrong height. Fellow steeplechaser Nicole Bush injured herself in the water jump, so that is causing a bit of controversy at the Trials. Willard also said she was not surprised by Wurth's strong move 600m into the race as she had used that move earlier in the year.
Despite having run 4:01 already this year, Wurth said she has mostly been doing base work in her training and that Rowbury's performances last year can be credited for raising the bar and spurring Wurth to better performances in 2009.
Erin Donohue, who had an acrimonius parting with coach John Cook after last year Olympic season, said she is back training in hometown New Jersey under the guidance of legendary coach Frank Gagliano. Donohue had left Cook after Cook told her she could not become a 4:00 1,500m runner. Soon Olympic silver medallist Shalane Flanagan left the group as well, leaving only Rowbury with Cook. Donohue indicated she is not only under Gags' guidance (Gags had moved back East this year after coaching the Oregon Track Club and Nike Farm Team), but that her training partners are no other than John Trautmann and Tom Nohilly. Yes, ladies and gentleman, Donohue is training with two-time US 5,000 champ John Trautmann (now 41 from what we can calculate). For the youngsters who have never heard of Trautmann, read this describing the 1992 Olympic Trials, "where he buzzed past Bob Kennedy in the 1992 Olympic Trials 5,000-meter homestretch as if Kennedy were stuck in neutral."
Apparently, Nohilly is in roughly the same shape as Donohue, while Tratumann is trying to get back to that level after working as a big Wall Street guy for roughly a decade.

Three-times-in-a-row USATF champ (2005-2007) Treniere Clement, who had an off 2008 and a slow start to 2009, was a much-improved fifth, with Lauren Centrowitz (daughter of former American record holder at 5k Matt), who was 3rd at NCAAs, capping a very fine senior season in sixth.
Interviews with Donohue, Willard, and Wurth below if you're interested in that. We recapped the main points of what they said above.
Full Race Video Below Interviews
| | |
| --- | --- |
| Erin Donohue On Training With Gags And American Legend John Trautmann | Anna Willard On The Steeple Double And The Water Barrier Being Set Wrong |
| Christin Wurth Runner-Up (1:59) | The Champ Shannon Rowbury Via Runnerspace |

*Lap-by-lap splits are here.
Finals
  1 Shannon Rowbury              Nike                   4:05.07
  2 Christin Wurth               Nike                   4:06.00
  3 Anna Willard                 Nike                   4:07.70
  4 Erin Donohue                 Nike                   4:08.96
  5 Treniere Clement             Nike                   4:09.10
  6 Lauren Centrowitz            Stanford               4:11.21
  7 Heidi Dahl                   East Tenn St           4:11.58
  8 Molly Lehman                 Duke                   4:12.13
  9 Amy Mortimer                 Reebok                 4:12.94
 10 Margaret Infeld              Georgetown             4:13.25
 11 Sarah Bowman                 Tennessee              4:16.29
 12 Lauren Hagans                unattached             4:17.05
Full 1,500m Women's Final Race Video