Spira Shoes Update: The Unbanned Banned Shoe
by: Weldon Johnson
LetsRun.com
March 6, 2008
Spira, the shoe company known for the internal springs in its shoes, has been the center of a lot of controversy on letsrun.com. I blasted the company after last year's Boston Marathon and many message boarders have continued to pillory it since.
The nature of the hatred is centered on Spira's "Banned in Boston" campaign. In 2006, Spira touted the fact that its shoes were banned by USATF and offered a $1,000,000 bonus to any runner who won the Boston Marathon in its shoes. Flouting the rules of our governing body does not sit well with letsrun.com readers.
Spira then ratcheted up the PR blitz at last year's Boston Marathon when they talked about "putting five guys in the top fifteen" and bragged about being "Banned in Boston." When the gun went off, the contenders settled into a slow pace. However, way out front were two Kenyans running all alone in bright yellow shoes. "Spira shoe guys," was my immediate thought, and I was right. The two guys faded badly in the second half of the race, but it seemed to be the perfect publicity stunt. Although Spira garnered praise on CNBC for its marketing genius, it drew my wrath in a post-race editorial where I said of Spira flouting the rules, "One company attempted to ruin my favorite Monday of the year and to make a mockery of our sport and its rules, all for a little self promotion." Spira CEO Andy Krafsur was adamant that Spira did not instruct its runners to run in the lead. He said their only compensation before the race was for a 50% bonus on any winnings they were to win in the race. He said after the fact he did compensate them extra for all the flak they took.
Meanwhile, Spira had also filed suit against USATF and IAAF alleging the two groups had violated the Sherman Anti-Trust Act and restricted trade by banning Spira's shoes. Great, another frivolous lawsuit for publicity. USATF seemed to agree when it released a statement "confirming that USATF has not examined or 'banned' the shoe, as we have publicly stated multiple times over the last year-plus."
Spira continued the renegade marketing with its "Defy the Ban" 10k in El Paso in October. Hillary Kimaiyo ran 26:01 for 10k on a course that dropped 1,300 feet. Spira talked about him "smashing Haile Gebrselassie's world record" for 10k. Ok, 26:01 is really fast, but any serious runner knows that a course that drops 1,300 feet is not world record eligible (a lot of companies stretch the truth with their record claims, Nike included, but this is taking it to the extreme).
In October, Spira CEO Andy Krafsur, posted an "Open Letter from Spira" on the letsrun.com message board, saying that despite USATF's pronouncements the shoes were banned by USATF. Krafsur then emailed me to enquire about possibly advertising on LetsRun.com. I wanted to read him the riot act, not allow him advertise on letsrun.com.
Spira: Hated So Much Races Tried to Pretend They Didn't Exist


Doctored Photo on Houston Marathon Website

Actual Photo by Victor Sailer
USATF: Spira Shoes Not Banned, Spira's 'Frivolous' Lawsuit Dropped
Before talking to Mr. Krafsur, I emailed Craig Masback, then the CEO of USATF, about the status of the Spira lawsuit. Masback wrote back saying, "Concerning the lawsuit, on the day before the deadline for Spira's response to our motion to dismiss their suit -- a suit we regarded as frivolous and publicity-seeking -- Spira dismissed its case. It is important to remember the bottom line: the rules at issue have been in place for decades, and Spira's shoes never, in fact, had been banned by anybody."
So I called Mr. Krafsur expecting to have a very unpleasant phone conversation. Much to my surprise, when I hung up the phone, I had a lot of sympathy for his situation. I disagreed with some of his tactics and argued with him over a number of issues. But I did see some of the logic behind his main arguments. I told him I would write an article presenting his views because I felt it was informative and he was willing to engage in the debate.
I never got around to writing the article in 2007, but I still had it in the back of my mind. Then Craig Masback resigned in January as CEO of USATF to become the Directore of Business Affairs for Nike's Global Sports Marketing Division and I heard from Mr. Krafsur again. He had made some off-the-record comments to me in 2007 about USATF's relationship with Nike, but said he was now willing to go on the record. So, here are some of his key points.
Spira: The Shoes Are Banned by USATF
Krafsur's main contention is that spring shoes are banned by USATF rule 143.3, despite USATF's public statement that the shoes are not banned. USATF Rule 143.3(a) says:
"A competitor may compete in bare feet or with footwear on one or both feet. The purpose of shoes for competition is to give protection and stability to the feet and a firm grip of the ground. Such shoes, however, must not be constructed so as to give the competitor any unfair additional assistance, including the incorporation of any technology which will give the wearer any unfair advantage, such as a spring or similar device. A shoe strap over the instep is permissible."

Mr. Krafsur is a lawyer and he says USATF's public announcements mean nothing. What matters is the written rule. He said, "I'm a lawyer. To me it is incredibly clear...The shoes are banned."
I argued with Mr. Krafsur that his shoes were only banned if it was proven that springs give runners "an unfair advantage". Mr. Krafsur stated that by specifically mentioning springs, rule 143.3 presupposes that springs give an unfair advantage, otherwise there would be no reason to use the word "spring." He said an athlete who finished behind a Spira athlete would have grounds for winning a lawsuit with the way the rules are currently written.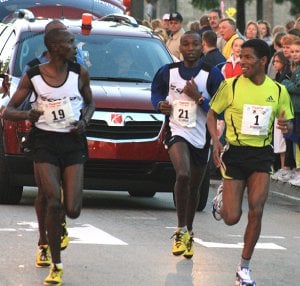 Geb and Spira and
the Apocalypse
Mr. Krafsur also points to the history of the USATF rule as evidence that his shoes are banned. Up until 2005, the USATF and IAAF rules on shoes were virtually the same. Both specifically mentioned springs. However, in 2005, the IAAF changed its rule and removed the mention of springs (the change can be found here on page 19), saying that shoes may not give athletes an "unfair advantage" and that "all types of competition shoes must be approved by IAAF." The IAAF rules can be found here. Rule 143.2 discusses shoes. The IAAF does mention springs in 144.2, where it bans a "technical device that incorporates springs, wheels or any other element that provides the user with an advantage over another athlete (the rule that has caused amputee Oscar Pistorius trouble).
Mr. Krafsur contends that USATF, like IAAF, could have easily removed the mention of springs from the rules if in fact the shoes were not banned. But they have not done so. He said, "They had a chance to change it (the rule) and didn't do it. They kept the dispute alive. They created this." (A legal journal, that discussed Spira's case against the IAAF and USATF, talked about the shoes being "implicitly" banned and can be found here.)
Conflict of Interest with Nike and USATF?
Krafsur's criticism of USATF is partially tied to their relationship with Nike. (Nike is the official apparel sponsor of USATF). Because of USATF's sponsorship agreement with Nike, Krafsur argues USATF employees have little to no interest in settling the Spira dispute or even clarifying the rules. Krafsur contends that Masback's decision to leave for Nike shows there is an inherent conflict of interest. Krafsur stated his views clearly in an email to me last month:
"Before we announced the 'Banned in Boston' idea, I called the USATF to give them a heads up and see if we might work on something together to promote the sport. We saw this as an opportunity for everyone in the Track and Field world. Run longer, harder with lessened recovery time and avoid injury. It's the holy grail!

I was really excited and naively thought we'd be embraced, until I reached someone in the USATF marketing department who told me, 'well we can't work with you on this, we're sponsored by Nike.' I kinda felt like Ralphie from 'A Christmas Story' when he realized his Lil' Orphan Annie secret decoder ring was nothing but a commercial for Ovaltine. From that point forward, I knew exactly where we stood.

From our perspective, Craig Masback and his legions have been working to protect their main benefactor against any real or perceived threats. He may have changed jobs, but he didn't change employers. His recent announcement merely confirms what we've always known.

Let me be clear, Nike doesn't care one iota about Spira. We're so small, most people in Beaverton don't know we exist. We're at best an entertaining side show for a few of the wingnuts in the lab and marketing departments. But those in the industry who depend on Nike and feel the need to protect them, like the USATF, are very concerned and threatened by us, and want to ensure that their largesse is protected at all costs. The same holds true for the big marathons and races and their directors who wish to protect their shoe sponsors and USATF relationship from the invading hordes from El Paso.

I will say there are few thoughtful, well-meaning people in these organizations who see this for what it is and are sympathetic to our plight. But it's risky to for them to say anything publicly because their jobs and livelihoods could be on the line. It's become very accepted and in fact fashionable to bash me and Spira, and lump us into the same category as other undesirables in the sport like the drug cheats. In a very real way, Weldon, you and letsrun.com have unwittingly helped perpetuate this after your piece on Boston last year. I am grateful that you're giving us this opportunity to tell our side. You will get flack for it. Mark my words! Thanks for having the guts to take this on."


Much Better Than the Yellow Thing

Waiting For The IAAF
Krafsur is more supportive of the IAAF rule that says all shoes must be approved by the IAAF and can not give an unfair advantage. He said, "The IAAF actually did it right... We're going to amend the rules so you have to have your shoes approved by us. Which I think is prudent." However, he claims he submitted Spira's shoes to the IAAF in September 2006 for review and never heard a response. In April of 2007, he inquired again about the status of the review, but now nearly a full year later has still not received a ruling. I contacted Imre Matrahazi,

the IAAF Technical Manager, on this issue and he said, "Technical Committee will discuss this point at its meets next month (March)." We understand the meeting is this weekend.

A favorable ruling by the IAAF on the shoes would seem to represent the best solution for Spira. If the IAAF rules that the shoes don't give an unfair advantage, then USATF will have some motivation to remove the word "spring" from the rules, which is what creates the doubt as to whether the shoes are banned.

Krafsur was non-committal as to whether the shoes actually help an athlete in competition, but said the biggest benefit of the shoes come in training and via injury prevention. He said the shoes, in addition to providing more energy return than any other shoe, reduce peak impact stress by 20% and also don't break down since they are based on a mechanical device. At 200 miles, he claims the return mechanism of the shoe is still "like new." These factors allow an athlete to train harder and recover better.

Krafsur said all the shoe companies are trying to do the same thing, but that his technology just does it better. "This would be a non-issue if Nike developed this shoe....USATF would say 'People are going to run longer and harder with less strain on their body? That's great.'"

If the IAAF rules in Spira's favor, it seems that the dispute may come to an end. USATF will have to clarify the rules or at least make them match their public pronouncements. If the IAAF rules against Spira, Krafsur did not rule out more legal action despite withdrawing his first lawsuit against the IAAF and USATF.

In that lawsuit, Krafsur said that the IAAF presented very strong evidence that Spira did not have jurisdictional grounds to win an anti-trust claim versus the IAAF (In the Butch Reynolds case, an Appeals court basically said that the IAAF can not be part of an anti-trust suit in the US because of jurisdictional reasons. The IAAF does not have offices in the US).

Precedents In Other Sports
Krafsur pointed out that it is not unusual for equipment manufacturers to go to court to prevent governing bodies from banning various types of equipment (The most prominent cases: PING suing over its new irons, and Callaway over its new drivers. Such cases have had some success in the courts, this law journal article discusses the Spira case in particular and mentions some of the others. NY Times articles on the golf equipment cases can be found here and here).

Krafsur said he is just doing what any company in his situation would do, using public pressure and the courts to advance its cause. I was surprised to learn the Air Jordan shoe was banned by the NBA for asthetic reasons when it first came out and Nike flaunted breaking the ban. "There are two ways to get the dispute resolved - the legal route and (through) public pressure and we've chosen both," said Mr. Krafsur.

However, the one thing the other companies did not do was encourage their athletes to use the equipment in competition when it was banned for competitive reasons (or at the very least when the other competitors thought it was banned as in the Spira case). That upsets the sanctity of the rules and possibly the competitive balance of the competition. Mr. Krafsur earned his company no favors with the running fan who believes in upholding and respecting the rules of the sport. Mr. Krafsur gave the impression that his company would break the rules and possibly cause chaos at the Boston Marathon, all for self promotion. Krasfur disagreed with me on the rule breaking saying "Rules that have a rataional basis should not be broken. Rules that have no basis in fact or serve no purpose like this rule need to be challanged and there is no better way to do that than to win a race."

So lost in all the hoopla was the fact that USATF's rules should match their public pronouncements and that if the IAAF is going to have a rule requiring shoes to be approved for competition, it needs to have a way to do this and do it in a timely manner. Hopefully, the IAAF will resolve the matter this weekend at its Technical Meeting.

If the Spira shoes really do help athletes run farther and faster with less injuries, then these attributes - not the "banned status" - should be what Spira uses to market its shoes.

As a matter of disclosure, let it be known that Mr Krafsur sent me a pair of Spira shoes to try out. Unfortunately, I've been injured for ages and have not been able to run in them much. Being injured, I am constantly reminded that a shoe that can reduce the frequency of injuries will not have a hard time catching on in the running market. I'm pretty sure I could have understood that message last year without having to scream at my television and the Spira shoe guys for the first hour of the Boston Marathon.

****Professional Runners in Spira****

Spira Results: Since the 2007 Boston Marathon where a Spira runner (Oleg Strijakov) actually won the men's Masters' Division, Spira has stepped up its efforts to recruit professional runners to wear its shoes. Below are race results (provided by Andy Krafsur) with athletes wearing the Spira shoes (not including the 26:01 10k off-the-cliff "world record" (which Krafsur said was mainly meant to show how well the shoes can reduce peak impact stress)).

*2007 Ottawa Marathon- 1st overall (course record) 2:10:35 David Cheruityo: "I am far less fatigued after racing and training in Spira compared to any other shoes. As a result I have suffered no injuries and can train and race at more intense pace, and I find that my recovery time following a race or a hard workout is greatly reduced. I had no soreness of any kind after the marathon. At 37, I expected my best racing days were behind me. Now I think I can eventually run 2:08."
*2007 Crazy Eight 8k- 1st overall woman
*2007 Detroit Free Press Marathon- 1st through 5th men's and 1st and 2nd women's
*2007 Istanbul Marathon- 1st overall
*2007 Dallas White Rock Marathon and Half- 1st, 2nd , 3rd, 5th and 6th men's half; 1st , 3rd and 5th, women's half; 2nd and 6th men's marathon, 2nd and 4th women's marathon
*2008 Houston Marathon 1st , 4th, 5th and 6th, men's marathon
*2008 Austin Half Marathon, 1st and 3rd women's overall (winning time 1:09:34)
*2008 Los Angeles Marathon, 2nd, 5th and 9th, men's overall, 3rd and 4th women's overall, (including first women's master)