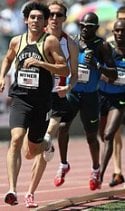 LRC: Week That Was: We go behind the scenes and recap the past week in the running world. On page 1, we look at all the collegiate action. We praise Mark Wetmore, John McDonnell, and tell you why CU would have dominated no matter where the Big 12s were. Plus praise for Leo Manzano, and Richard Thompson (9.93 100m) and we prove once and for all what is the best conference in America. On page 2, we recap all the pro action from the adidas meet and the roads, tell you why LA is not a sports town, talk about the NYRR possibly going overseas, talk about the London Marathon upping it's game even more, and give you the must read of the week.
Gouchers to Go for Olympic Qualifiers Next Weekend at High School Meet (Border Challenge)
Excellent Article in NY Times on Bernard Lagat's Family And Its Tradition of Running A really good read. His whole family is full of runners. Plus even a little controversy. Kip Keino calls him a "foreigner" and says, "He comes like a tourist".
Kenyan News: *Ex-Manager Goes on the Record With How Inept Athletics Kenya Is
*Kenyan Federation Will Not Let Athletes in Olympic Training Camp Train in Iten
American Milers Series Gets Underway Next Weekend (Good Tune Up for the Trials)
2008 adidas Track Classic *Results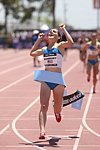 LRC Shannon Rowbury 4:01.61!!!!, Jenn Stuczynski 16' American Record
Tyson Gay Gets Double, Wariner Wins 400, Lagat Wins 1500
Rowbury's run and her rise the last few weeks has been incredible (4:12 to 4:01). Stuczynski improved her outdoor American record and took a good shot at the world record. Tyson Gay looked untouchable in the 200, but beatable in the 100. Jeremy Wariner won by .29 seconds, but that was closer than normal. Allyson Felix was only 4th in the 100. Lagat won the rough and tumble 1500 and Galen Rupp got the surprise win in the 3k. We give you the LetsRun.com analysis.
*Photo Gallery
Adidas Meet on the boards:
*@#[email protected]! ROWBURY 4:01!!!! -
*Lagat 3:35.14
*STUCZYNSKI AMERICAM RECORD OVER 16 FEET!
*Nick Symmonds DNF
And there are now 1, 2, 3 threads on the letsrun.com singlet.
*USATF quotes from the meet
*NY Times on Bernard Lagat's Win in the 1500
*LA Times Recap of Adidas Meet With Focus on Allyson Felix
Saturday's Action: Ali Abdosh, Dejen Gebremeskel Run 13:08 4 people finished the race and 3 guys broke 13:10. Pretty sick for a US distance race. They came up short of the 13:04 US All-Comers record but we hear it was windy. Abdosh just got the bronze at the African champs. Brandon Shaw won the 800. The main events are today.
*Message Board Thread on 5k
*IAAF Preview of Meet
LRC: Preview of Action at 2008 adidas Track Classic
More Pro Action: Trinidad: Usain Bolt Gets Slow Start Still Runs 9.92
Puerto Rico Recap: Hazel Clark Sub 2:00 800, Dwight Phillips Upset in Long Jump, Brendan Christian Gets Double Sprint Wins
Brazil: Hey there Delilah . . . drops a 9:43.57 in Brazil, #9 All-time US list
Bay to Breakers: John Korir Wins $32,000 He won the overal race and the Battle of the Sexess. Amanda Trotter, "My dad had heard a lot about the race,"
Move to America Where it is Warm: Sprinter Harry Aikines-Aryeetey Runs 10.48 in Britain and Peoople are Impressed
Injuries Prevent Xing Huina From Defending Her 10k Title at the Olympics IAAF Admit it, 98% of you couldn't identify her as the Olympic champ. Neither could we.
Britain's Jo Pavey Gets Confidence Boost With Win at BUPA Great Manchester Run
Non Conference Action: Brie Felnagle runs 4:08.45 all alone
Tyree Washington 20.78 in Senegal IAAF
Read It, Thanks us Later: Great Article on Darren Brown and His Later Father Barry (First Father Son Sub 4 Combo)