Athletics Kenya Names Provisional Squad of 120 For Olympic Team That It Wants to Go In Training Next Week Until Olympic Trials This decision was announced with 1 week notice and upsets a lot of managers and athlrtes. Imagine having your whole season mapped out and then being told you have to report to a trainign camp you didn't know about. This blog post by author Pat Butcher sums it up with a qutoe from an agent, "Firstly, I can't be quoted, because my mother would be very unhappy at the language I used. Also, these people are so stupid and arrogant that they would try to ban anyone for criticising them. If they got any stupider, they couldn't get out of bed in the morning."
Good Read: Blog Post Criticisinze Ahletics Kenya
*Asbel Kiprop Wants to Come Train in America
More Kenyan News: Peter Rono Says Stop Baseless Accusations Versus Kenyan Runners They've been accused of fueling the violence in Kenya.
US 1500m Star Treniere Clement to Run Her First 1500m This Weekend at adidas Track Classic We'll have a preview of the meet tomorrow.
Blanka Vlasic Has Her Eyes on the Elusive High Jump World Record
2008 USA TOP 5 LIST - as of May 13
Rose Kosgei, Benita Johnson to Race at 2008 Freihofer's on May 31st Kosgei did an excellent job rabbiting Shalane Flanagan to her American 10k record.
Development News:*McMillanElite Announces Expanded Athlete Benefits for 2008 and 2009
*June 15 Midwest Distance Gala to Provide Qualifying Chance for Steeplechasers
*Since Leaving Hanson Brooks Team and Working Towards Law Degree Jacob Frey Has Gotten Faster
Ritz's Replacement Is A Stud
Marathon Ace Abderrahim Gourmi Added To 2008 Healthy Kidney 10k Press conference today. We'll have more on it Friday. The race takes place in Central Park this weekend and will feature a $20,000 bonus for breaking Ritz's 28:08 course record.
Start Lists Up For Sunday's adidas Track Classic We'll have a preview later in the week for Sunday's meet in LA which kicks off the big-time pro circuit in the US for 2008. But clearly the men's 1,500 is gonna be great as nearly every great US based pro 1,500 runner not named Alan Webb will be there including Bernard Lagat, Lopez Lomong, Nick Willis, Kevin Sullivan, Nate Brannen, Chris Lukezic, and Nick Symmonds. The field even has Adam Goucher in it.
Fields Set For 2008 Bupa Great Manchester Run. The men's field includes Luke Kibet of Kenya and seven-time European cross country champion, Sergey Lebid, but the women's race is getting top billing. You'll see why below.
Part Race/Part Party 2008 ING Bay To Breakers Preview The race features an elite race with $74,000 in prize money that includes $25,000 to the winner of the male-female challenge as well as $5,000 to the first man and women up the ridiculous Hayes Street Hill assuming they still end up in the top 20 overall. *Bay To Breakers Organizers: Please Register For The Race and Please Clean Up After Yourselves The race attracts nearly 70,000 participants but only half of them register and lots of them litter - a ton.
Villanova's Bobby Curtis Runs 3:40.25 and Frances Koons Runs 4:13.23 at Swarthmore's Last Chance Meet (Results Only)
Video Highlights of the Doha Qatar Meet 12.95 for Oliver, Allyson Felix double, David Rudisha 800, Augustine Choge in 3k with 1 shoe.
Bekele to Go For World Record 10k Attempt at Pre Meet 9:30 am for the start which is crazy. But it's too late to move the start time of the meet because it's on national tv.
Steve Cram Says Give Paralympians Their Due (A Paralympian Qualified for the Regular Olympics in Swimming)
19 Year Old Brit Harry Aikines Aryeetey Runs 10.19 PB in Italy He would barely be noticed in America.
Mizuki Noguchi Wins Sendai Half Marathon in 1:08:25in Final Race Before Her Olympic Marathon Defense Noguchi versus Paula versus Ndereba vs Deena (vs the heat) makes for a great race in Beijing. IAAF
Lengthy Article Where Steroid Dealer Angel Heredia Shows His Ties to John Smith, Mo Greene, and Larry Wade Times of London
On the boards: So Mo was clean we he won the Olympics, just not after?
Ryan Hall, Deena Kastor Running Bolder Boulder on Memorial Day
Brian Sell Wins Gate Fifth Third River Bank Run 25k, US 25k Champs The years Sell has won the US title here he has gone on to have a very successful season. Paige Higgins won the US women's crown and Kalin Ritzenhein was 5th American.
*Results
*Ritzs' Baby Gets Baptized
Modesto Relays Recap (Jenn Stuczynski 15' 5", Christian Cantwell 71 Feet, KD 1:47, Michelle Perry Injured, Lauryn Williams Sprint Double)
*Results
Outdoor Season Underway: *Subscribers Watch on Demand on WCSN.com Doha Super Grand Prix: Allyson Felix 10.93, 49.83, David Oliver 12.95
Augustine Choge Wins 3k With One Shoe *Results Oliver's run was stunning. His reaction time was .22 seconds. If he had a better reaction time he could have set the world record. Oliver's pr before today was 13.08. Felix was equally impressive with double wins and 100 PR on the fast track (last year she ran 11.27 and 50.40). Jeremy Wariner ducked out of his matchup (or perhaps he was never entered , the previews of the meet don't seem to have the right competitors) with LaShawn Merritt, who won the 200 in 20.08. Kaki wasn't in the 800 (as the official IAAF preview said) but the other teen sensation David Rudisha was and he won in 1:44.36 as 4 guys broke 1:45. But in terms of guts, the performer of the day was Augustine Choge who won a collision marred men's 3000m in a world leading 7:32.01. More impressively he ran the final 500 (maybe 900) with 1 shoe. Nonetheless he outsprinted everyone including the super fast Edwin Soi (guy who got double World Athletic Finals wins last year). Truly incredible.
On the boards: David Oliver 12.95 @ Doha
*Allyson Felix 10.93/49.83 -
More Track Action: Lashinda Demus, Damu Cherry Run World Leaders in Hurdles in Martinique IAAF

Anorexia Info
*High Schooler California State Champ Sarah Sumpter Speaks Out About Anorexia Ignoring the problem isn't a good idea. Great to see such a young girl with such courage.
*2 Year old New York Times Article on Alex DeVinny's Death Includes a Quote from US Star Emily Brown

Profile Of Super British Sports Psychologist Steve Peters The man will have a role in a huge number of medals in Beijing. Peters, "You use similar principles with a person off the street to an athlete - all you're doing is getting the optimal beneficial functioning for a human being. That's my job: to make people function as well as possible and in the way they want to."
This Weekend: *Fifth Third River Bank Run Running Strong
*Sell leads men's field for USA 25 km Championships
Brian Sell Going for 3Peat at River Bank Run US 25k Champs Sell is battling a sore hip. There is a nice panel discussion Friday at 6pm with Sell, Ritz, and Boston champ Greg Meyer and Amby Burfoot.
LRC The Week That Was Once again we go behind the scenes and give you the scoop on last week's action. We officially get the David Rudisha bandwagon rolling, praise the amazing Günther Weidlinger, give a big thumbs up to Emily Brown and Scotty Bauhs and a big thumbs down to US 1,500 runners, while praising the ageless Kevin Sullivan. And our anti-drug talk reaches an all-time high (or low) as instead of doping we skip to the heavy stuff and talk about heroin.
$25,000 Medtronic TC 1 Mile Is Thursday in Minnesota The race has developed into the 2nd richest road mile in the country. $4,000 for first and $10,000 for first under 4:28 or 4:00. A stacked field that includes Steve Sherer and Tiffany McWilliams is expected. The meet promoters have emailed us and have confirmed Carrie Tollefson's participation.

More Usain Bolt News
Wednesday's Quote of the Day: "The idea was to force him to go in the direction of the 400.. I told him last year that if he broke the Jamaican record in the 200, 19.8 something, I would allow him to run one 100. He broke the record (running 19.75 seconds) and he said: 'You've got to keep your promise'." -Glen Mills, Usain Bolt's coach,
*Bolt's Coach Needed Convincing To Let Usain Bolt Run 100 Meters His coach always wanted to move Bolt, who ran 45.35 for 400 at age 16 towards the 400, and only let him run a 100 if he broke the Jamaican 200 meter record.
*Jamaican Old Sprint Stars Donald Quarrie and Raymond Stewart Praise Bolt's 9.76 Quarrie still thinks Bolt could be a 400 meter star.
*Bolt: 'I didn't know I was going that fast.'
Simply Amazing
One Legged Natalie Du Toit Qualifies for Regular Olympics In Swimming Move over Oscar P.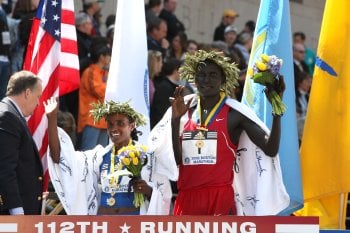 LRC Robert Cheruiyot: The Best Marathoner in the World? No (It's Martin Lel) After thinking about it for 2 days, it's obvious to us that Cheruiyot can not be deemed the top marathoner in the World because four of his World Marathon Majors wins have come versus the weakened fields in Boston. Goumri would be undefeated in his marathon career if he raced the fields Cheuiyot has been up against. Plus we remember the time just 2 years ago when Meb Keflezighi was the favorite to win Boston.
On the boards: My 11 year-old son wants to run a half-marathon: Good idea or not?
*Longest sub five streak -
2008 Boston Marathon Post-Race News Watch The Replay Commercial Free on WCSN.com
Boston and New York Both Appear To Want Trials Back (With Changes) Mainly it looks like they (particularly the cash strapped Boston) don't want to pay $1 million to host them.
*Another look at Cheruyiot's Win in Boston He described why he made his move early in the race instead of waiting for the hills. "For me, it was better to kill them before. When the lion wants meat, he has to kill."
*Runner-Up Abderrahime Bouramdane Had Trouble With His Sock That Gave Him Blisters A class act as he congratulated Cheruyiot for his win.
*Runner-Up Alevtina Biktimirova Pleased With Her Effort in Boston
*Alabama Athletes Run With Lance Armstrong

LetsRun.com Women's Recap New Ethiopian Star Dire Tune Wins Epic Duel A day after the women's US Olympic marathon trials, it was only fitting that the women put on a remarkable show on Monday. In the end, after the fastest 2nd half ever (70:36), Dire Tune edged Alevtina Biktimirova by 2 seconds in the closest women's race in Boston's legendary history. However, to defeat the tough Russian she had to run the last mile faster than the men's winner.
LetsRun.com! 2008 Boston Marathon Photos
*2008 Boston Marathon Photos from Victor Sailer 75 more photos added including good race action photos
*Message Board Thread On Race
*IAAF: Robert Cheruiyot Wins 4th Boston
*AP: Tune wins women's race at Boston Marathon in thriller
*Hanson's-Brooks Nicholas A. Arciniaga 1st American Male (10th - 2:16:13)
*Former Drake Runner and Current Med Student Ashley Anklam Is Firs American Female Finisher in 2:48.
*Lance Armstrong Lance Recaps His 2008 Boston Marathon (Video and text)
He had high praise for the Boston crowds: "Boston was a pleasant surprise. I expected the crowds to be great but they were about ten times what I expected"
*AP Article on Lance's Run Lance talks about the Boston hills.

Olympic Trials:

LetsRun.com: Deena Triumphs in Boisterous Boston It was an incredible day on the streets in Boston. The fans turned out in droves to cheer on America's finest and Magdalena Lewy Boulet made it interesting by opening up nearly a 2 minutes lead before Deena Kastor came from behind for the win. We give you all the analysis, talk about Deena's strategy (no miles over 5:25), and more (Joan Benoit's final competitive marathon)
*LetsRun.com! Boston Women's Olympic Trials Photos
*4 Minute Highlight Video of Post Race Comments (Deena, Magdalena, Blake Russell and Joan Benoit all give their take)
*Victor Sailor Photos link fixed. Photos rearragned. A few captions added.
More coverage:
*USAToday article by Dick Patrick
*Joan Benoit Article in NY Times
*Olympic Trials Coverage *Splits for Every Mile Here
*LestRun.com Message Board Thread Here
*Watch on Demand Here

LetsRun.com London Men: Lel Leads 3 Under 2:05:30!!!, Ryan Hall 2:06:17
Ryan Hall Goes Through Halfway on World Record Pace
The 2008 Flora London Marathon will be remembered for a long time. The lead pack of 9 went through 5k at 14:21 (2:01 pace). They continued together (yes, all 9) through halfway on world record pace (1:02:13). Ryan Hall then went to the front soon after and asked the pacemakers to go FASTER. Soon Hall was off the back, but he would catch the leaders briefly again and go on to run 2:06:17. (Until Sunday, only 7 guys had ever run under 2:06:15, now 11 have.). Up front, it came down to a 3-man battle over the final mile before Martin Lel got his 3rd straight World Marathon Major win over the final quarter mile as he led 6 guys under 2:07 and to $50,000 bonuses each. Recap, photos, video above
This Guy Has Totally Won Back Our Respect
Maasai Warriors Finish Marathon link fixed One of them went back to the course and finished the race a day after being forced to go the hospital after a ceremonial wrap cut off his circulation. He said, "It was very important for me to do this. This is what I came to England for."
LetsRun.com Ryan Hall Reflects On his Incredible Run We tell you (and let you watch) what Ryan, his dad, his grand-dad, his coach and even Martin Lel had to say about Ryan. Lel was full of praise for the American and shocked by Ryan's attempt to get the pacemakers to go even faster. If Hall didn't already have your respect, he does after reading this article as he pays homage to a throwback type of guy - Steve Jones. Text and Video.
LetsRun.com Video: Ryan Hall Talks About His 2:06:17 at the 2008 Flora London Marathon
*More LRC London Videos Here
*Photo Gallery
LetsRun.com Ryan Hall's Coach Terrence Mahon Assesses Ryan's Chances "I would not be surprised if he won the race on Sunday" We sat down and talked to Mahon about Ryan Hall's meteoric rise in the marathon, expectations for Sunday, the pressure Mahon feels in coaching Ryan and Deena, the mental side of coaching, the 1:02:30 half way pace, and much more. Text and video above.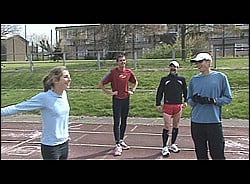 LetsRun.com! Wejo Speaks: Friday in London (With Ryan Hall) Wejo goes behind the scenes and tries to give you a little glimpse what's it's like marathon week in London. Ryan tried to keep himself entertained by watching a match race over 800m between his wife Sara and his coach, Terrence Mahon.
LetsRun.com! London Tidbits Bank of America Chicago Marathon inks with Nike, Paul Tergat's military commitment, Kenyan athletics taxes, Kenny B and of course Alan Webb.
LetsRun.com Ryan Hall:"The Future"(And Present?) Western Civilization's great hope received the compliment of a lifetime at Wednesday's press conference when reigning Olympic champ Stefano Baldini called him "the future" and said he could win "a lot of medals." Hall himself seemed full of optimism and certainly didn't try to downplay expectations for Sunday. "Last year I proved I can do it through 23 miles (37 kilometers). This year, my expectations have grown from that."
*Video Highlight of Press Conference at link above.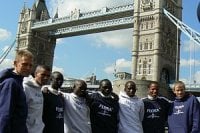 LetsRun.com Flora London Marathon Men's Press Conference The greatest marathon of the year is Sunday and we're there to bring you the action. Only in London is the field so loaded that the 2nd fastest marathoner from the year before (Emmanual Mutai) is not invited to the press conference. How can that be? Because London has Ryan Hall, Martin Lel, Luke Kibet, Stefano Baldini, Sammy Wanjiru, Abderrahim Goumri, Felix Limo, Hendrick Ramaala and others. The piece includes video from Lel and Wanjiru.
LRC: Photo Gallery from Wednesday
*Stefano Baldini's Marathon Show Rolls On
The 36-year-old doesn't think he can win in London but he's hoping to defend in Beijing.
*Paula Radcliffe Offers Training Tips and Gives Insight On Her Rebound From Injury Radcliffe missed 8 weeks due to her toe injury but has been back running for two weeks now and is feeling good.
*Nice IAAF Profile of America's Great Hope Ryan Hall The author points out that in less than a year, Hall has gone from a marathon virgin to being annointed as "the future" by the defending Olympic champ. Remarkable. Hall: "I certainly believe I can win."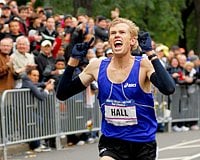 RYAN HALL 2:09:02 Ryan Hall put on one of the most impressive performances ever in American marathoning history, as he destroyed the field and coasted to victory in an incredible 2:09:04 (after a 1:06:17 1st half, yes that's a 1:02:47 2nd half on the hills of Central Park) on the very difficult NYC course. Dathan Ritzenhein ran a very impressive 2:11:07 to get 2nd while Brian Sell got the 3rd Olympic spot in 2:11:40. Former World Record holder Khalid Khannouchi ran a very gutsy race to finish 4th.
Ryan Hall is the real deal in case you didn't know. Here are his 5k splits on the very difficult NY course to prove how incredible he is at the marathon: 16:44, 15:41, 15:27, 15:12, 15:05, 14:48, 14:28. Yes that's right a 14:28 from 30 to 35k. Hall pumped his fist, pointed to the heavens, and waved to the crowd the final mile savoring the incredible run and still ran a 15 minute 5k pace for the final 7.2k (14.56 from 35 to 40k)
*Results
Race Recap From RunnersWorld's Amby Burfoot Amby did an excellent job covering the lead up to the Trials so it is fitting we link to his race article.
*NBCOlympics Recap of 2008 Olympic Marathon Trials: Triumph and Tragedy
*Quotes
*Video: Watch the on Demand (For Free, Skip to Any Crucial Point Instantaneously. Thank you NBC)
*Post Race Press Conference Videos Top 3, Meb, Culpepper, Khannouchi, Lehmkuhle
*Dathan Ritz Quotes
*Brian Sell Quotes
*Khalid Khannouchi 4th at Trials A great great run for Special K. He got 4th hobbling around the park.
*Photos Excellent ones from letsrun.com message boarders skylon
Drug News: There is Hope for Justin Gatlin, Michelle Collins 8 Year Ban Was Reduced to 3 and Now USADA is Letting Her Off Early Because She Cooperated Gatlin hasn't cooperated yet.

Victor Conte Explains How Athletes Avoid Out of Competition Tests and How to Solve the Problem of Drugs in Sport "Eighty per cent of the testing should be out of competition and not at meets. Number two, focus on the top-20 athletes. Instead of testing the top-50 twice, test the top-20 five times. They are the only athletes who get the lanes, win the medals and make the money. Throw your hook into the pond where you know the fish are biting. At competitions that's more IQ testing than drug testing because you have got to be pretty dumb to test positive at a competition." Plus Conte talks about how an entire women's final was doped.

British Shot Putter Carl Myerscough Is Appealing His Ban from the Olympics and His Case Could Determine Dwain Chambers Fate Times of London

College News: ASU Women, Texas A&M Men Still #1 in NCAA Track Rankings
*Jenny Barringer Focused on Beijing
*Andrew Wheating Article in Oregon Student Newspaper
*Nicole Blood Ran 4:14 This Past Weekendr.

On the boards: SEC XC Will Alabama end Arkansas' streak of 34 straight wins.

Recommended Read Long In-Depth Profile of Reigning Olympic 800 Champ Yuriy Borzakovskiy Over the years, the Russian hasn't received a lot of attention in the press. In this piece, he reveals all. He gives insight into his training, gives huge props to his coach Vyacheslav Yevstratov, and gives his idol, Wilson Kipketer, whom he defeated for Olympic gold in 2004, the ultimate compliment by labelling him as the "the most ideal 800 metre runner. When I was younger I thought that he did not make any mistakes at all." He also talks about his wife. "I like to cook and used to cook tasty food, but my wife does not let me now. She says that it is the women's job to cook, and everyone must do their job, and she does all cooking at home."

Euromeetings Agreement To Not Invite Former Banned Athletes Falls Apart At One of 1st Meets - Steroid cheat Lyudmila Blonska invited to Heptathlon in Austria. This is terrible news for anti-drug crusaders like ourselves but great news for former cheats like Dwain Chambers.

Leo Manzano Gets Big Spread in USAToday Quote of the day for sure tomorrow in here.

A Look Ahead To The Final Golden League Meet Of The Year
World LJ Record Holder Mike Powell Does Press Conference To Kick Up Interest For Post Olympic Brussels The meet will be loaded as usual as Tyson Gay is confirmed as is Kenenisa Bekele at 5k. The race unfortunately won't feature a 10k as it normally does as there isn't enough time between the Olympic 10k final and Brussels.

Hilda Kibet and Lornah Kiplagat To Run 10k in Utrecht on May 30: The cousins are hoping to hit the stiffer Dutch Olympic standard of 31:22

After Two Weeks Off, Asafa Powell Resumes Full Training: His managers expect him to be 100% in two weeks

Mexican Marathon Team Announced for Olympics Their Olympic Trials race was a 30k this past weekend. Considering the marathon starts at 20 miles, we're not sure what we think of this.

NY Times Looks at Violence in Kenya and How It Has Affected Runners

Derartu Tulu Running Next Weekend's Manchester Bupa Run She'll be up against Catherine Ndereba.

A Few Rugby Clubs May Still Be Interested in Dwain Chambers

More Weekend Action:
Michigan: Nick Willis Runs 1:47.01 to Beat Nate Brannen, Andrew Ellerton
*Men's Results
*Women's Results

More on Padgett: Travis Padgett Runs 9.96 - Clemson's star is now #2 in the world

Post Qatar News: Injury During Warmup Made Jeremy Wariner Withdraw from 200 in Qatar
*Allyson Felix to Focus on 200, Then 100 and Relays at Olympics

Girl Wins Texas High School State Team Championship by Herself The smallest division but super impressive. Long jump, high jump, discuss, 100, 200.

Oregon Twilight: Andrew Wheating Blows Away Field Final 200m to Run 3:38.60 at Oregon Twilight Meet The Oregon soph's run was super impressive. In our minds he managed to upstage Boaz Lalang and Barrack Obama. Obama showed up and did a hurdle in his suit. (Runnerspace video to the left).
The Legend Grows: Boaz Lalang 1:45.15 Dominating Victory in Oregon.
On the boards: Andrew Wheating 3:38.60!!!!!
More: Wheating, Obama Surprise Oregonian
* Prerace Article on Wheating Oregonian

Paula Radcliffe Doing the Rounds in Britain:
*Times of London Interview She reveals she had a toe injury during her NY win. She talks about how we need more funds for anti-doping, how she has voluntarily given old blood profiles to the IAAF, and how it will be a "disaster" if she under performs in Beijing.
*Guardian Interview: (She's reveals she's training in a humidity room, swallowing thermometers to measure her body temperature, and that she chanted her daughter's name to outkick Gete Wami at the ING NYC Marathon. You even learn how wide her pelvis is)

Another Mid-D Phenom?
Boaz Lalang Profile We already think he's a phenom. Now others seem to agree. *Message Board thread here *Older Message Board Thread On Who Is Boaz Lalang?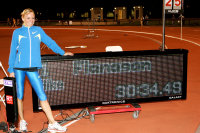 Photo by Andrew
McClanahan PhotoRun.net

Shalane Flanagan Talks About Her American Record America's superstar talks about how good she felt during the race, her goals coming in, the 5k vs the 10k, her thoughts on what she'll run in Beijing, and her incredible training partner Shannon Rowbury. Plus, she shows she's human by revealing she had some negative thoughts in her head during the race. And don't expect to see her move to the marathon soon.
*MP3 Audio Podcast With Shalane
*Shalane Flanagan's American Record Gets Article in USA Today
*Shalane Flanagan Gets Press in NY Times
*San Francisco Chronicle Article on Shalane Flanagan

Yesterday:
LRC Stanford: Shalane Flanagan, Kim Smith Put On a Show, Flanagan Smashes American Record (30:34.49)!!!
Americans Bernard Lagat, Brent Vaughn, Scott Bauhs Impress
Shannon Rowbury Rising Fast, Kevin Sullivan Still Going Strong
*Results Shalane Flanagan and Kim Smith put on a show for 25 laps on Sunday night and in the final 200 Flanagan came out on top smashing the American record (30:34). Smith had to settle for a Kiwi record (30:35). Other highlights included Bernard Lagat running a 56 second last lap to win the men's 5000m (13:16.29) and being followed by Colorado senior Brent Vaughn in a stunning school record 13:18.46; Craig Mottram blowing away the field to win the men's 10,000m (27:34.48) as DII American star Scott Bauhs hit the Olympic "A" standard. The men's mid-d races were somewhat of a letdown as no Olympic "A" standards were hit in the two "equal" 1500m sections. (Although Kevin Sullivan continued to do what he was doing when Nick Symmonds was eight years old and new miling sensation Andrew Wheating did win the men's 800). Shannon Rowbury dominated the women's 1500 and showed she is a fast emerging American star.
*Results More Coverage: *Flotrack *Runnerspace *Photos
*Race Results Weekly Recap

Michael Johnson In Paris To Promote Paris Golden League - Says 200m Record Harder To Break Than 400m This is the 10th anniversary for Paris and they have a great ambassador for each event (El Guerrounj1,500, MJ 400, etc). MJ says the biggest obstacle is athletes limiting themselves.

Great Sprint Action Set For Saturday's Jamaican Grand Prix In the men's 100m, Usain Bolt, Wallace Spearmon and 2003 world champ Kim Collins will face off. Tyson Gay in the men's 200m.

2004 Track & Field Gold Medallists: Where Are They Now? An interesting look at each of the 2004 gold medallists reveals only a small handful are likely to repeat.


LRC The Week that Was: April 24, 2008 We go behind the scenes and give you our exclusive take on this past weekend's action which was centered in Boston. We have some praise for the BAA and the fans in Boston, praise for the 152nd qualifier for the Olympic Marathon Trials (who went on to finish 5th), and praise for some 45+ year-old women. But don't worry we're still criticizing the BAA for being in the dark ages and are critical of the TV coverage in Boston. Plus, Mt. Sac, the ACC meet, and the big event of the week, the LetsRun.com Puma Party in Boston.
2008 Boston Marathon Men
LRC Robert Cheruiyot Destroys Field And Joins Bill Rodgers As a 4-Time Winner After a slow opening two miles, Robert Cheruiyot put on quite a show as he wheeled off 17 straight miles at 4:53 or better including a 4:36 19th mile that mile that fnished his only reamining challenger, Abderrahime Bouramdane. His performance in the middle miles was incredible. Recap, photos, post-race comments.
*LetsRun.com! 2008 Boston Marathon Photos
*2008 Boston Marathon Photos from Victor Sailer 75 more photos added including good race action
*Message Board Thread On Race
*IAAF: Robert Cheruiyot Wins 4th Boston
*AP: Tune wins women's race at Boston Marathon in thriller
*Hanson's-Brooks Nicholas A. Arciniaga 1st American Male (10th - 2:16:13)
*Former Drake Runner and Current Med Student Ashley Anklam Is Firs American Female Finisher in 2:48.
*Lance Armstrong Lance Recaps His 2008 Boston Marathon (Video and text)
He had high praise for the Boston crowds: "Boston was a pleasant surprise. I expected the crowds to be great but they were about ten times what I expected"
*AP Article on Lance's Run Lance talks about the Boston hills.
Boston Video:
*Watch the Race on WCSN
*Post Race Press Conference: Robert Cheruiyot, Abderrahime Bouramdane, Khalid El Boumlili Share Their Thoughts
*Lance Gives His Take
Kenyan Editorial: Pick Kenyan Olympic Marathon Team Now We agree. How about we do it for them with zero hesitation? Lel, Wanjiru an Cheruyiot. Don't even think about anyone else.
*Paul Tergat Steps Aside For Youth And Pulls Himself From Olympic Consideration
They should do this everywhere
Austria To Criminalize Posession of PED's
LetsRun.com Boston 08 LetsRun.com Party Photos The party hosted by Puma was a smashing success. A packed house as those passionate about running (from ages 5 to 65+) came to celebrate a great weekend in Boston. LetsRun.com fans celebrated with Rojo, Wejo, Matt Taylor, and a few legends in the sport, including former marathon world record holder Steve Jones and Olympic Silver Medallist Sonia O'Sullivan. The Harpoon beer was flowing, DJ Inkognito kept things going and contrary to popular opinion there was a healthy mix of males and females. The reviews were excellent. "It's refreshing not to see the same 50 people (industry insiders) at a party." "Most favorable female to male ration I've seen in a long time."
Non Boston News: For the First Time in His Career Wallace Spearmon Has a Plan
You'll Be Hearing About This For a Long, Long Time
*Maurice Greene, HSI Linked to Steroids A few HSI athletes have been caught doping in the past (Larry Wade the most notable), but this NY Times article brings to print some of the rumors some of you may have heard. And it is a sad, sad day for American sprinting if true.*Times Of London Story on Maurice Greene Being Accused Of Doping
Maurice Greene Defends Himself He says he never used drugs but did pay for teammates bills without asking what it was for. Greene: "This is a bad situation for me. My name's come up in something and it's not true."
LetsRun.com London Women: Mikitenko Wins Crazy Women's Race The women's race went totally not according to form. German Irina Mikitenko was the surprise winner. The race went out slow, then picked up, then slowed back again. Then Gete Wami wiped out at a water stop, nearly knocking her own teeth out, fell back off the back, then battled back only to get dropped again as Mikitenko threw it down the final 5k. And a perfectly sunny day turned into a cold rainstorm at times. Text, Photos, and Video
Other London Coverage: *Yelling Makes GB Team: A great moment when she looked rival Hayley Haining in the eye at 19 miles,. Amazingly both ended up happy as both PRd.
*British Men Could Run 25 Miles, Everyone Else 26.2 Miles And They'd Still Lose in London
*World Marathon Majors Point Standing - Lel has a huge lead. Wami's is narrowed by Mikitenko s
*Dick Patrick of USAToday Writes About Ryan Hall
*American Ryan Hall mixes it with Kenyans
*AP Story on Ryan Hall: Hall Confident About Beijing Chances
*Quotes From The Top 3 In London
*Gas Leak Causes London Marathon to be Diverted
*Paula Radcliffe Talks About Her Beijing Preparations
*Jon Brown Blasts UK Performance Director Dave Collins The 4th placer in the marathon at the last two Olympics absolutely rips Collins - a man who somehow managed not to show up at world cross country last month when it was in Scotland..
101 Years Old, Still Smoking, Running, and Drinking: Buster Martin: "I'm not worried about the fags because I'll carry them with me. Everyone says smoking kills but it's taking a long time in my case" The 101 year old legend plans on smoking while running Sunday's London Marathon.
US 100k is Saturday - Greg Crowther To Defend Title
*Nice Profile Of Greg Crowther The microbiologist thinks of how to cure malaria while racing
Marion Jones' 8 Relay Teammates Told To Return Medals The IAAF told Jerome Young's teammates to do the same thing but lawyers stopped the IAAF from making them do it.
LetsRun.com 2007 World's Coverage:
*Sunday Homepage Ndereba marathon
*Saturday Homepage
*Friday Homepage Tyson Gay
*Thursday Homepage Lagat
*Wednesday's Homepage Lagat
*Tuesday's Homepage Bekele 10k
*Monday's Homepage Tyson Gay
*Sunday's Homepage Dibaba/Goucher 10k
*Saturday's Homepage Kibet Marathon