The Week That Was April 28- May 4, 2008
May 6, 2008
*Last week's week in review can be found here
By LetsRun.com
A weird week in running. Big events but they were all over the globe. Big-time sprint action in Jamaica, big-time distance action at Stanford and the African champs in Ethiopia.
Given the fact that most of you are probably familiar with what happened Sunday at Stanford, we'll start with a recap of the action in the sprint world. First will talk about the highlights from the track and then move onto the weekly lowlights (drug accusations).
Usain Bolt 9.76!!!
As a former world junior record holder, Usain Bolt has always been viewed as a potential superstar. Only 21, in many ways Bolt already was a star as he won a world silver in the 200 meters last August in Osaka. However, despite his precocious success, he was totally overshadowed by the rivalry between his countryman Asafa Powell and America's Tyson Gay. Not anymore.
It's time to remove the word potential from any descriptions of Usain and call him what he is. A star.
Bolt shocked everyone in the world including himself, but not his coach, by running a sensational 9.76 for 100m on Sunday in Jamaica, making him the 2nd fastest man in history.

The world's best sprinter from 2007 (Tyson Gay) summed up Bolt's performance perfectly when he said, "It (Bolt's performance) was beautiful. He was very smooth and he executed very well."
It really is a thing of beauty. The only thing that could do Bolt's performance more justice besides Gay's description is the actual video. We encourage you to watch it.
Gay certainly will have his hands full with Bolt. But Gay is running pretty well himself as he picked up a dominating 20.00 victory in the 200 in the same meet. Meanwhile, it also came out this week that Asafa Powell's chest injury is more serious than what was initially believed and he'll be out until late June.
*Usain Bolt 9.76!!
*Full Results
*Message Board Thread Here
*Asafa Powell's Chest Injury is More Serious, He's out 2 Months
Hey Jeremy, Watch Out for LaShawn
Things certainly are going to be hot on the men's side in the 100/200 at this year's Olympics. It looks like they also may be hotter than expected in the men's 400, as LaShawn Merritt continues to impress. Last week, we hyped up Merritt by pointing out how he's run eerily similar times to reigning Olympic 400 meter champ Jeremy Wariner at the same age. This week Merritt lived up to the hype by running a stellar 44.34 world leader in Guadeloupe - .61 faster than what he was running at this time of the year last year.

It's hard not to root against Wariner this year (except he is so beautiful and dominant when he runs) since he dumped Clyde Hart, the greatest 400 meter coach in history, due to a contract dispute. Merritt gives the public someone to root for. Wariner certainly has been the undisputed king of the 400 since 2004, but with or without Merritt it won't be easy for him to repeat.
We say that because this week there was an interesting article that took a look at the 2004 Olympic Champions and looked at where they are now: 2004 Track & Field Gold Medallists: Where Are They Now? It struck us at how few of them are favored to win in 2008. Being the best in the world at something amongst billions of people is hard enough to do once. To do it twice, four years later, is nearly impossible.
LaShawn Merritt Runs 44.34 World Leader for 400m in Guadeloupe
*Guadeloupe Results (Allen Johnson 13.34 Win)
Forget About Steroids, Lets Talk About Heroin
In our weekly recap of the sprint news off the track, we will say that as each week passes, it seems as if another former sprint star is being linked to illegal drug use. At this rate, we wonder if in a few months, if there will be any ex sprinters that were considered clean. Disgraced sprint coach Trevor Graham gave a forewarning of how bad things would get when early in the week he said, "The problem with my trial now, you've got the Olympic Games coming up,.There's going to be a lot of publicity on a lot of people's parts who did a lot of things behind closed doors. . . . Now it's all going to be dragged out in front of the whole world. It's going to embarrass the United States and it's going to embarrass these athletes. These athletes are retired. They've moved on."
A great quote. The only problem is in our mind, it's not a problem. It's better to confront the drug problem than sweep it under the rug like baseball, the NFL, etc. Thus the names coming out to us are a good thing. The first two names to surface this week were Olympic gold medallists Antonio Pettigrew and Dennis Mitchell. Both were listed as witnesses in the Graham case and if the case goes to trial, it's expected they would testify for the prosecution and say that Graham offered them drugs.
If that wasn't depressing enough, it gets worse. Former world record holder Tim Montgomery, who already has gone down for performance enhancing drugs and check fraud prior to the Graham trial, was accused this week of being a heroin dealer. Using performance enhancing drugs is bad enough as in our minds it's theft - pure and simple. But dealing heroin - is a whole nother level of immorality. Ruining the lives of others for your own gain.
As much of a class act that Tyson Gay appears to be, Tim Montgomery appears to be trash.
*Antonio Pettigrew, Dennis Mitchell Listed in Witness List as Drug Cheats
* Tim Montgomery Indicted for Dealing Heroin
*Message board thread
African Champs: David Rudisha Emerges as a Star at 800, Kenenisa Bekele Wins African Champs Despite Missing 10 Days of Training
The African Champs were held this week in Ethiopia. If they hadn't been held in Ethiopia, Ethiopia likely would have dominated the distance events as they clearly seem to have a leg up on Kenya these days. However, given the fact that it was in Ethiopia, nearly all the top Ethiopian stars ran while all the top Kenyans did not. As a result, Ethiopia really, really dominated. They swept the men's and women's 10ks and won the men's and women's 5ks. However, the Kenyan men did at least sweep the men's steeple to restore a little order to the world scene.
Kenenisa Bekele
There were a few interesting things that many casual observers may have missed from looking at the headlines. First, Kenenisa Bekele, revealed he had to miss 10 days of training after world cross country. "It was very, very tough today because of the altitude. Since the World Cross Country Championship I have had to take 10 days of training off and I have only been back in training for 20 days," said Bekele. No worries. When you are the best in the world, you can afford to miss a little bit of time and still win the African champs. Bekele won the 5k in front of the home fans.
Additionally, many people may have missed the impressive 800 meter win turned in by Kenya's David Rudisha who won going away in 1:44.20. When we say he won going away, we mean he absolutely crushed the field as second place was 1:45:41. Earlier in the year, we were proud of ourselves for identifying Abubaker Kaki.as possibly being "the future of the 800 on the men's side" (well before he electrified the world with a wire to wire win at the world indoors.)
Well just as Seb Coe needed Steve Ovett to make him great, Kaki needs a rival and it appears that Rudisha may be it. Hard to believe it, but we may have two teenage sensations on the scene at once.
Who is Rudisha? Rudisha is simply a 19-year old phenom - let this be the official start to the Rudisha bandwagon - it's officially rolling.
He won the world junior title in 2006. In 2007, he was kept underwraps in Kenya for most of the year. He raced 14 times overall at 800 meters and won 13 times.
He didn't compete at the Kenyan world championship trials and didn't make it to Europe until July. But once he got in Europe, he impressed as he won in Malmö, Lausanne, Zurich and Brussels, the last victory in Brussells coming with a 1:44:15 pb.
Clearly he is the real deal. It should be a lot of fun to watch Kaki and Rudisha battle over the next few years.
We also feel that we should give props to the IAAF as while doing research on Rudisha, we saw that they realized the promise of Rudisha and Kaki long before we did. In their year end review, they wrote, "But 2007 might still retroactively become a memorable 800m year as the year of emergence of two would-be superstars in teenagers David Rudisha (Kenya) and Abubaker Kaki (Sudan)."
Well said.
African Champs News (Remember the meet was at 8,000 feet of altitude in Addis Ababa)
*Final Day Chelimo Defeats Mutola, K. Bekele takes 5000m
*Amantle Montsho Runs 49.83 to Win 400 at African Champs, Kenyans Sweep Men's Steeple, Win 800, Ethiopia Goes 1-2 in Women's 1500
*Results
*South Africans Win Lots of Medals In Events We Don't Care About
*Order Is Restored: Kenyans Sweep Steeple At African Champs: A 1:44.20 win in the 800 wasn't too shabby
*Ethiopian Men Sweep 10k at Day 1 of African Champs
*Results
*Olusoji Fasuba Makes 100m Finals at African Champs
*Tanzania Team Not at African Champs
Alicia Shay/Ryan Shay Get a Ton of Media Attention
It's sad our sport only seems to get attention during the Olympics, scandals or tragedies. The tragic death of marathoner Ryan Shay at the Olympic Marathon Trials got a lot of attention this week in the mainstream media. Fortunately, Ryan was a fierce competitor and a great ambassador for the sport. However, coping with his tragic death and constantly being reminded of it, no doubt is very difficult for his family and wife, Alicia.
First up was a feature on ESPN's show E:60. The entire clip can be viewed below and you can see the pain that Alicia has to deal with on a daily basis. Up next was a front page of the sports section of USAToday profile on Alicia Shay by track writer Dick Patrick.
There was talk of Alicia (who had one of the biggest breakout years of any American female distance runner in 2007) running Sunday's Stanford meet and chasing the Olympic "A" Standard but she ended up not running due to an injury.
Stanford Payton Jordan Cardinal Invitational Winners and Losers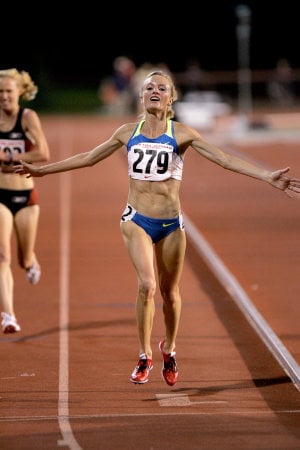 Shalane 30:34.49!!!
Photo by Andrew McClanahan PhotoRun.net
We purposely haven't talked about the big distance meet in America - Stanford - as it just happened on Sunday night and most people know what happened. But the ladies' 10k was simply phenomenal as Kim Smith and Shalane Flanagan broke the New Zealand and American records in running 30:34 and 30:35. The whole top 10 ran well as everyone in the field who wasn't lapped hit the Olympic A standard.
Putting Smith and Flanagan's performances in perspectives is tough as quality women's 10ks don't occur very often. How about this? Their 5k split (15:17) would have won the women's 5k at Stanford. Very well done.
The men's 10k didn't disappoint as the top 7 all hit the Olympic A standard. Major thumbs up to Chico State's Scott Bauhs who ran 27:48 (a day after winning the 1500 at his conference meet in 3:57.04). In the last month, he's broken 4:00 in the mile for the first time, run 13:31 for 5k and now hit the Olympic A standard in the 10k. Shows if you are talented and hard working, you can do it anywhere - D2, D1, wherever. Ok, maybe not DIII. (It's called a joke, we don't need 20 emails from DIII guys).
Rose Kosgei 8k Win in the Morning, 15:17 5k in the Evening
In terms of making the 10ks races happen, we think major props need to go out to Kenya's Rose Kosgei who did a very good job or rabbiting. She made it more than 5500 meters, going through 5k in 15:17. Apparently, the New York Road Runners paid for the rabbit so major props to them as well.
But maybe they didn't pay her enough. Unbelievably Kosgei ran an 8k road race earlier Sunday morning in San Diego. She picked up $1000 for the win (29:34 for 8k is a walk in the park for her), and then drove the 478 miles north to Stanford. to pace the 10k. (We're joking about the driving part, but not about the road race part). It shows what we learned on our trip to Kenya, running in Kenya is largely about one thing- economic success. $1000 goes a long way in Kenya (average annual income is $1100). Major props to Kim Smith for doing the lionshare of the difficult work in the latter stages of the race.
In the men's 10k, the rabbit, Haron Lagat who ran the same road race as Kosgei, didn't last very long, barely two miles (which shows how impressive Kosgei's rabbiting was). Britain's Mo Farah then did almost all of the leading until things heated up at the end. If you want to hit Olympic "A" standards, you have to go for it and those runners simply did it.
Contrast that to the disappointing men's 1500s, where the races had rabbits but the elite runners didn't even go with them. Hard to hit the Olympic A standard of 3:36 when you hit the 1200 in 2:58. So a major thumbs down to all the 1,500 guys for not walking the walk. And a thumbs down to Stanford for splitting up the men's 1500 into two "equal" sections instead of one super section. Yes, we know Stanford is a time-trial meet, and yes we know Vin Lananna did it the same way. But everything Vin did does not have to be repeated as gospel. With the withdrawal of Alan Webb and the loss of a Webb-Lagat matchup at 5k, the women's 10,000 race was the only field with a marquee matchup. The men's 1500m could have been a marquee race as well, but at most college meets zero attempt is made to think what would a fan want to see.
A message boarder who went to the meet was surprised to find empty seats. He posted, "I was surprised that after all the hype etc the stands weren't extremely crowded, even for the main events like the 5ks, 10ks etc there was still room in the stands and all along the rails." The poster needs to take a step back and realize the meet was hyped among one set of people, hard-core track and field distance geeks (Stanford charges admission for it's high school meet but not the Payton Jordan meet). Even average track and field fans could care less about a time trial distance meet. Is it asking too much to want to see the best people entered in an event in the same race?
In the women's 1,500, all the top runners were in the same race, and Shannon Rowbury absolutely destroyed the field, winning by more than 4 seconds in 4:07.59. A huge pr from her previous 4:12.31 from 2006. Normally one is ecstatic with such a strong 1,500 opener but training partner Shalane Flanagan said Rowbury "was extremely bummed out" not to hit the "A" standard. Rowbury was the surprise winner at the USATF indoor 3000m as well, but nothing she does here on out will be a surprise.
Speaking of Rowbury and Flanagan, they are both being coached by former GMU coach John Cook. If you want to read about their training,we suggest you pick up a copy of June's Running Times as it has a big feature on the group.
Emily Brown The Real Deal
We said the women's 5000m won by Emily Brown in 15:19.57 would get overlooked and it was. But that does not mean we should overlook Brown's amazing improvement and amazing 2008 season. Brown was an All-American last year at the University of Minnesota but that is a long, long way from where she is now, near the top of the US distance ranks.
Brown led the US team to a surprising fourth place finish at the World Cross Country Champs with her 19th place finish. That alone would be enough for her season to be a tremendous success. But look what she's done on the track so far. Here's the improvement in her prs:
Mile indoors 4:44.14 -> 4:32.58
3k indoors 9:27.33 -> 9:10.60
5k 16:28 -> 15:19
Steeple 9:56.62 -> 9:45.38
Super, super impressive. She's in the Team USA Minnesota group but doesn't even have a shoe sponsor. Maybe we should make some letsrun.com women's singlets and jump on board.
Günther Weidlinger Alive and Doing Very Well

Günther's Fall
Skip to 45 Seconds in the Clip
Who's Günther? Well, for starters he was the tall gangly guy closing in on Craig Mottram the final 200m of the men's
10,000m at Stanford. Günther ended up finishing second, running 27:36.46, an Austrian record which lowered his 10,000m pr a whopping 42 seconds.

While that may be impressive for Günther it's not the most impressive thing about him. And no it's not his prs either , which are pretty fast. He's the Austrian record holder now at 1500 (3:34.69), 5000 (13:13:44), and the steeple (8:10.83), in addition to the 10,000 (and the half marathon (1:01:42) as a letsrun fan has written in and told us).

Günther is primarily known as a steeplechaser (10th in the last Olympics). But he's most known for his horrific fall last year in the steeple at the World Champs. Basically, about 5 meters before a barrier, he stumbled and then he proceeded to smash his head into the barrier. Really hard. Seriously, the blow could have killed him. The video is to the left and you can skip to 45 seconds in to see the fall and the replay, but warning it is very graphic. (If you don't want to watch an ad but see a low quality version click here). We're glad to see Günther has returned from his fall and is running better than ever.

On the boards: *Guenther Weidlinger Fan Club

A New Face and an Old One
And while we're praising 2nd place guys for their finishes we have to mention Colorado's Brent Vaughn for his incredible 13:18.46, 2nd place finish to Bernard Lagat. Culpepper, Goucher, Torres, Ritzenhein, and Vaughn? It doesn't sound right, but Vaughn's now got the school record by six seconds and he may have an NCAA title of his own next month. A bit strange to see a collegian hanging tough with Lagat over the final lap of a 5000. Especially an unheralded collegian.

And while we've been praising new comers and breakout performers it's time to pay homage to a guy who has been running consistently fast for a very long time, Canada's Kevin Sullivan. Sullivan was a surprise (in our minds) and dominant winner of the first section of the two men's 1500s (again let us repeat, two "equal" 1500s a really, really dumb idea) in 3:39.75.

But what impresses us most is Sullivan's longevity. He ran 3:39.11, a time faster than his winning time on Sunday, 16 years ago when he was 18 years old. Major thumbs up.

More Stanford:
LRC Shalane Flanagan, Kim Smith Put On a Show, Flanagan Smashes American Record (30:34.49)!!!Shalane Flanagan and Kim Smith put on a show for 25 laps on Sunday night and in the final 200 Flanagan came out on top smashing the American record (30:34).
Shalane Flanagan Talks About Her American Record America's superstar talks about how good she felt during the race, her goals coming in, the 5k vs the 10k, her thoughts on what she'll run in Beijing, and her incredible training partner Shannon Rowbury. Plus, she shows she's human by revealing she had some negative thoughts in her head during the race. And don't expect to see her move to the marathon soon.
*MP3 Audio Podcast With Shalane
*Shalane Flanagan's American Record Gets Article in USA Today
*Shalane Flanagan Gets Press in NY Times New York
*San Francisco Chronicle Article on Shalane Flanagan

Meanwhile Some Unknown Kenyan Runs 27:15 and 27:14 6 Days Apart
We'll stop hyping how great the action was at Stanford for a brief moment and point out that one doesn't necessarily have to have a perfectly set up race to run fast - really, really fast. In Japan, Kenyan Josphat Muchiri Ndambiri ran a world leading 27:14 just six days after running a 27:15. Oh yeah, making it all the more impressive. Second place was 28:55.
*Shizuoka International Recap

All Streaks Must Come To An End (Or Do They?)
Meanwhile, conference collegiate action got under way as the Big East and Patriot League and many others had their championships. In the Patriot League, the Army men didn't win for the first time in their history in the Patriot League. 16 straight wins and then they finish 2nd to Navy. A very impressive record. Too bad they couldn't win one more as Coach Quiller is retiring.

So while one streak was ending, another was continuing as the UCLA men defeated the USC men at home as they have every year since 1977.

In the Big East, the Notre Dame men and Louisville women won. Major props to Ron Mann of Louisville. He's only been at Louisville for four years after leaving NAU and already his men and women both have won the team title as the men won last year. Unbelievable.
UCLA Men Defeat USC At Home In Duel Meet Yet Again. *Results
Big East Champs *Women's Results *Men's Results
Patriot League *Navy Wins Patriot League Stops Army's Streak of 16 Straight Wins
* Results Kudos to 4 guys going sub 3:45 in the 1500 Army women win.

Lilac Bloomsday - Micah Kogo Breaks Course Record
The Lilac Bloomsday 12k is one of the Northwest's greatest road racing event - well it probably is the Northwest's greatest event. More than 40,000 finishers. A world class field.
No disappointment on that front in 2008 as 26:35 10ker Micah Kogo showed up and broke the course record with a 33:51 clocking to win $7,000. In the women's race, Lineth Chepkurui, easily dispatched Catherine Ndereba to win the title.
Bloomsday: Micah Kogo Breaks Course Record
Women: Lineth Chepkurui Blows Away Catherine Ndereba
*Video of Kogo
Quote of the Week:
Think being an elite runner is all fun and games? Think again. You are trying to beat billions of people.

"I don't drink, I don't party, I go to bed, I eat right. I do all these things for a reason...is is it. This is the shot, this summer, the Olympic Games. This is the best chance I will have in my life. And there's no amount of money, whatever, I just wasn't interested. If I'm not interested, I'm not interested."
-Canadian (and Texan by birth) 800m World Champs silver medallist runner Gary Reed in an excellent profile in the Toronto Star. Reed grew up without any financial resources but his mother instilled in him the confidence he could accomplish anything and Reed has always been focused on winning Olympic gold for Canada. The Canadian Olympic School website has a nice pamplet on goal setting with Reed that can benefit anyone but also is used to educate school children in Canada. So coaches and teachers take a look.
Brigette Schutzman Festival of Miles: 4:07 for the winner Neville Miller Nice recap in St. Louis Paper. They were hoping for the first outdoor sub 4 in Missouri in order to raise money for a good cause, but bad weather got in the way. We at LetsRun like events that try and get the local community involved with running like this one. And it reminds us of the greatest mile field ever assembled not to break 4.
*Message board thread on race
Comments, suggestions? Email us at letsrun@letsrun.com

---
Runner's World &
Running Times



Combined Only $22
a Year
Save $87

---

Running & Track and Field Posters
---

Running Shoe Savings: Nike Lunar Glide 20% Off Super popular shoe from Nike featuring Flywire and Lunar Foam
---