Shalane Flanagan Talks About Her American Record
by: LetsRun.com
May 5, 2008

USATF held a teleconference with Shalane Flanagan to get the word out about her incredible American record run at 10,000m Sunday at Stanford. (The press conference did the trick, as the nation's largest newspaper USA Today has a story as does the NY Times).
If you want to listen to Shalane you can do so in the audio player below or download it here (22 minutes, we missed the first 30 seconds or so).
This text will be replaced by the flash music player.
We have USATF's recap of the press conference below, but we'd like to add a few things they left out.
The gist of the press conference was that Shalane now has a tough decision to make between the 5000m and 10,000m at the Olympics. Her original inclination was more towards the 5,000m, but her success on Sunday obviously will make her consider the 10,000m. Ultimately she said she'll pick the event she has the "best chance to medal."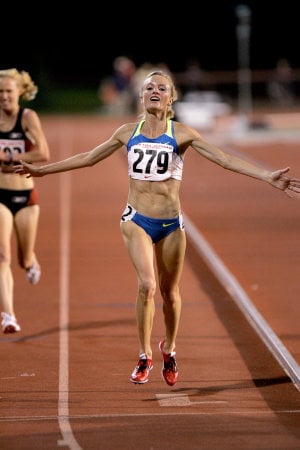 Shalane 30:34.49!!!
Photo by Andrew McClanahan PhotoRun.net
Flanagan Even Had a Few Doubts
As well as Shalane ran on Sunday, it was refreshing to hear her talk about some of the doubts in her mind heading into the race and during the race. Everyone loves to pretend the pros are machines on automatic pilot, but Shalane showed she even had some negative thoughts during the race.
Before the race her coach John Cook told her she was in 30:30 shape but she had she was not certain. She said, "My coach told me before the race I was in 30:30 shape and I was kind of baffled by that.... You know for a debut that's a pretty big goal."
So the plan was to be a bit more conservative. Shalane said, "The plan was to go out conservative, to run the pace of the record (30:50 was the old record) anywhere from 15:25 to 15:30 range (for the first half). I felt good which was a good sign, but also had been warned that's its almost like the marathon and that all of a sudden the monkey's going to jump on your back."
She was apprehensive about things getting worse after the fast first 5000. She said "I was happy I felt good but at the same time I was like 'uh oh' when is this going to come back and bite me...It never did fortunately." But she said she felt "controlled" and only really felt tight the final kilometer. Nonetheless, even with just 1000m to go, and the American record seemingly in the bag (she broke it by over 15 seconds), a pro like Flanagan even thought of disaster still possibly striking"
"With a k(ilometer) to go all I thought is, 'All I can do is mess it up now.' I felt like I had to play it conservative and just make sure I finish strong (to make sure I get the record) and don't walk it in."

The 5k vs the 10k
Flanagan definitely didn't walk it in and said she enjoys both the 5k and 10k even though she (like us) considers them quite different races in terms of how they feel. She said, "They're both very different races. The 5k I enjoy the fast pace but it's really, really hard. The 10k is obviously hard too (but in a different way). For me and my speed oriented training it (the 10k) felt very nice until the last few laps when it was slightly uncomfortable...."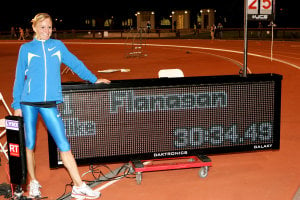 Photo by Andrew McClanahan PhotoRun.net
Flanagan had high praise for Kim Smith, the Kiwi who shared the lead with her the entire second half of the race, before Flanagan outkicked her the final 200. Flanagan said she did not talk to Smith beforehand and there was no formal plan on pace. Shalane said, "I was delighted when I saw Kim Smith was in there. Typically Kim and I tend to run very well with each other. We don't ever pre-plan to help each other but it just seems to work out like that once we get on the track"
Flanagan is off to another bout of altitude training (this is the first year she has done altitude training, but this will be her third stint of altitude training, this time at the USOC Center in Colorado Springs). Likely to be with her is her training partner, Shannon Rowbury who is turning a lot of heads in 2008. Rowbury won the US indoor 3k title and then dominated the final lap of the 1500m on Sunday, running a nearly 5 second pr 4:07.59 but missing the Olympic "A" Standard. Flanagan said of Rowbury, "She's just so explosive and dynamic. She's an amazing athlete. She prs by 6 or 7 seconds but was extremely bummed out believe it or not. She wants that "A" standard heading into the Trials.
USATF's Communications recap of the teleconference below. Also available here:
Shalane Flanagan Teleconference excerpts
May 5, 2008
USATF Communications
USA Track & Field on Monday hosted a national media teleconference with Shalane Flanagan, who on Sunday broke the American record in the women's 10,000 meters. Her winning time of 30:34.49 at the Payton Jordan Cardinal Invitational improved upon the previous AR of 30:52.32 set on the same Stanford University track by Deena Kastor in 2002.
For a complete bio of Shalane Flanagan, visit http://www.usatf.org/athletes/bios/Flanagan_Shalane.asp
Below are excerpts from Monday's call.
Q: Tell us about your decision to set this race up and go for the record, and about how the race itself went for you.
A: The idea for a 10K started last fall. I was just trying to think of what was the best preparation for the trials and for the Olympics. Last year my timing was maybe a little bit off. I was coming off of injury so I felt the need to get out there and race. I tried to hold my peak. So [in 2008] I thought instead of just training, a nice 10k effort would prolong my season and keep it in a strength-oriented phase but at the same time break it up and see if we're headed in the right direction.
My agent suggested that usually Cardinal [Invitational] presented itself timing-wise and typically has had fast times. I wasn't quite sure it was going to materialize into being as fast of a race. Initially there wasn't going to be a rabbit until the New York Road Runners stepped in and supplied a rabbit. I didn't know how sharp anybody else would be, so I was delighted when I saw Kim Smith was in there. Typically Kim and I tend to run very well with each other. We don't ever pre-plan to help each other but it just seems to work out that once we get on the track, we have a mutual understanding and respect. I felt like last night, it felt more like a workout, and we were working together to help each other achieve our big goal to run fast. It wasn't until the last lap when I reminded myself that it was a race and I should make an effort to win. I didn't feel a need to beat Kim, I wanted to beat the clock and run fast later this year.
Q: What are your plans for the rest of the year?
A: To run fast, run for a medal. I don't know what event it will be, but those are the general goals.
Q: How did you feel when the 5k went by in 15:17.4?
A: The plan was to go out conservative, to run anywhere from 15:25 to 15:30 and then cut down. I felt good, but I also had been warned that all of a sudden the monkey's going to jump on your back and it's going to be a death march. I felt good but was kind of worried. But that never happened. I felt controlled the entire way. The last K [kilometer], I felt like I was getting tight - not fatigued, but a sign that my body was ready to have the race over with, running in spikes for such a long way.
I had set aside three goals entering the race. My coach going in said he thought I was in 30:30 shape. I thought for a debut, that's a pretty big goal. I was more just trying to break 31 and if I felt good, get the record. The next goal was to chop off the record by a second if need be. Running 31:15 was my third goal. I just wanted to make sure I finished strong and didn't walk in.
Q: Did last might's race influence your decision in terms of what event you might run at the Olympic Trials and Olympics?
A: I really enjoy the 5k. We'll have to sit down and look at where my best chances to medal are. They are very different races. For me and my more speed-oriented training, it felt really nice until the last few laps when it was really uncomfortable. I just don't know right now. I don't know where I stack up against other people. Wherever I stand the best chance of medaling and representing my country well.
Q: You must have some sense that was what it was going to be like out there for a 10k.
A: It takes a lot of patience. Over a 10k, there are a lot of times you can talk yourself out of sticking to the pace. If you have one little bad stretch, it's not like you only have 2-3 laps left. You could have 10-15 laps left and not feel good. It's a very tough mental event. In the 5k, when I start to hurt, I can usually tell myself I've only got a few laps left. It's just a different approach. I'm glad I did a 10k because it presented a challenge and opened my eyes to other distances. I was really inspired by the marathon Trials, both the men and women this year. My genetic makeup I think is predisposed to the longer distances but I really have a fun time trying to fine-tune my speed. If you can't have a kick on the international scene, you're a bit hopeless. So I tend to try to stay shorter, longer.
Q: What does this mean to you personally and to distance running in the United States?
A: We've had some great role models so it's not like I'm groundbreaking or anything. I got a really nice text message from Deena [Kastor] last night and it's really nice to have the encouragement from other U.S. women. Everybody wants to make that next step. Kara [Goucher] proved in Osaka that she could do it. Everybody has so much enthusiasm. Sport in general is about breaking down barriers. The next one is sub-30 for the 10k. We're slowly but surely creeping up in there. I'm excited about it.
Q: What are your racing plans before the Olympic Trials?
A: I'm taking it day by day to make sure I recover and bounce back from the 10k. My calves area little torn up, my feet are a little sore. I'll just jog, probably for the next week. We know I'm fit. It's just making sure I get to the starting line healthy and hungry to race. Usually my natural hunger to get out there and perform my best is enough. If I can get out there with 90 percent, I think it's enough. I don't need to be 120 percent.
Q: Was your mother there last night?
A: She was there and so was my dad. I had a really great support crew out there last night. It's kind of a lonely sport if you don't have family and friends at some of these races. I always feel I perform my best when I have people who care out there. I think it's really essential for my success. My husband does about half my workouts with me. We're all really committed to helping me get to that next level.
Q: What about moving up to the marathon?
A: I kind of get excited, and my coach gets excited. It comes a little more naturally to me than those speed oriented events. My dad and my mom both were marathoners. But my dad has always emphasized that if I go[to the marathon] too soon, it could shorten my career a little bit. I really want to be smart about when I start my marathoning career.
Q: Where is your training base?
A: I was in the mountains this winter with Herman Silva in Mexico, and with my coach [and training partners]... we came in and out for some racing. Now I'm in Palo Alto and we're getting back together the next two weeks in Colorado Springs in the U.S. training center, doing another two weeks of altitude ] training. [In Mexico}It was 6500 feet, not too extreme. It was north of Mexico City.
Q: Did you surprise yourself last night?
A: Yes. I knew my workouts were somewhat indicative of that time, but it's always special when you set a goal and achieve it. All the elements have to come together and pan out. I'm surprised we were able to run that fast, this early.
More:
*Yesterday's Recap of Flanagan's American Record with text, video, photo
---
Runner's World &
Running Times



Combined Only $22
a Year
Save $87

---

Running & Track and Field Posters
---

Great Offer: Nike Lunar Glide Sale Multiple colors of this shoe available.

*Nike Air Max Moto 7 Get 2 Pairs for a Crazy $112
---