Rojo Goes To World XC
LRC Burger King And Budweiser, 33 Hours 41 Minutes 56 Seconds Of Travel, What Happens To The Kenyans If It Rains? Rojo World Tour #1 Our intrepid journalist Rojo is off to Guiyang, China to cover World XC. On his last world tour, he rode camels in Jordan. In Guiyang installment #1, he breaks down his 33 hours 41 minutes and 56 seconds of travel, how rain will effect the Kenyans, and Burger King and Budweiser together.
World XC Is Saturday (Friday Night In USA)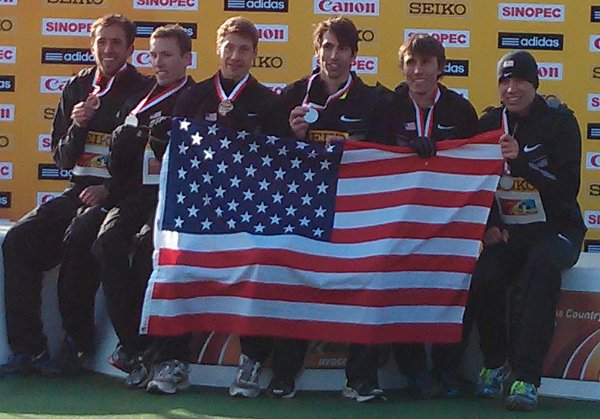 LRC Can Chris Derrick Lead The US Men To A Repeat Medal? Two years ago at the "Miracle on Dirt," the USA walked away with a silver.
LRC  Kenyan Women Try To Win For The Fifth Straight Time Kenya and Ethiopia have gone 1-2 in the women's race at 18 of the last 19 championships and appear likely to do so again in 2015. Can defending champ Emily Chebet claim her third World XC title?
LRC Men's Preview: Kenya Or Ethiopia? Shame On Europe For Waving The White Flag The world's greatest foot race is Saturday in China (Friday night in the USA) and it should be Kenya vs. Ethiopia for gold with USA battling for bronze on the men's side. Can Eritrea's Teklemariam Medhin, the guy who had a malaria-like disease and slept in the airport two years ago but still got bronze, come out on top?
More:
L-Carnitine
LRC Good News, Bad News: Everything You Want To Know About The Nike Oregon Project And L-Carnitine Injections The Sunday Times reported that Alberto Salazar ordered his Nike Oregon Project athletes thousands of dollars of L-Carnitine supplements and experimented with injecting L-Carnitine on coach Steve Magness. We break it down. *MB: Salazar, Farah, talk about use of L-carnitine, a legal supplement with 11% performance. gains
World XC Champs Are This Weekend
2015 EDP Lisbon Half Marathon *Results
LRC Mo Farah Comes From Behind To Win Lisbon Half In European Record Of 59:32! (And Sprawls To The Ground Over Finishing Tape) (updated with recap/analysis) Half way into the race, Farah was dropped from the lead pack, but he hung tough and got the super-impressive win in 59:32 over Micah Kogo. Rose Chelimo won the women's race in 1:08:22.
*IAAF Recap
LRC Official 2015 EDP Lisbon Half Marathon Live Discussion Thread
The Search For A Better Running Shoe
LRC The Most Popular Running Shoe On LetsRun.com Is … Not Made Anymore … The Nike Pegasus+ 30 Thousands of you filled out our detailed running shoe survey in the fall and more of you ran in the Nike Pegasus+30 than any other shoe. Only problem is all of you need to find a new shoe, help us out below:
LRC The Improved LRC Running Shoe Survey Is Back – Three Minutes To A Better Running Shoe The running shoe buying process sucks and we want to improve it with data. We took your reviews from the fall, made a running shoe beta site, and have improved our survey to ask you what shoe your previously ran in. We now need more reviews from you on the latest shoes.
Random, But Interesting (Or We Wouldn't Put Them Up)
UK News
Nate Houle had it all: a beautiful wife, wonderful son, and his dream job coaching track at his alma mater Southern Utah University (Cam Levins' school, Nate was Cam's teammate). Then, in the span of five months, he lost his job, and was diagnosed with a rare cancer. Rather than make Nate bitter, the cancer has given Nate a new appreciation for life and God's plan for him. That makes him our Runner of the Month.
Spice Up Your Winter – Photo Of The Year Contest
LRC The Story Behind The Alaskan Flip-Off: The 2013 LRC Photo Of The Year

LRC What's Your 2014 Running Photo Of The Year? Have you taken a photo or seen a photo that could be the running photo of the year (2014 until now)*. Submit or tweet your entries to us. Winner and/or person who tells us of winner wins $100.
More From The Weekend
Spain's Fabian Roncero Says Mo Farah's 59:32 Isn't A European Record Because Farah Isn't European Roncero (the man who previously held the record at 59:52), says Farah's record should count for Somalia, not Europe/GB. "For me, an athlete who was born in Kenya is Kenyan and one born in Somalia is Somali forever …"
Yuki Kawauchi On Road To Recovery From Injury As He Wins Kumagaya Sakura Half In 64:41 Kawauchi speaks out on the Japanese national team selection policy, where the Japanese federation seems to be emphasizing time rather than competition.
Athletics Weekly Roundup: GB's Lily Partridge Wins Reading Half In 70:32 Elsewhere, Shelly-Ann Fraser-Pryce finished 4th in a 400 in Jamaica with 55.67 and world TJ champ Teddy Tamgho returned from his 1-year drug ban (for missing 3 tests) with a 16.78m win in France.
Hey, Dallas Locals: You Could Have Won $1,000 Or More Last Weekend Running 1:19 (Women) Or 1:08 (Men) In The RnR Dallas Half Lauren Versweyveld won the women's race in 1:19:14 to win $1,250 while Benson Chesang got $1,000 for 4th place in the men's race (1:08:22). The winner, Emil Dobrowolski of Poland, got $750 for running 1:04:41.
---
Max Siegel Explains Why USATF Signed A 25-Year Deal With Nike "Some thought if we did an eight-year deal, there may be a better deal or sponsor out there in eight years. We ran every single analysis on this possible. We looked at increases in cost of living, inflation, how the money would be invested, market changes and more. With this, we're locked into a very healthy long-term deal."

More News From Africa
Drug / Legal News
We take one more look at Jenkins vs. Cheserek and our first at Jenkins vs. Rupp and Solinsky and Leah O'Connor vs. Simpson and Coburn. Plus a look at the worst cross-country coach in America, whether Ryan Hall went out too fast, and Ryan Gregson and Andrew Wheating.
LRC Remembering LRCer Van Townsend The running world lost one of its bright lights this week with the death of Van Townsend.
*MB: RIP Van Townsend: Share Your Respects Here