Jenkins Vs. Cheserek, Jenkins Vs. Rupp And Solinsky, The Worst Cross-Country Coach In America, Ryan Hall, Ryan Gregson, Andrew Wheating And More
by LetsRun.com
March 18, 2015
Previous versions of The Week That Was – our weekly recap – can be found here.
****
2015 NCAAs: Jenkins vs. Cheserek
Well, the 2015 NCAA Indoor Track and Field Championships were held last week in Fayetteville and boy were they awesome.
From outstanding marks (four collegiate records plus four more meet records and a meet-record tying performance) to the hometown Razorbacks taking home NCAA title #1 for the women, there was plenty to get excited about. The new records were as follows:
Akron's Shawn Barber set an NCAA record in the pole vault at 19-4 3/4 (5.91m).

Wisconsin's Michael Lihrman set a meet record in the weight throw with an toss of 80-10 1/4 (24.64m).
Omar McLeod of Arkansas repeated in the 60 hurdles with collegiate record of 7.45.
Kendell Williams of Georgia repeated in the pentathlon with a collegiate record of 4,678 points.
Leah O'Connor ran a meet-record performance to win the mile in 4:27.18.
After winning the long jump at 27-2 (8.28m), Florida's Marquis Dendy won the triple jump by two feet with a meet record and third-longest mark in NCAA TJ history (57 feet/17.37m).
Clemson's Natoya Goule broke the meet record in the 800 at 2:01.64.
Arkansas' Sandi Morris tied the meet record in the pole vault at 15-1 (4.60m).
In the final event of the meet, the Texas A&M men broke their own collegiate record in the 4×400 by running 3:02.86.
But in terms of the LetsRun.com nation, the main thing people want to talk about is the final individual race of the weekend — the men's 3,000, where Eric Jenkins defeated the previously unbeatable Edward Cheserek only to have Cheserek take a little bit away from the win by saying he let Jenkins win.
What are our thoughts?
Just because Cheserek 'let' him take it doesn't mean that if he hadn't 'let' him take it that Cheserek would have won. In all honesty, we think Jenkins would have won if Cheserek hadn't 'let' him have it.
How can we say that? Remember, this was Cheserek's fourth race of the weekend. Two hours and one minute before the 3,000, Cheserek was finishing off a 2:19 for his last 1k to win the mile. Contrast that to Jenkins. Jenkins was only running race #2 of the weekend and his first race of the night. He'd been resting for 23 hours and 16 minutes.
Jenkins may not be as good as Cheserek but it's fairly close. Remember Jenkins ran 13:18 as a sophomore – he ain't bad himself. Give someone like that 23-plus hours of rest and someone else two hours of rest and we're going with the person who has had the extra rest every time – particularly when the person with two hours of rest is running race #4 of the weekend.
Galen Rupp may be 2-18 against Bernard Lagat all-time at 3,000/5,000 but if Lagat had been forced to race all-out at 1,500 two hours before the 5,000s, Rupp might be close to undefeated against Lagat.
Similarly, Paul Tergat wasn't quite as good as Haile Gebrselassie at 10,000 on the track. They only raced four times ever on the track and Geb won all four with Tergat second in all four. But if Gebrselassie had to run the 1,500 final two hours and five minutes before the 10,000 final, we're certain the outcome would be Tergat 4, Gebrselassie 0.
Gratuitous Paul Tergat vs. Haile G Stat   
Competition
Date
Tergat
Gebrselassie
Atlanta Olympic Games
7/29/1996
27:08.17
27:07.34
Athens IAAF World Championships
8/6/1997
27:25.62
27:24.58
Seville IAAF World Championships
8/24/1999
27:58.56
27:57.27
Sydney Olympic Games
9/25/2000
27:18.29
27:18.20
(Note: Tergat was 2-0 against him at the marathon and they were 2-2 against each other in XC)
We asked LetsRun.com coaching/stat guru John Kellogg what he thought of the Jenkins-Cheserek race. He said, "A 25[-second final 200] is pretty freaking fast at the end of a meet like that – where everyone has run at least one other event. The race overall wasn't that fast for that level but 25 at the end is hard to beat. That would be hard to beat anyway and Cheserek is probably a bit tired from his other events."
We followed up with a question about how much a race two hours before would tire you out and Kellogg got us to start dreaming:
"It depends on how good you are. I've always dreamed of seeing an Asbel Kiprop running the 1,200 and 1,600 legs of the DMR and seeing how competitive he'd be. He probably couldn't do it at the NCAA level but certainly at the conference level he'd be a force."
###
Cheserek's close in the mile was pretty special – 2:19.45 – a time we hyped in our mile recap as one that would be the second-fastest in collegiate history. Here are the top five collegiate times in the 1k:
1000 METERS
2:18.55 Rich Peters (Boston University) 03/02/14
2:19.53 Robby Creese (Penn St) 01/14/12
2:19.57 Christian Smith (Kansas St) 02/04/06
2:19.60 Ryan Foster (Penn St) 01/16/10
2:19.64 Doug Consiglio (Arkansas) 01/17/86
Nothing gets by John Kellogg, however. Kellogg reminded us that Cheserek had a running start which is probably worth 7/10ths of a second.
****
The Biggest Winners at NCAAs / Comparing Leah O'Connor and Eric Jenkins To Previous American Stars
We know now who won all of the events at NCAAs. But who were "the biggest winners"?
Our nominees:
Women – Leah O'Connor – The Michigan State senior went in as an NCAA champ but "in the steeple," an event more than two-thirds of the people are either scared to try or don't have the athleticism to pull off. She left NCAAs with much higher stature — as the meet record holder in the mile and the #2 indoor performer ever in the mile. Suddenly she went from being "A very good collegiate runner" to "I wonder how good she's going to be as a pro? Can she follow the Jenny Simpson/Emma Coburn trajectory?"
Along those lines, we did a little research comparing Simpson, Coburn and O'Connor heading into the spring of their last collegiate track season. Thankfully they all were basically the same age — 22 years and 7 months for Simpson/O'Connor and 22 years and 5 months for Coburn.
PRs at Age 22 After Indoor NCAAs   
Event
Simpson
Coburn
O'Connor
800
2:09.37
2:09.81
2:07.08
Mile
4:25.91
4:29.86
4:27.18
Steeple
9:22.26
9:23.54
9:36.43
In looking at that, the biggest difference between O'Connor and Coburn/Simpson is that when Coburn and Simpson were entering their senior years, they had both run under 9:25 in the steeple and were both Olympians. Simpson then exploded as a world force that spring/summer by running 2:02, 3:59, 9:12 and 15:05.
Looking ahead, we're wondering if coach Mark Wetmore would consider coaching a non-Colorado runner as a pro. O'Connor would be an ideal addition to his group.
Men – Eric Jenkins – Jenkins was already a big-time stud heading into NCAAs with PRs of 7:44 and 13:18, but he left as a two-time NCAA individual champion. There's little doubt Nike will want to handsomely repay him for his service for the Nike Oregon Ducks when he graduates.
Happy with our Simpson/Coburn/O'Connor comparison above, we decided to try compare Jenkins, Galen Rupp and Chris Solinsky in similar fashion. One issue is that Solinsky finished his collegiate eligibility in four years compared to five for Jenkins and Rupp. On the final day of indoor NCAAs their senior year, Solinsky was 22 years, 95 days old; Rupp was 22 years, 310 days old and Jenkins was 23 years, 110 days old.
So we present their PRs two ways.
Credentials Entering Sr. Spring of NCAAs
Event
Jenkins
Rupp
Solinsky
1,500/mile
3:58.11i
3:57.86i
3:57.80
3,000
7:44.91i
7:44.69i
7:51.69
5,000
13:18.57
13:18.12i
13:27.94
10,000
N/A
27:33.48
N/A
# NCAA titles
2
4 (3 w/o relay)
4
Credentials on 23rd Birthday
Event
Jenkins
Rupp
Solinsky
1,500/mile
3:58:11i
3:57.86i
3:37.27
3,000
7:50.44i (7:46.21i nullified by DQ)
7:44.69i
7:36.90
5,000
13:18.57
13:18.12i
13:12.24
10000
N/A
27:33.48
N/A
# N,CAA titles
0
4 (3 w/o relay)
5
Coach – Lance Harter – Harter, who is in his 24th year at Arkansas, finally got to enjoy NCAA team title #1 – the first women's team title in any sport at Arkansas. It was much-deserved for Harter, who four times has finished second at NCAAs in XC. Plus all of these years, Harter has been in the shadow of the men's program. During his 24 years at Arkansas, Harter had amazingly seen the Arkansas men celebrate national titles 32 times – 31 for John McDonnell (29 if you take away the two that were vacated), and one for Chris Bucknam.
In actuality, we shouldn't say this is NCAA title #1 for Harter. Before he came to Arkansas he was the John McDonnell of the D-II ranks, winning 14 national titles in 11 years at Cal Poly-San Luis Obispo.
****
How Could Oregon Not Win NCAA XC?
After NCAAs were over, the joke is that Oregon Coach Andy Powell is the best track coach in the NCAA and the worst cross-country coach in the NCAA.
The Ducks had the most dominant performance ever at the NCAA level in Fayetteville, yet somehow not only did they not win NCAA XC, they only finished sixth. How?
After all, in the mile, 3,000, 5,000 and DMR, there are just 156 points available at NCAAs and the Ducks captured 70 of them. That's 44.9%.
If we get rid of the DMR, which the Ducks won but were limited by rule to only 10 points, and look at the just the mile, 3,000, and 5,000, the Ducks actually outscored the entire rest of the NCAA as the Ducks took home 60 of the 117 points (51.3%). So the score in the mile, 3,000 and 5,000 was:
Oregon 60, Rest of the NCAA 57.
So how did they get sixth at NCAA XC? It's easy. NCAA track points are about total studs scoring lots of points. NCAA cross-country is about having five people run well.
The Ducks went 1-2 at NCAAs in cross with Cheserek and Jenkins but didn't come close to winning. Oregon's fifth man at NCAA XC scored 131 points – that's way more than the total team scores of Colorado (65) and Stanford (98). Through four men, Oregon had 90 points, which was already too many to win.
Another way to think of it is NCAA track is very much top-heavy. NCAA XC is depth-heavy. One bomb at NCAA track doesn't kill you – it can kill you in XC.
For example, we don't see anyone talking about #4 seed in the 3,000 Jeramy Elkaim of Oregon, who finished last in the 3k at NCAAs, but if that happens in cross-country, you can normally kiss a team's titles chances good-bye (Elkaim didn't have a good XC season and didn't run NCAAs).
With Colorado scoring just 65 in XC, the Ducks would need men #3-#4-#5 to average under 21 points per man in order to win, even with Jenkins and Ches going 1-2. That's not easy to do. Colorado won because they were very, very good.
Cheserek and Jenkins certainly led the way in cross and indoors. Of the Ducks' distance points at NCAA Indoors, 48 of 70 (68.6%) came from Cheserek and Jenkins (if you give Cheserek all 10 points for the DMR).
An additional 19 points came from guys that didn't have NCAA XC eligibility.
8 from Will Geoghegan (Dartmouth grad student; only has track)
6 from Parker Stinson (no XC eligibility)
5 from Johnny Gregorek (Columbia grad student; only has track)
So what's left? Just three points came from someone not named Jenkins/Cheserek that ran for the Ducks at NCAA XC – Daniel Winn (6th mile, 60th NCAA XC).
That's not bad. Most teams's fourth men in cross aren't scoring at NCAA track. As a team, Colorado had four runners at NCAA indoors who scored a total 7 points.
Jake Hurysz: 10th mile, 14th 3k.
Morgan Pearson: 5th 3k, 14th 5k
Pierce Murphy: 6th 5k
Ammar Moussa: 10th 5k.
But would Oregon have won in XC with Geoghegan, Stinson and Gregorek? Put them in the 2014 meet at their highest career finishes at NCAA XC (and move everyone else down accordingly) and you get this:
| | | | |
| --- | --- | --- | --- |
| Oregon | Name | Place | Team points |
| #1 | Edward Cheserek | 1 | 1 |
| #2 | Eric Jenkins | 2 | 2 |
| #3 | Will Geoghegan | 14 | 13 |
| #4 | Tanguy Pepiot | 48 | 38 |
| #5 | Parker Stinson | 54 | 44 |
| | |  TOTAL | 98 |
| | | | |
| --- | --- | --- | --- |
| Colorado | Name | Place | Team points |
| #1 | Ammar Moussa | 5 | 5 |
| #2 | Ben Saarel | 7 | 7 |
| #3 | Blake Theroux | 9 | 8 |
| #4 | Connor Winter | 25 | 20 |
| #5 | Pierce Murphy | 36 | 27 |
| | |  TOTAL | 67 |
Colorado still would have won NCAAs handily while Oregon would barely have been second (Stanford finished with 98 points at the actual 2014 meet; adding in Geoghegan would have knocked them down to 102). Of course this isn't to say that's exactly what would have happened (again, we're assuming that Geoghegan, Stinson and Gregorek replicate their best NCAA XC finish and don't improve on it), but it goes to show just how good Colorado was last fall.
Oregon won in track because their studs came through big-time. In XC, studs can only do so much.
It's just the nature of the two sports. Take a look at the NCAA D-III  indoor meet. St. Olaf had a runner win the mile (Paul Escher 4:10.19) and two other runners go 1-2 in the 3k (Jake Campbell 8:10.55, Grant Wintheiser 8:11.29). Yet, in XC their were second to North Central as they got killed by 41 points at #5.
More: Complete 2015 NCAA D1 Indoor Coverage
****
Ryan Hall Ran Like An Idiot….. Or Did He?
The messageboard certainly was abuzz on Friday and Saturday with 2015 NCAA Indoor talk. But what was unexpected was that it stayed super hot on Sunday and into Monday as people talked about Ryan Hall's DNF in Los Angeles.
Hall, who hasn't run a good marathon since the 2012 US Olympic Trials, ended up dropping out at the 2015 Asics LA Marathon before halfway after going out in 14:51 for his first 5000. After Hall's DNF, many on the messageboard were saying things along the lines of, "What an idiot. The guy hasn't run a good marathon in years. Why would he go out so fast (14:51 is 2:05:19 pace)?"
Not us.
The beginning of the LA Marathon is similar to the beginnings of the Boston Marathon — way down hill.
In looking at the course elevation chart for LA, it's hard to say exactly how far down hill the first 5k is but we've estimated the the first 5k is almost 220 feet net downhill. But let's be conservative and say it's just 200 feet net downhill.
LetsRun.com stat/coaching guru John Kellogg's elevation formula says that for every 10 feet in elevation drop in a marathon, you run 1.8 seconds faster. Thus the first 5k is LA, if it features a 200-foot elevation drop, would be 36 seconds faster than normal (it's 39.6 seconds if it's 220 feet). So Hall went out in 14:51 but if you add 36 seconds to that he went out at a 15:27 effort. 15:27 pace for 5k is 2:10:23 pace for the marathon — definitely not too fast for Hall.
While we don't have a problem with the first 5k, we do have a problem with the first mile assuming the elevation chart is accurate. If we were him, we certainly wouldn't have gone out in 4:42 for the first mile as it's barely downhill on that chart (but much more downhill on this one). There are 26.2 miles in a marathon so it's always better to start too slow than too fast.
Former BYU runner Jared Ward won the US championship and was third overall in the race in 2:12:56. His first 5k was 16:08 — that's 2:16:09 pace.
##
One question we have for Ryan Hall is: will he try to now run the 2015 Boston Marathon in five weeks? Dropping out before halfway certainly didn't trash his legs. We hope he runs it. Go there, run with the top Americans (maybe stay away from Meb) and see what happens.
To everyone writing Hall off for 2016, we certainly aren't. If you asked us to pick three Olympic marathoners for 2016, we'd be very tempted to still pick him as one of the three.
But he hasn't run a decent marathon in years, you say.
So what.
Did you pay attention to who won the US women's title and finished third overall in the women's race in LA? It was third 39-year-old Blake Russell — the 2008 US Olympic marathoner. Russell ran 2:34:57 on a hot day.
Here's a crazy stat for you. This was the first marathon that Russell has finished since the 2008 Olympics.
Russell, who has a 2:29:10 pb, made the US Olympic marathon team way back in 2008 by running 2:32:40 and then ran 2:33:13 in the Olympics. Since then, she hadn't finished a marathon until Sunday.
Write off Ryan Hall at your peril. Talent sometimes just goes into hibernation.
##
Sunday wasn't a good one for Ryan's wife, Sara, either. She'd been running great so far this year — fourth at the US Half Champs and fifth at the US XC Champs — but struggled in her marathon debut as the wheels came off after 25k. After running 25 km at 2:32:56 pace, she staggered home in 2:48:02 in her marathon debut.
*2015 LA Marathon Thread
*Ryan Hall DNFs at LA. Will he ever run a good marathon again?
*Ryan hall – I don't get it.
****
The USATF Board Believes It's Way Smarter Than You
Last week the USATF Board voted not to overturn its controversial decision to ignore a vote by 85% of its membership to nominate Bob Hersh for the IAAF Council instead of Stephanie Hightower. The Board's vote showed how insular they are and out of touch they are. If anyone else has examples of non-profit boards overriding 85% votes of their membership, email us. We bet almost none exist.
One thing that is so disappointing was that so much of the debate was talked about in terms of age, gender and race. Charges of racism, sexism and ageism seemed to dominate the day.
Many of the people supporting Hightower kept trumpeting the fact that she was a black, younger female, as if those were qualifications for the job. The Board got this started — in three of its four bullet points on "key elements" on why it selected Hightower, it mentioned her age, sex, and/or race.
This message board poster said it best, "The twelve members of the USATF Board who support SH (Stephanie Hightower) would do well to keep in mind that being African-American and female are qualities, not qualifications."
Well said.
Hello people, it's the year 2015. In a day and age when the IAAF President, the USATF CEO, the USATF President, and 66.6% of the USATF Board is black, can we just start talking about who is most or least qualified for the job? Whether they have a penis, vagina, or both, or what the hue of the color of their skin is should not matter.
Diversity is a great thing, and the IAAF Council needs more women on it, but the fact Stephanie Hightower is a woman does not make her more qualified than Bob Hersh.
Once the Board placed such an emphasis on sex, age, and race, Hersh responded with the honest, but disappointing statement, that the male-dominated and sexist IAAF was unlikely to elect Stephanie Hightower as vice president. We understand Hersh now regrets saying the statement and we think he should regret it because we want to aspire to change others' sexism, not benefit from it. Some Board members took offense at Hersh's statement. Yet we wonder if the Board was equally offended by their very own statement on why they selected Hightower: "The strength of Ms. Hightower's relationships throughout the IAAF, and especially among women and federations in the Caribbean, Africa and the Middle East, make her a very strong candidate." Read that again and think about it. Imagine the outrage if Hersh had said he had a great relationship "especially among men" or if we want to go into speculative territory "especially among men in North America, Europe, and the Middle East" without giving any evidence.
Anyway, all of this identity talk did make us wonder, "What was the racial make-up of the 2012 US Olympic track and field team?"
We thus found a copy of the 2012 US Olympic track and field roster and have an answer:
56.8% – percent of 2012 US Olympic Track and Field team that was black, bi-racial or Hispanic by our best guess.
43.2%  – percent of 2012 US Olympic Track and Field team that was white.
Fortunately, the colors the USA Olympic Team focuses on are red, white, and blue and gold, silver and bronze.
*2012 US Olympic Team by Race (spreadsheet)
****
Email of the Week
If you want to get the full scoop on the USATF election, we highly suggest you read Ken Stone's piece on the election in the Times of San Diego: USATF Board Keeps Hightower as IAAF Council Nominee, Defying Calls to Rescind.
A LetsRun.com visitor, who also happens to be on of the top agents in the sport, read the piece and found the following excerpt to be newsworthy:
Steven Miller, the board's vice chair, gave an impassioned statement that the board had the duty to vote as it wished — even if it went against constituent feelings. He said constituent groups can remove their board members.
He likened the December vote to several presidential elections, including John F. Kennedy's, where he said the opposing candidate got more popular votes but didn't win the White House.
The LRC visitor and agent emailed us the following after reading that excerpt:
I had to laugh when I read about Steve Miller's "impassioned statement" citing the 1960 election where he said "the other candidate" received more votes, but lost the election … You'd think he actually look up the results!
John F. Kennedy – 34,220,984
Richard Nixon – 34,108,157


Maybe he was thinking of Bush v. Gore?
Who knows what Steve was thinking? But 50.1% of the vote is very different from 84.8%-14.2%. We can't believe the Board can't understand that.
****
Stat of the Week I
40 – number of days since the two-year EPO ban ended for Kenya's Wilson Loyanae Erupe, the first Kenyan to be banned for an EPO offense, before he won the 2015 Seoul International Marathon on Sunday in 2:06:11.
The idea that an EPO offense used to only result in only a two-year ban from the sport was utterly ridiculous and Ekupe is a prime example of why. He made $100,000 in Seoul — certainly an amount of money worth cheating and sitting out two years for in Kenya, where the per capita GDP is $1,020.
We've long advocated that the doping authorities need stiffer penalties and to differentiate between intentional and possibly unintentional doping (contaminated food, supplements). Thankfully that has started to be the case in 2015.
Under the new doping code that was implemented on January 1, "deliberate cheating leads to a four-year ban, athletes guilty of "inadvertent doping" will receive a two-year ban – although they can get a reduction if they have 'substantial proof that they were not at fault or intending to cheat'" as explained in this BBC article.
It's certainly a step in the right direction. To us, though, intentional doping should result in lifetime bans. End of story.
Intentional doping is basically the equivalent of fixing the outcome of a game. The Black Sox were banned for life in baseball — dopers should be as well in track and field. Leave two-year bans for cases of potential unintentional doping (contaminated food, etc).
Oh in case you are wondering, Ekupe's PR is 2:05:37, which he ran at Seoul in 2012. Why on earth Seoul would want him to return is beyond us.
Ethiopian Guteni Shone Imana won the women's race in Seoul in 2:26:22.
****
Stat of the Week II
$70,000 – amount of prize money put up at the Shamrockin' Run 8K in New Orleans last week, and that doesn't even count the $25,000 World Record Bonus.
The race seems like an ideal one for people looking to taste spring a little bit early as it's run on a 1.8-mile loop road course within Audubon Park. Race director Bill Burke came up with the idea to hold the race, now in its third year, there as that's where the Crescent City 10k used to finish. That course was lightning fast as world record after world record was set there including Mark Nenow's 27:22 in 1983.
The best part about the race is the elites run after the mass participation race has finished and the fans have had a little time to get riled up with a few beers. The last mass participation racer finished at 10:35 and the elites "started to entertain them" as Burke so classically said at 11:00. The mass participation racers get to enjoy a cold one while watching the pros race around them as shown here: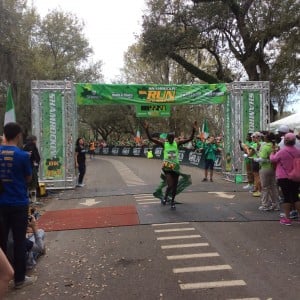 A trip to New Orleans never disappoints. So come on LRC nation, get your butt to New Orleans next year to support the cause.
This year, with Isiah Koech not showing up even though he had had initially committed to the race a month ago, the world record wasn't threatened like it was last year when Koech ran 22:09 (world record is 22:03) as Julius Kogo got the win in 22:29 but seven men did break 23:00.
Men's Results
1. Julius Kogo, 29, Chapel Hill, NC (KEN)      22:29  $6000 + $2000 primes (mile 3 lead and finish – the finish had a prime, so basically winning paid $7,000))
2. Dominic Ondoro, 27, Santa Fe, NM (KEN)      22:33   5000 + $2000 prime (led at 1 mile in 4:23 mile and mile 4)
3. Haile Tegegn, 29, New York, NY (ETH)        22:39   3000 + $1000 prime (led at mile 3)
4. Geoffrey Kenisi, 27, Hebron, KY (KEN)       22:42   2500
5. Mourad Marofit, 33, Roxborough, PA (MAR)    22:48   2000
6. Haron Lagat, 31, Lubbock, TX (KEN)          22:52   1500
7. Sam Chelanga, 30, Tucson, AZ (KEN)          22:59   1000
8. Nelson Oyugi, 22, Santa Fe, NM (KEN)        23:08    800
9. Elivis Cheboi, 20, Nairobi, KEN             23:16
10. Kenneth Rotich, 24, Grand Prairie, TX (KEN) 23:42
11. Sammy Rotich, 28, Coon Rapids, MN (KEN)     23:46
12. Keith Gerrard, 28, Albuquerque, NM (GBR)    23:53
13. Meshack Kirwa, 40, Santa Fe, NM (KEN)       23:59
14. Edward Tabut, 31, Coon Rapids, MN (KEN)     24:46
We were wondering if seven men under 23:00 was some sort of record and went to ARRS.net and were blown away. A race back in 1983 in Newport Beach had 15 guys break 23:00 in it and 49 guys run 24:30 or faster. We wanted to get a history lesson and learn about the race so we posted a question on the messageboard and let the LetsRun.com nation tell us about that race:
Give us a history lesson: What 8k road race was in Newport Beach in 1983 where 33rd place was 23:37?
The LetsRun nation says the name of the race is the Sub-4 Back Bay 8k. Read the thread to learn all about it; the best line about the race was this messageboard post by "get off the start line" regarding the race and the performance of former 1500/mile world record holder Filbert Bayi as well as sub-28 10,000 man and now Syracuse XC coach Chris Fox:
Results:
31 23:32 Filbert Bayi (TAN) 10 Dec 1983 Newport
32 23:37 Chris Fox (WV/USA) 10 Dec 1983 Newport
Filbert Bayi and Chris Fox get 31 and 32, ha ha, think I'd have stayed in bed for that one.
The Shamrockin' Run may have set a world record for most men under 23:00 in a race with doping controls, which Burke added this year.
In terms of the women's race in New Orleans, 21-year-old Ethiopian Buze Diriba, the fifth-placer in the 5000 at Worlds at 2013, picked up first place in 24:58. Earlier this winter, Diriba was third in the two-mile at both the Armory Track Invite and New Balance Indoor Grand Prix.
The interesting thing about her win is she actually earned less than runner-up Betsy Saina as there is a $1000 prime for being the first at every mile and the finish and Saina led until the finish.
Women's Results- Mile Splits – 4:56, 5:04, 5:02, 5:05.
1. Buze Diriba, 21, White Plains, MD (ETH)     24:58  CR $6000 + $1000 prime (the finish had a prime, so basically winning paid $7,000)
2. Betsy Saina, 26, Colorado Springs, CO (KEN) 25:00   $5000 + $4000 primes (in lead at mile 1-2-3-4)
3. Risper Gesabwa, 26, KEN                     25:44   3000
4. Susan Jerotich, 27, Chapel Hill, NC (KEN)   26:22   2500
5. Genet Beyene, 20, New York, NY (ETH)        26:24   2000
6. Etalemahu Habtewold, 24, New York, NY (ETH) 26:27   1500
7. Emmy Chepkirui, Hebron, KY (KEN)            27:35   1000
8. Amsalie Astatke, 19, BAH                    27:36    800
9. Amy Van Alstine, 27, Flagstaff, AZ          28:02
10. Fantaw Adem, 40, Jersey City, NJ (ETH)      31:01
More: Julius Kogo, Buze Diriba wins Shamrockin' Run titles
****
Talent Doesn't Go Away
While the world was focused on David Rudisha's 1:45.01 opener in Australia at the Sydney Track Classic, the result that caught our eye was Ryan Gregon's 3:36.51 world leader in the 1500. After running a national record of 3:31.06 in Monaco in 2010 at age 20, Gregson hasn't run faster than 3:33.92 and hasn't broken 3:35 since 2012.
But he's still only 24. To run 3:36 this early is a good sign for Gregson.
It's worth noting that American Andrew Wheating, who ran 3:30.90 in that same 2010 Monaco race at age 22 and hasn't broken 3:34 since, was third in Sydney in 3:38.75. Not as impressive as Gregson, particularly since this was Wheating's fifth race of the year versus Gregson's second, but somewhat encouraging for Wheating, who didn't break 3:37 in 2013 or 2014.
As for Rudisha, 1:45.01 is the slowest opener he's had since he was 19. His best days may be behind him but that doesn't mean he's finished. While he's opened as fast as 1:43.15 (2010), one doesn't need to open that fast. Rudisha's best year ever was obviously 2012 and that year he opened in Australia in 1:44.33.
Sydney Track Classic 1500 Results
1500m:
1. Ryan Gregson                 Nswis            3:36.51
2. Jeff Riseley                 Vis              3:36.87
3. Andrew Wheating              USA              3:38.75
4. Jeff See                     USA              3:39.02
5. Josh Wright                  Nsw              3:39.05
6. Jordan Gusman                Nsw              3:40.28
7. Brenton Rowe                 Aut              3:40.85
8. Jack Stapleton               Nsw              3:41.07
9. Zak Patterson                Vic              3:41.30
10. Marc See                    WA               3:41.89
11. Jeremy Roff                 Nsw              3:42.79
12. James Hansen                Tas              3:42.81
13. Tom Fawthorpe               Vic              3:43.48
14. Joshua Johnson              Act              3:47.06
15. Reilly Shaw                 Vic              3:56.11
DNF — Philo Saunders          Act             (Pace)
DNF — Will Austin-Cray        Nsw             (Pace)
****
Quotes Of The Day And Last Week's Home Pages
To see the actual quotes of the day from last week or last week's home page or any home page, go to our archive page.
Questions, comments, please email us or post them in our running fan forum.