Mo Farah Outkicks Micah Kogo to Win Lisbon Half Marathon in 59:32, Sets European Record
By LetsRun.com
March 22, 2015
Despite falling behind by over 10 seconds in the middle of the race, Mo Farah closed quickly and eventually pulled away from Kenya's 2008 Olympic 10k bronze medalist Micah Kogo with 200 meters to go to win the 2015 EDP Lisbon Half Marathon in 59:32. The time was a 28-second PR for Farah and a European record, eclipsing the mark of 59:52 set by Spain's Fabian Roncero in Berlin in 2001 (Portugal's Antonio Pinto ran 59:43 in Lisbon in 1998, but the Lisbon course was not record-eligible at that time). Farah and Roncero are the only European men to break one hour for the half marathon on record-eligible courses (Pinto is the only other one to do it). Quick recap, results and analysis below.
The Race
Rabbit Wilson Too was supposed to take the field out in 27:45 for 10k (58:32 pace) according to Alberto Stretti, which would have put the leaders close to world-record pace (58:23). It was hard to tell whether he actually hit those splits (the race broadcast was in Portuguese and offered barely any splits), but by four miles, Too already had a gap of 30+ meters on the field. With winds of around 12 miles per hour, a blazing fast time looked unlikely even on a sunny day with temperatures in the 50s (55 at the start of the race).
By 8K, Too led a pack of six runners that included Farah, Kogo, 58:54 man Stephen Kibet, Ethiopian World Half bronze medalist Guye Adola and Kenya's Edwin Kipyego. The split given by the race broadcast at that point was 21:44 (57:18 pace) which almost certainly was off (that is 27:10 10k pace). Nonetheless, the pace was too hot and Farah began to let the leaders go as Too, Kogo, Kibet and Kipyego broke away up front.
By the time the race broadcast returned to the men's action, Kibet and Kogo had separated from the field, crossing 14K in a reported 39:13 (59:05 pace.). At this point, Farah and Kipyego were 12 seconds back Kibet and Kogo looked comfortable up front working together (Kibet even passed Kogo his water bottle at one of the aid stations) but over the next few kilometers, Farah steadily worked his way up to join them at the front of the race.
By 19K, Farah had caught them and by 20K, it was down to him and Kogo, who finished second at the Boston Marathon in 2013 and won Beach to Beacon later that year. Kogo kept pushing at the end of the race, at one point opening a gap of a couple of meters on Farah, but he could do nothing to drop the Brit. With 200 meters to go, Farah pulled up level with Kogo and proceeded to accelerate away as they made the final turn toward the finish line. Farah had enough time to celebrate as he crossed the line in 59:32, though he was quickly brought down to earth (literally) as he became tangled in the finish-line tape and fell to the ground (Farah said he was all right after the race). Kogo took second in 59:33 with Kibet third in 59:58.
"It feels amazing," Farah said on the broadcast after the race. "I got massive support from the crowd. For me, it wasn't easy to win here… The guys made it tough.
"Today was hard. Tomorrow's my birthday so it's a good birthday present…The time was really good for me. I'm glad to break the British and European record."
Farah turns 32 on Monday. On his finish-line spill, Farah had this to say:
"Normally when the tape goes down, you just step over it but my legs were so tired."
Results
1. Mo Farah, Great Britain 59:32
2. Micah Kogo, Kenya 59:33
3. Stephen Kibet, Kenya 59:58
4. Guye Adola, Ethiopia 60:45
5. Edwin Kipyego, Kenya 61:48
6. Kevin Kochei, Kenya 61:56
7. Sahlesilassie Nigussie, Ethiopia 62:10
8. Aschealew Nigusse Meketa, Ethiopia 62:16
9. Silas Kipruto, Kenya 63:19
10. Ezekiel Chepkorom, Uganda 63:30
Quick Take #1: 3:28.81 and 59:32
As an LRC visitor pointed out on the live thread, those are now Farah's PRs for 1500 meters and the half marathon. The poster went on to say "good luck trying to beat Mo Farah in the 5 and 10 this summer" and we'd have to agree.
48 men have run 59:32 or faster in the half marathon (legal courses).
29 men have broken 3:30 in the 1500.
Farah is the only man on both lists. In fact, he's the only man in the top 100 all-time at both 1500 and the half marathon (T-7 1500, T-47 HM). If you're looking for a reason why he's nearly impossible to beat at 5,000 and 10,000, that statistic is a good place to start. Anyone who can 8:03.40 for two miles and 59:32 for the half marathon one month apart as Farah has now done has a historically-great combination of speed and strength. He may turn 32 tomorrow, but Farah, who has dominated the track for the last four years, is showing no signs of slowing down.
Quick Take #2: Mo Farah, please take a crack at a fast 5,000 or 10,000 this summer
Farah may have monopolized the 5,000 and 10,000 gold medals on the track the past few years, but his PRs of 12:53.11 and 26:46.57, while impressive for a normal human, aren't fast from someone with that kind of global hardware. His best track PR is actually that 1500 (3:28.81), and when you consider that time, his world record in the indoor two-mile, his dominance in championship races and his fast half marathon today, it seems as if those track PRs are ripe for the taking.
The question is, will Farah attack them this summer? History suggests that he will not. None of his major PRs — 1500, 5,000, 10,000 or half marathon — came in time-trial-style record attempts. His top priority is always to win, and all of those times were the product of Farah racing the competition (his indoor two-mile is a notable exception). As much as we'd love to see Farah run a blazing 5,000 or 10,000 this year (could he run 12:45? 26:25?), the only way we see those times happening is if there are other runners (not rabbits) pushing Farah to the limit. What we need is a repeat of that freak Paris 5,000 from 2012. Then we might truly see what Farah is capable of.
Quick Take #3: Farah's strategy was reminiscent of the one Kenenisa Bekele used against him at the 2013 Great North Run
Today's race was different than that classic encounter 18 months ago, but both were similar in that Farah and Bekele overcame significant mid-race deficits to win. At the Great North Run, Bekele essentially "played dead," making it seem as if he was struggling when in fact he just wanted Farah and Haile Gebrselassie to speed up. Today was the opposite, as Farah dropped back before the five-mile mark, perhaps sensing (correctly) that the pace was too hot. Clearly Farah made the right decision and he was rewarded with the victory and a nice PR, to boot.
Quick Take #4: A nice return to form for Micah Kogo
Kogo enjoyed a big 2013 (second at the Boston Marathon, fourth at Chicago, winner of Beach to Beacon) but was just 17th at Boston last year. The rest of 2014 didn't go much better as he finished fifth at Beach to Beacon and 14th at the NYC Marathon. Today's performance signaled that a few bad races weren't anything to worry about for the 28-year-old, as he gave Farah all that he could handle in running to a second-place finish in 59:33. Kogo has run faster on a non-record-eligible course (59:07 at the 2012 Great North Run), but today's run broke his official PR by 16 seconds.
Quick Take #5: Priscah Jeptoo takes third in women's race as Rose Chelimo wins in 68:22
Jeptoo, who is on the comeback trail after injury caused her to DNF the London Marathon last year and withdraw from NYC, was third today in 69:21. That's not a disastrous result, but it's probably not what Jeptoo — who ran 67:02 last year at the RAK Half — was hoping for. It was Jeptoo's slowest half marathon at sea level since 2012, when she ran 70:32 (also in Lisbon) — though it's worth noting that she won that race.
Jeptoo is running London next month and while it would be foolish to write her off based on one (not particularly bad) half marathon, she'll need to be at the top of her game there to beat the likes of Mary Keitany, Edna Kiplagat and Florence Kiplagat.
The victory was a nice one for Rose Chelimo, who knocked 18 seconds off her PR to run 68:22. That's now five victories in a row for Chelimo, who had already won half marathons in Turkey and and Puerto Rico earlier this year.
Portugal's own Sara Moreira (third at NYC Marathon last fall) was second in 69:18.
Top Women's Results: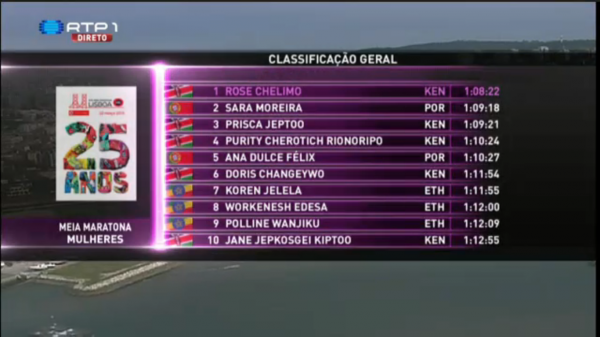 Screenshots of the Fall