Yared Nuguse Delivers, Wins His First US 1500 Title
By
Robert Johnson
and
Jonathan Gault
EUGENE, Ore. — American record holder Yared Nuguse's magical 2023 season continued today as he got the win in the men's 1500 at the 2023 Toyota USATF Outdoor Championships in a 3:34 race (just as someone predicted). And Nuguse did it in a way that would make Jakob Ingebrigtsen smile as Nuguse took the lead just before 300 and did the yeoman's work as he hit splits of 58.72, 1:58.96 (60.24), and 2:55.45 (56.49).
However, his ratcheting down the pace on the third lap didn't kill off the competitors and just before 200 to go, 2022 NCAA champ Joe Waskom of Washington passed Nuguse. 2021 Olympian Cole Hocker and 3:32 man Hobbs Kessler were right behind. Was the almost unthinkable about to happen? No, Nuguse rallied in the final 100 and got the win in 3:34.90 with Waskom holding on for second in 3:35.32 and Hocker a clear third in 3:35.46. Kessler faded to sixth (3:36.08) as Sam Prakel rallied from 7th at 1200 to 4th at the finish (3:35.83).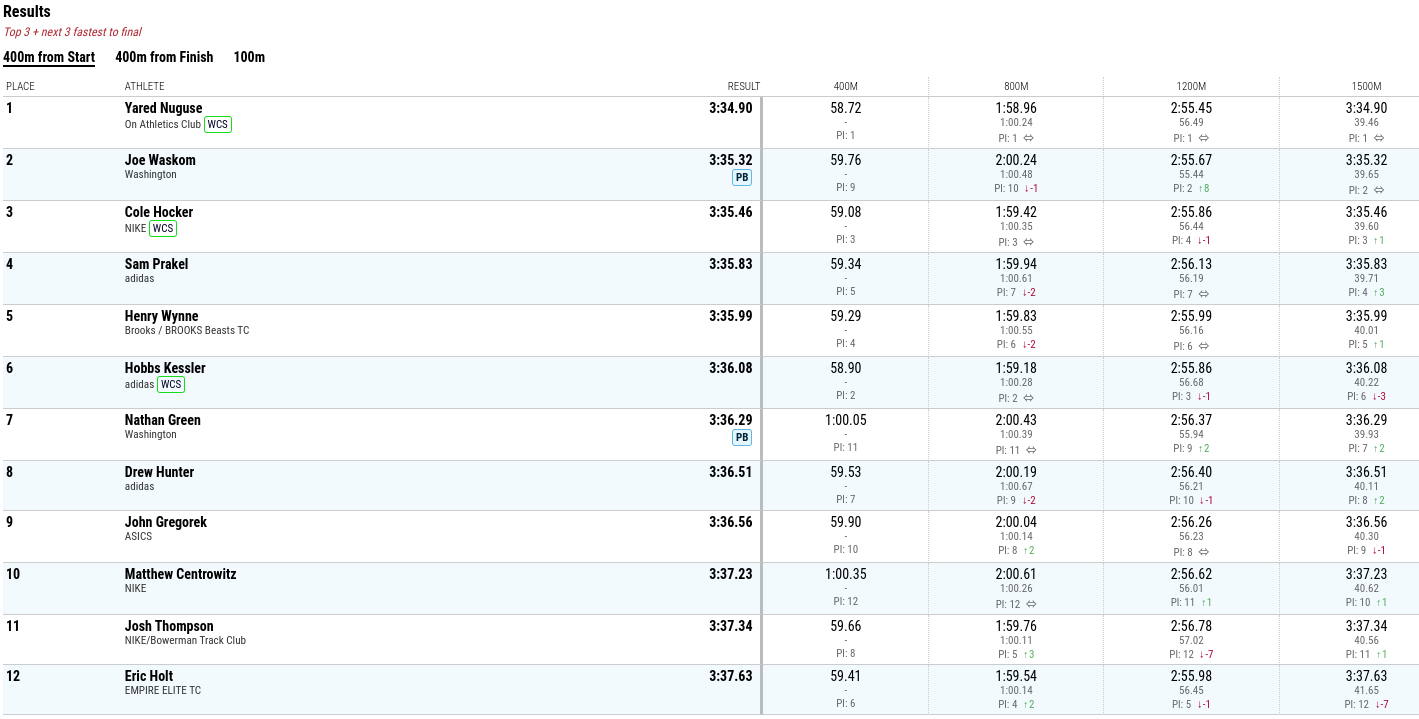 Article continues below player.
Quick Thought: A much-deserved win for Nuguse but old timers likely were having Steve Holman flashbacks
Nuguse came in with a mark on his back but in the end he led almost all of the race and got the win. But quite a few LRC staffers in the 40+ age range were having Steve Holman flashbacks. Back in the later 1990s/early 2000s, Holman was way faster than everyone else in the US but would regularly not make US teams. Nuguse is so fit, he found a little something in reserve and got the win.
Nuguse said coach Dathan Ritzenhein said Nuguse almost give him a heart attack with how stressful the final 200 meters was. But Nuguse is a pretty relaxed guy and said that he was having fun – even when Waskom passed him late in the race.
"Joe kind of popped out of nowhere," Nuguse said. "I was like, that was a good move right there. I really appreciated it. I was a college kid last year so it's cool seeing college kids going for their moment. But I felt like I had a couple more gears left so I felt pretty confident even when he did pass me."
Nuguse had a lot of respect for his opponents and said he did not take winning the US title for granted. And when challenged by Waskom, rather than panic, he responded like a champion and battled back to win thanks to a terrific 25.69 final 200. There are time trailers and there are championship runners and Nuguse has shown he can succeed in both kinds of races.
Injury prevented Nuguse running the Olympics in 2021 and contributed to his 11th-place finish at USAs last year. But in 2023, everything has been clicking for him and, barring an injury setback, he will compete in his first global championship next month. Nuguse said he will head to Europe to run the 1500 at the London Diamond League on July 23. After that, his goal is to become the first American man to win a global 1500 medal since Matthew Centrowitz's Olympic gold in 2016.
"Right now I feel very confident in my ability to go and achieve that goal," Nuguse said.
Quick Thought: Joe Waskom doesn't have the standard but he'll be in line to go to Worlds after today's big run
If you look at the Road to Budapest standings, Waskom is outside the top 56 that are in line to go to Worlds as he only has a five-race average of 1160 ranking poiints and 56th has 1172. But Waskom will get 1250 points for today's race (1170 for the time and 80 for 2nd) and will now have an 1188-point average, which will move him up to #52 (maybe #51 if you remove one of the Americans with the standard).
Waskom's hard move entering the final turn was almost identical to the move he used to win the NCAA title on this track a year ago and he deserves a ton of props for making it in a US final. Here's how he described it:
"I got to 300 to go and I was hurting pretty bad and I was like, I need to kind of go for it, try to get to the rail," Waskom said. "Coming off that final turn, I knew I had enough steam in my legs to at least get to the finish line and at least maintain pace. Yared went by me and I was like, oh God, just try and go with him. Crossed [the finish line] and couldn't really believe that [I finished 2nd]."
Waskom, who graduated from UW in 3.5 years, is currently working toward his master's in education – he had to scrap a class in order to compete at USAs this weekend – and is scheduled to be in class through August but said things may have to change now that he is going to Worlds (August 19-27). He added that he would like to return to UW this fall as he still has eligibility remaining.
Quick Thought: Cole Hocker was pleased to make the team given his injury struggles
After winning the US title and finishing 6th at the Olympics two years ago as a 20-year-old, Cole Hocker holds himself to a high standard. But he has dealt with significant injuries since then, most recently an Achilles issue, and said that after today's race, he's confident he's trending in the right direction.
"A year ago, I would have been extremely disappointed with a 3rd place finish at a US championship," Hocker said. "…I can put it in perspective and know where I'm at in training right now. I can be content with that right now because I know where I'm going."
Hocker's self-belief has not wavered, however. If he can stay healthy, he believes he can beat anyone in Budapest.
"I see myself as a medal contender just as I saw myself winning today," Hocker said. "I see myself winning the World Championships."
Quick Thought: Hobbs Kessler: "I knew I should have been on the team, but those guys had me today"
Kessler said after the race he wished he had run a little smarter, but it's hard to say he did much wrong. He stuck on the rail for the entire last lap, running the shortest distance, and entering the home straight was in position to move up. The problem was that when it came time to move with 100 to go, he did not have the necessary gear (his 13.47 final 100 was 9th-best in the field) and had to settle for 6th. 6th place at USAs as a 20-year-old is by no means a disaster, but when you've run 3:32 this year and are in position to kick with 100 to go, it's a disappointment.
Quick Thought: The 1500 is a young man's game right now
Between Nuguse (24), Waskom (22), and Hocker (22), this will be the youngest team the US has sent to Worlds in the 1500 for quite some time. The 1500 is very competitive globally right now so it won't be easy to medal, but between Nuguse, Waskom, Hocker, and 20-year-olds Hobbs Kessler and Nathan Green, the US has a lot of young talent in this event.
Quick Thought: Matthew Centrowitz was disappointed with how he ran but is still hoping to be a factor in 2024
Today was the first time that Centrowitz ran a US final with a World/Olympic team on the line and failed to make it — previously he was eight-for-eight in those situations, making the team in '11, '12, '13, '15, '16, '17, '19, and '21. Now 33, Centrowitz said that he has seen progress in 2023, going from 1:56 in the 800 and 4:06 in the mile in Australia this winter to 3:36 and the US final this summer, but it was frustrating that he did not have the fitness to be a factor in today's race, finishing 10th.
Talk about the day 3 USA action on our world-famous fan forum / messageboard.