Eilish McColgan (30:00.87) and Alicia Monson (30:03.82) Break National Records At The TEN
By Jonathan Gault
March 4, 2023
The British and American records in the women's 10,000 meters both went down late Saturday night in California as Eilish McColgan outdueled Alicia Monson over the final lap of The TEN in San Juan Capistrano. McColgan, the Commonwealth Games champion at 10,000 who is building up for her marathon debut in London on April 23, was only added to the field this week but felt confident in her fitness after five weeks of altitude training in Colorado. It proved an inspired decision as she ran 30:00.87 to narrowly break Paula Radcliffe's British record of 30:01.09 set in August 2002.
A few seconds behind McColgan, Alicia Monson nabbed her second American record of 2023, running 30:03.82 to smash the previous record of 30:13.17 set by Molly Huddle in the 2016 Olympic final in Rio. Three weeks ago, Monson ran 8:25.05 at the Millrose Games to break the American indoor (and overall) record for 3,000 meters.
Article continues below player
Both women were also safely under the 30:40 standard for the 2023 World Championships and 2024 Olympics on a good night for running fast (50-degree temps, still conditions).
Monson and her camp had billed the race as an American record attempt and they enlisted her On Athletics Club teammate Josette Andrews (a 14:51 5k runner) to handle pacing duties, along with Eleanor Fulton. When Andrews dropped out at 5k (15:09 for McColgan and Monson), they were actually a few seconds behind AR pace, but Monson took over and righted the ship, dropping the pace from 73-second laps to 72's, then 71's. By the bell, which Monson reached in the lead thanks to a 70.45 penultimate lap, the question was not whether the AR would go down, but whether either woman would break 30:00 – and of course, who would win the race?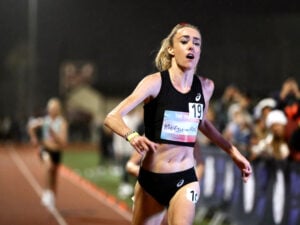 McColgan, who had clung faithfully to Monson throughout the race, finally went wide on the backstraight of the bell lap and passed Monson, and the American had no response as McColgan powered to victory with a 64.87 last 400m. Monson could not match that speed, closing out her effort in 67.99, and though she did not win, her American record was very well-deserved after so much grinding from the front.
No one else earned the World/Olympic standard, but a trio of Americans earned big personal bests in 3rd-4th-5th. Running just her second 10k, 2021 NCAA 5k champ Elly Henes won the battle for 3rd in 30:48.26 to edge 2022 Worlds team member Natosha Rogers (30:48.69) as both women moved ahead of Emily Sisson (30:49.57) and Deena Kastor (30:50.32) into 6th and 7th on the all-time US list. Rogers' Puma Elite teammate Fiona O'Keeffe also got a pb in 5th, running 30:55.05 to become the 11th American woman to go sub-31.
Results (Analysis at bottom)
1 Eilish McColgan Asics 30:00.86 #$WRLD
2 Alicia Monson On Athletics Club 30:03.82 #$WRLD
3 Elly Henes Adidas 30:48.26
4 Natosha Rogers Puma Elite 30:48.69
5 Fiona O'Keeffe Puma Elite 30:55.05
6 Laura Galvan Hoka 31:04.08
7 Dominique Scott Adidas 31:14.00
8 Carrie Verdon TEAM Boulder 31:52.94
9 Susanna Sullivan unattached 31:55.80
10 Amy Davis-Green Hansons-Brooks ODP 32:10.59
11 Katie Izzo Adidas 32:22.47
12 Jeralyn Poe Tracksmith 32:39.10
DNF Josette Andrews pacer
DNF WuGa HE ChinaAA
DNF Dani Shanahan McKirdy Trained
DNF Vanessa Fraser Nike
DNF Sarah Inglis Puma Elite
DNF Eleanor Fulton pacer
DNS Ednah Kurgat US Army WCAP
Full race video
Men's race
The men's race came down to a battle of the last two US 10,000-meter champions: Woody Kincaid and Joe Klecker. Just as he did five weeks ago over 5,000 meters in Boston, Kincaid earned the victory, though he made his move slightly earlier this time around, taking the lead with 900m to run and holding off Klecker on the last lap, closing in 55.96 to Klecker's 56.92 as Kincaid ran 27:06.37 to Klecker's 27:07.57. Both men ran personal bests (they now sit #5 and #7 on the all-time US list) and both hit the 2023 World Championship standard of 27:10, but neither was able to earn the Olympic standard of 27:00.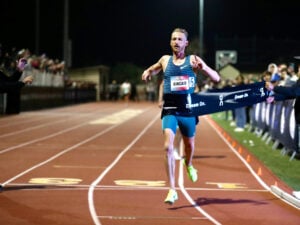 Klecker and Kincaid both went in with the aim of hitting the Olympic standard and joining Grant Fisher, Galen Rupp, and Chris Solinsky as the only American members of the sub-27:00 club. Klecker's OAC teammate Ollie Hoare was the main pacemaker (though there were several: Ehab El-Sandali, Amon Kemboi, and Athanas Kioko all helped out) and he took them through 5k in 13:35, at which point British Olympian Sam Atkin, running with the lead pack, surprisingly dropped out.
When Hoare stepped off after covering 6400m in 17:23.90 (27:11 pace), sub-27:00 was within striking distance. But Klecker, despite working hard, could not increase the pace, and Kincaid showed no interest in sharing the lead despite Klecker motioning for him to do so.
By a mile to go, Klecker and Kincaid had dropped everyone else, and Kincaid, sensing the World standard slipping away, hit the front with 900 to go. Klecker stuck right with him, however, and it wasn't until the final turn that Kincaid was able to gain real separation as both men closed well to get under the World standard – though not the Olympic standard.
Kioko, who stayed in the race, was the best of the rest, running 27:23.84 for 3rd, holding off Conner Mantz, who ran 27:25.30 in the midst of his Boston Marathon buildup (just .07 off his personal best from this meet last year).
Results (analysis below results)  *Lap by lap splits

1 Woody Kincaid Nike 27:06.37 WRLD
2 Joe Klecker On Athletics Club 27:07.57 WRLD
3 Athanas Kioko pacer 27:23.84
4 Connor Mantz Nike 27:25.30
5 Jonas Raess On Athletics Club 27:26.40
6 Ren Tazawa Komazawa Univ 27:28.04
7 Nils Voigt Puma 27:30.01
8 Sam Chelagna US Army WCAP 27:38.02
9 Luis Grijalva Hoka 27:42.56
10 Alex Masai Hoka NAZ Elite 27:42.80
11 Wesley Kiptoo Hoka NAZ Elite 27:45.81
12 Ben Flanagan On Running 27:49.67
13 Kanta Shimizu Subaru 27:51.23
14 Benjamin Eidenschink unattached 27:51.74
15 Tatsuhiko Ito Honda 27:54.64
16 Aaron Bienenfeld unattached 27:55.96
17 Ahmed Muhumed unattached 27:56.99
18 Frank Lara Altra/Roots Running Project 28:00.75
19 Emmanuel Bor unattached 28:01.09
20 Alberto Gonzalez Mindez Guatemala 28:30.63
21 Zach Panning Hansons-Brooks ODP 28:35.52
DNF Ehab El-Sandali pacer
DNF Amon Kemboi pacer
DNF Ollie Hoare pacer
DNF Sam Atkin Puma
Video of men's race
Quick Take: McColgan now owns every British record from 5k to the half marathon
McColgan already owned the British records in the 5,000 (14:28.55) and half marathon (66:26), and now she has the 10,000 mark as well. She'll go down as one of the greats of British women's distance running when all is said and done.
Quick Take: Running 30:03 is impressive enough, but the way Monson did it was truly incredible
When Monson hit 5k in 15:09, we weren't sure she was going to get the AR. The men hit 5k in 13:35, and though Kincaid and Klecker wound up running a negative split, they had to kick very hard to do so. Monson made it look easy. Monson actually ran faster once the pacemakers dropped out, and she wound up with a monster negative split of 15:09-14:54 (McColgan was even quicker, 15:09-14:51, though she let Monson do all the work until the last lap). For context, 14:54 is faster than the pbs of runners like Kara Goucher and Jenny Simpson. Even with supershoes, for an American to do that from the front, after having already run 15:09 is super impressive.
Quick Take: Monson took another step toward medal contention at Worlds and her long-term future is very bright
Monson was 13th in the 2021 Olympic 10,000 final and 13th again in last year's World final in Eugene. She ran 30:59 in the 2022 World final – 24 seconds behind McColgan, 41 seconds behind Karissa Schweizer, and 49 seconds behind bronze medalist Margaret Kipkemboi. The top six finishers in that race all ran faster than the American record. If Monson is to contend for a medal at some point in the future, her first task was to bring her pb down from 30:51. She accomplished that tonight.
The next step is being able to kick off that pace. Letesenbet Gidey closed in 60.77 in a 30:09 race to win gold last year, and the other medalists had very similar closes. Monson still has work to do in that department – she got blasted tonight by McColgan, who was 10th at Worlds last year – but that's okay. For one, it's March right now – more than five months from Worlds. For another, Monson did show she could outkick some of the best in the world when she almost won the 3,000 in Lausanne last year. And remember, Monson is still only 24. The 10,000 is not known as a young woman's event. As good as she is right now, she could be even better a few years from now.
Getting rocked on the last lap by McColgan will keep Monson humble, but she has a lot to be proud of right now. Already she's set American records in the 3,000 and 10,000 (the latter by a humongous margin) in 2023 – that would be a huge year (heck, a huge career) for most athletes, and we're barely two months into the year. What else does Monson have in store?
Quick Take: Three Americans now have the 2023 World standard
It was very important for Monson to get the 30:40 World standard tonight because, with the addition of eight quota spots for athletes based on their World Cross Country Ranking, it's possible no one will qualify based on their World Ranking in the 10,000 meters. (Sound complicated? We explain it all here).
The bottom line: if you want to go to Worlds this year in the women's 10,000, you will likely need to hit the standard. Currently, Monson, Elise Cranny, and Karissa Schweizer are the only Americans with the time, meaning athletes like Elly Henes, Natosha Rogers, Emily Infeld, and Weini Kelati will need to hunt out a qualifier this spring or try to make the USA final a fast race.
Quick Take: Job done (sort of) for Woody Kincaid and Joe Klecker
The biggest aim in the men's 10,000 was to hit the 2023 Worlds standard, and both Kincaid and Klecker did that with personal bests – hard to be too upset about that. But sub-27:00 would have been extra sweet because it would have allowed Kincaid and Klecker to bypass chasing the Olympic standard next spring. In fact, it's not even certain that Kincaid will run the 10,000 at USAs this year, because the 10,000 and 5,000 will both be run in a four-day span at USAs, which can make for a tough double. Next year though, Kincaid would presumably double up as he did at the 2021 Trials, since there is more time between the races (the Olympic Trials is held over 10 days).
It's always hard to tell how much Kincaid has left in the tank, and we're curious whether they would have been able to break 27:00 had Kincaid moved to the lead earlier or traded the lead with Klecker. Alas, we – and he – will never know.
After this race and their battle in Boston in January, plus the last two US finals outdoors (though Kincaid DNF'd in 2022), Kincaid and Klecker are developing a bit of a rivalry. Add in Fisher and the battle for the win at USAs should be very exciting.
Quick Take: Right now, there are four men in contention to run the 10,000 for the US at Worlds
Kincaid and Klecker joined Grant Fisher as the only American men with the 10,000 World standard. Though right now, Sean McGorty would also be in position to qualify if he finishes in the top 3 at USAs as he is ranked 19th in the world and would get in that way. Any other American hoping to qualify needs to bring their world ranking up or hit the standard. That includes Emmanuel Bor, whom we feel sorry for right now. Bor got in great shape for the USA XC champs in January, winning them and then committing to going to World XC because he believed the top 15 finishers would be given the World standard in the 10k. But World Athletics removed that rule this year, and to make things worse, Bor got sick before the race and only finished 32nd at World XC (even at full strength, top 15 would have been difficult, though not impossible).
Bor then tried to turn around and go for the standard tonight but was nowhere close, finishing 19th in 28:01.09. Sam Chelanga, who was the top American at World XC in 21st, fared better tonight, finishing 8th in 27:38.02. It's not ideal for athletes like Bor and Chelanga that the top race to get a 10,000 qualifier was held two weeks after World XC.
Talk about the Sound Running event on LetsRun.com's world-famous messageboard.