Letesenbet Gidey's Coach Tells LetsRun He Believes She Can Run Sub-2:10 In The Marathon
By Jonathan Gault
December 1, 2022
FRANKFURT, Germany — Sometimes, you're in the right place at the right time. On Thursday, that was Gate A25 at Frankfurt Airport at 7:42 a.m. Central European Time. That's where I was waiting to board Lufthansa Flight 1160 to Valencia when, to the right of the gate, I spied Letesenbet Gidey's coach Haile Eyasu. You may have heard that Gidey, the world record holder in the 5,000 meters, 10,000 meters, and half marathon, is making her marathon debut in Sunday's Valencia Marathon. Yesterday, I wrote a column trying to estimate what she was capable of running for the marathon based on historical precedent, but who better to ask about her chances than the man who has coached her for the last seven years?
In case you're wondering: yes, Gidey was on the flight as well. She seemed to go fairly unnoticed by the other passengers, save for a LetsRun Supporters Club member who is also running Valencia and stopped to take a picture with her.
Article continues below player
After introducing myself to Eyasu, he agreed to answer some questions ahead of Sunday's race. The takeaway: he is very bullish on her marathon prospects. He believes the world record is possible in Valencia on Sunday. He also believes that Gidey can one day run much, much faster than the current world record.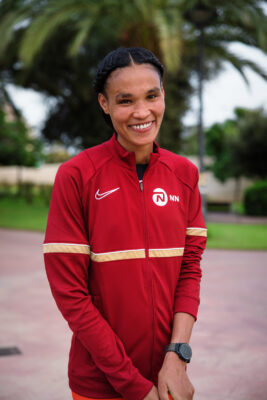 Gidey took almost a month off after winning the 10,000 and finishing 5th in the 5,000 at the World Championships in Eugene in July, but Valencia's December date still allowed her to get in a full marathon buildup. Like many athletes who move up to the marathon, Eyasu said Gidey's training block has differed from her previous training in two key ways: higher mileage, lower intensity. Gidey's highest volume week during the build was 185 kilometers (115 miles); during 5,000 and 10,000 training, Eyasu says, Gidey does not exceed 130 km/week (81 miles/week).
Overall, Eyasu says Gidey's training went well. For her long runs, Gidey would run 30k (18.6 miles) one week and 40k (24.9 miles) the next, with her longest run totaling 42 km (26.1 mi). He was also impressed by a couple of her longer sessions. One month out from the race, Eyasu says, Gidey ran 35k (21.75 mi) in two hours — 2:24 marathon pace for 21.7 miles at over 7,000 feet of elevation in her training base of Addis Ababa. Then, two weeks out from the race, she ran 25k in an hour and 20 minutes — that's 2:15:01 marathon pace for 15.5 miles, again at over 7,000 feet.
Eyasu is not surprised that Gidey has taken well to the training. Gidey has gradually moved up in distance throughout her career. She ran the 3,000 at the 2015 World U17 Championships (finishing 4th) then moved up to the 5,000 and 10,000 on the track as a pro then moved up to the half in 2021 and now to the marathon. Every time she moves up, she has excelled and broken world records. Eyasu expects that trend to continue.
"Best event for her, I think, as her coach: marathon," Eyasu says. "When I give her the training, her performance is best on the long run. That's why."
Looking ahead to Valencia specifically, Eyasu says he still needs to iron out exact paces with Gidey, her pacers, and her agent Valentijn Trouw closer to race day. But he already knows that he wants Gidey to go out on the slower side (for her) and pick it up late in the race. That is how Gidey likes to run, and it's how she broke her world records in the 5k (she was on 14:17 pace through 2k and finished in 14:06.62) and the 10k (she split 14:42/14:18). It should be noted, however, that Gidey slowed down a fair amount toward the end of her half marathon WR, splitting 15:00, 14:45, 14:44, and 15:17 for the first 20k.
Eyasu said he believes Gidey is capable of a time between 2:13:30 and 2:15:00 on Sunday. Long-term, he says Gidey, who is still only 24, could be able to run 2:09.
"We have planned to do best for the future, not now," Eyasu says. "For the future, maybe under 2:10."
Seriously? Sub-2:10?
"Yes, it's possible."
If that seems crazy — the world record currently stands at 2:14:04, set by Brigid Kosgei in Chicago in 2019 — recall last year in Valencia when Gidey said before her half marathon debut that she thought she would eventually be able to run under 63:00. At the time, that was a bold, aggressive statement — the world record stood at 64:02 — but it took all of one race for Gidey to reach her goal, clocking 62:52 her first time out.
No one in Gidey's camp is suggesting she can break 2:10 on Sunday. But the flurry of fast times in 2022 suggests women have not yet approached their ultimate limit in the marathon. Who is to say how fast the world record could be five years from now?
Valencia is at 2:15 am ET on Sunday. If you are American, it may be hard to watch it live. So why not join the LRC Supporters Club? You'll get access to two bonus podcasts from Valencia this week. You can wake up Sunday morning and have it broken down for you in your podcast player when you wake up.
More: The Inside Scoop From Valencia: Letesenbet Gidey Thinks She Can Break the WR, CJ Albertson Wants 2:08, & More from Valencia
*What to Expect from Letesenbet Gidey's Historic Marathon Debut in Valencia
*Full 2022 Valencia Coverage