The Inside Scoop From Valencia: Letesenbet Gidey Thinks She Can Break the WR, CJ Albertson Wants 2:08, & More from Valencia
By Jonathan Gault
December 2, 2022
VALENCIA — Valencia calls itself the City of Running, but this weekend it's more like the City of Debuts. Of course there's Letesenbet Gidey, which Valencia Marathon organizers are calling the most-anticipated debut in marathon history. That may be a little aggressive — Haile Gebrselassie and Kenenisa Bekele were much bigger stars when they debuted — but Gidey's debut is certainly in the conversation. Never before in my life has a coach of a woman told me he thinks his star pupil can run sub-2:10 in the marathon: Letesenbet Gidey's Coach Tells LetsRun He Believes She Can Run Super Fast In The Marathon.
But she's not the only super-fast athlete debuting on Sunday in Valencia. Kenya's Sheila Chepkirui, who has run 29:46 for 10k on the roads (#4 all-time) and 64:36 at the RAK Half earlier this year (#7 all-time) is also in the women's field. In the men's race, Alexander Mutiso (57:59 half pb) will become just the second man with a sub-58:00 minute pb to run a marathon. He'll hope to go faster than the first, former WR holder Kibiwott Kandie, who ran 2:13:43 in his debut in New York last year. Mutiso's Kenyan countryman Philemon Kiplimo (58:11 half, #7 all-time) will also debut in a race that also includes world champ Tamirat Tola and 2:03 man Getaneh Molla.
Article continues below player
With less than 48 hours to go until the race, here's the scoop from Spain.
Letesenbet Gidey on the world record: "We can do it"
The Valencia Marathon cares deeply about world records. Just listen to race director Paco Borao about this year's race.
"The Valencia Marathon we are working to have, again, records," Borao said. "Becuase this is our job. The day we don't have that objective, you have to push us out."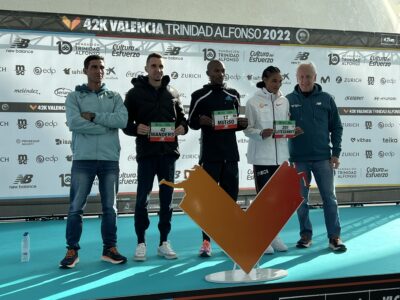 The weather forecast on Sunday (40s Fahrenheit, low wind) is ideal for records, and the one everyone is talking about is the women's world record of 2:14:04 set by Brigid Kosgei in Chicago in 2019. It's virtually unprecedented for that world record hype to accompany someone making their marathon debut as is the case with Letesenbet Gidey. But then again, no woman has debuted while holding the world record in the 5,000, 10,000, and half marathon.
Gidey says she feels like Valencia is "my country" given it was the site of her 5,000 and half marathon world records. She was asked whether another world record could fall on Sunday and responded confidently.
"Yes, this is my debut marathon, but no problem," Gidey said. "…I am lucky if I break the world record in Valencia because [it would be] my third world record in Valencia. We can do it. I believe in my training and my coach."
Gidey's coach, Haile Eyasu, is also optimistic, telling LetsRun yesterday that he believes Gidey can run somewhere between 2:13:30 and 2:15:00 on Sunday (but sub-2:10 in the future). Of course, Gidey could run 2:14 or 2:15 and it would still be considered a terrific debut (the fastest debut ever is 2:17:20 by Almaz Ayana in Amsterdam in October). But she has the talent to break the record and she should have near-optimal conditions. Now it's down to the toughest part: executing on race day.
There's definitely a buzz around Gidey in Valencia
It's can be hard to tell at pre-race press conferences who is a working journalist and who is not (agents, coaches, sponsors, and even fans sometimes attend), but today's turnout was the most I've seen at a pre-race press conference since COVID. This is what it looked like when Gidey was presented with her bib Friday afternoon.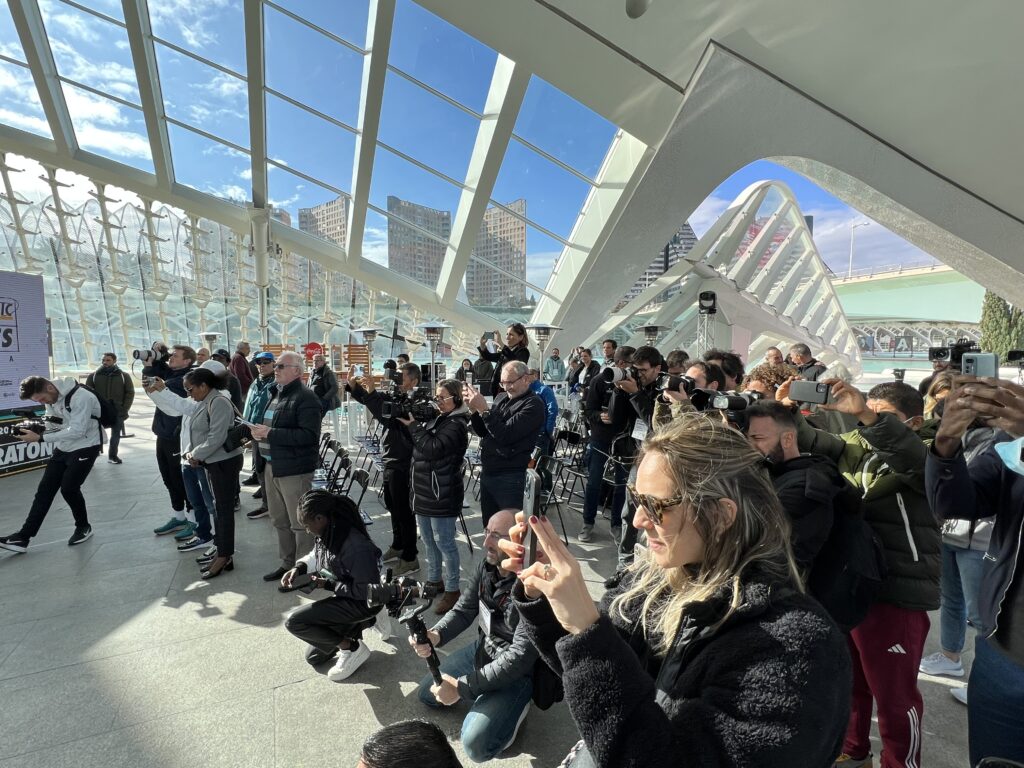 Meet Alexander Mutiso
It's hard to fly under the radar when you are a 57:59 half marathoner, but that is what 26-year old Alexander Mutiso has largely done to this point in his career. When Mutiso ran that 57:59 at the 2020 Valencia Half — at the time, the fourth-fastest half ever run — it was somewhat overshadowed by the fact that he only finished fourth in that race. The top four men all broke the previous world record of 58:01.
The biggest stages in running are the Diamond League, World Championships, and major marathons. Mutiso has never run any of those races before (unless you count earning bronze in the 3,000 at the 2013 World Youth Champs), which means he doesn't have the exposure of men like Jacob Kiplimo, Kibiwott Kandie, and Rhonex Kipruto — the trio ahead of him on the all-time half list.
A strong run in Valencia — where the men's lead group is targeting the course record of 2:03:00 — could change that. So here are a few things to know about the soft-spoken 26-year-old.
He trains in Japan. Mutiso runs for ND Software, a corporate team in Japan located two hours outside of Tokyo. He's lived in Japan since 2015 and splits his time roughly 50-50 between Kenya and Japan. But even when he's back home, he trains in his hometown of Machakos (same as 2014 World Indoor 3k champ Caleb Ndiku), southeast of Nairobi, rather than the training hubs of Iten and Eldoret.
He's a member of the Kamba tribe. Most of Kenya's top marathon stars are Kalenjin, but Mutiso belongs to a different ethnic group, the Kamba. The Kamba have produced top talents before — including former world record holder Patrick Makau and 2007 Chicago champ Patrick Ivuti — but there haven't been a ton of them at the very highest level recently.
His name means "man of victory." We'll see if he lives up to it on Sunday.
Expect Philemon Kiplimo to take a cautious approach to his debut
I spoke with Davor Savija on Friday, the agent for Mutiso, Kiplimo, and Chepkirui. He said that while Mutiso is likely to go out with the top group, Philemon Kiplimo and Sheila Chepkirui will probably run with the second groups in their debut. "Second group" is a little misleading on the women's side though, as the first "group" is likely to consist solely of Gidey and her pacemakers.
Philemon Kiplimo, 24, paced Eliud Kipchoge through 25k of his world record in Berlin in September, and Kiplimo told Savija that he probably could have run another four or five kilometers at that pace (but no more). Savija says that for Kiplimo, running with the second group, which is targeting the Spanish record of 2:06:25 set by Ayad Lamdassen, gives him a better chance to have a positive experience. If all goes to plan, he should be running guys down over the final miles.
"Shape is for 2:04/2:05, and he wants to try to run a positive kind of race instead of a battle-for-survival type of thing," Savija says.
64:36 woman Sheila Chepkirui debuting after lengthy career on track & roads
Sheila Chepkirui's path to the marathon has been a long one. Chepkirui won the World Youth (U17) champs in the 1500 way back in 2005, when she was (officially) only 14 years old. She spent the next decade of her career on the track, then made her road debut in the 10k in 2016, moving up to the half in 2019. Now, less than a month shy of her 32nd birthday, she is running her first marathon.
Chepkirui finished 2nd in the Kenyan 10,000 trials this year, behind only Hellen Obiri, and was supposed to come over to the U.S. to run the B.A.A. 10K and Peachtree Road Race and then the World Championships in July. But her visa didn't come through in time, so she had to miss all three races. She was still able to run the Commonwealth Games, where she earned bronze in the 10,000, but was disappointed to miss Worlds.
"It took a toll mentally, emotionally, but she's back and trained very well for this," Savija said.
Savija said that, ideally, there would be a group targeting 2:19:00 for Chepkirui to run with on Sunday. But he suspects the group behind Gidey will be going for 2:18:00 (the pace groups will be finalized on Saturday) and if that is the case, she will run with it as that makes more sense than going with a group in the 2:20s.
Given Chepkirui's pedigree on the roads and current form — she ran her 64:36 pb at the RAK Half in February and ran 30:07 on the roads in Romania on September 25 — the pieces are in place for a fast debut. Gidey, of course, will start as the favorite in the women's race, but Chepkirui would have a good shot at the win should she falter. There are two 2:18 women in the field, but one of them, Sutume Kebede, ran London only two months ago and was only 8th in that race. The other 2:18 woman is a wild card: Tiki Gelana, who won the Olympic marathon in 2012. Gelana ran 2:18:58 (without supershoes) in 2012 but hasn't raced at all since 2016. While it seems crazy she could return to top form after so long away, Gelana is still only 35 years old.
Tamirat Tola, Getaneh Molla among other top contenders in men's race
Reigning world champ Tamirat Tola should probably be considered the favorite in Sunday's men's race as his last three marathons (2:03:39 CR in Amsterdam, 2:04:14 for 3rd in Tokyo, 1st at Worlds) have been very impressive. There is a slight concern that he scratched from his last marathon as he was supposed to run London on October 2. But only a slight concern. Tola said he wasn't fully ready to run in London so soon after Worlds, but he still raced that weekend at the Trento Half in Italy and won in 59:49. With two more months to prepare, he should be good to go on Sunday.
In all, there are eight men in the elite field with sub-2:05 pbs. Tola is one of two with a sub-2:04 best; the other is Getaneh Molla of Ethiopia, who is an intriguing prospect. Molla ran the fastest debut in history (record-eligible course) by winning Dubai in 2019 in 2:03:34. Since then, however, he has only run one marathon, finishing 19th in Tokyo in 2020 in 2:08:12. Most recently, he was 12th in the Copenhagen Half in September in 59:52. Dubai is similar to Valencia in that it's a flat, fast race paced at an aggressive tempo. Can Molla rediscover his form on Sunday?
Americans CJ Albertson & Ian Butler are running
Last year's Valencia Marathon saw 24 men break 2:10, 16 break 2:08, and national records set for Germany, Spain, and Argentina. It's a good place to run fast, and that's why Americans CJ Albertson and Ian Butler have made the trip over. Albertson, who was 13th in Boston in April in a pb of 2:10:23, is the bigger name, but Butler — who famously ran backwards during last year's Chicago Marathon — actually has the fastest pb as he ran 2:09:45 at the Marathon Project in 2020.
LetsRun spoke with Albertson earlier this week. He said his training has been "up and down" since running a world record of 2:38:43 (2:13:56 marathon pace) on October 8. Albertson, who is sponsored by Brooks, works full-time as a teacher and cross country coach at Clovis Community College and said that since the 50k, his training has been been very consistent. Clovis's practices start at 7 a.m., and Albertson has not wanted to get up even earlier than that to run workouts in the cold and the dark, so instead he has done his main sessions in the afternoon after work. They've been hit or miss.
"I was really focused on coaching things and I think it just takes a lot of mental energy," Albertson said.
Still, Albertson says that some of his workouts have been faster than he's ever done before, such as running 4:40-45 pace for five-mile tempos and is trying to draw confidence from that.
"Typically in a marathon build, if I'm just doing a tempo, 4:50/mile pace will feel not comfortable at all," Albertson said. "And then obviously I'll race at like 5:00 pace and that feels comfortable. So it wouldn't really make sense because it would feel like I would only have one gear. So it feels like right now, I have a little bit more gears."
So can Albertson, who ran 2:09 on a treadmill in 2020, finally get under the 2:10 barrier in a real race? Even he admits he doesn't know.
"I honestly have no idea what I'm going to run," Albertson said.
Albertson said he's not particularly motivated to break 2:10; his goal is to run 2:08. Unfortunately for him, there likely won't be a 2:08 pace group — he expects there will be one at 2:06:00 and another at 2:10:00 — which may force him to go out faster than he'd like. But at least this time, unlike in Boston last year, Albertson won't be forced to lead.
"Running 2:08 alone, I don't know if I can do that," Albertson said. "I don't really want to run 2:10 or 2:09-high, but then the only other option is 2:06 or 2:05."
More: Letesenbet Gidey's Coach Tells LetsRun He Believes She Can Run Sub-2:10 In The Marathon
*What to Expect from Letesenbet Gidey's Historic Marathon Debut in Valencia
*Full 2022 Valencia Coverage
---
Valencia is at 2:15 am ET on Sunday. If you are American, it may be hard to watch it live. So why not join the LRC Supporters Club? You'll get access to two bonus podcasts from Valencia this week. You can wake up Sunday morning and have it broken down for you in your podcast player when you wake up.