What to Expect from Letesenbet Gidey's Historic Marathon Debut in Valencia
By Jonathan Gault
November 30, 2022
Letesenbet Gidey has raced twice in Valencia during her career. Both times, she has flown home with a world record.
On her first trip to the city on Spain's Mediterranean Coast in October 2020, she ran 14:06.62 to take five seconds off Ethiopian countrywoman Tirunesh Dibaba's 5,000-meter world record. On her return trip in October 2021, Gidey unleashed one of the greatest performances in the history of distance running, clocking 62:52 to break the women's half marathon world record by 70 seconds.
Gidey returns to Spain this week to make her heavily-anticipated marathon debut in Sunday's Trinidad Alfonso Valencia Marathon, and the running world is waiting to see what she will do for an encore. 2:15? 2:14? 2:13? 2:12?
Article continues below player.
Gidey's agent Valentijn Trouw would not confirm that she is targeting Brigid Kosgei's world record of 2:14:04. But all the pieces are in place for a fast time. Gidey is fit — she won the 10,000 meters at the World Championships in Eugene in July. The course is flat and fast, and the weather for Sunday could scarcely be better for marathoning — the current forecast calls for temperatures in the 40s Fahrenheit with 5 mph winds. And, crucially, Gidey, who will have three male pacemakers spurring her on, will be trying to run fast, though Gidey's exact goal pace will not be confirmed until later in the week.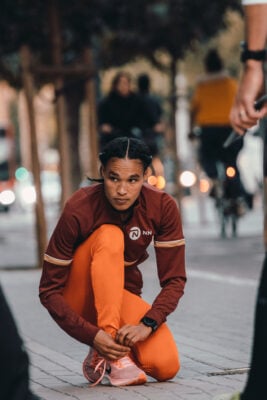 There is uncertainty. There is always uncertainty in a 26.2-mile race where so much can go wrong — particularly when an athlete has never raced that far before. But Gidey also has the potential to do something the sport has never seen before.
"With Letesenbet, I am never going to rule something out," Trouw says. "On the other hand, of course, it's her first marathon. She has in mind like hey, we go to the marathon and we go to Valencia because we believe that we can run fast. She is not coming to Valencia to run a tactical race. She is coming to run fast. What that fast time might be, let's wait for Sunday."
A few years ago, it would have been blasphemous and unfair to float the idea of a woman running 2:13 or 2:12 in her first marathon. Not in 2022. Not with this woman.
A combination of game-changing supershoes and a female distance talent boom has produced a flurry of fast times this year: 2022 has already seen seven of the 13 fastest women's marathons in history. And Gidey may be the biggest talent of them all. The fastest female marathon so far this year is Ruth Chepngetich's 2:14:18 from Chicago in October — the same Ruth Chepngetich who held the half marathon world record at 64:02 until Gidey blew it to smithereens in Valencia last year.
Few women in history have accomplished in a career what Gidey has at the age of 24. As an age-group runner, Gidey won the junior (U20) race at the World Cross Country Championships not once, but twice. Her first victory came in 2015, just eight days after her 17th birthday. Do you have any idea how hard it is to win World Jr. XC as a 17-year-old? As a professional, Gidey has set world records in the 5,000 (14:06.62), 10,000 (29:01.03), 15K (44:20), and half marathon (62:52).
Already, Gidey is just the second person, male or female, to hold the 5k, 10k, and half world records simultaneously; Norway's Ingrid Kristiansen is the other. Kristiansen is also the only person, male or female, to hold the 5k, 10k, and marathon world records simultaneously, which she did from 1986 to 1993. Gidey could join her if she runs faster than 2:14:04 on Sunday.
How fast can Gidey run?
Gidey, obviously, has never run a marathon, so any projections we make have to be based on times she has run at shorter distances. There are a few ways to tackle her potential. The first is to look at World Athletics' scoring tables. The tables aren't perfect, but they give us some ballpark figures to work with. Here are what Gidey's world records are worth for the marathon, according to the tables:
| | | | |
| --- | --- | --- | --- |
| Distance | Time | Points | Marathon equivalent |
| 5,000 | 14:06.62 | 1269 | 2:16:35 |
| 10,000 | 29:01.03 | 1303 | 2:13:21 |
| 15K | 44:20 | 1274 | 2:16:07 |
| Half marathon | 62:52 | 1281 | 2:15:27 |
Worth noting: World Athletics changed its scoring tables in 2022. When Gidey ran her 62:52 in 2021, it was worth a 2:11:17 marathon according to the tables in place at the time. Now it's only worth 2:15:27. The true equivalent performance likely lies somewhere in the middle. According to LetsRun.com stat/coaching guru John Kellogg's conversion chart, 62:52 is worth a 2:13:52 in the marathon.
The performances above are equivalents. What if the marathon is Gidey's best event? So far, she has had no problem moving up in distance. She set her 15k world record in her first race at that distance. Her half marathon world record came in her debut as well. I put it to Trouw: what is her best event?
"Whew," Trouw says. "It's tough. Anything between 5000 and marathon, she can handle. The marathon, she still has to prove. In training, she is showing good things but she has never shown yet anything in [a marathon race]. But at this moment, I would say anything between the 5000 and marathon, she's able to handle when she is in good shape."
Let's not overthink this. Anyone who holds the world record in the 5k, 10k, 15k, and half marathon is going to have enormous potential in the marathon. The world record is obviously within her capability. That doesn't mean she will get it in Valencia, but it's an obvious possibility for her at some point.
What is Gidey's ultimate potential over 26.2? Could she be a modern-day Paula Radcliffe, completely revolutionizing how we view the event? When Radcliffe made her marathon debut in April 2002, the women's world record stood at 2:18:47. Within a year, she had taken it down to 2:17:18, then 2:15:25 — more than three minutes faster than any other woman in history to that point. It seems unlikely that Gidey would be able to do something similar, not just because a time in the high 2:10s or low 2:11s is crazy fast, but because there are so many other strong marathoners — Chepngetich, Kosgei, Tigist Assefa, Peres Jepchirchir — who are also candidates to run in the 2:13s in the coming years.
But let's not forget that Gidey is currently 59 seconds faster than any other woman in the history of the half marathon. Even among such a talented generation of runners, she is already an outlier.
It's hard to predict how fast a 62:52 woman will run a marathon, because no 62:52 woman has ever run one before. But plenty of 62:52 men have run marathons. How fast have American men with half marathon pbs in that range run? (H/T to LetsRun.com reader Patrick Walsh for the suggestion)
| | | | |
| --- | --- | --- | --- |
| Athlete | 10k pb | HM pb | Marathon pb |
| Jeffrey Eggleston | 29:42 | 62:41 | 2:10:52 |
| Colin Bennie | 28:04 | 62:46 | 2:09:38 |
| Wilkerson Given | 30:01 (road) | 62:50 | 2:11:44 |
| Letesenbet Gidey | 29:01 | 62:52 | ??? |
| Christo Landry | 27:55 | 62:52 | 2:14:30 |
| Tyler Jermann | 30:32 (road) | 62:52 | 2:12:40 |
| George Alex | 28:28 | 62:54 | 2:19:36 |
| Brendan Gregg | 28:03 | 62:55 | 2:11:21 |
| Ed Eyestone | 27:41 | 62:56 | 2:10:59 |
| Jake Riley | 27:59 | 62:56 | 2:10:02 |
Okay, so this table is probably more fun to look at than it is actually predictive of what Gidey will run in Valencia. Few American men run half marathons in situations as conducive as Gidey had in Valencia last year — fast course, good weather, with a training block geared around that race. But it is still wild to consider that Gidey has run faster in the half than the following US Olympic men's marathoners: Ed Eyestone (62:56), Jake Riley (62:56), Mark Coogan (63:08), Dan Browne (63:09).
Of the nine Americans listed above, six of them ran 2:11 or faster in the marathon. Even if we penalize Gidey for a minute or two for running her HM pb in the best possible conditions, a time in the 2:12-2:13 range isn't out of line.
What will Gidey run on Sunday?
Gidey is not running a marathon on a whim. Discussions about a debut began between Gidey, Trouw, and her coach Haile Eyasu after her half marathon world record last year and intensified in early 2022. The official announcement that she would debut in Valencia came in May. It was a natural fit; Gidey had experienced success in Valencia in the past, and it was far enough removed from the World Championships (19 weeks) to allow Gidey to recover and start a new training block.
Gidey hasn't raced since finishing 5th in the 5,000-meter final at Worlds on July 23, but she is reported to be in great shape. Trouw says Gidey did not experience any setbacks in her training and, while he is careful not to raise expectations too much given it is her debut, he says Gidey is in a good position right now.
"If she was running a half marathon, then I think she would be in shape to be close to her world record or break her world record," Trouw says. "I also think she's ready for the full marathon distance. But again, this is her first marathon. Many things can happen. We have to see how she is handling all different things."
Obviously, if Gidey seriously misjudges her pace or an untimely injury or cramp pops up, she is not going to run well in Valencia. But assuming no hiccups, the marathon debut record seems like a reasonable starting point. That record has been broken twice already in 2022 — first by Yalemzerf Yehualaw when she ran 2:17:23 in Hamburg in April, then by Almaz Ayana when she ran 2:17:20 in Amsterdam in October. Both Yehualaw (63:51 half marathon pb, #2 all-time) and Ayana (29:17 10k pb, #3 all-time) have run crazy fast at shorter distances, but Gidey has run 59 seconds faster than Yehualaw in the half and 16 seconds faster than Ayana in the 10k. A "solid" race for Gidey could still be 2:16.
And a great race? If Gidey is truly the greatest distance talent we've ever seen, why couldn't she run 2:12 or 2:13? She'll have three male pacemakers, two of whom paced her to that 62:52 in Valencia last year. The weather is looking great.
Yes, it's her debut. So maybe there is still room to optimize her training specifically for the marathon, to back off or add more intensity as she learns what her body can handle. Maybe Gidey doesn't reach her potential her first time out. But her inexperience with the distance shouldn't make much of a difference tactically (it certainly didn't when she ran WRs in her debuts in the 15k and half marathon). While Sutume Kebede, who ran 2:18:12 in Seoul earlier this year (but was only 8th in London in October in 2:20:44), is also in the field, chances are Gidey will be alone up front. Gidey is coming to Valencia to run fast, which means it's a matter of picking a pace she believes she can hold and trying to hang on as long as possible. She won't have too many decisions to make once the gun fires Sunday morning.
What pace Gidey selects will remain a mystery for now, but whatever pace she picks, whatever time she eventually runs on Sunday, it will be a historic occasion. We have never seen an athlete who holds the 5k, 10k, and half marathon world records make their marathon debut (by the time Kristiansen held all three records, she had already run multiple marathons). We may never see it again. So savor that, as you tune in for Sunday's race (or if you watch on delay in the US; it starts at 2:15 a.m. ET). Every runner, even all-time legends, only gets one marathon debut.
Letesenbet Gidey, you're up.
How fast do you think she'll run? Vote in our polls.
How fast will Gidey run in Valencia?
Your vote has been counted. Thank you!
Talk about Gidey's WR chances on our world-famous messageboard.
MB: How fast will Letesenbet Gidey run in Valencia this weekend? Should we expect a world record?