Dynasty: NAU Wins on Tiebreaker over Oklahoma State, as Charles Hicks Gets Individual Title #1 for Stanford
Northern Arizona 6 Titles in 7 Years
By LetsRun.com
November 19, 2022
STILLWATER, Okla. – The dynasty is not dead yet.
Article continues below player
Like our coverage from Albuquerque?
After the closest finish in the 85-year history of the NCAA Cross Country Championships, the Northern Arizona men are once again your national champions. Northern Arizona and Oklahoma State both scored 83 points, which meant that, for the first time ever, the national champion would be crowned by tiebreaker*: a head-to-head matchup of each team's scorers, #1 through #5.
Northern Arizona's #1 (Nico Young, 2nd overall), #2 (Drew Bosley, 3rd overall), and #4 (Brodey Hasty, 25th) all won their matchups over their OSU counterparts to deliver NAU its third straight title and sixth in seven years in one of the craziest NCAA finishes ever. With six titles, NAU moves into a tie with Oregon for fourth-most of any men's program, one better than Colorado and Wisconsin (five each). NAU had zero titles prior to its first win in 2016.
Individually, NAU's Young and Bosley set the tone early. Following the same gameplan of former Lumberjacks stars Matt Baxter and Tyler Day from 2017, Young and Bosley immediately strung out the race and had gapped the rest of the field by 2k. Just like in 2017, however, there was one athlete who went with them: Stanford's Charles Hicks. And just like in 2017 when Syracuse's Justyn Knight outkicked Baxter for the win, Hicks would separate from Young on the course's penultimate uphill with 700 meters remaining and hold on for the victory.
Hicks, who was born in England and represents Great Britain internationally but went to middle and high school in Florida, destroyed the OSU course record by running 28:43.6 for the hilly 10k layout – 43 seconds faster than BYU's Conner Mantz ran here to win in March 2021 (the top eight all broke 29:00).
As impressive as Hicks' run was, the team race is what will live long in the memory, not just for how close it was, but for how well both teams ran: OSU's score of 83 was the fewest by a non-winning team since 1997. BYU was 3rd with 132 points, while Stanford, ranked #1 coming into the meet, struggled besides Hicks and Ky Robinson (10th) and wound up 4th with 195.
Both the Lumberjacks and Cowboys had two in the top 10 (Alex Maier was 5th and Isai Rodriguez 8th for OSU) and got huge runs from unexpected sources behind them. For OSU, it was Fouad Messaoudi, a 13:46 5k man from Morocco, who finished 12th in just his second collegiate cross country race. Some years, Messaoudi's heroics would have been enough for the title, but NAU had a hero of its own in Santiago Prosser. Prosser, who never ran at NXN or Foot Lockers and graduated in 2020 from Dimond High School in Anchorage, Alaska, ran the race of his life to finish 19th in his first NCAA XC champs. In Prosser's three biggest meets before NCAAs, he had only finished 39th (Cowboy Jamboree), 33rd (Nuttycombe), and 17th (Mountain Regional).
*LetsRun visitor Mark Wenneker noted the 1942 Cross Country Championships resulted in a tie between Indiana and Penn State with no tiebreaker.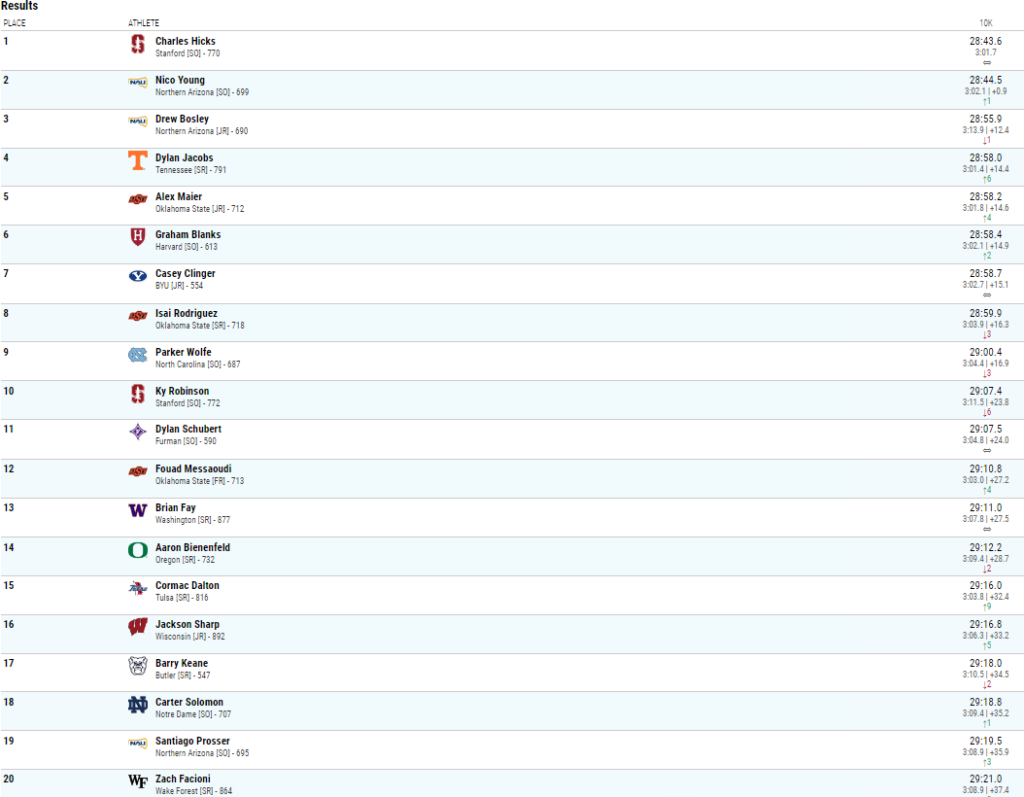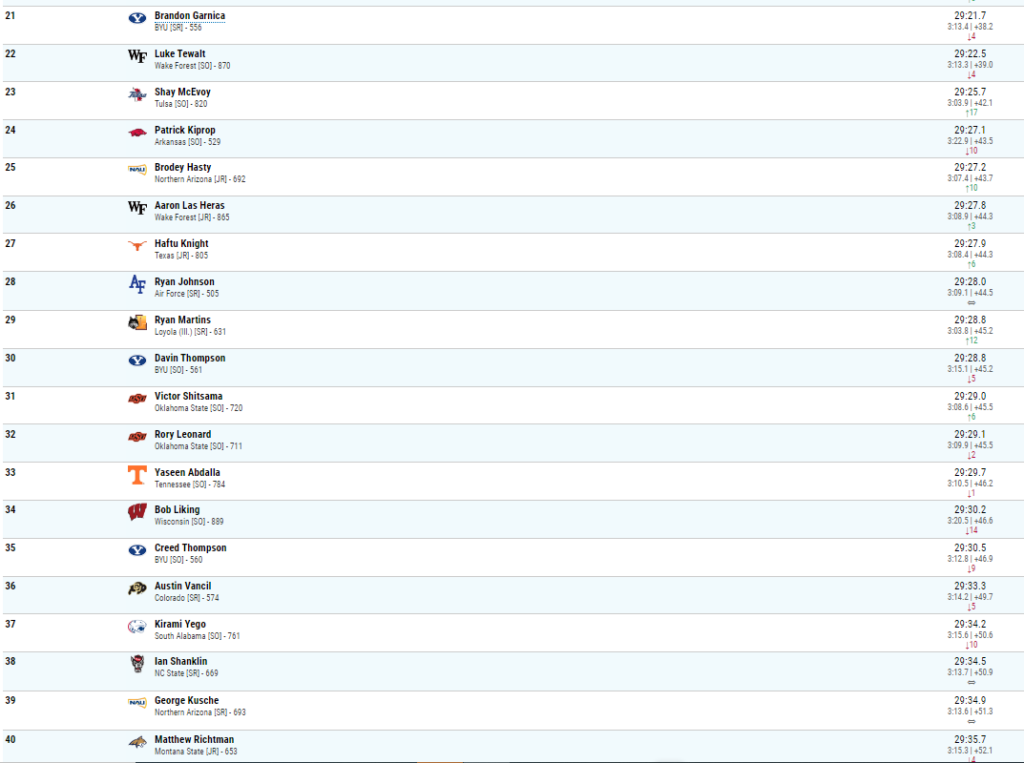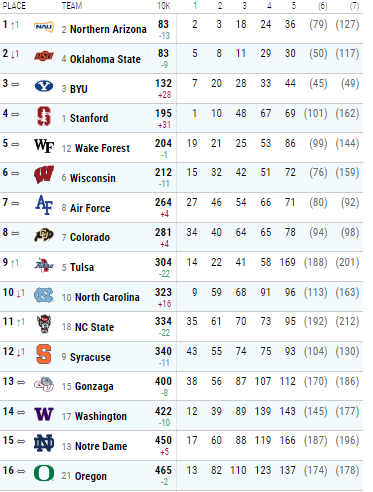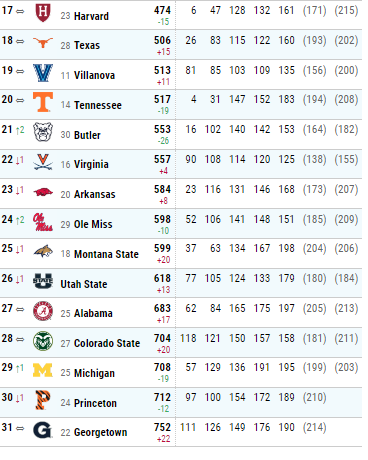 Quick Take: This was cross country at its absolute finest
Everything that makes cross country great was on display in Stillwater today. A tough demanding course? Check. Incredible individual performances? Check. Unlikely heroes stepping up on the biggest stage? Check. And of course, the closest team finish in NCAA history. Running fans will be talking about the 2022 NCAA XC champs for a long, long time.
Quick Take: Even after middling finishes at the Cowboy Jamboree and Nuttycombe, NAU never doubted Mike Smith
To win an NCAA cross country title, it doesn't matter how you run in the regular season. All that matters is how you run on the day of the NCAA champs, and today was a reminder of that. NAU came in as the underdog but ran its best race of the year and won. Stanford came in ranked #1, ran its worst race of the year, and finished 4th. It can be cruel for an entire season to come down to one 30-minute race – but that's also what makes the NCAA XC champs so compelling.
Though they weren't favorites, no one should be surprised that NAU ran so well today: in recent years no program has done a better job of performing its best on the biggest day than the NAU men. Of course, in previous years NAU had also been getting it done in the regular season. This year, they were beaten twice, finishing just 3rd at the Cowboy Jamboree and 3rd at Nuttycombe. But despite those results, the team always believed it could end the season with another title.
"They read into things that we probably didn't feel needed to be read into and we just moved on with our day and moved on to conference," Hasty said.
While regular-season results can offer a window into who's fit and who is not, they can sometimes be misleading. You never know when someone is in the middle of a hard training block or coming back from an injury (individual champ Charles Hicks said one of the reasons he was beaten at the Cowboy Jamboree and Nuttycombe was because he did not back off training at all going into those races). The important thing is to be at your best in November.
Quick Take: Every runner counted today
Okay, so every runner (in your top five) always counts in cross country, but there are plenty of examples from the past where an NCAA title team could have scored their #6 athlete instead of their #5 and still won. Not today. Any place change either way – one lower for NAU, one higher for OK State – and the outcome would have been different.
OK State's #2 Isai Rodriguez finished just 0.2 of a second behind BYU's Casey Clinger. OK State's #4 Victor Shitsama finished 0.2 behind BYU's Davin Thompson. If either of them is just a little quicker, OSU wins the title, but it's unfair to single any athlete out. Rodriguez ran a great race after not running a step over the summer. Shitsama passed 192 people today (he was 223rd at 1k). OK State was terrific. NAU was just (a little) better.
Speaking of passing people, there were some key changes from the penultimate split at 8.93k to the finish at 10k. At that point, OK State led NAU, 92 to 96, and while both teams improved their score over the final 1.07k, NAU improved by more. Below you can see how each team's top five fared during that span:
| | | | |
| --- | --- | --- | --- |
| NAU 8.9K/ 10k | 8.9k | 10k | Diff |
| Drew Bosley | 2 | 3 | Plus 1 |
| Nico Young | 3 | 2 | -1 |
| Santiago Prosser | 22 | 19 | -3 |
| Brodey Hasty | 35 | 25 | -10 |
| George Kusche | 39 | 39 | Same |
| | | | |
| --- | --- | --- | --- |
| OSU 8.9k/10k | 8.9k | 10k | Net |
| Alex Maier | 5 | 5 | Same |
| Isai Rodriguez | 9 | 8 | -1 |
| Fouad Messaoudi | 16 | 12 | -4 |
| Victor Shitsama | 37 | 31 | -6 |
| Rory Leonard | 30 | 32 | Plus 2 |
Brodey Hasty's 10 places gained over the last 1.07k were easily the most of any guy on either team, and it wasn't the first time he has come through huge for NAU at NCAAs. He has now finished as NAU's fourth or fifth man on NAU's title teams in 2020, 2021, and 2022. And in each of the past two years, if you removed Hasty from the scoring, NAU would have lost.
Hasty's NCAA career probably hasn't unfolded quite the way he envisioned when he graduated from Brentwood (Tenn.) High School in 2018. One of the country's top recruits (3rd '16 NXN, 4:01/8:45 mile/2-mile pbs), Hasty was originally committed to Oregon but switched to NAU after Oregon coach Andy Powell left to take over at the University of Washington. Since coming to Flagstaff, Hasty hasn't reached the heights of NAU teammates like Young and Bosley, but he has now cemented his own place in NAU lore as an extremely clutch scorer and a vital member of three NCAA title teams.
Quick Take: Charles Hicks ends one Stanford drought while another persists
It was a mixed bag for Stanford cross country today. Charles Hicks was fantastic and did something Ryan Hall, Grant Fisher, and all the other Stanford XC greats could not do: win the NCAA XC individual title. But the team, as it did last year, had a bad day at the worst possible time. Despite trailing NAU by just one point at halfway, Stanford's 3-4-5 men at halfway, Devin Hart, Cole Sprout, and Meika Beaudoin-Rousseau, combined to lose 151 places over the race's second half, which blew any shot at a title.
For Sprout, it was a case of deja vu. He was 15th the last time NCAAs were here in March 2021, and while he's remained one of the NCAA's top runners since then, he's had issues at the end of the last two XC seasons. Last year, he was ill before NCAAs and wound up 81st. This year, he partially tore his hamstring a few weeks ago and was forced to take a week off of running, during which time he was also sick. He told LetsRun the hamstring felt better today but clearly the missed traininghad an effect.
Stanford's wait for its first NCAA men's title since 2003 will go on, though the good news for Cardinal fans is that six of their top seven today still have eligibility remaining.
Men's Race Discussion:
---
About LetsRun.com: LetsRun.com is the home of professional running. Cited by media outlets all over the globe including the New York Times, Washington Post, USA Today, Sports Illustrated, Outside, ABC's Good Morning America, The Times (London), and the Daily Nation (Kenya). The NY Times described LetsRun as, "The influential website that serves as something of a superego for American running." If you'd like to take your fandom to the next level, join the LRC Supporters Club.