Eliud Kipchoge (2:01:09) Smashes World Record; Tigist Assefa (2:15:37) Stuns World at 2022 Berlin Marathon
By LetsRun.com
September 25, 2022
The marathon GOAT has done it again.
At the 2022 BMW Berlin Marathon on Sunday, Kenya's Eliud Kipchoge ran 2:01:09 to win the race and take 30 seconds off the world record he set on the same course four years ago.
Kipchoge, who also ran 1:59:40 for the marathon distance at an exhibition in Vienna in 2019, took off at an incredible tempo, hitting 5k in 14:14, 10k in 28:23, and halfway in 59:51 – easily the fastest first half split ever in a marathon (the previous fastest first half was 60:48 from Berlin in 2021, Kipchoge ran his 2nd half in Berlin in 2018 in 60:33).
Incredibly, when Kipchoge hit halfway, he was not alone; Ethiopia's Andamlak Belihu (26:53 10k pb, 58:54 half), running just his second marathon, was right with him.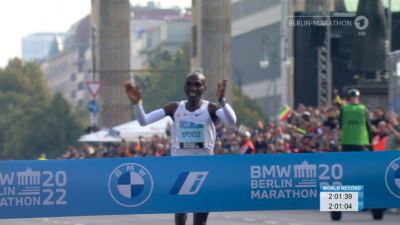 The brutal pace would ultimately take its toll on both runners as Kipchoge began to slow once the final pacemaker stepped off at 25k (1:11:08), even as he began to drop Belihu. But as late as 35k (1:40:10), Kipchoge was still on sub-2:01 marathon pace, and he would close hard over the final kilometer to stop the clock at 2:01:09. (Belihu would finish 4th in 2:06:40).
Kipchoge now owns the top two times in history, 2:01:09 today and his previous world record of 2:01:39 in Berlin in 2018. Kenenisa Bekele is #2 in history, 32 seconds back at 2:01:41.
In the women's race, 28-year-old Ethiopian Tigist Assefa SHOCKED the world by running the third-fastest time in history – 2:15:37.
Assefa came into the race with just one marathon under her belt, a 2:34:01 clocking in Riyadh in March that placed her 7th.
Article continues below player.
Assefa has run well in Berlin in the past as she won at the ISTAF Berlin meet on the track — but in the 800! Yes, in 2014, she won the women's 800 at the ISTAF Berlin meet in 2:00.16. She also ran 1:59.24 that year and made the Olympics at 800 in 2016 (eliminated in the first round). Her only other track PBs is in the 400 – 54.05. She has no track pbs listed for 1500, 5000 or 10,000.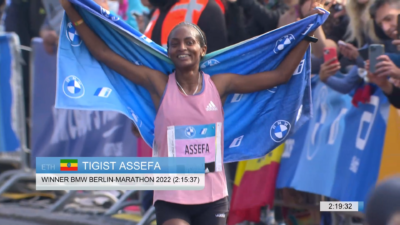 She moved to the roads in 2018 and ran 34:35 for 10k. In 2019, she improved to 31:45 for 10k and 68:24 in the half marathon. There are no results listed for her at all in 2020 or 2021. This year she started by making her marathon debut in Riyadh in 2:34:01 in March for 7th place. Then she PR'd at 10k (30:52) and the half marathon (67:28) and now this. Super shocking and impressive.
American Keira D'Amato, the pre-race favorite, was on American record pace at halfway (69:27) but faded over the second half and wound up 6th in 2:21:48. 40-year-old Natasha Wodak broke Malindi Elmore's 2:24:50 Canadian record by running 2:23:12 but that only placed her 12th.
Kipchoge's world record splits
5k: 14:14
10k: 28:23 (14:09)
15k: 42:33 (14:10)
20k: 56:45 (14:12)
Half: 59:51
25k: 1:11:08 (14:23)
30k: 1:25:40 (14:32)
35k: 1:40:10 (14:30)
40k: 1:54:53 (14:43)
42.2k: 2:01:09 (6:16 which is 14:16.5 5k pace)
Kipchoge averaged 4:37.2 per mile and 14:21.4 per 5k for the entire race.
Quick Take: Eliud Kipchoge finally found his limit, it's now time for him to run Boston and New York
We're still in awe that Kipchoge went out in 59:51 for the first half (and that Belihu went with him). That's almost a minute faster than world record pace for the marathon (60:49). Even though we've seen Kipchoge run almost that fast for the first half of Breaking2 and the INEOS 1:59 Challenge, it was remarkable to see him do it in a race that actually counted.
| | |
| --- | --- |
| Overall | |
| Comfort | |
| Cushioning | |
| Durability | |
| Appearance | |
| Value | |
Kipchoge later revealed that he was not planning on going out that hard but made the decision to target sub-2:00 after feeling good early.
"I was planning to go through in 60:50, 60:40," Kipchoge said on the race broadcast. "I thought my legs were running actually very fast, and I thought, oh let me just try to run two hours flat."
Kipchoge is famous for saying "no human is limited" but today he found his limit. He could not manage sub-2:00 pace for an entire marathon, and while he slowed down way less than any other marathoner would, he still slowed, to 61:18 for his second half. (61:18 is still 2:02:36 marathon pace – a time only Kipchoge and Bekele have managed for the full distance). We're glad Kipchoge went for it today because it made the event way more exciting than if he had just tried to break the WR by a little.
Had Kipchoge even-split a 2:01:09 today and looked good doing it, there would have inevitably been some momentum to see if he could break 2:00 in Berlin next year. Instead, Kipchoge went for the sub-2:00 today and did not come particularly close. But he still succeeded in his pre-race goal, which was to take a hefty chunk off his existing world record. Kipchoge is now 32 seconds faster than the next-fastest human but he's still 69 seconds away from sub-2:00:00. There's no good reason for him to return to Berlin next year. And no good reason not to run Boston and New York – the two marathons remaining in his stated goal to run and win all six World Marathon Majors. And the only two world marathon majors that don't have rabbits and aren't flat and fast.
Quick Take: This record could stand for 20 years
Kipchoge is now 32 seconds faster than the #2 man in history, Bekele, and a whopping 1:39 ahead of the #3 man, Birhanu Legese. Considering Kipchoge is the greatest marathoner in history and ran today in near-perfect conditions (53 degrees, cloudy, 2 mph wind, 82% humidity, 48 dew point) on a fast course with the latest shoe technology, this world record could stand for some time.
Paula Radcliffe's 2:15:25 women's world record set in 2003 lasted for 16 years, and it took a supershoe revolution for it to finally fall. Radcliffe was, comparatively, a lot faster than the #2 woman in history at that time (Catherine Ndereba at 2:18:47), but wouldn't be shocked if Kipchoge's record stands for a similar amount of time, barring another major technological breakthrough.
Quick Take: History says it's unlikely that Kipchoge (or Keira D'Amato) will ever PR again
As mentioned above, it's possible Eliud Kipchoge never takes another crack at a pb in his career. But even if he does, history says it's going to be tough to achieve.
This was the last marathon that both Eliud Kipchoge and Keira D'Amato will run as 37-year-olds. D'Amato (DOB: October 21, 1984) is 15 days older than Kipchoge (DOB: November 5, 1984). Guess how many of the fastest 100 marathoners in history have run their pbs at age 38 or later?
For the men, the answer is zero.
For the women, the answer is one. Namibia's Helalia Johannes ran 2:19:52 at age 40 in Valencia in 2020.
Of course, Kipchoge's dedication is legendary and he's constantly breaking records. Today, he actually set a new world record of sorts. Of the 100 fastest men in history, he's older than all of the other men were when they set their pbs. At 37 years, 324 days old, he is 216 days older than when Kenenisa Bekele set his 2:01:41 pb in Berlin in 2019.
Prior to today, Bekele was the only man in the top 100 who had set his pb at age 37 or later. For the women, there are two other women besides Johannes who have run their pb at age 37 or later. Sara Hall ran 2:20:32 at age 37 at the Marathon Project in 2020. And D'Amato ran 2:19:12 at age 37 in Houston earlier this year.

MB: Of the top 100 fastest marathoners, guess hor many have run their PB at age 38
Quick Take: Assefa's range and story is incredible.
According to World Athletics, Assefa is the world's 325th-fastest 800 woman in history at 1:59.24. The 325th-fastest 800 man in history has run 1:44.87. We'd love to know the fastest marathon run by a marathon with a pb under 1:45.00 for 800 but this is clearly by far the best for a woman with a sub-2:00 800 pb. (Portugal's Rui Silva, with an 800 pb of 1:44.91, ran 2:12:16 in 2013. Anyone know of someone who went faster?)
MB: What's the fastest marathon by someone with a sub-1:45 800 pb? Tigist Assefa just ran 2:15:37 as a 1:59.24 800 runner. 
Even if one assumes Assefa started her career in totally the wrong event, it's crazy to think when she was a track runner that she never ran a 1500 or 5000. Zero. So she moves up to long distances and finds her stride. But then she doesn't compete at all in 2020 or 2021. She came back to it this year, but even still what she did today was wild. After going out in 68:13, she came home in the second half faster (67:24) than her previous pb (67:28).
Quick Take: Women's marathoning is in the midst of a major readjustment
Women's times have been dropping in recent years, with the sub-2:19 club expanding from 14 at the end of 2019 to 29 as of today. But it's still jarring to see just how fast the times are now (obviously aided by the supershoes). Other than D'Amato, no one in today's field had ever broken 2:20, yet six women hit halfway on 2:16 pace. And while only Assefa could keep that pace up in the second half, we still wound up with four women under 2:19, tied for the second-most in history behind only 2021 London (five). Ethiopia's Worknesh Edefa ran 2:18:51 today, which would have won every other Berlin Marathon in history save one (2018). Today, it was only good enough for 4th place.
Or think of it this way. The American record holder in the marathon ran 2:21:52 today – that's the 10th-fastest marathon ever run by an American — and was beaten by more than a mile.
Top 20 Men's Results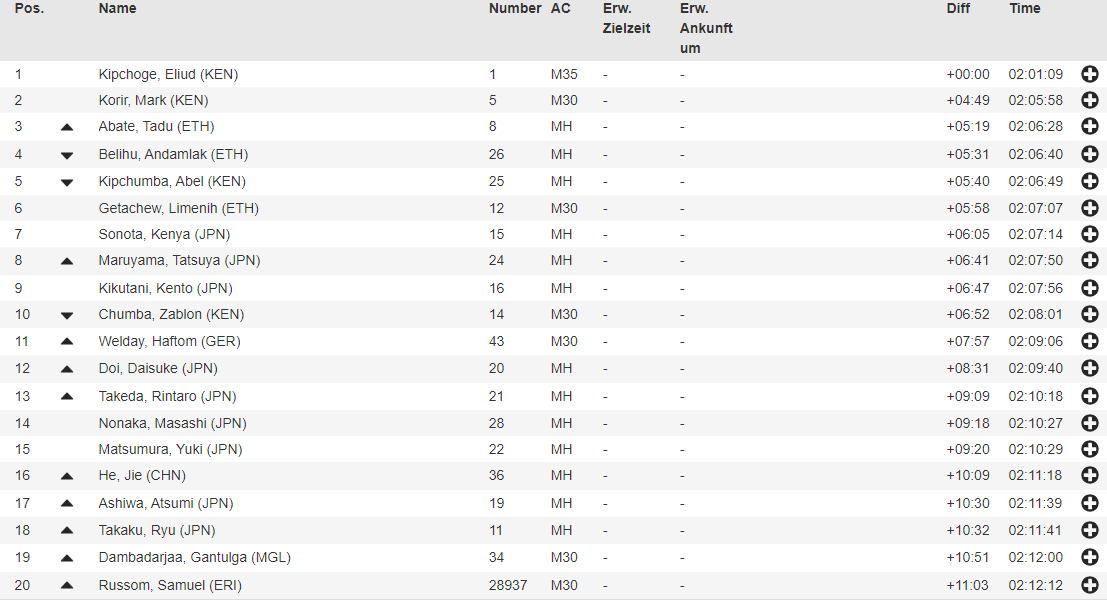 Top 15 Men's Results

More splits and tracking here.
Talk about the race on our world famous fan forum / messageboard.
Are you a Kipchoge fan? Get your 1:59:40 t-shirt today.