Grant Fisher Breaks The 3000 American Record in Monaco, Runs 7:28.48
By LetsRun.com
August 10, 2022
Distance runner Grant Fisher's record-breaking 2022 season continued tonight at the Herculis meeting in Monaco where he ran 7:28.48 for 3000 meters, finishing 3rd, to break Bernard Lagat's 7:29.00 American record which had stood since 2010.
Article continues below player.
Fisher's 3000 record is his third American record of the year as in February he set the indoor 5000 record (12:53.73) and outdoors he set the American 10,000 mark in March (26:33.84).
Fisher ran a smart race as Ethiopia's Berihu Aregawi was going for Daniel Komen's legendary 7:20.67 world record. Fisher ran very evenly. He ran 3:43.6 for his first half and 3:45.2 for the 2nd half. With three laps remaining, Fisher was in 7th place but he measured things perfectly. At the bell, he was still just 5th, but he closed in 57.7 (28.5 final 200) to get the AR. 
Ahead of Fisher, Burundi's Thierry Ndikumwenayo got the win in a Diamond League record 7:25.93 as Aregawi, who ran 7:26.20 indoors this year, paid the price in going for the record and had to settle for second in 7:26.81.
The 5 Fastest American 3000 Men (Per TFN)
7:28.48 Grant Fisher (Bowerman TC) 8/10/22
7:29.00 Bernard Lagat (Nike) 8/29/10
7:30.16i Galen Rupp (Nike) 2/21/13
7:30.84 Bob Kennedy (Nike) 8/08/98
7:30.93 Ryan Hill (Bowerman TC) 8/27/16
Results and analysis below.  *100m splits
Quick Take: This was a perfectly measured run for Fisher but it also showed why it's so hard to medal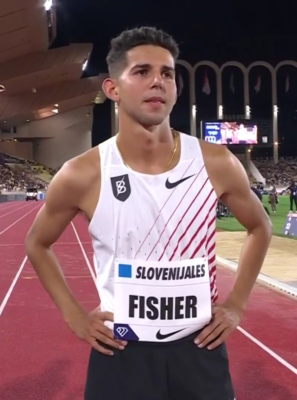 This run reminded us of Dathan Ritzenhein's 12:56.27 5000 American record run in Zurich in 2009. In that race, Ritz was way back in terms of the field but doing his own thing but he finished the race near the front as the American record holder. Here, Fisher did the same thing and if it was 200 meters longer he might have won as he was closing very fast.
If Fisher had medalled in Eugene, it would be safe to call his 2022 campaign the greatest track campaign in the professional era of US long-distance running (if you count Centro's exploits in 2016 and Lagat's in 2007 as mid-distance). However, he didn't medal, and not because he didn't run well in Eugene. The reality is a lot of really talented distance runners didn't medal in Eugene and today's race showed that perfectly as the two guys who beat Fisher in this one also didn't medal.
Aregawi, who was 4th in the Tokyo Olympic 10,000 (one spot ahead of Fisher), was seventh in the Worlds 10,000 and then foolishly left off the 5000 team even though he had won Pre in 12:50. The unheralded 25-year-old Ndikumwenayo, who ran 12:59 for 8th in Rome earlier this year, missed Worlds entirely. Steve Cram on the Diamond League broadcast said it was due to an injury but a source told us it's because he's sitting out with the hopes of attaining Spanish citizenship. 
Race Replay
Talk about the race on our messageboard / fan forum.
More: Full Monaco Recap: Wightman, Lyles, & Fraser-Pryce Win Fast Battles of World Champs at 2022 Monaco Diamond League Wightman (2:13.88), Lyles (19.46), and Fraser-Pryce (10.62) all set meet records as the action was great in Monaco once again.
Faith Kipyegon Runs 3:50.37 (#2 All-Time) to Narrowly Miss 1500m World Record in Monaco Kipyegon came just .30 shy of Genzebe Dibaba's WR in a valiant effort as Americans Heather MacLean & Elise Cranny broke 4:00. *MB: Faith Kipyegon so close!