Joe Klecker Upsets American Record Holder Grant Fisher To Win 2022 USA 10,000 Title
Sean McGorty Nabs Third Team USA Spot As Emmanuel Bor Trips Just Before The Finish Line

By LetsRun.com
May 27, 2022
EUGENE, Ore. – The first 24 laps of Friday's USATF men's 10,000-meter championships was largely bereft of drama, other than reigning US champion Woody Kincaid stepping off the track at 6600m after grabbing his side in pain with what looked like a cramp. But the last lap? That was the kind of excitement 10k fans live for.
Heck, forget the final lap. In the final 100 meters alone, the following things happened:
–Joe Klecker held off American record holder Grant Fisher to win his first US title, 28:28.71 to 28:28.81
–Emmanuel Bor went from what looked like a guaranteed spot on the team with 50 meters to run to wiping out meters before the finish line
–Sean McGorty went from 6th to 3rd to make his first US team 10 months after undergoing Achilles surgery – his fifth surgery in the last five years
The win was big not just for Klecker, who was twice an NCAA runner-up in college but never a champion, but for his On Athletics Club team, which earned its first US track title in its second full year of existence. Fisher, meanwhile, will have to wait for his first US title but he will have the solace of competing at Worlds with his close friend McGorty, a longtime teammate first at Stanford and now at the Bowerman Track Club, who put two men on the 10,000 team for the second consecutive year. And while Dillon Maggard was the official fourth-place finisher in 28:30.75 (another fine result in what has been a career year), Bor is the one who will be feeling as the odd man out. Denied the chance to compete at World Indoors earlier this year by the US Army, Bor was just meters away from making his first US outdoor team but couldn't hold on stumbled in heartbreaking fashion, forced to watch McGorty streak by him from ground level.
The Race
The pace was very slow early (2:30 through 800), causing Hansons-Brooks' Zach Panning to seize the lead and push the tempo, with only Sam Chelanga following. They were ultimately caught by 3200 meters (9:22) and the pace would remain moderate for most of the race, the field hitting 5k in 14:31.27 and 8k in 23:08.24. With three laps to go, 16 men remained in the lead pack. It would come down to a kick.
After a 65.30 third-to-last lap, Klecker took the lead with two to go and began his long drive for the finish, ratcheting the pace down to 60.24 and shaking off some of the pretenders. By the back straight of the bell lap, six men remained in contention to make the team: Klecker, Fisher, 2018/2019 US champ Lopez Lomong, McGorty, and US cross country champ Shadrack Kipchirchir.
On the final turn, Klecker, Fisher, and Bor began to separate, and those three were clear with 100 meters to go as Klecker and Fisher gapped Bor and began battling in earnest for the victory. Fisher, running on Klecker's outside, briefly pulled ahead, but Klecker would not yield and broke Fisher meters from the line, giving him a chance to throw a finger up in celebration as he broke the tape. Klecker ran his last lap in 54.81 and his final 800 in an impressive 1:55.05.
There was more drama a few steps behind them. Bor, who looked to be on the team with 50 to go, took a look over his shoulder to check if anyone was gaining on him. Turns out, someone was: McGorty, who was in 6th behind Lomong and Kipchirchir on the final turn but now powering down lane three.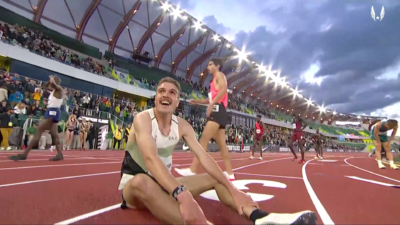 Bor suddenly became more interested in blocking McGorty than running the shortest distance to the finish line, drifting out to lane three himself, but McGorty noticed the move and in response began drifting gently into lane two to avoid him. Bor tried to respond by moving to lane two himself, but lost his balance as he did so, falling to the ground as McGorty blew by to clinch the third and final spot on Team USA. Bor wound up 8th in 28:32.90.
Article continues below player.
Resulst and analysis and post-race interviews appear below.
Quick Take: Joe Klecker, national champion at last
Klecker was twice an NCAA runner-up at Colorado but missed two of his best opportunities to win a national title as the NCAA indoor and outdoor championships were cancelled in his senior year of 2020 due to COVID-19. So even though Klecker has been a pro for less than two years, it must feel pretty sweet for him to finally call himself a national champion.
Beating Grant Fisher to do it was a big deal as well as Fisher had Klecker's number throughout their NCAA careers. In fact, since their first matchup as high school seniors at the adidas Dream Mile in 2015, Klecker had been 0-19 against Fisher. Until tonight.
Quick Take: The wait for a US title continues for Fisher
Going into this race, we wondered what strategy Fisher would choose to employ. With a pb more than 30 seconds faster than anyone else in the field, if he was solely focused on the win, his best strategy may have been to try to break the field well before the bell – but that also may have been a bit riskier in terms of leaving him more vulnerable to a blow up and not finishing in the top 3. Fisher revealed afterwards the Bowerman team tactics were simple — wait until the final 400. They had faith in their kicks and didn't want to lead.
Fisher said he wasn't thrilled with his tactics as he thought he had too many bodies to contend with in the final laps and thought Klecker was better positioned tactically, but gave credit to Klecker for getting the job done. Fisher admitted he was disappointed not to win.
Quick Take: Sean McGorty has made his first World team less than a year out from Achilles surgery
McGorty was thrilled to make his first US team. He said on the last lap there was a ton of traffic to contend with but in the end he got on to the team after Bor fell. He said that even without the schedule change with the 10,000 being moved to three weeks before USAs, that he would have run the 10,000 this year. He didn't want to run the steeple – the event he contested at the Trials last year – because that would involve seven water jumps per race and he didn't want to put extra stress on his leg while recovering the Achilles surgery he had last year. He didn't rule out a return to the steeple in the future however.
Quick Take: Emmanuel Bor was too worried about McGorty over the final 50 meters and it may have cost him a spot on his first Worlds team
With 70 meters to go, Bor had a five-meter lead on McGorty and looked as if he would be the third member of Team USA. But he was also clearly beginning to tire, and when he looked behind to check if anyone was gaining, he saw McGorty, who suddenly became all Bor could think of the rest of the way home. Rather than marshaling what little energy he had left to get to the finish line, Bor was focused on making sure he stayed in front of McGorty, first moving out to lane three in an attempt to block him and then drifting back into lane two once McGorty tried to cut inside.
We understand the temptation to stay in front of someone, but the point of the race is to get to the finish line first and the shortest way to do that is always going to be a straight line. Bor should have simply put his head down and sprinted as hard as he could have once he saw McGorty coming. Bor still may not have beaten him (McGorty closed very strongly), but he would have gotten to the finish line faster and had a better chance of staying on his feet.
Quick Take: Woody Kincaid had a cramp
We didn't talk to Kincaid but heard that he had a cramp. He was in obvious pain when he stepped off the track with 3400 meters remaining in the race.
Talk about the men's 10,000 on our world famous fan forum / messageboard.