1500m Thrillers: Cheruiyot Turns the Tables on Ingebrigtsen, Faith Kipyegon Still on Top
by LetsRun.com
September 9, 2021
The 1500m races at the Zurich Weltklasse Diamond League meet lived up to their billing as Faith Kipyegon won a tough battle with Sifan Hassan and Timothy Cheruiyot turned the tables on Jakob Ingebrigtsen. Recap and results of both races below.
Women's 1500: Faith Kipyegon edges Sifan Hassan
It was fitting that the two dominant longer distance runners of 2021, Faith Kipyegon and Sifan Hassan, met in the Diamond League final, in an entertaining affair.
Embed from Getty Images
The 1500m distance favored Kipyegon and while Hassan put up a brave fight down the homestretch, Kipyegon had just enough to hold her off and win in in 3:58.33 to Hassan's 3:58.55, as American Josette Norris capped her breakthrough 2021 season by being clearly better than everyone else in 3rd in 4:00.41.
No one was interested in going with rabbit Chanelle Price, with Linden Hall of Australia stuck between the main field and Price. Price slowed down as Kipyegon was content to lead the main field in 65.0 and 2:10.5. Hall led the field at the bell in 2:59.8, but the main racing was about to begin. 
Kipyegon took over the lead and really began pushing on the backstretch. Only Hassan and Norris could stay close to her with 200 to go. Around the final bend, Norris fell back and it was the matchup everyone wanted, Kipyegon vs Hassan. Kipyegon led down the homestretch but could not open up a gap on Hassan. Halfway down the stretch, Hassan pulled up on the shoulder of Kipyegon and just before she could go by Kipyegon, Kipyegon found a little something in reserve and was able to hold off Hassan, who lost her form the final 10 meters, ensuring the win went to Kipyegon. The final lap was 58.56, leader to leader.
| | | | |
| --- | --- | --- | --- |
| 1 | KEN | KIPYEGON Faith | 3:58.33  |
| 2 | NED | HASSAN Sifan | 3:58.55  |
| 3 | USA | NORRIS Josette | 4:00.41  |
| 4 | ESP | PÉREZ Marta | 4:01.94  |
| 5 | USA | SCHLACHTENHAUFEN Helen | 4:02.30  |
| 6 | AUS | HALL Linden | 4:03.50  |
| 7 | ETH | EMBAYE Axumawit | 4:04.18SB  |
| 8 | UGA | NANYONDO Winnie | 4:04.80  |
| 9 | GBR | SNOWDEN Katie | 4:06.46  |
| 10 | IRL | HEALY Sarah | 4:18.60  |
| DNF | USA | PRICE Chanelle800m – 2:06 min, 1K – 2:38 min |   |
QT: Beating Sifan Hassan isn't easy
Article continues below player.
This was the fourth time Hassan and Kipyegon raced this year and while Kipyegon had won the last two races pretty convincingly, beating Hassan at 1500 is not easy even, for Kipyegon. (Hassan won their first matchup of the year in Florence, Kipyegon then ran 3:51 to win in Monaco and beat Hassan as she attempted the triple at the Olympics). That proved the case tonight as well.
QT: Thank you, Faith Kipyegon and Sifan Hassan
Faith Kipyegon and Sifan Hassan are two of the greatest milers in history and both happen to be in their prime at the same time. They have been responsible for some of the most thrilling moments in track & field this year. Their matchups are something to savor, and as track fans, we're fortunate to see two legends square off this frequently and produce such special races.
QT: Great season for Josette Norris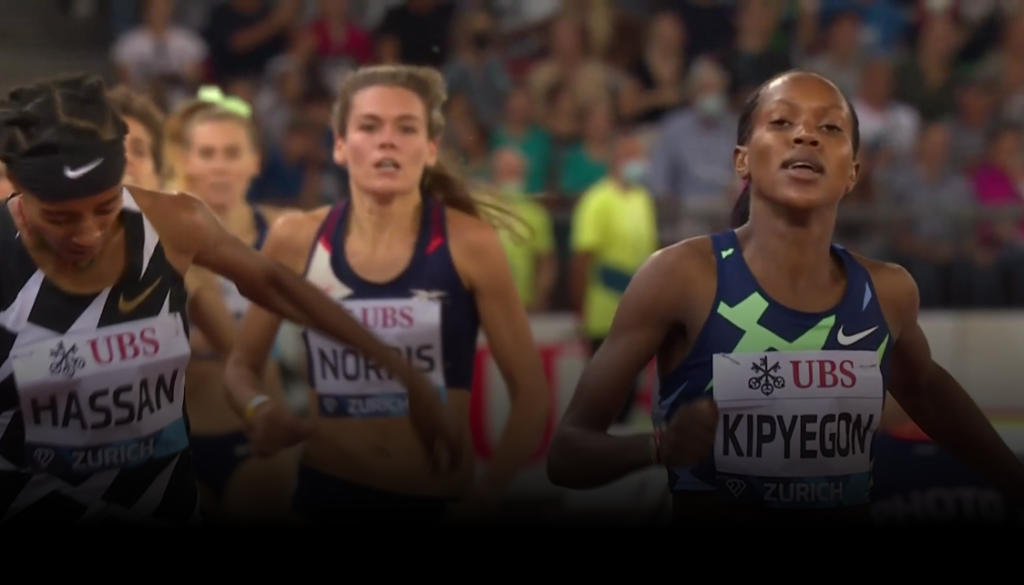 With 200 to go, only one person was with the two greatest 1500m runners in the world: Josette Norris of the US. Now she's a sub-4 1500 runner, a 14:51 5000 runner, and a 3rd placer in the Diamond League final. Expect her to make her first Worlds team next year. 
Men's 1500: Cheruiyot holds off Ingebrigtsen in a thriller
After Jakob Ingebrigtsen beat Timothy Cheruiyot to win the Olympic title — his first win over Cheruiyot in 13 career races — it signalled a turning point in their rivalry. After Ingebrigtsen stomped Cheruiyot at the Pre Classic two weeks later, one had to wonder if the balance had permanently shifted. Would anyone be able to stop Ingebrigtsen — still only 20 years old — moving forward? Jakob's father and coach, Gjert, even went so far as to tell Norwegian TV that Jakob would never lose to Cheruiyot again.
Embed from Getty Images
It only took Cheruiyot a month to disprove that, as the Kenyan won his fifth straight Diamond League final (and fourth straight DL title) after an epic stretch run in which he held off Ingebrigtsen, 3:31.37 to 3:31.45.
As usual, Australian Stewart McSweyn hit the front early, and at 800 (1:51.07), it was McSweyn, Ingebrigtsen, and Cheruiyot in that order close behind pacer Erik Sowinski, who was right on the pacing lights. At the bell, Cheruiyot made his move to the front, but the pace was slowing and by 1200 (2:49.33 after a 58.16 third 400), the front three had been joined with 3:28 man Mohamed Katir of Spain and former NCAA champion Ollie Hoare of Australia and the On Athletics Club.
Just as in the women's race, however, the Olympic champ and the world champ began to separate in the closing stages, Cheruiyot and Ingebrigtsen pulling clear of the field as they entered the home straight. Even though Ingebrigtsen had run smartly over the last lap, tucking in while protecting his position rather than running wide on the final turn, he could never quite close the gap to Cheruiyot, who fought him every step of the way down the home straight and held on for a big win.
| | | | |
| --- | --- | --- | --- |
| 1 | KEN | CHERUIYOT Timothy | 3:31.37  |
| 2 | NOR | INGEBRIGTSEN Jakob | 3:31.45  |
| 3 | AUS | McSWEYN Stewart | 3:32.14  |
| 4 | AUS | HOARE Oliver | 3:32.66PB  |
| 5 | ESP | KATIR Mohamed | 3:32.77  |
| 6 | KEN | KWEMOI Ronald | 3:33.34SB  |
| 7 | KEN | SIMOTWO Charles Cheboi | 3:34.24  |
| 8 | ESP | FONTES Ignacio | 3:34.45  |
| 9 | KEN | BIRGEN Bethwell | 3:46.01  |
| DNF | USA | SOWINSKI Erik800m – 1:51 min, 1K – 2:19 min |   |
Quick Take: What a race, what a rivalry
Just like the women's 1500, the fans in Zurich tonight were treated to a pulse-pounding battle between the two best milers in the world, with the outcome in doubt all the way to the line. The sport is fortunate to have Cheruiyot and Ingebrigtsen leading the way in one of track's marquee disciplines: two great champions who aren't afraid to race each other and don't mind pushing the pace. 
"Right now, the most important thing is that we have each other is this race," Ingebrigtsen told meet organizers. "We fight in every race. Without this, we would not run that fast. So I hope we can do the same thing next year and it will be so competitive. I am just hoping to keep on working towards next year."
Both Ingebrigtsen and Cheruiyot haven't been quite at their best since Tokyo — Ingebrigtsen has battled fatigue, Cheruiyot has had lingering hamstring problems and has dealt with a sick child back home — but they put on a show tonight. And today's result was the best possible outcome for fans of the sport. Rather than ceding his throne to Ingebrigtsen, Cheruiyot just sent a message: I'm still here. Watching those two battle each other over the next 10 months during the leadup to the 2022 Worlds in Eugene will be one of the most entertaining storylines in track & field. 
Quick Take: Stewart McSweyn's busy Diamond League campaign is over…but his season's not done yet
Stewart McSweyn has been the busiest man in track & field this year. The Australian middle distance runner wrapped his DL season tonight by finishing third in 3:32.14, just ahead of fellow Aussie Ollie Hoare, who ran an outdoor pb of 3:32.66 for fourth.
McSweyn, amazingly, ran at 10 of the 12 Diamond League meets this year — he missed only Stockholm and Paris. And he's not done yet — he will make his half marathon debut at the Great North Run on Sunday.
Why race so much? Well, because he's good at it and because Australia's quarantine measures upon return are among the most restrictive in the world. Even in a normal year, McSweyn spends a lot of time overseas because it's a long flight back to Australia between meets. And with the added two-week quarantine requirement, it made even less sense to return home before his season was over.
Here's McSweyn's full 2021 Diamond League results. Has anyone ever run more DL races in one year?
| | | | | |
| --- | --- | --- | --- | --- |
| Date | Location | Event | Time | Place |
| May 23 | Gateshead | 1500 | 3:37.32 | 3rd |
| May 28 | Doha | 1500 | 3:31.37 | 2nd |
| June 10 | Florence | 5000 | 13:20.11 | 11th |
| July 1 | Oslo | Mile | 3:48.37 NR | 1st |
| July 9 | Monaco | 1500 | 3:29.51 NR | 4th |
| July 13 | Gateshead | 3000 | 7:28.94 | 2nd |
| August 21 | Eugene | Mile | 3:48.40 | 2nd |
| August 26 | Lausanne | 3000 | 7:35.06 | 3rd |
| September 3 | Brussels | 1500 | 3:33.20 | 1st |
| September 9 | Zurich | 1500 | 3:32.14 | 3rd |