Women's 1500: Kipyegon Reigns Again, Runs Olympic Record 3:53.11, Muir Beats Hassan for Silver
By LetsRun.com
August 6, 2021
TOKYO — Faith Kipyegon cemented her claim as the best female miler of all time.
The Kenyan defended her Rio Olympic gold medal and ran an Olympic-record 3:53.11, blasting away from Sifan Hassan and Laura Muir in the final 200 meters and closing in 59.18 for her final 400.
Embed from Getty Images
Article continues below player
Great Britain's Muir earned a long-awaited first global outdoor medal, delivering a national-record 3:54.50 and outkicking Hassan for the silver.
Hassan's quest for triple gold at these Olympics will not come to fruition but she still took home the bronze in 3:55.86. Now she will have to prepare for the final of the 10,000 in 22 hours.
American champion Elle Purrier St. Pierre was never near the front, running 4:01.75 for tenth, while the USA's Cory McGee was 12th in 4:05.50.
The Race
Hassan employed her usual strategy of sinking to the back off the start line, but she would not stay there for long as she made a big push on the home straight and was in the lead by 300 meters. Perhaps sensing a repeat of Hassan's blazing 3:51 from the 2019 World Championship final, the major players responded immediately, with Kipyegon moving onto Hassan's shoulder and Muir on Kipyegon's shoulder in third.
Embed from Getty Images
Hassan was in fact following her game plan from the 2019 Worlds, but with four races at these Olympics already in her legs, she could not force the same sort of pace. Her first 400 was faster (62.84 vs. 63.51 in Doha) but her next lap was slower (64.16 vs. 61.41), at which point a group of six women had separated: Hassan, Kipyegon, Muir, Canada's Gabriela DeBues-Stafford, Freweyni Gebreezibeher of Ethiopia, and Nozomi Tanaka of Japan.
Hassan upped the pace on lap three, dropping a 62.39 (she ran that lap in 61.44 in Doha) to hit 1200 in 3:09.29, and that was enough to drop Gebreezibeher and Tanaka. Hassan attacked again on the back straight, hoping to repeat her Doha gold.
There was just one problem: Faith Kipyegon is a much better runner in 2021 than she was in 2019. And she showed it over the final 200 meters tonight. As Hassan tried to break Kipyegon and Muir on the back straight, Kipyegon was already answering with a move of her own to get the lead, which she secured with 230 meters to go. From there, it was game over as she powered away to gold with a 29.5 final 200.
In each of the three previous global championship finals — the 2016 Olympics, 2017 Worlds, and 2019 Worlds — Laura Muir was in the top three with 200m to go, only to get run down for a medal. Once again, she found herself in third tonight, but this time, there was no stopping her. Muir held on, closing in 30.5 for her last 200 and even passing Hassan with 120 meters to go to nab the silver in a British record of 3:54.50. Hassan ran out of gas and was third in 3:55.86 — a time that would have seemed ridiculous for a championship final a decade ago, but which has become normalized due to supershoes, rising standards in the event, and Hassan's own brilliance.
It's settled: Faith Kipyegon is the women's 1500 GOAT
As a World Youth champion in the 1500 at age 17, a World Junior champion in the 1500 at 18, and a two-time World XC junior champion (including barefoot in 2011!), Kipyegon faced massive expectations as she graduated to the senior ranks. Somehow, she has exceeded them. She now has two Olympic titles, a world title, two World Championship silvers, and a 3:51.07 personal best.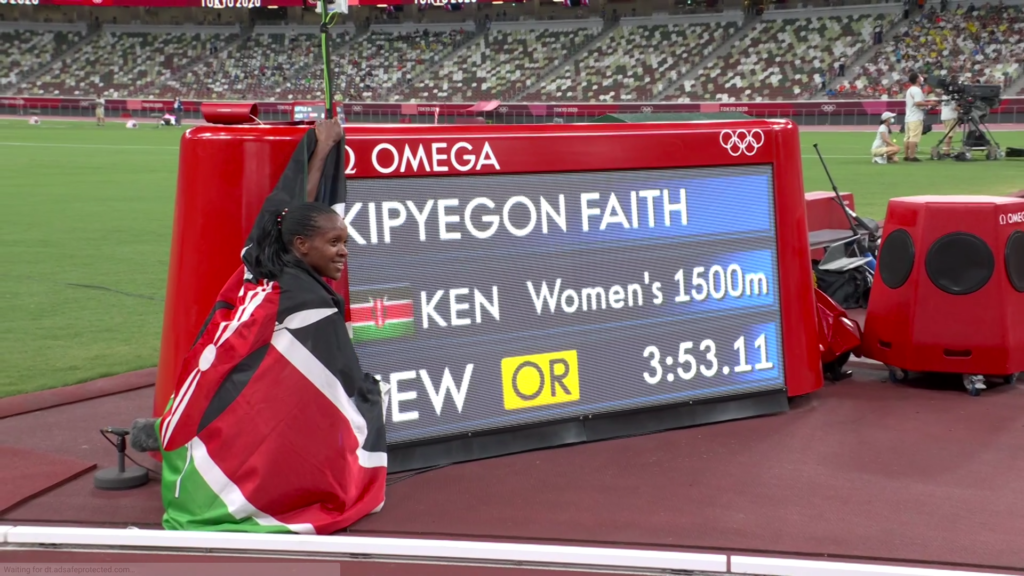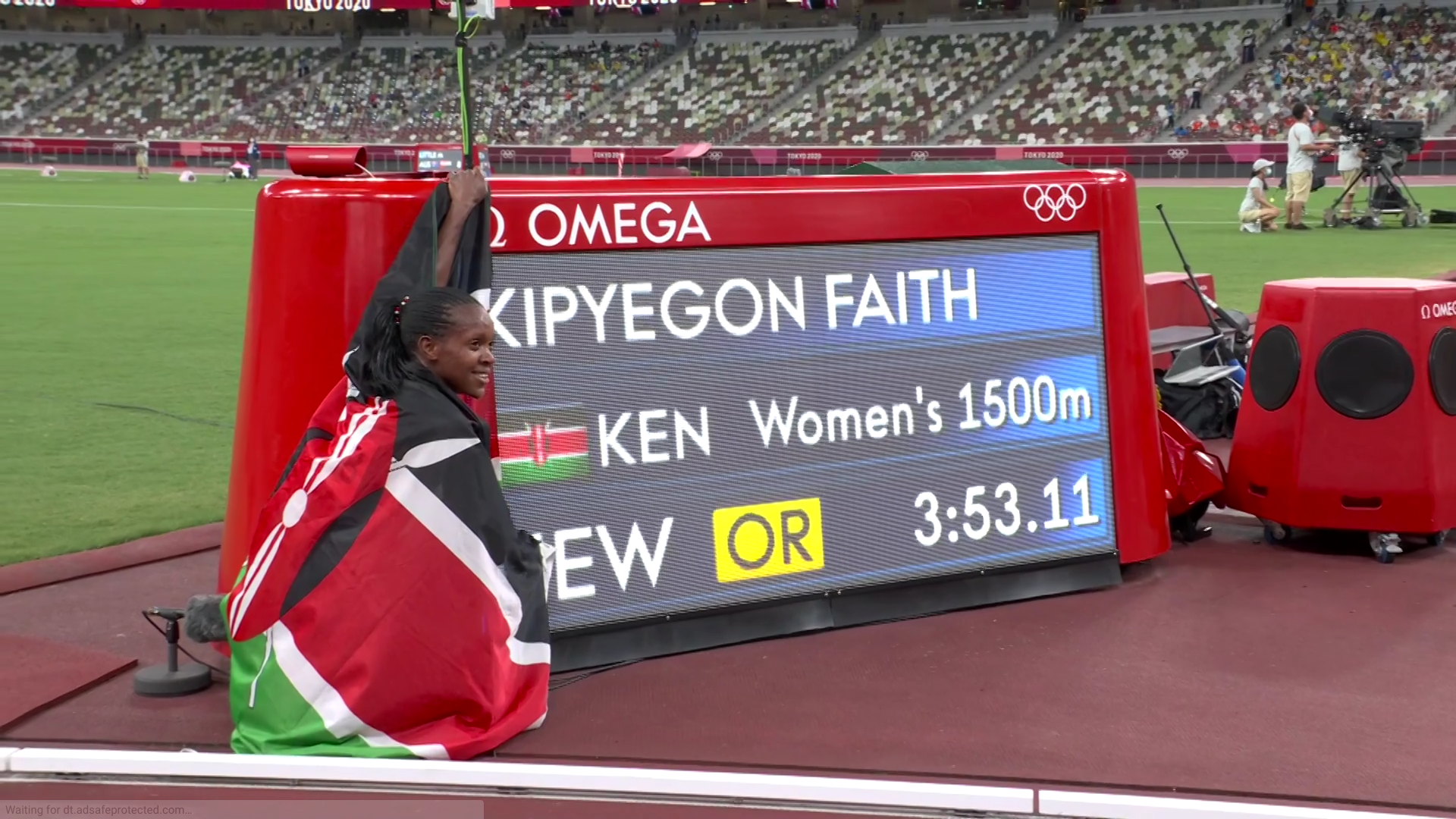 Don't let us tell you. Let Laura Muir: "She's the greatest of all time," Muir said. "She doesn't get enough credit. She's won everything there is. I've got a lot of respect for her and I'm very, very happy to see her winning gold and I'm honoured to be behind her in that race."
Kipyegon finished a well-beaten second behind Hassan in 2019 but the fact that she was able to run 3:54 and take the silver in that race is actually pretty incredible considering she had given birth to daughter Alyn a year earlier and did not have a smooth recovery ahead of Worlds (she raced just twice in 2019 before Worlds). This time around, Kipyegon was in much better shape and said she was proud to win the gold medal for Alyn and could not wait to celebrate with her in her home village in Kenya.
Laura Muir knew after the race tonight she'd be in tears – and for the first time at a global final – it ends with happy tears
Before tonight's race, Laura Muir knew she was going to cry once it was over.
Embed from Getty Images
"Whether I got a medal or whether I didn't get a medal so it was always gonna end in tears, but I'm just so happy it was happy tears," Muir said. 
Muir has made the last five global finals and before tonight had finished 5th, 7th, 4th, and 5th. In both 2016, she may have cost herself a medal by running for the win and blowing up and was asked if she got flashbacks to that race tonight as instead of playing it safe and running for bronze, she battled with Kipyegon and Hassan.
"No, no, I knew I'm such a different runner now than what I was then like, physiologically I just couldn't deal with it [in 2016]," Muir said. "Mentally, I was gonna go with it, but my body just couldn't cope whereas this year I'm prepared for it. I'm 100% fit. Past few years, I haven't been, I think, 100%, and that showed in coming 4th and 5th. But this year, no interruptions. This is what I'm capable of."
10,000 runners, if you think tonight's race doomed Hassan's chances for tomorrow, think again. She says there's a 90% chance she'll win the 10,000
After the race, Hassan spoke to the Dutch press in Dutch for a long time. The Dutch reporters told us that she said tonight's loss was going to fuel her tomorrow in the 10,000 final. According to a Dutch reporter, he says she said if she'd won tonight, there was only a 5% chance she'd win the 10,000, but since she lost tonight, she estimated there was a 90% chance she'd win the 10,000.
Hassan tonight showed she's human.
Gabriela DeBues-Stafford put herself in position to medal — she just couldn't close
DeBues-Stafford moved up one spot from her 2019 Worlds finish to take 5th, but admitted after the race that she was pretty disappointed with the result.
Embed from Getty Images
"I don't want to be, but I didn't come here for fifth," DeBues-Stafford said, adding that she and coach Jerry Schumacher came in believing a medal was possible.
That said, it's hard to point to any mistakes DeBues-Stafford made. She was right there at the bell and put herself in position to medal but did not have a 61 last lap in her legs today.
"I just didn't have the legs today, and that's really upsetting. I didn't feel great the whole race, so I'm proud of myself for executing. I did everything I could."
The good news for DeBues-Stafford is that she's still only 25 years old. She will have more opportunities to medal…but tonight showed that the event isn't getting any easier, even with her Bowerman TC teammate Shelby Houlihan suspended.
Americans don't factor
Before Tokyo, there was a lot of speculation as to whether Elle Purrier could medal. She then struggled in the semi (only qualifying for the final on time) and struggled tonight.
Embed from Getty Images
The Aussies were relatively happy
Linden Hall was sixth, lowering her pb from 3:59.67 to 3:59.01 in the process while Jessica Hull, who broke Hall's NR in the semis by running 3:58.81, was 11th in 4:02.63. Hall was satisfied as she was the first person out of the Rio final and said top 8 is always a really good goal. Hull said she just didn't "have the legs today" but said, "[I am] pretty proud of the Games I put together."
Like this article? Become a LetsRun.com Supporters Club member and get all the insights from Tokyo and the world of professional distance running. We are having daily video shows/podcasts from Tokyo, plus get exclusive LetsRun.com content throughout the year, big savings on running shoes (if you buy one shoe that will more than pay for a month of your membership), and a free LetsRun.com or 1:59:40 shirt if you join for a year. Join here.
Not yet ready to join? Follow us on twitter, instagram, subscribe to our free weekly podcast, or get our free newsletter.