2021 NCAA 10K Madness: Tulsa's Patrick Dever Scores Upset Win in 27:41 As 10 Men Break Old Meet Record of 28:01
By LetsRun.com
June 9, 2021
Perhaps inspired by Sifan Hassan and Letesenbet Gidey's recent world records at the distance, the men's 10,000-meter finalists at the 2021 NCAA Outdoor Track & Field Championships on Wednesday night decided to get in on the fun as well. With Iowa State's Wesley Kiptoo pushing the pace early and Hofstra's Alex Masai picking up the slack as Kiptoo faded in the final kilometers, a staggering 10 men ran under the 42-year-old meet record of 28:01.30, set by NCAA legend Suleiman Nyambui of UTEP in 1979. Despite the fast pace, six men were within a second of the lead at the bell, and ultimately it was Patrick Dever of Tulsa who kicked best, using a 57.37 last lap and an inside pass on the home straight to outsprint NCAA cross country champion Conner Mantz of BYU and earn his first NCAA title in 27:41.87. Dever became the second Englishman from Tulsa to win this race in the last five years, joining newly-minted Olympian Marc Scott, who won in 2017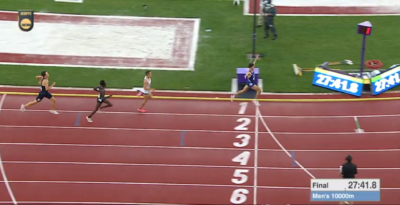 In all, 15 of the top 19 finishers in the race set personal bests in a near-perfect environment for running fast. Gather together a field of peaked athletes in superspikes on an ideal night for distance running (60 degrees, 7 mph wind) in Eugene with a de facto pacemaker in Kiptoo and it is hardly surprising that multiple men broke 28:00 tonight (we predicted it here). But it is still quite incredible just how deep this race went. Kiptoo ran 28:03.65, a time that would have won every NCAAs in the last 40 years, and that was only good enough for 11th place.
Article continues below player
In the other finals today, heavy favorite LSU's march to the team title got off to a great start  LSU's JuVaugh Harrison won the long jump and (8.27) LSU's Tzuriel Pedigo won the javelin (76.98). Arizona State's Turner Washington won the shot (21.1), Stephen F Austin's Branson Ellis won the PV (5.70) as Florida's Thomas Mardal won the hammer (76.74).
The Race
Kiptoo, as always, got to the front early, though his 63.05 opening lap was nowhere near as reckless as his 60.80 two weeks ago at regionals. He would lead at 14-man pack through 5k in 13:54, with his Iowa State teammate Edwin Kurgat, the 2019 NCAA XC champion, the only casualty (Kurgat would drop out at 6k).
Kiptoo was running well under 28:00 pace — a barrier only four other men in the field had ever broken — yet it was having no effect on the field, and shortly after halfway, Kiptoo was passed by Hofstra's Alex Masai. Kiptoo regained the lead just before 6k, continuing to reel off 67-second laps, but 13 men still remained in the pack with six laps to go, at which point Kiptoo surrendered the lead for good to Masai, who picked things up with a 65.95. Masai controlled things until the penultimate lap, and though Kiptoo fell off, 10 men were still there with 800 to go.
With 500 to go, we were still waiting for someone to make the big move, and it was Mantz who made it, taking the lead in the home straight and launching his kick in earnest as he took the bell. A 63.36 penultimate lap had already begun to string out the field, and Mantz's push strained it further; by 300 to go, the eventual top four of Mantz, Robert Brandt of Georgetown, Dever, and Abdihamid Nur of NAU had separated.
That was the order coming off the final turn, and if anyone was to pass Mantz, it looked to be Brandt, who had smartly conserved energy while remaining in good position near the front throughout the race. Dever, with a personal best over 40 seconds slower than the other three, was in a tough spot, third place and boxed in. But Mantz failed to seal off the rail and that gave Dever the opening he needed to steam through and win it — no one could answer his move once he seized the lead midway down the home straight.
"Most of the time when I watch races, the person in the lead does drift out ever so slightly, so I figured I'd take my chances," Dever said. "And I'm very glad [Mantz] did."
Watch the final 100 yourself.
🚨 CHAMPIONSHIP RECORD! 🚨@TulsaTrack Patrick Dever breaks a 42-year-old #NCAATF meet record, winning the 10000m in 27:41.87! pic.twitter.com/wMpwGhiC2q

— NCAA Track & Field (@NCAATrackField) June 10, 2021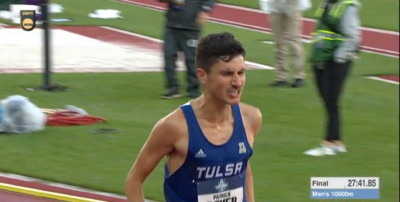 Quick Take: Dever pulls the upset
Patrick Dever was not entirely unknown before tonight, as he finished 11th at NCAA XC in 2019 and 5th in 2021, but this was still a breakout performance for the redshirt senior. This was his first NCAA Outdoor Championships and he entered with a 28:28 pb, set two months ago at the Hayward Premiere, a race in which he was destroyed by two men who were in this race (Kiptoo and Kurgat).
That makes this a 47-second pb for Dever, and he came from behind to defeat three men who had broken 27:50 this year (Mantz, Nur, and Brandt) in the final straightaway (although to be fair, Dever said the focus at the Premiere was to get the regional time). He'll be back Friday for the 5k, along with Brandt.
Dever does have another season of XC eligibility, but the 24-year-old has already graduated and said he likely will not return to school next year. He will run the 5,000 at the British Olympic trials at the end of the month and says he has already been in talks with an agent, with his aim to be back training in the US this fall.
Quick Take: 27:52 finished 10th tonight
As mentioned earlier, the times in this race were crazy — this was easily the deepest college race in history. Ten men broke 28:00 tonight. 
How fast is that? Well from 2013-2019, only five men, total, broke 28:00 in any NCAA race.
Sub-28:00's by year in the NCAA, 2013-19
2019: 0
2018: 0
2017: 0
2016: 1
2015: 1
2014: 2
2013: 1
As mentioned above, there were a number of factors that contributed to the fast times. Dever pointed to the quality of the field, the presence of fans in the stadium, and the good weather as three factors that helped him run fast tonight, and was humble enough to admit that his choice of footwear helped as well.
"I ran in the superspikes as well, so I guess they have a little bit to do with it," Dever said.
Tonight's race going fast doesn't mean we're going to see sub-28:00s with regularity at NCAAs, as you still need someone like Kiptoo who is willing to push the pace from the gun. But tonight's race was just the latest example of superspikes changing the game in what has been a very fast season of NCAA running
Quick Take: What happened to the Iowa State guys?
Kiptoo and Kurgat, both sub-28-minute men and NCAA champions, were among the pre-race favorites, but neither was a factor in the final few laps. In fact, Kurgat wasn't a factor in the race at all, as he was at the back of a long train of runners in the first half of the race and wound up with a DNF, dropping out after the 15th lap.
Kiptoo ran the race smarter than he had at the NCAA West Preliminary, taking the race out in 63 seconds for the first lap and 4:24 for the first 1600 — fast, but not insanely fast, relative to Kiptoo's other performances this season. He strung out the field but did not open a gap, leading 17 of the first 18 laps. 
Perhaps the leading took its toll or perhaps he was tired after hammering every race of the year including an incredible triple at Big 12s (13:39/28:22/8:31 steeple), as when Masai took the lead with 6 laps remaining, Kiptoo had no response. He quickly faded to fifth and was 11th with 1200 to go, which was ultimately where he finished. The time was only two seconds off the previous meet record, as Kiptoo created a fast race for the rest of the field, but his last three laps (69.58, 70.02 and 68.63) were his slowest of the race.
So what does this mean for Friday's 5k final, where Kiptoo is also expected to push the pace early? Will he be spent? Will he change his tactics? Either way, it's fair to say that the 5k field will not be afraid of Kiptoo's kick.
Quick Take: A 19-year-old runs 27:47
Stanford redshirt freshman Charles Hicks, who spent his first 12 years in the UK but went to HS in Florida (he runs for GBR), ran 27:47.63 tonight at age 19. That's super impressive. Hicks turns 20 in July so he's not eligible for the official U20 category but we think it's the fastest 10,000 time ever run by a teenager not born in Africa.

The fastest official U20 time run by a non-African is 27:59.32, which was run by Japan's Ryuji Ono in 2004.
Here's a wild stat. Ono is only the 110th fastest U20 performer in history as 109 Africans have run faster. If Hicks was eligible for the U20 category, it would be #75 all-time.
MB: 19-year old Charles Hicks 7th in 27:47 – how would Nico have done? Is that a WR for a 19-yr old non African? 
Quick Take: Hamer & Rodriguez earned Olympic Trials standards tonight
You don't usually go into the NCAA 10k hoping to get an Olympic Trials standard, so Colorado State's Eric Hamer (5th, 27:44.87) and Oklahoma State's Isai Rodriguez (10th, 27:52.92) must be delighted with tonight's results. Both were entered in the Trials but not accepted because neither had hit the 28:00 auto standard. Now both have earned the right to be back in Eugene in nine days' time on the start line of the 10,000 meters.
Talk about the action on our world famous fan forum / messageboard.
Distance Prelim Recap: 2021 NCAAs Day 1: Cole Hocker vs. Yared Nuguse Is Set in 1500; Falls & Surprises in 800 & Steeple
Results
Results: Men 10000 M (Final)

Pl
Athlete
Time
1
Patrick DEVER
Tulsa [SR]
27:41.87


 PB 

 

 MR 

2
Conner MANTZ
BYU [JR]
27:42.46

3
Abdihamid NUR
Northern Arizona [FR]
27:42.73


 PB 

4
Robert BRANDT
Georgetown [SR]
27:43.17


 PB 

5
Eric HAMER
Colorado St. [SR]
27:44.87


 PB 

6
Alex MASAI
Hofstra [JR]
27:45.19


 PB 

7
Charles HICKS
Stanford [FR]
27:47.63


 PB 

8
Adriaan WILDSCHUTT
Florida State [SR]
27:48.89


 PB 

9
James MWAURA
Gonzaga [SO]
27:50.44


 PB 

10
Isai RODRIGUEZ
Oklahoma State [SO]
27:52.92


 PB 

11
Wesley KIPTOO
Iowa State [SO]
28:03.65

12
John DRESSEL
Colorado [SR]
28:03.87


 PB 

13
Gilbert BOIT
Arkansas [SR]
28:09.11


 PB 

14
Vincent KIPROP
Alabama [SR]
28:19.12


 SB 

15
Barry KEANE
Butler [SO]
28:28.18


 PB 

16
Jack O'LEARY
Iona [JR]
28:29.39


 PB 

17
Aaron BIENENFELD
Cincinnati [SR]
28:33.05

18
Marcelo ROCHA
Providence [JR]
28:37.05


 PB 

19
Haftu STRINTZOS
Villanova [FR]
28:51.06


 PB 

20
Christopher ALFOND
UMass Lowell [SR]
29:23.55

21
JP TROJAN
Syracuse [SR]
29:24.08

22
Victor SHITSAMA
Oklahoma State [SO]
29:32.28

23
Nickolas SCUDDER
Charlotte [FR]
29:40.46

Edwin KURGAT
Iowa State [SR]
DNF