2021 Miramar Invite Recap: Sha'Carri Richardson Rips 10.72 100 to Move to #6 on All-Time List; Wilson & Holloway Win as Centro & Andrews Struggle
By Jonathan Gault
April 10, 2021
The fields at Saturday's Miramar Invitational were loaded with world and Olympic champions, and the races did not disappoint. There were big wins for Grant Holloway (13.04, +2.2) in the 110 hurdles and Keni Harrison (12.38, +2.7) in the 100 hurdles, but the run that will reverberate around the world came in the women's 100 meters, where 21-year-old American Sha'Carri Richardson blasted a 10.72 (+1.6) in her season opener to become the sixth-fastest woman of all time.
In the mid-distance events, Ajee' Wilson maintained her fine form by outkicking Natoya Goule to win the 800 in 2:00.57, but 2016 Olympic 1500 champion Matthew Centrowitz (6th in the 800 in 1:50.97) and his Team USA Olympic teammate Robby Andrews (5th in the 1500 in 3:46.89) were not as impressive. Below, six takeaways from the second meet in USATF's Journey to Gold – Tokyo series.
Article continues below player
1) Sha'Carri Richardson rips 10.72 to move to #6 on all-time list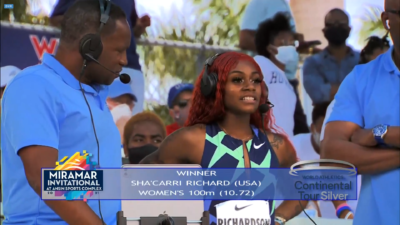 Sha'Carri Richardson's talent was evident two years ago when she clocked 10.75 as a 19-year-old freshman at LSU to win the NCAA 100-meter title. Since then, however, Richardson hasn't been able to capitalize on that talent. Later that year, she didn't make the World Championship team in 2019, in part because USAs weren't until the last week in July and Richardson, a freshman coming off a long collegiate season, had been racing since January. Last year, there was no USAs or Olympics, but Richardson showed her potential was still there, clocking 10.95 and 22.00 along with some fast wind-aided 100's (10.79 with a +2.7, 10.83 with a +2.1).
With a full track season and an Olympics in 2021, Richardson has the opportunity to shine. And if what she did today was any indication, it's going to be a special year.
Running in her season opener just two weeks after her 21st birthday, Richardson, despite an unremarkable start, ripped a 10.72 — the fastest time ever in the month of April and good for 6th on the all-time list. Of the five women to have run faster, one was one of history's most notorious dopers, and there have been questions about some of the others.
All-time women's 100m list
1. 10.49 Florence Griffith-Joyner, USA 1988
2. 10.64 Carmelita Jeter, USA 2009
3. 10.65 Marion Jones, USA 1998
4. 10.70 Shelly-Ann Fraser-Pryce, Jamaica 2012
4. 10.70 Elaine Thompson, Jamaica 2016
6. 10.72 Sha'Carri Richardson, USA 2021
😮 @itskerrii blasted a jaw-dropping 10.72, the sixth fastest EVER! pic.twitter.com/OrfbohNRwC

— USATF (@usatf) April 10, 2021
2) Is Sha'Carri Richardson now the Olympic 100-meter favorite?
The fact that Sha'Carri Richardson ran 10.72 is not shocking, given her pb was 10.75 coming into the year. What was shocking is that she did it on April 10, in her first race of the season. Granted, conditions were perfect — 84 degrees, 1.6 m/s tailwind — but it's still a run that left even Ato Boldon blown away.
"I've been in a lot of stadiums," Boldon said on the broadcast. "It's been a long time since I've seen everybody on their feet that stunned, people just looking at each other. That's the kind of reaction you get from a crowd when Bolt runs 19.19."
Bolt comparisons are dangerous, but in this case, it's apt. In 2008, he was 21 years old, just like Richardson is now, and started his year with a staggeringly fast early-season time (9.76 in Kingston on May 3). That doesn't mean Richardson is going to replicate his feats of world records in Tokyo (especially because the women's 100/200 records are essentially unbreakable), but it's a hell of a way to start an Olympic year.
"My season is gonna be unbelievable," said Richardson, who trains under Dennis Mitchell (Justin Gatlin's coach) after the race.
So is she the Olympic favorite? She's certainly better-positioned than reigning champ Elaine Thompson-Herah, who was only 4th in the 200 today in a wind-aided 22.44. But we can't forget about the female GOAT, Shelly-Ann Fraser-Pryce. Fraser-Pryce ran faster than Richardson did to win the 2019 Worlds in Doha (10.71) and has won six global 100m titles; Richardson has yet to even compete at a global championship. But Fraser-Pryce is 34, while Richardson is just entering her prime at 21. It seems likely one or the other will claim Olympic gold in Tokyo this summer, and their looming showdown could be one of the races of the Games.
I'm leaning Richardson. If she can run 10.72 on April 10, she can be in the 10.6 shape by the Olympic final on July 31. No one is beating that.
MB: Sha'Carri Richardson 10.72 WIND LEGAL
.@itskerrii chats with @AtoBoldon & @LewisJohnsonMG after her ⚡️ 10.72 100m.@usatf #JourneyToGold | #ContinentalTour

— RunnerSpace (but wearing a 😷) (@runnerspace) April 10, 2021
3) 2016 Olympians Matthew Centrowitz and Robby Andrews have some work to do over the next 10 weeks
From 2015-2017, Centrowitz and Andrews were fixtures on the US 1500 squad, making all three World/Olympic teams in that span and splitting the US titles (two for Centro, one for Andrews).
But as we stand, 10 weeks out from this year's US Olympic Trials, both men have significant work to do if they are to make another team in 2021. 3:46 and 1:50 — Andrews and Centrowitz' times in the 1500 and 800, respectively, today — are not times you typically see from future Olympians, granted it is only April 10. Times can be deceiving — and it should be noted that a significant wind on the back straight certainly slowed the times today — but neither man's race today was encouraging. 
In the 1500, no one went with pacemaker Avery Bartlett, leaving the entire eight-man field in contention with two laps to go. Andrews took the lead with 600 to go, but he was passed at the bell by James Randon and slid to fourth with 200 to go, ultimately finishing 5th in 3:46.89. Usually this sort of race would be made for Andrews, a big kicker and former NCAA 800 champion, but instead the man playing Andrews' role was another former NCAA 800 champ, Kenya's Michael Saruni, who exploded from 6th to 1st over the final 100, winning in a personal best of 3:45.84.
Andrews, at least, was in contention on the last lap. Centrowitz, meanwhile, was never in the 800, going out in last at the bell (the leaders came through at 53; Centro was in the 54-55 range), and though he passed Brandon Lasater just before 200 meters to go, he would pass no one else and finish 6th in 1:50.97 as Abe Alvarado edged Clemson's Kameron Jones for the win, 1:47.29 to 1:47.33.
Andrews' run was better than Centro's today, but his situation is more dire — he hasn't made a US outdoor final since 2017, and it's been almost three years since his last good 1500. He also doesn't have the Olympic standard of 3:35.00 (a time Andrews hasn't run since 2016), while Centro does. It's hard to consider him a contender for an Olympic spot until he shows something.
Centro also needs to show something this year, but he did at least run 13:32 in December (beating Cole Hocker in the process), run 3:40 in March and ran 3:32/13:00 as recently as 2019. It's also worth noting that Centrowitz has never missed a US team since turning pro. Exactly nine years ago — April 10, 2012 — Centro underwent knee surgery and wound up 4th at the Olympics four months later. In 2018, Centro ran 1:53 on March 22, 1:52 on May 11, and 1:48 on May 17 and wound up winning USAs on June 23 and running 3:31 on July 20. He knows what to do to get his body ready for USAs. And, as two-time Olympic medalist Nick Willis points out, early-season 800 times can be misleading.
You can't just look at fitness in a vacuum. What makes mile training so interesting is that each athlete is trying to find that perfect marriage b/w speed and endurance. If you lean toward the endurance side more, it takes a long time for the spring to come around.

— Nick Willis (@nickwillis) April 10, 2021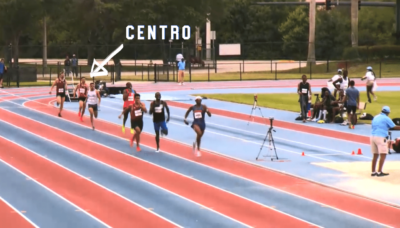 Still, nothing is promised at the Trials, and Centrowitz is 31 years old. The next two months will be telling.
MB:Time to panic? Centro runs 1:50.97 800!!!
MB: Centro is… not DONE.
MB: Centro 800m tomorrow
MB: Michael Sanuri 3:45 1500M At Mirimar Today
4) Ajee' Wilson notches impressive win over Natoya Goule
Wilson, the three-time defending US champ and perennial front-runner, said earlier this year that one of her aims in 2021 is to become more comfortable in different race scenarios. Today's 800 meters, against 1:56 Jamaican Natoya Goule, was an example of the progress Wilson has made since her disappointing bronze in the 2019 World Championship final.
In that race in Doha, Wilson went too hard on the backstraight trying to fend off Goule and ultimately ran out of gas over the final 100. Today, Wilson let Goule lead early and was just fourth at the bell, boxed in on the inside. Entering the back straight, Goule hit the gas and began to open a gap, but Wilson responded — this time in a more measured fashion. Freeing herself from the box, she gradually reeled Goule in, positioning herself just behind Goule entering the final turn. From there, she waited until 50 meters to go to strike, at which point Goule could not respond, Wilson cruising to victory in 2:00.57 to Goule's 2:00.92.
The time wasn't anything special, but that's irrelevant: Wilson is already the American record holder and 2021 world leader. The impressive part was Wilson running a tactically-flawless second lap to defeat one of the world's best 800m runners. That's the kind of thing she'll need to do to win gold in Tokyo in August.
It wasn't a great day for the other 2019 World Championship finalist in the field, American Ce'Aira Brown, who could only manage 2:04.50 for 6th place.
5) Justin Gatlin runs 9.98 at age 39
Contrary to the wishes of a number of fans, Justin Gatlin just will not go away. After winning the 100m world title at age 35 and World Championship silver at 37, Gatlin is still chugging along at age 39. And, 17 years after his Olympic gold in Athens, he showed today that he remains a threat in the 100 meters, clocking 9.98 in the 100 — his fastest wind-legal opener since his career year of 2015. Gatlin finished second, beaten by fellow American Kyree King, who broke 10.00 for the first time with his 9.97. King ran 10.00 and was 4th at NCAAs for Oregon in 2017.
MB: Justin Gatlin is back and racing in florida? Is he cheating, or does the sun never set on this man's career?
Kyree King 9,97 Justin Gatlin 9,98. +1.9 #yleisurheilu pic.twitter.com/Vs6sHC9wNT

— Jussi Ihamäki (@jussiihamaki) April 10, 2021
6) Grant Holloway, Keni Harrison, and Kenny Bednarek earn dominant victories
Almost every sprint field in Miramar was stacked, but a few athletes were still able to stand out among all that talent. In the men's 110 hurdles, world champ Grant Holloway kicked off his outdoor campaign with a very fast 13.04 win over his collegiate rival, 2019 US champ Daniel Roberts (13.30), in their first matchup since August 2019. Though the wind (+2.2) was above the legal limit in Holloway's race, he pointed out later on the broadcast that wind doesn't always help in a hurdles race.
"It just throws you into the next hurdle," Holloway said. "For me, prime example. I have a problem. I'm already so quick, so fast in between [the hurdles that] when I get up on those hurdles, it forces me to go up and over and not through."
World record holder Keni Harrison was similarly dominant in the women's 100 hurdles (12.38 with a +2.7 wind), and Kenny Bednarek ran away with the 200 in 19.65 (benefiting from a hefy +4.0 tailwind). In the women's 200, Jamaican stars Elaine Thompson-Herah (4th, 22.44) and Briana Williams (6th, 22.93) struggled as American Jenna Prandini got the win in a wind-aided 22.29 (+2.3). Shamier Little earned an impressive win in the 400, running 49.91 to become just the second woman to break 50 in the flat 400 and 53 in the 400 hurdles (h/t Jon Mulkeen). Nineteen-year-old Justin Robinson took the men's 400 in 45.23 ahead of Wil London (45.31) and 2018 US champ Kahmari Montgomery (45.39).
Men's 110h
Grant Holloway 13,04 Daniel Roberts 13,30 Ruebin Walters 13,37 +2.2 #yleisurheilu pic.twitter.com/AK1Cvlh6mG

— Jussi Ihamäki (@jussiihamaki) April 10, 2021
Women's 100h
Kendra Harrison 12,38 Cindy Sember 12,55 Tiffany Porter 12,57!!! Harmittavasti +2.7 tuuli. Alkuerissä Harrison 12,54 WL. #yleisurheilu pic.twitter.com/MAXMF6PuL4

— Jussi Ihamäki (@jussiihamaki) April 10, 2021
Talk about the action on our messageboard.