WTW: Elle Purrier vs Shelby Houlihan, Galen Rupp & Chris Derrick Are Back, Nico Young vs Drew Hunter, & Jenny Simpson's WR
The Week That Was in Running, February 3 – 9, 2020
By Robert Johnson
Feb raury 11, 2020
Past editions of the Week That Was can be found here. Got a tip, question or comment? Please call us at 844-LETSRUN (538-7786), email us, or post in our forum.
Article continues below player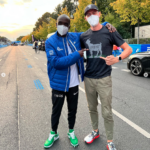 Kipchoge loves the 1:59:40 Shirt Get Yours Today
What a legend!
In case you missed any of our on-site coverage of the 2020 NYRR Millrose Games, catch up now: LRC Making Sense Of The Madness At 2020 Millrose, Where 3 American Records Fell In 70 Minutes
****
"Finally a podcast (and Website) for serious fans of distance running and track and field" –reviewer VArunner.  
Want an audio recap of the week? Try the LetsRun.com podcast here or in the player below:
****
Runner A or Runner B?
I always say it's best to take the emotions out of things and let the facts speak for themselves. If you were a pro coach, which runner would you rather have coming out of college?
| | | |
| --- | --- | --- |
| | Runner A | Runner B |
| 800 PB | 2:03.64 | 2:01.12 |
| Mile PB | 4:26.55 | 4:28.71 |
| 3000 PB | 8:55.68 | 9:03.71 |
| Best NCAA XC finish | 7th | 8th |
| Top-4 NCAA finishes (track) | 5 | 4 |
| NCAA titles (track) | 1 | 1 |
At a minimum, can we all agree that it's pretty darn close.
Well Runner A is Elle Purrier and Runner B is Shelby Houlihan.
I mention that because the shock performance of the week came from Purrier at the NYRR Millrose Games, where she knocked eight seconds off her mile pb (4:24.88) and nearly five seconds off her 1500/mile pb (her 4:02.34 1500 pb converted to a 4:21.78 mile) to win in 4:16.85, destroying Mary Slaney's 4:20.5 American indoor record, which had stood since 1982. Purrier's time is the second-fastest indoor mile in world history (Genzebe Dibaba has the WR at 4:13.31) and second-fastest mile by an American indoors or out (Slaney ran 4:16.71 outdoors in 1985).
Let there be no doubt: Purrier's performance was SHOCKING. But the stats above remind people it probably shouldn't have been quite as shocking as it seemed. Purrier was certainly a big talent coming out of college. Plus, last year, she actually ran a 4:16.2 road mile at 5th Avenue — just barely losing to Jenny Simpson by 0.1 — and the race was less than a month before Simpson ran 3:58.42 at Worlds. Yes, 5th Avenue is 29.5 feet net downhill, but there is a big uphill during the second quarter. If one uses John Kellogg's formula of 1.8 seconds aid for 10 feet in elevation drop and 2.4 seconds added for every 10 feet in elevation gain, then the net effect of the elevation at 5th Avenue is an advantage of 3.9 seconds.
But even if one considered Purrier to have been a 4:20.1 miler heading into Millrose, for her to run 4:16 and win in her first mile of the year is quite a breakthrough.
Despite her unbelievable success in the mile at Millrose, there still is the possibility Purrier could be a 5,000 runner this year. Last year, she ran the 5,000 at Worlds [and broke 15:00 for the 1st time]. On the NBC broadcast of Millrose, announcer Craig Masback said that Purrier viewed herself as a 1500/miler but Purrier's  Team New Balance Boston coach, Mark Coogan, viewed her as more of a 5000 runner.
After Millrose, I asked Coogan if Purrier's performance had won him over to her being a miler. "I'm not sure [what she is] right now. To be honest, I was thinking we'd do something similar to what Shelby [Houlihan] did. Get strong [by training for the 5k] and then go back to the 1500. That's why we did the 5k last year," wrote Coogan via text.
As for what's up at USAs this weekend, Coogan wrote, "She will probably do both (1500 and 3000) but that was an emotional experience on Saturday. She needs to recover from Millrose first."
****
Donavan Brazier (and Pete Julian) Both Get An A+
The fact that Donavan Brazier broke his own American indoor 800 record at Millrose on Saturday was far from shocking. However, the way he did it was — Brazier did it by coming from behind and running a huge negative split (53.04-51.18) with a 24.89 final 200.
It was a sublime performance.
Most impressive, however, is that he purposely went out slow and ran in the pack.
"[Coach Pete Julian] just wanted me to get in a crappy position because last year, I was kind of getting lucky in my positioning and stuff like that," Brazier told LetsRun after the race. "He's just like, 'you're not always going to get that lucky, so you've gotta kind of work with your tactics and work how to get around people and get boxed in and all that.' And there's no better way to do it than indoors."
We at LetsRun have been arguing for years that learning tactics, in particular how to run in a pack, is critical for middle-distance success — especially for former teen phenoms who go pro early as they don't have much experience running in a pack. Alan Webb never seemed to master it.
So bravo to Brazier and Julian for purposefully drilling that skill. Yes, if Brazier had gone out harder, there is little doubt he would have run much faster, likely becoming just the third man to break 1:44 indoors, but he can do that at USAs or next year. 2020 may be Brazier's best shot at Olympic gold, so it's critical he has his tactics down pat this year.
In 2021, Millrose needs to get get Brazier, Michael Saruni (who ran 1:43.98 at Millrose last year), and Emmanuel Korir (1:44.21 at Millrose in 2018) together and hype it as a world record attempt with some sort of cash bonus if one of them breaks Wilson Kipketer's 1:42.67 from 1997.
####
Inspired by Brazier's performance, Ajee' Wilson also came from behind to set an American record later on in the meet. Another smart coaching decision by an athlete and coach (Derek Thompson), as Wilson said before her race Thompson told her to close hard.
"Before our race, I guess my coach saw [Brazier's] race and he's like, 'When you make your move, go for it and run through the line, because you've got a tendency not to,'" Wilson told LetsRun.
Wilson and Brazier are so good that they can simply front-run their way to victory against most fields. However, a critical component of the 800 is knowing your pace. Even if you are trying to front-run, you don't want to go out too hard as you'll blow up. Last year, Brazier went out in 49.89 at Millrose and lost as that was too fast for him (he showed he learned this lesson at the Diamond League final). If you're trying to run splits of 50.5-52 at Worlds and someone else takes it out in 49.5, you need to be comfortable in running in second or third.
****
Nico Young Breaks Drew Hunter's US HS Record, But Drew Hunter Can Still Brag (Kind Of)
After impressing LRC nation with a workout that started with a 4:10 1600, 2019 NXN champ Nico Young went out and delivered a US HS indoor 3000 record at Millrose by running a very evenly-split 7:56.97 (2:39.20-2:38.69-2:39.09) to break Drew Hunter's 7:59.33 record from 2016. High schoolers, it's worth noting that when you are trying to set a record, it's best to try to even-split things. When Hunter ran his 7:59.33, his splits were 2:39.23, 2:40.34, 2:39.89.
That being said, Hunter's mark came on a flat track at Camel City; using the NCAA's conversion formula, Hunter's 7:59.33 is worth 7:53.82 on a banked track.
So while Hunter has the bragging rights if you factor in the flat track conversion, Young has the bragging rights in another key component — age. Hunter ran 7:59 in 2016 at the age of 18 years, 4 months, and 25 days; Young ran 7:56 at 17 years, 7 months, and 6 days. Young has a July birthday and is young for his grade, whereas Hunter has a September birthday and was old for his grade. When Chris Derrick ran the US U20 record of 7:56.31 as a freshman at Stanford in 2009, he was almost exactly the same age as Hunter was when he ran his former high school record.
In fact, based on years and months, Derrick and Hunter were exactly the same age: 18 years, 4 months, 25 days. However, given the peculiarities of the calendar, with some months having 30 or 31 days and one having 28 or 29, Derrick was actually two days older than Hunter when he ran 7:56 — 6,723 days old.
Looking ahead to the spring, the fastest outdoor 2-mile run in US high school history was Lithuanian Lukas Verzbicas' 8:29.46 in 2011, which equates to 7:51.67 for 3000 according to a LetsRun.com/John Kellogg conversion. The outdoor American HS 2-mile mark belongs to German Fernandez at 8:34.40, which is equivalent to 7:56.24.
More: Madness At 2020 Millrose, Where 3 American Records Fell In 70 Minutes
*LRC Archive from 2019: Brazier goes out in 49.89, gets beat but hangs on for 1:44.41 AR at Millrose
****
Jenny Simpson Sets Flat Track World Record at Camel City
At the Camel City Elite meet in North Carolina, the biggest stars got dominant wins in most events as Jenny Simpson set a 200m flat track WR (8:51.49) to win the women's 3000 by nearly 11 seconds, Paul Chelimo won the men's 3000 (7:50.37) by more than three seconds and Clayton Murphy won the 800 by more than a second in 1:47.69 against a field that included Craig Engels (third in 1:49.03). There was one narrow win by a big name as 2019 Worlds silver medalist Raevyn Rogers won the 800 by just .10 in 2:03.15 over Canada's Lindsey Butterworth, (high schooler Athing Mu ran 2:04.08). There was also one upset as unheralded Willy Fink took down Edward Cheserek  (and Murphy, who was doubling back) in the mile, 3:59.79 to 3:59.84.
If one uses the NCAA flat-to-banked track conversion of .9915, then Simpson's 8:51.49 3000 converts to 8:43.57 — not too far off her 8:40 indoor pb.
More: LRC Camel City Elite Results: King Ches Loses, Murphy Over Engels, Simpson And Chelimo Dominate
*MB: Upset City at Camel City: Willy Fink (who?) takes down King Ches and Clayton Murphy in the mile
*****
Stat of the Week/Galen Rupp Is Back
489 days – Amount of time that elapsed between Galen Rupp finishing races (that's one year, four months and one day).
Rupp's former coach Alberto Salazar was handed a four-year ban from the sport in September, and Saturday represented Rupp's first race under his new coach, Mike Smith of Northern Arizona University (Rupp started, but did not finish the Chicago Marathon in October, but had not begun working with Smith at that point). He won the Sprouts Mesa Half Marathon in Arizona in 61:19. What does that mean?
Put him on the 2020 US Olympic team.
Yes, 61:19 isn't super fast for Rupp considering the course featured an elevation drop of roughly 150 feet, which is worth roughly 25 seconds (150 feet in elevation drop would be worth 27 seconds assuming their are no uphills but there is a tiny bit of uphill so I'm subtracting two seconds). So 61:19 + 25 seconds is 61:44. 61:44 isn't fast for Rupp, but it's plenty fast for the rest of the Americans.
In Houston on January 19, Jared Ward was the top American in 61:36, and this weekend Rupp crushed two guys that were pretty close to Ward in Houston — Matt Llano (62:05 in Mesa, 61:58 in Houston) and Sam Chelanga (62:29 in Mesa, 61:51 in Houston).
Plus take a look at the video below.
https://www.facebook.com/rob.c.byers/videos/10221703159951921/
Just as he did in December 2015 when he rocked the Foot Traffic Half Marathon in Portland in 61:20, Rupp looked relaxed, which was confirmed by coach Smith, who told Runner's World, "He was really pleased with it. He felt really comfortable and really easy, and that was great. The most important thing is his body feels good. He's come a long way in a short time, particularly with his left side. He's been holding up."
Let me repeat what I've been saying since the fall: barring an injury that results in a DNF, Galen Rupp will make the US Olympic marathon team.
For the record, Rupp was wearing the Next% shoes and not the new Alphaflys.
Galen Rupp en route to a win at the @MesaMarathon pic.twitter.com/XLmT8OqtFz

— Josh Applebach (@MrApplebach) February 8, 2020
More: MB: Galen Rupp Sprouts Mesa Phoenix Half Marathon Live Updates
*MB: Rupp has tuned up; time for some Trials talk!
*****
The Bowerman Track Club Marathoners Race
Rupp wasn't the only prominent US marathoner to run a half on Saturday. 2:21 marathoner and reigning Olympic Trials champ Amy Cragg won the Humana Rock 'n' Roll New Orleans Half Marathon. That's the good news. The bad news is her time was just 76:53. Two Bowerman Track Club men's athletes ran there as well, with Chris Derrick finishing as the top American in third in 64:09 (teammate Andrew Bumbalough clocked 64:10). Derrick showed he's recovered enough from his fractured fibula suffered at the Crim 10 Miler in August to give the Trials a go later this month.
Got a fortune cookie last night that said, "Don't let others define success for you" and that's real easy for you to say Mr. Fortune Cookie, YOU'RE not running the Olympic Trials in 5 weeks!!

— Chris Derrick (@CDerrickRun) January 24, 2020
Bumbalough and Derrick ran the effort as part of a workout and were pleased with how things went. Bumbalough wrote the following to LetsRun.com:
It was a workout in a "race environment". We did the bulk of our marathon build in Colorado and wanted to go to sea level to get some work in at marathon pace. I think we executed the half in Nola exactly how we were instructed and finished out the mileage for a full long run afterward. In general, training has been going great. I think will be fit and ready to go at the end of the month.
Derrick added, "I agree with Bumbi," and then provided a little more information on his quick comeback from injury:
Since the fibula is non-weight bearing, I was able to return sooner than I expected. I began some light jogging about 4 weeks after the injury. It was around 10 weeks before I returned to workouts. I did a lot of stationary biking and aqua jogging (when he wasn't running). At camp in Colorado we were running between 130 and 140 miles per week (real [miles], not Jerry [miles]).
As for Cragg, her agent Tom Ratcliffe wrote, "Amy is in a different phrase of her buildup than Chris and Andrew and Jerry [Schumacher] just wanted her to use it as a workout so they they could get some feedback as he plans the final 3 weeks before Atlanta."
*****
South American Indoor Champs Were Held Last Weekend
The first South American indoor championships were held at the start of February. It's interesting because of course it's summer in South America. Normally, indoor track is run in the winter.
It got me thinking. If we're going to hold indoor meets in the summer, would it be crazy to hold World Indoors in the in the middle of the summer? In 2022, there is no World Outdoors. What's stopping World Athletics from running World Indoors in the middle of the summer that year when everyone is in incredible shape?
****
Video of the Week
Just days after coming close to the world record on Tuesday in Dusseldorf, Mondo Duplantis did this on Poland on Saturday.
****
Saddest News Of The Week
Last week, Abadi Hadis of Ethiopia died at age 22. The 2017 World Cross Country bronze medallist was one of just five runners in history to have broken 13:00 for 5000, 27:00 for 10,000, and 59:00 for the half.
*MB: Terrible news, Ethiopia's Abadi Hadis (12:56/26:56/58:44) has passed away at just 22
*****
The Shoes Do Work
Speaking of shoes, there are apparently some on the messageboard who are ignoring the scientific papers that say the Vaporfly technology works, and in a major way. Well, maybe this will convince you. Over the weekend, the All-Japan Corporate Half Marathon Championships were held in Yamaguchi. According to Race Results Weekly, a staggering 19 of the first 20 men's finishers ran personal bests (everyone but the race winner, Kenya's James Rungaru). The winning time was 60:27 and 20th place was 61:27 — WAY faster than four years ago when first place was 61:00 and 20th was 63:12. Or course, it was windier four years ago but come on — 19 of 20 setting a PB? For the women this year, 17 of the top 20 ran a PB.
MB: Am I the only one who thinks it's NOT THE SHOES!!!!!!
****
Recommended Reads
If you haven't read Michael Doyle's piece in The Globe And Mail on the alleged sexual abuse by coach Dave Scott-Thomas at Guelph University, please do yourself a favor and read it now. It's a tough read but important one. Inspired by Mary Cain speaking out against Alberto Salazar, former Canadian Olympic hopeful Megan Brown has gone public with her horrific story.
 "She Was A Running Prodigy, He Was The Most Powerful Man In Track. How Her Promising Career Unravelled" Dave Scott-Thomas, the coach at Guelph for over 20 years, is accused by Brown of being groomed for sex when she was a teenager. She even says he took her out of a juvenile psychiatric ward on a day pass to have sex with her.
*MB: Guelph Implodes
To see our favorite reads from other weeks, go here.
***
Quotes Of The Day And Last Week's Home Pages
To see the quotes of the day from last week or last week's home page or any home page, go to our archive page.
Got a tip, question or comment? Please call us at 844-LETSRUN (538-7786), email us or post in our forum.