USAs Day 3: Shelby Houlihan Repeats over Jenny Simpson, Hillary Bor Gets USA Title #1
By LetsRun.com
July 27, 2019
DES MOINES, Iowa —  There were two distance finals on Saturday at the Toyota USATF Track and Field Championships.
In the women's 1500, Iowa natives Shelby Houlihan and Jenny Simpson gave fans the duel they wanted, and in the men's steeple Hillary Bor was victorious in the absence of Evan Jager. We recap both races for you below.
Article continues below player
For the rest of the day 3 action, read this: Sam Kendricks Goes Really High to Get American Record, Fred Kerley Defeats Norman, Dennis Mitchell is Coaching Justin Gatlin.
Shelby Houlihan beats Jenny Simpson for 2nd straight title, 4th straight race
Shelby Houlihan used a 60.6 final lap and 29.6 final 200 to win her second straight US 1500 title this afternoon at the 2019 Toyota USATF Outdoor Championships in 4:03.18 as four-time global medallist Jenny Simpson was second, not too far behind in 4:03.41.
Nearly everyone expected Houlihan and Simpson to go 1-2 in some order (with most expecting Houlihan to win), so that was not a surprise. Instead, the biggest question coming in was who would get third? And the answer — after an inside pass — was 2018 NCAA 1500 runner up Nikki Hiltz. Hiltz, the first-year pro for adidas, went from 5th with 50 meters left to third in a personal best time of 4:03.41. 2019 NCAA champ Sinclaire Johnson of Oklahoma State also PR'd to grab fourth in 4:03.72, with 2016 Olympic 800 finalist Kate Grace fifth in 4:03.82.
The race (video below)
Lauren Johnson of the BAA, one of three women in the final without the World Championships standard of 4:06.50, led this one early as she hit 800 in 2:11.1 with a lead of a couple of seconds. Simpson, 32, the winner of the US 1500 title in 2014, 2015, 2016, and 2017, ended up leading the chase pack and just before the bell (3:02.46), Simpson went into the lead as Johnson would fade to last on the final lap.
Simpson still led heading into the final turn, but all but two of the 12 women in the field were still in contact with the lead pack. Houlihan, who had been running right behind Simpson the entire race, finally took the lead as they rounded the final turn but she didn't blast away from the field.
After putting 2-3 meters on Simpson, Houlihan's lead pretty much stayed the same all the way home. As Houlihan took the lead, the eventual top five women in the field, who would end up being separated by just .64 at the finish line, started to separate from the pack.
Grace, who had run the entire race just behind Houlihan, was in third with 100 left. Hiltz, who started the year with a 4:09.14 pb and the race with a 4:05.56 pb but ended the race with a 4:03.41 pb, was full of run behind Grace. But Hiltz had nowhere to go, as she was boxed in with Sinclaire Johnson directly to her outside and Simpson and Grace just ahead of her. Twice Hiltz tried to veer to the outside, but after bumping Johnson for a second time with a little more than 50 meters remaining in the race, Johnson decided her only option was to veer back inside and she found an opening as Simpson both a) pulled ahead of Grace and b) moved from the middle of lane one out into the inside of lane 2 by the finish.
Hiltz grabbed the final World Championships spot in third but Johnson got a nice consolation prize in fourth — a 2.26-second pb, as her pb coming in was 4:05.98 from NCAAs.
Top results (more here)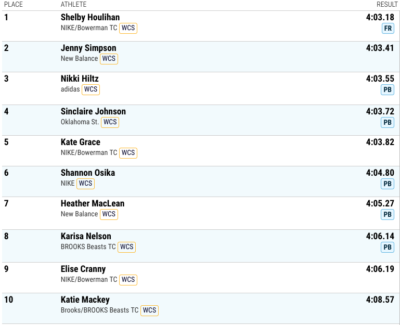 (We'll give $20 for the first person who emails wejo@letsrun.com with a way to copy and paste USATF results in a readable format)
Quick Take: This result won't scare Laura Muir
Last year, when Houlihan beat Simpson at USAs, we started our recap by asking if it was a changing of the guard. To be honest, before the final this afternoon, we expected to be writing in this recap about how the guard had officially changed. However, while Houlihan won, this was far from a blowout victory.
The reality is if Simpson or Houlihan want to earn a medal in Doha, they'll have to run significantly better than they did today. Houlihan won after a 60.6 final 400 in a 4:03 race. Last week in London, Laura Muir won a race in 3:58 with a 57.54 final lap.
One could argue that today's race was a good sign for Simpson — she was only .23 behind Houlihan, a gap that could close in two months' time. On the other hand, Simpson was only .14 ahead of Hiltz — who is not considered a medal contender in Doha — and only .31 away from missing out on the team entirely.
Houlihan did get the win over Simpson which means that after starting her career 0-7 against Simpson, she's now beaten her in four straight races starting at last year's Pre Classic.
QT: Houlihan believes she can get a lot fitter
Houlihan said after the race that she knows she isn't as fit as she was at this meet last year, when she closed in 57.67 in a 4:05 race, but that's okay. With Worlds still two months away, she and coach Jerry Schumacher are taking the long view.
"I'm not in tip-top shape at the moment and I didn't really need to be coming into this," Houlihan said. "My coach just kind of sat me down before this. He's like, 'We are in shape to be able to win this race, however this plays out.'"
Houlihan said that she'd love to break Shannon Rowbury's American record of 3:56.29 at some point this season, but that's dependent on opportunities and where she and Schumacher decide she will race.
"I more so would love a medal," Houlihan said.
QT: Dreams become reality for Nikki Hiltz
When Jenny Simpson made her first World Championship team in 2007, Nikki Hiltz had just finished the sixth grade. As Hiltz fell in love with the sport of running, Simpson became one of her idols. So for Hiltz to be battling it out with Simpson for a spot on the team to Worlds today was pretty surreal for the 24-year-old Hiltz. And it became even more surreal when Hiltz's hero became the first one to welcome her to the World Championship team shortly after they crossed the finish line in 2nd and 3rd.
"She shook me," Hiltz said. "She's like, 'You're going to Doha!' It's my childhood hero, we're diving at the line together. It's just unreal."
Something else that's unreal: homosexuality is illegal in Qatar, punishable by up to seven years in jail. Hiltz is unapologetically out and proud, and she said that she will be okay making the trip to Doha to compete at Worlds.
"I trust that we'll have security," Hiltz said. "I think it kind of makes me more resilient if I get a negative comment or a homophobic slur."
Hiltz also views competing in Doha as a chance to spread love, and perhaps even inspire a few people.
"It will be interesting, but maybe I'll catch an eye of someone in Doha, like a young girl, [for whom] it will be like, Okay, I can be out and proud too," Hiltz said. "…The world we live in is so black and white. I think we live in our liberal bubbles of the US. And we just forget that there's so much hate out there, but I'm just trying to spread love."
QT: Kate Grace won't be at World Champs, does she regret going for it in the 1500?
Kate Grace made the Olympic 800 final in 2016. (Ajee' Wilson, by the way, did not). However, in an event dominated by Caster Semenya, Margaret Wambui, and Francine Niyonsaba, her medal prospects looked limited. She switched to the Bowerman Track Club and moved up in distance to the 1,500 and made the Worlds team in the 1500 in 2017. Now, however, she won't be at Worlds and it's possible that Semenya, Wambui, and Niyonsaba won't be there in the 800 either if the IAAF hyperandrogenism rules are permanently enforced.
Should Grace consider a move back to the 800? She said after the prelims that she agreed with the assertion that her best medal chances might be in the 800, but thought the 1500 was where she had the best chance of making the team. We didn't get a chance to speak to her after the race to see if she still feels that way and see she now regrets not running the 800.
QT: Sinclaire Johnson is now a huge fan of Houlihan and Simpson
The NCAA champ Johnson was 4th today, which usually means that your World Championship dreams are over. But there is still a way for Johnson to get to Doha: if Houlihan or Simpson wins the Diamond League final in Zurich on August 29, the US will be granted an extra entry in the 1500 at Worlds.
Of course, Houlihan and Simpson need to qualify for the DL final first. Simpson is tied for 10th in the standings right now (12 make it), while Houlihan isn't in the standings at all (the 1500 at Pre was not a DL points event). Houlihan will have to run Birmingham — the only remaining DL 1500 before the final — on August 18 and place highly there just to make it into the final.
Johnson did leave with a 2 second pr and was pleased with that. She said,  "That's all I could do today. At the end of the day, it's a two second PR," she said.
QT: Lauren Johnson went for it
Johnson did not have the IAAF World Championship qualifying standard this year. She made the Worlds in 2015. So what did she do here? She took the lead and ran like someone who wanted to make the Worlds team. It didn't end well, as she went from first to last on the final lap, but we give her props for running like she wanted to make the Worlds team. If you don't have the standard and want to go to Worlds, you HAVE to do something to try and get it.
Men's steeple: Hilly Bor Gets USA Title #1
The men's steeplechase final at the 2019 USATF Outdoor Championships went very much according to form as the three fastest Americans on the year in Hillary Bor (8:08.41), Stanley Kebenei (8:15.94), and Andy Bayer (8:16.52) went 1-2-3 in the order of their seasonal best, with Bor winning his first US title on the track in 8:18.05, Kebenei second in 8:19.12, and Bayer third in 8:23.23. Far from a surprise, as the trio had run more than 10 seconds faster than anyone in the US this year.
Benard Keter, the former Texas Tech runner who was 6th at NCAAs in 2017 and who only recently got his US citizenship, was fourth in 8:37.62, just ahead of 2016 NCAA champ Marson Ferlic (8:37.99).
The race
Two laps into the race, the eventual top 3 were already running 1-2-3 in this one. On the third lap, they started to separate from the rest of the field and Ferlic, who has an 8:21.57 pb and had run 8:27.29 this year, dared to try to go with the sub-8:20 pace. Ferlic kept his dreams of a World spot alive until the sixth lap when he got dropped as the pace took its toll and he slowed from a 67.99 to a 70.12.
The top three of Bor, Kebenei and Bayer were now racing for the win and were only separated by .29 of a second at the bell when Kebenei went to the lead. On the backstretch, Bor retook the lead and never gave it up. Heading into the final barrier, Kebenei still was within shot of the win but he had nothing left and Bor had time to celebrate before the finish line. Bor won thanks to a 60.61 last lap. Bayer, who started looking over his shoulder on the first turn of the last lap, was content to make sure he finished third, meaning he'd made his first-ever US team after finishing 4th at USAs four times previous (2012 1500, and 2015/16/17 steeplechases).
Ferlic's ambition for a top-3 finish ended up costing him 4th late as he was passed by Keter on the final lap.
More results here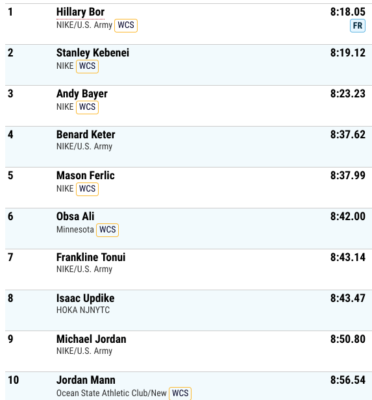 Quick Take: Evan Jager was missed
Evan Jager had won the last seven US steeple titles, and his presence loomed over this race. One couldn't help but think how the race would have been different with him — rather than the three World Championship guys sailing clear of the field midway through the race, there would have been a genuine battle to get to Doha.
Bor said that he wished Jager was in the field today, as everyone keys off him; the race doesn't really get going until Jager takes the lead.
"It makes it easy for everyone [when Jager is in the field]," Bor said. "I mean, we had to come up with a different strategy [today]. It wasn't comfortable. When Jager is here, you just relax. You know he's going to take the race at some point."
Quick Take: Bor and Bayer came up with a plan to work together
Bor said that he employed team tactics in the race, but surprisingly it wasn't with his training partner Kebenei, but with Bayer. Both men looked at the start list and saw that their season's bests were 10+ seconds faster than the #4 man in the US this year, Jordan Mann. So Bor and Bayer decided to push the pace in the final, trading the lead to ensure the strongest guys made the team.
That's exactly what happened. Bor, Kebenei, and Bayer all broke 8:24 to go 1-2-3 — a mark that no one else in the US has bettered all season.
Looking forward, Bor believes the opportunity to grab a medal in Doha is there for the taking. Jager is gone, 2017 silver medalist Soufiane El Bakkali has looked uneven in 2019 (though he has won two Diamond Leagues), and reigning world champ Conseslus Kipruto has yet to race outdoors.
Bor also believes he's capable of more. He said he's mostly been training with the 10k guys in the American Distance Project, doing 10k-style workouts, so his 8:08 in Doha in May — a three-second PR in which he nearly won the race — came as a big surprise. 8:00 looms in the distance, but Bor doesn't want to think about that yet.
"I can't talk about 8:00 yet when I haven't run 8:05," Bor said.
Quick Take: Andy Bayer finally makes a US team
The most relieved man in Des Moines today was Andy Bayer, who, at age 29, secured his first World Championship berth after an agonizing string of fourth-place finishes. A few meters before the finish line, Bayer took one last glance behind him, and, upon seeing that he was all alone, threw his arms out in a gesture as if to say, Finally!
"I think I've been capable of making the team for a while," Bayer said. "I mean, I've been close a lot. So it's something where I just needed to do it to get that in my head."
Bayer wasn't always a steepler; he won the NCAA 1500-meter title on this track in 2012 and went on to finish 4th at the Olympic Trials that year. He took up the steeplechase in 2014 under Jerry Schumacher, and said that when he returned to his college coach Ron Helmer, he considered going back to the 1500 but ultimately decided against it.
"If I had never left Coach Helmer, I wouldn't be a steeplechaser right now," Bayer said.
Bayer hasn't come within two seconds of his 3:34.47 1500 pb since 2013. He said that while he has a higher ceiling in the steeplechase, he is considering moving back to the 1500 after the Olympics are over.
"If I'm alive and well in 2021, I might just do all 1500s that year and just see what happens," Bayer said. "I've lost a lot of my 800 speed but I've gained a lot of strength, so I think I can pull out a pb."
Talk about the action on our world famous fan forum / messageboard.