Changing of the Guard? Shelby Houlihan Beats Jenny Simpson for 2nd Straight Time and First USATF Outdoor 1500 Title
by LetsRun.com
June 23, 2018
DES MOINES, Iowa — A changing of the guard?
The first seven times they raced each other, Jenny Simpson (New Balance) beat Shelby Houlihan (Nike/Bowerman TC). But today, for the second time in less than a month, the 26-year old Houlihan used a blistering fast last lap (57.67) to defeat the 31-year-old Simpson in the final of the women's 1500 at the 2018 USATF Outdoor Championships at Drake Stadium. In the process, Houlihan, who, like Simpson, was born in Iowa, denied Simpson an unprecedented fifth straight US title. Houlihan won in 4:05.48 to Simpson's 4:06.21 (58.50 final lap) with Houlihan's training partner Kate Grace third in 4:07.04 (59.37 final lap).
Article continues below player
Rachel Schneider (Under Armour) finished a career-best fourth in 4:08.33 as collegian Dani Jones (Colorado) was fifth in 4:09.16 with newly-minted pro Elinor Purrier, the 2018 NCAA indoor mile champ who just signed with New Balance, sixth in 4:09.30.
Brenda Martinez (New Balance), who came into the race with the third fastest time in the US on the year, ended up a DNF after being clipped from behind with 200 meters remaining.
The Race
The race started with Simpson, who usually front-runs at US championships, surprisingly opting to go to the back of the field. 700 meters into the race, Simpson was in last and Houlihan in next to last but Simpson started to move up as she approached 800. 100 meters later, Simpson was in second, but Houlihan stayed in the back until she hit the homestretch for the next to last time when she went way wide and made a move up towards the leaders. At the bell, Simpson (3:07.72) and Houlihan (3:07.82) were in good spots in third and fourth.
The leader at the bell was Grace and she made her move early, gapping the field off the first turn and she'd lead by roughly 5 meters with 200m to go. Could Grace possible steal the race?
No, Grace went too hard too soon as she ran the first 200 of the final lap in roughly 29 flat (and the second half in roughly 30.4). Martinez and Lauren Johnson were best positioned to respond to Grace's move, but when Simpson came by on the outside with just a little more than 200 to go, Martinez and Johnson collided and Martinez went sprawling to the inside of the track and Johnson fell down to the outside. The contact ruined both of their chances for a top-3 showing as Martinez ended up a DNF and Johnson last in 4:18.64.
On the first half of the final turn, Simpson and Houlihan quickly made up a lot of ground on the tiring Grace and it was evident that either Simpson or Houlihan was going to be the winner. Simpson got by Grace at the end of the turn, but Houlihan was right on her shoulder. Simpson often has an unbeatable final 100, but not today as approximately 40 meters down the homestretch Houlihan got the lead and would go on to win her first US outdoor 1500 title and second outdoors overall (she won the 5000 outdoors last year).
Interviews and analysis below results.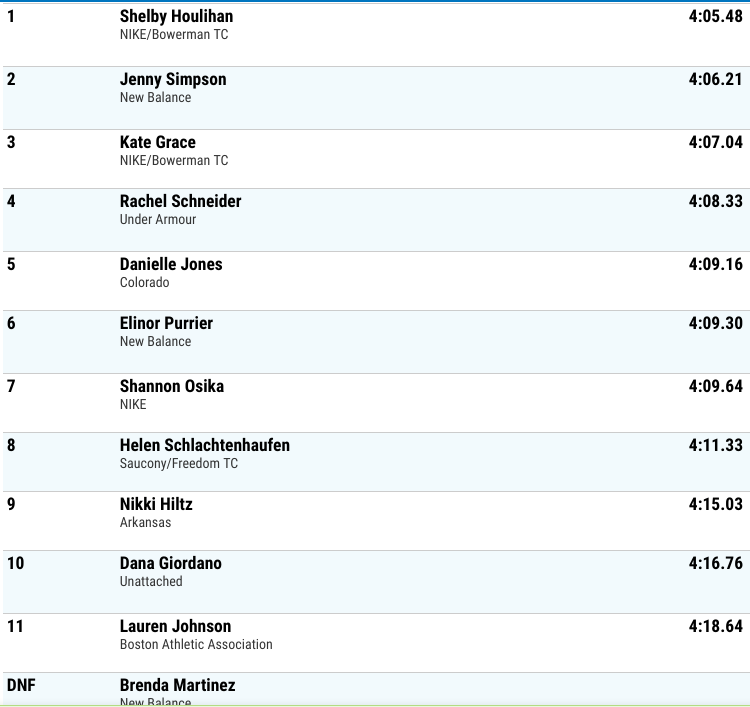 QT: Houlihan, the Iowan legend, shows the range she first showed in high school
Jenny Simpson may have Iowa roots (she was born here), but Shelby Houlihan is an Iowan legend. Her senior year, Houlihan won not only the Iowa cross country title, but also the 400, 800 and 1500 at the state track meet. Amazing range. She showed that blazing speed today with her 57.67 final lap. (Her senior year, she ran 55.52 at the state meet at 400; for a nice article on her high school accomplishments, click here).
Turns out Houlihan comes from a running family. H/T to Craig Masback on the NBC broadcast, but her uncle Bob was an NCAA indoor 800m champion, and her mother an All-American at 800 and an Olympic Trials qualifier in the marathon. Both were on hand to cheer for her today according to Masback.
"That was pretty awesome to come out here and win before all my family and friends and a bunch of Iowa people…that made it a lot more special," said Houlihan.
"I'm hesitant to call it a rivalry (with Simpson), as she's an awesome competitor and definitely brings her 'A' game every time. I looked up to her as a runner throughout high school. She's been talked about throughout Iowa. To come out and race against her and put on a good show is pretty cool," Houlihan said.
The Iowa fans will get to see her again on Sunday as she'll be attempting to pull off the 1500/5000 double which only drug cheat Regina Jacobs has pulled off (in 1999 and 2000).
Quick Take: Jenny Simpson shot her shot, and has no regrets
Simpson was trying to make history today by becoming the first US women to win five straight US titles. Drug cheat Regina Jacobs twice won four in a row (1994-1997 and 1999-2002) as she won eight of nine at one point in her career.
As it did for Jacobs, #5 proved elusive for Simpson. But the 2011 world champ has nothing to be ashamed about today as there are very few women on planet Earth right now that could outkick Shelby Houlihan. Simpson's 58.50 final lap was stellar, but there's not much you can do when the woman ahead of you closes in 57.67 (for reference, Faith Kipyegon closed out her 2016 Olympic title in 58.5 and her 2017 world title in 58.0).
Simpson admitted that she had thought about trying to force the pace from a long way out to try to break Houlihan. But Simpson also knew that that was the strategy many expected her to employ against a noted kicker such as Houlihan (and Houlihan confirmed this after the race).
"I feel like I would have made it easier on everyone in the field if I took it from a really far ways out and tried to press the pace," Simpson said. "I thought maybe my best chance was just to outmatch people over the last 150. And it just didn't fully work. It 90% worked! It just didn't 100% work."
Simpson said that when she was chasing down Kate Grace on the backstretch, she thought to herself this is gonna work as she had the jump on Houlihan. But the truth of the matter is, there may not have been any gameplan that would have worked against Houlihan today. As the reigning U.S. 5k champ, Houlihan has tremendous endurance, but she also closed today's race in 57.67.
Simpson, even at age 31, remains one of the world's best 1500 runners. Houlihan is just a beast right now.
Quick Take: The year in between had some bumps, but Kate Grace finishes in the top 3 for the second year in a row
Grace said that as a runner with an 800 background (1:58 pb, Olympic finalist in 2016), many expect her to have the best speed over the final 50 of a 1500, but she said that is not the case as she often feels as if she's tying up. So today, she tried to steal the race with a big move at the bell, and while she could not win, she still ran very well. Grace put the field to the sword with a 59.37 last lap, and if the only two people you're losing to are Houlihan and Simpson — Grace was over a second ahead of fourth-placer Rachel Schneider — you're doing something right.
Grace also said that after a somewhat rocky adjustment to Bowerman Track Club, and a subpar showing at USA indoors (where she was sick in the buildup), she has been training well since March, even though her races hadn't quite shown it until today. Grace works out with Houlihan a lot in practice, but said that Houlihan may do a few more reps than she does.
Runner-up in the steeple Courtney Frerichs watched the finish of the 1500 in the mixed zone (and you can see her reaction in the video below), and talked about the training of her teammates, Grace and Houlihan. Frerichs said Houlihan started killing the workouts last year, but it didn't really transfer over to the international stage (win at Pre) until this year. Frerichs said her personal adjustment to Bowerman was tough with a lot more mileage and that is what Grace was going through.
Talk about the race on our messageboard / fan forum: Shelby Houlihan owns Jenny Simpson!!