Distance Day 2: Hoppel's Winning Streak Ends, High Schooler Mu Makes First Final, Sowinski's Final Streak Ends
By LetsRun.com
July 26, 2019
DES MOINES, Iowa —There were no distance finals Friday night at the Toyota USATF Championships, but there were semifinals in the men's and women's 800, the men's 1500, and the women's steeplechase. While quite a few subplots that developed — which we discuss below — distance running fans who decided to enjoy a Friday night on the town instead of watching USAs didn't miss anything of substance as every single favorite advanced to the finals.
Men's 800: Hoppel's streak is over; Murphy & Brazier win heats after escaping from tough positions
Article continues below player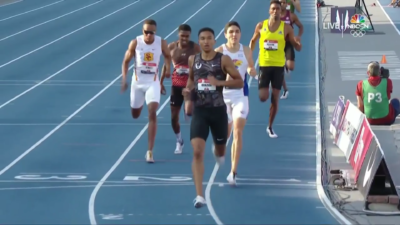 Tactically, the Nike Oregon Project's Clayton Murphy and Donavan Brazier were far from perfect in today's 800-meter semifinals, both men running themselves into poor positions midway through their races. But they have accounted for the last three championships in this event for a reason, and ultimately each man's quality won out, Murphy escaping over the final 100 meters to win heat 1 in 1:45.24 and Brazier cruising to win heat 2 in 1:47.27 after taking the lead on the back straight.
Murphy and Brazier will have to be better tactically in Sunday's final, and they know it. And now that they're both in the final, it's officially time to get excited: neither has ever raced the other with a US title on the line.
Two notable streaks also came to an end in today's prelims: Bryce Hoppel's 21-race win streak and Erik Sowinski's 13-meet streak of making US finals. Sowinski's was the first to fall, and he put up a valiant effort, leading heat 1 through 400 meters in an attempt to chase the World Championship standard of 1:45.80 before fading to 6th in 1:46.84. Though the two time qualifiers both came from Sowinski's heat, he missed advancing by one place and .38 of a second.
It was a tough pill for Sowinski, who attended the University of Iowa and has lived in Iowa City since graduating, to swallow. His streak began by making the 800 final at USA indoors in 2013 — which he won — and continued through indoors this year, during which Sowinski claimed two more US indoor titles and made the outdoor Worlds team in 2015. Sowinski, 29, admitted that he may never get to race another final at Drake Stadium — his de facto home track — but he made it clear he's not done in the sport.
"It hurts," said Sowinski, who added that he had battled injuries this year, including a back issue that developed three weeks ago. "I've got a lot of family, a lot of friends here that had tickets for Sunday, so that's kind of a bummer. But like I said, the streak was going to get broken at some point. Get back on the horse, see what happens."
Hoppel just edged Brannon Kidder to win his prelim yesterday (Kidder, by the way, looked very strong again to take second behind Murphy in heat 1), but he couldn't overcome Brazier in heat 2 today, taking second. Hoppel's streak of wins may be broken, but a new streak may have just begun: this was his first US final.
"To me, [the streak] was just kind of a fun experience," Hoppel said. "[It] kind of ended up being something incredible. I thought it was gonna kind of end with NCAAs, but I went and ran that Azusa meet and won that one too. So it was like, oh shoot, here it goes again. It was so much fun."
Men's 1500: Everyone with the standard advances as Lopez Lomong does not attempt the 10,000/1,500 double
Today's 1500-meter semifinals were about as drama-free as preliminaries come. 10,000-meter champ Lopez Lomong, who last night said he planned on running the 1500 today, was a no-show, as were Donavan Brazier, Clayton Murphy, and Brannon Kidder, all of whom ran the 800 in Des Moines instead.
Of the 27 men who did show up on Friday, seven had the World Championship standard, and all seven of those men grabbed automatic qualifiers to advance to Sunday's final with ease. Included in that number: Matthew Centrowitz, Craig Engels, Johnny Gregorek, and 2019 US leader Henry Wynne.
The three time qualifiers all came from heat 1 and went to James Randon (3:43.10), Tim Gorman (3:43.21), and Patrick Casey (3:43.44), who have Kyle Merber to thank as he got the pace rolling early on a windy day. Merber led at the bell, but he ultimately could not hold on, falling to eighth place.
It paid to be a veteran today
Centrowitz was in the final heat and had the luxury of Murphy and Lomong both scratching, meaning only nine guys started his race. He pointed out that, because of the late date of USAs this year, the experienced pros had an advantage over younger guys who might not be used to racing this deep into the season — no collegians made the final, and only two entered the meet at all.
Centro's spot on the final was assured with half a lap to go, and he spent most of the remainder of the race looking over his shoulder to check that no one was gaining on him.
"I don't remember the last time I've had a prelim where I knew with 200 to go I just had to pack it in," Centrowitz said.
Centrowitz added that he feels "sharper" and "more fit" than when he ran 3:52 for the mile at the Pre Classic a month ago.
Henry Wynne, 2019 USA leader, makes his first USATF final
Wynne, who runs for the Brooks Beasts, has won an NCAA indoor title but never made a USATF final. He took care of that with ease today, looking like a guy who has the US lead rather than a guy who has never made USATF final.
Meet Tim Gorman, the unlikeliest men's 1500-meter finalist
At the start of this week, Tim Gorman had no contract and was employed as a writer/editor for The Sheet, a newspaper in Mammoth Lakes, Calif. On Sunday, he'll race in the US 1500-meter final against the reigning Olympic champion for spot on the 2019 World Championship team.
Gorman, a 2016 Dartmouth grad (who was teammates with LRC writer Jonathan Gault) who took a fifth year at Oregon in 2016-17, never made a NCAA final in college (he missed out on the indoor mile final by .17 and the outdoor 1500 final by .36 in 2017). Heck, he didn't even make the Pac-12 final at Oregon in 2017 and had never made it to USAs before this year.
Even in 2019, it was a challenge: Gorman failed to break 3:43 in his first three races. But he ran a pb of 3:40.52 at the Sunset Tour meet on July 9, which was good enough to get him into USAs, and he took advantage of the (relatively) fast pace set by Merber in heat 1 to finish 5th and snag a time qualifier.
"I owe it all to Kyle," Gorman joked. "That guy saved my ass. I gotta buy him a beer for sure."
Earlier this week, Gorman, who has been training with the Mammoth Track Club under Andrew Kastor, quit his job at the paper ("too much work"). This morning, he was given some gear by On running, and though he hasn't signed an official contract, he did sport their singlet in his race today.
"They were like, if you wear this and it goes well, we'll retroactively give you whatever bonuses I earn and stuff like that," Gorman said.
Gorman doesn't have the IAAF standard of 3:36.00 and is the longest of shots to make the team to Doha. But he's in the final — his first championship 1500 final since the outdoor Heps (Ivy League) champs in 2016.
Meet Arkansas-Little Rock coach Alan Webb
The second fastest 1500m runner in Des Moines was the American record holder in the mile, Alan Webb. Webb is in the middle of a cross-country journey with two of his kids, driving from Portland, Oregon, to Little Rock, Arkansas, where he will become a coach at the University of Arkansas-Little Rock. Webb was on hand to cheer for his wife Julia, who went out in the first round of the steeple.
Alan took the blame for getting his family — including Julia — violently sick and vomiting when he ripped open the flooring of their house in Portland to get it ready to become an Airbnb rental.
Webb and the two guys walking with him were wearing "Life Runners" shirts. He said Life Runners is a pro-life running team that Julia runs for and Webb is a teammate on that anyone can join.
Courtney Frerichs points out someone can fall in steeple prelims
LRC's Jonathan Gault is of the opinion that nothing ever happens in the steeple prelims so they are unnecessary. American record holder Courtney Frerichs, who won her heat but could have run 33 seconds slower and still made the final, said she doesn't take anything for granted in a steeple. She noted the runners still have to navigate all the barriers and water jumps and that anything can happen in a steeple (pointing out to Beatrice Chepkoech missing the first water jump in the 2017 World final and the water jump being missed at the Stumptown meet this year).
Marisa Howard makes final, talks of being put on 2019 Pan Am team
Marisa Howard was the 3rd auto qualifier in heat 2. She was also one of the runners in the arbitration hearing — backed by LetsRun.com — that was put on the 2019 Pan Am Games team when USATF was forced to follow its selection procedures. She'll run Pan Ams in two weeks but first she'll run the final Sunday, where likely the top four will all make the Worlds team thanks to Emma Coburn having a bye.
Colleen Quigley said that she'll go with Emma Coburn in Sunday's final, no matter what
Quigley has finished third in her last three appearances in the US steeple final and doesn't want to do the same again in 2019.
Quigley openly shared her assessment of the final and said her plan is to go with Emma Coburn, no matter what. With four spots on the team up for grabs — and Quigley a near-lock for top three — she said that this is the year to take a risk.
"I think it's gonna go slow from the start and be pretty conservative for the first, probably three or four laps, and then I think Emma's gonna go in the front with k to go like she always does, and Courtney and I are going to commence the chase," Quigley said. "That's pretty much how it goes every year, and I'm prepared for that last k to hurt really bad."
Women's 800: Ce'Aira Brown goes out, High Schooler Athing Mu makes final
The big casualty was Ce'Aira Brown who ran 1:58.01 last year and 1:59 indoors this year didn't make the final. That wasn't a huge surprise as Brown said yesterday she did not run for 5 weeks until she started running a week ago because of injury. However, she made it into round 2 and looked to have a spot for the final tonight until she started fading the final 40 meters of her semi. Whether it was complete exhaustion or she just let up, she did not lean at the line and former World Junior Champion Sammy Watson pipped her at the line for the 4th in 2:03.23 ahead of Brown's 2:03:26. Watson would get the final of to time spots for the final. Watson who left Texas A&M this year to turn pro is now being coached by Ajee Wilson and Raevyn Rogers coach Derek Thompson.
Brown did not talk to the media and exited the media room looking distraught while Watson declined to talk for the second straight day.
High school junior Athing Mu, who broke the 600m American record indoors, made her first outdoor final with an automatic qualifying spot behind Ajee Wilson and Hanna Green.
More video interviews from USAs here.