A Star Is Born: 16-Year-Old Athing Mu Breaks American Record, Just Misses WR to Win 600 at 2019 USA Indoors in 1:23.57
By Jonathan Gault
February 24, 2019
World, meet Athing Mu.
If you didn't know about the phenom from Trenton, N.J., before this weekend we don't blame you. Two days ago, Mu, a junior at Trenton Central High School who competes for Trenton Track Club, was an elite high school runner. Today, she is a full-blown phenom after clocking a staggering 1:23.57 to take down Raevyn Rogers to win the women's 600 meters at the 2019 USATF Indoor Championships.
For those unfamiliar with what exactly a 1:23.57 600 means, allow us to enlighten you.
Article continues below player.
-It was a personal best by 2.66 seconds.
-It was a US high school record — also by 2.66 seconds, because Mu broke the previous record in yesterday's prelims.
-It was an American indoor record. Yes, the American SENIOR record, which was previously held by Alysia Montaño at 1:23.59.
-It was the second-fastest indoor time ever run. By any woman. Only Russia's Olga Kotlyarova, at 1:23.44, has ever run faster.
Oh, and did we mention that Athing Mu is 16 years old?
As if the time weren't incredible enough, Mu did it by running an utterly fearless race. She held the lead through 200 meters (25.99), and after briefly ceding the lead to Olivia Baker, went to the front again at the halfway mark and would never be passed.
Not that she wasn't challenged. Raevyn Rogers, the five-time NCAA 800 champion and US runner-up last year indoors and outdoors, was in position to strike at the bell and made a move to pass Mu on the back straight. But Mu was simply too good for her. She fought off Rogers before pulling away around the final turn, streaking to the win thanks to a 28.55 final lap — over a second faster than anyone in the field.
Video of race, results and commentary below
Remember her name. ?

16-year-old Athing Mu breaks the American record in the Women's 600m at #ToyotaUSATFIndoors! ?? pic.twitter.com/GIo3reodFJ

— #TokyoOlympics (@NBCOlympics) February 24, 2019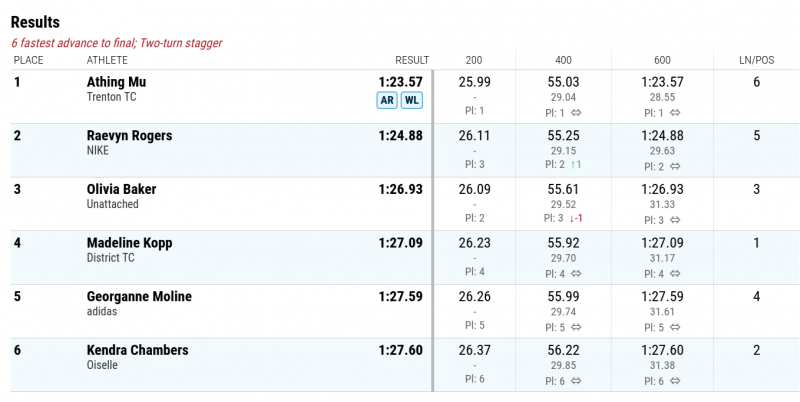 Quick Take: What a remarkable breakthrough performance
What Mu did this weekend is not unprecedented, but it puts her in very elite company. Mary Decker set the world indoor record of 2:01.8 in the 800 as a 15-year-old in 1974, while Mary Cain was the US indoor mile champ as a 16-year-old in 2013 (Cain was 16 years, 304 days, compared to 16 years, 261 days for Mu). When you're a high schooler being compared to Mary Decker and Mary Cain, you know you're doing something pretty special.
The craziest thing about her performance this weekend may be how much Mu improved. In her first 600 of the season on January 18, she ran 1:28.54. She then ran 1:27.36 at Millrose on February 9, at which point one would think she wouldn't have much more room for improvement considering the high school record was 1:27.13 by Sammy Watson — who ran that time as a senior after winning World Junior gold in the 800 the previous summer.
Mu proved that notion wrong by smashing the high school record with her 1:26.23 in the prelims yesterday. But to PR again — by almost three full seconds — in the final? Truly ridiculous.
Interviews with Mu and her coach Al Jennings below:
Quick Take: Let's try to put 1:23.57 in perspective
Because the 600 is run so infrequently, it's difficult to say exactly what a specific time is worth. So how about we take a look at the other women on the all-time indoor list and what they accomplished the year they ran those times?
| | | | |
| --- | --- | --- | --- |
| Name | Time | Date of performance | What she did that year |
| Olga Kotlyarova (RUS) | 1:23.44 | 02/01/04 | Ran 49.77/1:57.96 outdoors |
| Athing Mu (USA) | 1:23.57 | 2/24/19 | ??? |
| Alysia Montaño (USA) | 1:23.59 | 2/16/13 | Ran 1:57.75 outdoors, bronze at Worlds |
| Ajee' Wilson (USA) | 1:23.84(A) | 03/05/17 | Ran 1:55.61 outdoors, bronze at Worlds |
| Courtney Okolo (USA) | 1:24.00(A) | 03/05/17 | Ran 50.29 outdoors, 3rd at DL final |
| Yuliya Rusanova (RUS) | 1:24.02 | 02/06/11 | Ran 1:56.99, 8th at Worlds (later busted for doping) |
List courtesy Track & Field News
For more perspective, Caster Semenya's outdoor world record is 1:21.77. She ran that in 2017, two weeks after she ran 1:55.16 to win Worlds. Mu's time today is only 1.80 seconds off Semenya's outdoor WR.
This doesn't mean that Mu is going to be running 1:57 this year outdoors, but it also means that some pretty significant accomplishments — sub-2:00, making the World Championship team — are in play. We can't wait to see what she does next.
Interview with runner-up Raevyn Rogers
---
Discuss Mu's incredible performance on the LetsRun.com messageboard:
MB: Athing Mu American record
MB: Athing Mu: 23.63 200, 52.45 400, 2:03.98 800 indoor, 4:34.51 1500 
MB: OMG, Athing Mu!!
MB: Athing Mu appreciation thread