The Legend of Lopez Lomong Grows: He Runs a 51 Second PR to Win 2nd Straight USATF 10,000m Title
by LetsRun.com
July 25, 2019
DES MOINES, Iowa —  Lopez's Lomong's second act as a long distance runner picked up major steam tonight at the 2019 Toyota USATF Outdoor Championships as he won his second straight US 10,000-meter title in a facility record and massive personal best time of 27:30.06 (previous pb of 28:21.37), thanks to a 55.59 last lap. The win was Lomong's fourth US outdoor title as the 34-year-old won back to back titles in 1500 in 2009 and 2010.
Shadrack Kipchirchir, who did much of the leading in the race (he had the lead at the finish line during 18 of the 25 laps and stayed with Lomong until just before the bell), ended up a well-beaten second. Kipchirchir ran 27:47.71 as he totally packed it in and ran a 72.54 on the last lap; he had no incentive to run faster since he was still well ahead of the rest of the field. Kipchirchir has now finished second in the 10,000 at USAs for four straight years.
Article continues below player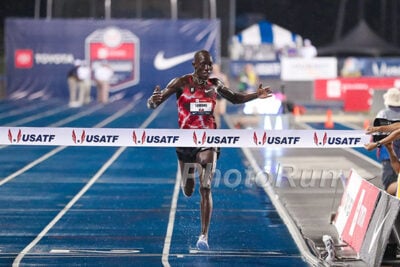 The battle for the third and final spot for Worlds was similar to the battle for the win, close until the final lap. Two-time US cross country champ Leonard Korir and Kirubel Erassa, the former Oklahoma State runner who has set pbs at 1500 (3:38), 3000 (7:47), 5000 (13:17), and 10,000 (27:32) this year, ran the entire second half of the race right next to each other until the final lap.
On the final lap, Korir ran 63.91 to finish third in 28:01.43 while Erassa only managed an 82.47. That 82.47 ended up costing Erassa fourth as he was passed by NCAA third-placer Connor McMillan of BYU right at the line for fourth (28:20.18 to 28:20.20). McMillan began the final lap more than 20 seconds down but got fourth thanks to a 59.90 final lap, making him the only guy besides Lomong to close in under 61 seconds.
The Race
On the very first lap, Kipchirchir made it known that he wanted the pace to be honest as he ran a 64.70 and things stayed honest form there. Occasionally, training partner Leonard Korir helped him out with leading as they hit 1600 in 4:23 and 3200 in 8:51. Kipchirchir ended up gapping the field on the 10th lap, but Lomong ran a 62.71 11th lap to catch up and he'd run just behind Kipchirchir until 1300 meters remaining, when Lomong took the lead for good. Lomong covered his final 1600 in 4:10.37 with lap splits of 66.50, 64.09, 64.31 and 55.59, and that 55.59 could have been faster if he hadn't started celebrating way early. He even pointed his index finger to the stands on the backstretch, and then as he rounded the final turn, he did his best Eamonn Coghlan impersonation, as shown below:
What did @lopezlomong's 10k win remind you of? It reminded us of @EamonnCoghlan1 in 1983. https://t.co/Gz4o7umz44 pic.twitter.com/mOeuxzxoD0

— LetsRun.com (@letsrundotcom) July 26, 2019
Behind them, Korir and Erassa, who, like Kipchirchir, are part of Scott Simmons' American Distance Project, ran in third and fourth until the bell.
Analysis, video interviews, below results. Full results here.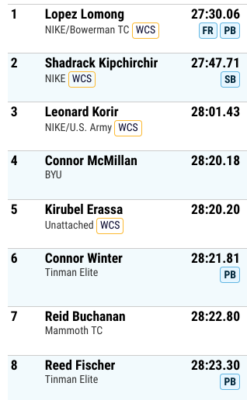 Quick Take: Lomong has some great range
Messageboard poster "lopez range!!" pointed out, Lomong has some pretty sick range, writing:
Lopez is an a very small group with 1:45/27:30 credentials. Webb's bests were 1:43.84/27:34.72 to Lopez' 1:45.58/27:30.06. I think Said Aouita is the king of this group with 1:43.86/27:26.11. Hardly any world class 10,000 meter runners have world class 800m ability (even though at different times of their career obviously). Very impressive! Also, Lopez' performance in a championship race at Des Moines is much more impressive to me than Webb's performance at Stanford.
We mentioned this last year, but it bears repeating: 11 years ago, Lomong finished 5th in the USA 800-meter final — the famous race featuring Nick Symmonds, Andrew Wheating, and Christian Smith's dive. Ten years ago, he was the national champion in the 1500. Now he's headed to Worlds in the 10,000 after winning his second straight 10k title. What a runner.
Although Lomong had already won a USA 10,000m title last year, this year's title was very different as the race was fast. Last year when Lomong won in Des Moines it was in a very modest 28:58 which is a perfect race for a 1,500m runner with a big kick.
This race was completely different. No problem, for Lomong who set a 51 second pr to win it.
We might get to see Lomong's famous range on Friday. He is entered in the 1500 and said he plans on running it — as well as the 5,000 final on Sunday (though David Monti asked Bowerman TC assistant Pascal Dobert the same question a minute later in the mixed zone and Dobert shook his head).
Asked why he would attempt such a thing, Lomong answered with a laugh.
"That's a great question," Lomong said. "I don't know. I love track."
MB: Lopez Lomong Appreciation Thread 
Quick Take: Could Lomong regret not running 3 seconds faster?
With as big of a PR as Lomong ran and as good as he looked on the last lap, it's hard to find anything negative about his performance tonight, but we will point out that he missed the 2020 Olympic standard of 27:28. The IAAF plans to fill the Olympic field based on one's world ranking, meaning Lomong likely would have no problem getting in that way, but that's assuming that USATF would send him. Remember, USATF this year is sending people with the standard over anyone who would get in by going down the descending order list. Will they do something similar next year?
Quick Take: Shadrack Kipchirchir finishes 2nd for 4th straight year, but has no regrets
Last year, Kipchirchir could be blamed for letting Lomong hang around in a race that was won in a modest 28:58. Kipchirchir learned from his mistake and endeavored to push the pace in an attempt to drop Lomong before he could deploy his devastating kick.
Kipchirchir felt that a time in the 27:30s would be enough to defeat Lomong, who until tonight had never been in a truly fast 10k (Lomong's pb coming in was 28:21). Turns out, even that wasn't fast enough — though Kipchirchir still deserves credit for giving Lomong his best shot and running 27:47 in the process.
Quick Take: Congrats to the four men who PR'd
While the weather was far from unbearable, a 10,000 run with temperatures in the 70s isn't ideal either. That didn't stop five men from running a PB.
Lopez Lomong (Bowerman Track Club) lowered his pb from 28:21.37 to to 27:30.06 to win.
Connor Winter (Tinman Elite) lowered his pb from 28:34.48 to 28:21.81 to place 6th.
Reed Fischer (Tinman Elite), who went to hometown school Drake, lowered his pb from 28:38.62 to 28:23.30 to place 8th.
Aaron Templeton (unattached) lowered his pb from 28:27.85 to 28:25.34 to place 10th.
Quick Take: Connor McMillan hoping to land pro deal after surprise 4th-place finish
Seven weeks ago, McMillan finished 3rd at NCAAs as his BYU teammate Clayton Young won the race. Young, who is over two years older than McMillan, was rewarded with a professional contract from Asics. McMillan received no bites.
Tonight, McMillan, who says he'd like to remain in Provo and be coached by Ed Eyestone, turned the tables on Young, who finished all the way back in 13th place. He said he plans to run either a fall marathon or perhaps the Houston Half and compete at the 2020 Olympic Trials in the marathon and the 10k.
Quick Take: For the second straight Worlds, the entire US 10k team was born in Africa
African-born stars have had a major impact in the men's distance events in the United States in recent years, especially in the 10,000 meters. Just as in 2017, all three members of Team USA were born in Africa — Lomong (Sudan), Kipchirchir (Kenya), and Korir (Kenya).
What's interesting is that without those African-born runners, the US wouldn't be able to field a team at all in this event as all four Americans who hit the World standard this year were born in Africa.
---
Talk about the day 1 action on our messageboard:
MB: Lopez Lomong Appreciation Thread 
MB: Official 2019 USATF Outdoors Day 1 Discussion Thread