USATF Ordered to Re-Pick Entire 2019 Pan Am Games Team Based on 2019 Comprehensive List
By LetsRun.com
July 19, 2019
On Friday, in a case that LetsRun.com helped organize, arbitrator Christian Dennie ruled that USATF must re-pick its entire 2019 Pan American Games team based on the US performance list from January 1 to June 10, 2019. The decision, which could affect dozens of athletes, is the most significant development in a saga that has dragged on for almost a month, beginning with USATF's initial announcement of its Pan Am Games squad on June 24. The athletics portion of the 2019 Pan Am Games will be held in Lima, Peru, from August 6-10.
A quick refresher: after a few clerical errors were corrected, USATF initially picked its Pan Am Games team based on the combined 2018-19 US performance list — a direct contradiction of the formal selection procedures laid out in a document posted on USATF's website and signed by USATF CEO Max Siegel on December 13, which stated the team would come from 2019 US performance list only. USATF argued that, prior to the publication of the official selection procedures, it told athletes via Slack and at the USATF Annual Meeting in early December 2018 that it would pick the team based off the 2018-19 list.
Three athletes — Benard Keter, Frankline Tonui, and Lawi Lalang, all coached by Scott Simmons — filed a demand for arbitration "asserting that USATF was denying them the opportunity to participate in the 2019 Pan American Games." In an expedited decision, arbitrator Matthew J. Mitten ruled in their favor. However, the ruling only applied to two events — the men's steeplechase and 10,000 meters — with Keter (steeple), Lalang (10,000), and Travis Mahoney (steeple) placed on the team and Isaac Updike (steeple), Jordan Mann (steeple), and Garrett Heath (10,000) removed.
Article continues below player.
Afterwards, LetsRun.com was still hearing from other athletes passed over for the Pan Am team based on USATF not using the 2019 lists. None of them were contacted by USATF and told that they, too, might be able to get on the team if they filed a request for arbitration. USATF still failed to accept responsibility for its error, instead telling the athletes, "Unfortunately, the published selection criteria was susceptible to an alternate interpretation."
With the Pan Am Games having a special place in our hearts (we didn't realize this until now, but the final track race of LetsRun.com co-founder Weldon Johnson's career was when he was on the US team at the 2003 Pan Am Games in the 10,000m) and having grown weary of seeing USATF seemingly arbitrarily do what it wants over the years, we at LetsRun.com thought to ourselves, "What about the other athletes being deprived of their rightful spot on the team?" So on July 1, we put the word out that we were going to file another Section 9 grievance on behalf of a few athletes, inviting anyone else affected by the decision to join. We were also hoping a lawyer would come on board to do the case pro bono.
Lawyer David Greifinger, who was already planning on filing a case for a few athletes himself, saw our post, so we teamed up. On July 6, he filed for arbitration on behalf of six athletes. The hearing was held via telephone on July 17 and the ruling came out today.
LetsRun.com paid the $2,000 fee for the arbitration hearing to take place and Greifinger represented the athletes pro bono.
You can view the award in its entirety here.
Quick Take: Justice feels good
Over the years, it's really annoyed us to see USATF seemingly make up the rules as they go along and repeatedly treat athletes like second-class citizens, arbitrarily making decisions with huge impacts like this one or expanding or declining to expand the fields at the Olympic Trials. At a minimum, they should be forced to follow unequivocally clear rules signed by their CEO. It is sad that it took two arbitration hearings for USATF to do the right thing — pick its Pan Am team according to its published rules. All along, USATF seemed more concerned with defending its mistake than being a neutral party for athletes.
Quick Take: The arbitrator has ordered USATF to re-pick the team, but that doesn't necessarily mean that it will be able to change the roster at this point
Even if USATF re-picks the team based on 2019 marks only, the final decision about whether to accept the new roster lies with the Association of Panamerican Athletics, which oversees the Pan Am Games. That's because the deadline for federations to submit their teams has already passed, and USATF already submitted a team based largely on the 2018-19 combined list (though many of those athletes would still be on the team if it were picked on 2019 marks only).
So if the APA doesn't accept USATF's new rosters, the athletes currently on the team will be the ones who get to compete in Peru.
Quick Take: How much money did USATF's "mistake" cost them?
Despite having its own general counsel, USATF hired outside lawyers to represent itself at both arbitration hearings. That is likely tens of thousands of dollars that could have gone to athletes down the drain.
Also, normally the names on plane tickets can not be changed. So unless USATF has some special deal with an airline (which is quite possible, given the number of tickets they purchase a year), the ruling could end up costing USATF a lot of money as they may have to buy plane tickets for the new Pan Am team members.
Quick Take: We feel for any athletes that lost their spot
The one big negative with this award, assuming the APA allows USATF to change its roster, is that for every American athlete added to the team, there will be another athlete that will be kicked off the team. Admittedly, those athletes should have never been on the team in the first place, but it's always a thrill for a track athlete to get to represent Team USA on the international stage.
The reality is USATF screwed this up so badly that we heard from several athletes who would have been on the team based off of 2019 marks but ultimately didn't end up signing up for arbitration as they felt bad about kicking off people already (wrongly) on the team. Some of these people were their friends.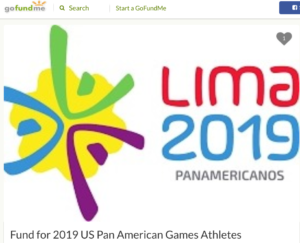 LetsRun.com on the hook for $2,000
The other negative is a small one. We were hoping the arbitrator would make USATF pay the $2,000 we put up to file the arbitration (in the Scott Simmons case, USATF was forced to pay $1,000) but that didn't happen. It really is unfortunate that the athletes, who often are struggling to get by while pursuing their dream, have to come up with their own money or rely upon the generosity of others (LetsRun.com), to get on the Pan Am team due to a mistake of USATF. USATF will spend tens of thousands of dollars on outside counsel defending its own mistakes, yet they don't have an internal fund to help athletes file for arbitration?
We had talked of crowdfunding the money but had put it off until the arbitrator ruled because we were hoping to get back the $2,000. Some of you wrote in asking if you could contribute. Yes, you can. Go to GoFundMe and contribute now: Fund for 2019 US Pan American Games Athletes. If you donate $50 or more, we'll send you a special edition LetsRun.com tshirt.