by LetsRun.com
May 3, 2019
Track and field's 2019 professional season got started today at the site where it will all end,  Doha, Qatar, which will host the IAAF World Championships from September 27 to October 6. And there was plenty to get excited about at the Doha Diamond League. An American nearly won the men's steeple, Hellen Obiri clashed with Genzebe Dibaba in the women's 5000, a 17-year-old won the women's high jump, the Diamond League men's discus record of 69.80 was broken twice and much more.
Caster Semenya also DOMINATED the women's 800 in her first race since the Court of Arbitration for Sport ruling on Wednesday — and perhaps her last race competing in an international women's 800. That race gets its own article here.
Men's Steeplechase: Soufiane El Bakkali Turns Back Hillary Bor's Bold Upset Bid
American Hillary Bor made a bold bid to become the second non-African to win a men's steeplechase on the Diamond League circuit as he had the lead coming off the final water jump, but in the end, Morocco's Soufiane El Bakkali, the 2017 world silver medallist and 2018 world rank #2, got the win in a world-leading 8:07.22. Bor settled for second in an 8:08.41 pb (previous pb of 8:11.82), and in the process jumped from #6 all-time in US history to #3.
Top 3 All Time US Steeplers
1. Evan Jager 8:00.45
2. Stanley Kebenei 8:08.30
3. Hillary Bor 8:08.41
In the second km, the racers showed no interest in going with the rabbit as 2k was hit in 5:26.86. As a result, with two laps to go, there were stil 7 men in the lead pack. As the runners came out of the second-to-last water jump, Ethiopia's Chala Beyo made a big move and the only man to go with him was Bor as those two had gapped the field at the bell, with El Bakkali only in 5th. However, slowly over the final lap El Bakkali, who didn't look great throughout the race and was running in the back of the lead pack for most of it, narrowed the gap. Coming off the last water jump, Bor still had a daylight between him and El Bakkali, but Bor was already looking over his shoulder and there was no doubt who was the best over the final 150, even though Bor still had the lead heading into the last barrier.
Bor was very happy with his result, however, as he said the following to race organizers after the meet, "Finishing second behind Soufiane, a world silver medalist, is a great achievement and it means I'm doing something right. My goal now is to go back and study the race and see how I can improve. I hope to participate in one or two more Diamond Leagues meet before the end of the season but that depends on my coach. My major target is the USA Championships which I hope to do well and hopefully be back in Doha for the World Championships. I love the stadium and the atmosphere here tonight is great."
Quick Take: Evan Jager remains as the only non-African man to win a DL steeple.
Jager won his lone career DL steeple in Monaco in 2017 (8:01.29). He's been 2nd four times — 2014 Oslo (8:06:97), 2015 Paris (8:00:45), 2016 Brussels (8:04.01), 2018 Monaco (8:01:02).
Results – 3000 Metres Steeplechase – Men – Diamond Discipline
1 El Bakkali , Soufiane MAR 8:07.22
2 Bor , Hillary USA 8:08.41
3 Bett , Leonard Kipkemoi KEN 8:08.61
4 Beyo , Chala ETH 8:10.55
5 Kibiwot , Abraham KEN 8:12.42
6 Kipsang , Lawrence Kemboi KEN 8:13.59
7 Bett , Nicholas Kiptanui KEN 8:16.66
8 Kigen , Benjamin KEN 8:19.57
9 Njiru , Kennedy KEN 8:21.62
10 Kipyego , Barnabas KEN 8:21.67
11 Kiprono , Emmanuel KEN 8:25.35
12 Bayer , Andrew USA 8:27.80
13 Amare , Hailemariyam ETH 8:30.72
14 Kirui , Amos KEN 8:32.35
15 Sassioui , Mounaime MAR 8:43.16
16 Bagharab , Yaser Salem QAT 8:45.83
17 Ismail , Muhyadin SOM 8:50.82
Kones , Wilberforce Chemiat KEN DNF
Men's 800: Nijel Amos stakes his claim in DL opener
Emmanuel Korir perfect record in the Diamond League is over. Prior to today, the 23-year-old former UTEP star was a perfect six-for-six in 800-meter races at DL events (this included a few non-points events). But he was not good enough today, as 2012 Olympic silver medalist Nijel Amos of Botswana outsprinted him in the home straight to win in 1:44.29. Korir took second in 1:44.50 as American Donavan Brazier opened his outdoor season by running 1:44.70 for third.
Rabbit Bram Som took the extremely crowded field (13 men plus Som) through 400 in 50.26, with Asian champ Abubaker Haydar Abdalla of Qatar the first racer in 50.6. Both Korir (3rd in 50.8) and Amos (5th in 51.0) got out fairly well, but Brazier, who shared a lane with Abdalla at the start and chose to let Abdalla sprint out ahead of him off the line, was buried in 10th at 200 meters and 9th at the bell (51.4).
Abdalla continued to lead down the back straight as Brazier made a push to move up to 4th at 600. As they hit the final turn, Korir tried to go by Abdalla on the outside but couldn't gain any separation, finally edging just ahead off the final turn. But it remained a close race, and as Korir continued to lead slightly, Amos was steaming down the home straight on the outside of lane 2. It was only when Amos moved by him with around 50 meters to go that Korir could pick up the pace, and while Korir succeeded in separating from the rest of the field, he could not get by Amos, who pulled away to win thanks to a 26.1 final 200.
800 Metres – Men – Diamond Discipline
1 Amos , Nijel BOT 1:44.29
2 Korir , Emmanuel Kipkurui KEN 1:44.50
3 Brazier , Donavan USA 1:44.70
4 Abdalla , Abubaker Haydar QAT 1:44.82
5 Kitilit , Jonathan KEN 1:44.97
6 Tuwei , Cornelius KEN 1:45.39
7 Kszczot , Adam POL 1:45.60
8 Kinyamal , Wyclife KEN 1:45.66
9 De Arriba , Álvaro ESP 1:45.94
10 Hairane , Jamal QAT 1:46.27
11 Mubarak , Rabi Mohamoud QAT 1:46.40
12 Rotich , Ferguson Cheruiyot KEN 1:46.77
13 Hassan , Abdirahman Saeed QAT 1:48.52
Som , Bram NED DNF
Quick Take: A great battle to kick off the 2019 Diamond League season
This was the first first men's race of the 2019 Diamond League season (the women's 400m hurdles was the first women's track race) and it was a great one. You had the stars of the 800 going head to head and putting up a very entertaining race. It doesn't get much better than that.
Quick Take: Amos won by staying patient
It would have been easy to panic with 14 men in the race, but Amos stayed calm throughout, content to sit behind Korir on the rail for much of the race. This meant that he was totally boxed in early in the final lap, but he trusted that something would open up.
Our motto in the 800 is "you only get one move" and Amos used his wisely, as when he went on the home straight, he went hard and had plenty of energy to burn after conserving it during the previous 700 meters. Amos survived even some contact with Donavan Brazier (a hand to Amos' back) with 200 to go.
This was a big win for sure, as many of the presumed World Championship medalists were in the field, but by no means a dominant one, which should make for an exciting season in the men's 800.
Quick Take: Donavan Brazier's positioning wasn't great, but this was a solid opener
Brazier didn't have enough in the tank in the final straight to challenge for the win, perhaps because he had to make a hard move to go from 8th to 4th from 500 to 600 meters. But whereas in the past, Brazier might get frustrated and give up mentally, he still closed hard for third in 1:44.70. Considering Korir and Amos were the two best guys in the world last year, finishing third behind them is a strong result.
Quick Take: Abubaker Haydar Abdalla is for real
Abdalla soloed a world leader of 1:44.33 on this track at the Asian champs last month, so perhaps it's no surprise that he was competitive tonight. He ran boldly, unafraid to get out hard and run behind the rabbit and held the lead as late as 600 meters. The 22-year-old, who was born in Sudan and didn't break 1:46 in all of 2018 (he did run 1:45.28 in 2016) was right in the mix with the best in the world tonight and will be a man to watch going forward.
Men's 1500: Manangoi & Cheruiyot continue to dominate the Diamond League
Rongai Athletics Club's reign over the men's 1500 continues. Nairobi-based training partners Elijah Manangoi and Timothy Cheruiyot have been close to unbeatable in the men's 1500 over the past two years, going 1-2 at Worlds and 1-2 at last year's Commonwealth Games, African Champs, and Diamond League final. So it came as no surprise that the two Kenyans finished 1-2 again in the 2019 DL opener in Doha.
The only surprise came in the manner in which it was achieved. While both men like to run near the front, usually it's Cheruiyot doing the pushing; last year, he would frequently take off at the bell en route to winning six Diamond League races, many by enormous margins. But today, he chose to let Manangoi do the work, and his teammate was more than happy to oblige.
Manangoi was the first racer at 200 meters, settling in behind the two pacemakers, and would not be passed the entire race. Manangoi hit 400 in 55.7, with Moroccan Abdelaati Iguider behind him, followed by Cheruiyot and another Moroccan, Brahim Kaazouzi. Manangoi remained the first racer at 800 (1:54.0) with the field strung out single-file behind him, but the race really heated up when the final pacemaker stepped off at 1000 meters. At that point, Manangoi began to slow, and the field began to bunch up behind him, with Manangoi running just 58.0 from 800 to 1200.
Though he was slowing, Manangoi still looked supremely smooth, looking up at the stadium video board to check on his competition and saving his final gear until one of them reached up to challenge him. That challenge finally came with 100 to go as Cheruiyot attacked, but Manangoi was too good for him, holding him off as the two separated from the rest of the field. Manangoi won in 3:32.21, an early world leader and his fifth career DL victory, with Cheruiyot second in 3:32.47.
1500 Metres – Men – Diamond Discipline
1 Manangoi , Elijah Motonei KEN 3:32.21
2 Cheruiyot , Timothy KEN 3:32.47
3 Birgen , Bethwell KEN 3:33.12
4 Kibet , Vincent KEN 3:33.21
5 Simotwo , Charles Cheboi KEN 3:33.31
6 Kwemoi , Ronald KEN 3:33.99
7 Manangoi , George Meitamei KEN 3:34.00
8 Kaazouzi , Brahim MAR 3:34.57
9 Gregson , Ryan AUS 3:35.10
10 Iguider , Abdelaati MAR 3:36.28
11 Souleiman , Ayanleh DJI 3:36.35
12 Saifeldin , Muhand Khamis QAT 3:43.62
13 Youssouf , Idriss Moussa QAT 3:50.92
Kivuva , Jackson Mumbwa KEN DNF
Sein , Timothy KEN DNF
Quick Take: Manangoi and Cheruiyot reversed their roles today
Manangoi is a better kicker than Cheruiyot, and often he'll allow Cheruiyot to push the pace up front and break the field before pulling by him in the home straight. But Cheruiyot chose a different approach this time, trying to come from behind and forcing Manangoi to win from the front. That was no problem for Manangoi, and Cheruiyot proved that he can kick as well as he dusted the rest of the field in the home straight.
Though this was Cheruiyot's first defeat after seven straight DL wins, he was still happy with his performance as he revealed after the race that he missed three months of training due to injury earlier this year.
"I have only been back in proper training for two weeks so I can be pleased with this evening," Cheruiyot told meet organizers.
It was a good day all around for coach Bernard Ouma's group as Elijah's younger brother George Manangoi lowered his 3:35.53 pb (set at this meet last year) to 3:34.00.
Quick Take: Ronald Kwemoi isn't all the way back yet
3:28 man Kwemoi was 6th in his first DL since 2017, not an awful result for his season opener, though it was clear he still has work to do to reach the level of Manangoi and Cheruiyot. It didn't help that Kwemoi was only in 9th place with a lap to go, and though he made a game effort to move up on the final turn, getting as high as 4th with 100 to go, that move took too much out of him and he wound up giving up two places in the home straight to finish 6th in 3:33.99.
Quick Take: Thank goodness Kenya gets four entrants at Worlds this year
When you think of Kenyans dominating an event, it's usually the steeplechase, but between Evan Jager and Soufiane El Bakkali, two of the top three steeplers in the world the last two years have come from outside of Kenya. Heck, the steeple tonight in Doha came down to a Moroccan and an American (granted, an American born in Kenya) battling it out in the home straight, with only one Kenyan in the top four.
No, the event the Kenyans truly dominated tonight was the men's 1500. Seven Kenyan men toed the start line (okay nine, but two of them were rabbits) and those seven Kenyans swept the top seven places, all running 3:34.00 or faster. Utter domination.
And this is despite the best Kenyan runner of the last decade, Asbel Kiprop, getting popped for doping. Thankfully Manangoi has a bye to Worlds this year, which means Kenya can send four guys instead of the usual three.
Women's 3000: Hellen Obiri confirms her status as the best non-marathoner in the world
In the final event of the evening, distance fans got exactly what we wanted — a battle between Genzebe Dibaba and Hellen Obiri, the 4th and 5th fastest women in history at 5000.
Heading into the final lap, five women were closely bunched but the race soon turned into a two-person battle between Obiri, the 2017 World 5000 and 2019 World XC champ, and Dibaba, the 1500 world record holder.
At the bell, Obiri had the lead but Dibaba was in perfect striking position just behind her. Obiri didn't wilt coming home, however, winning in 8:25.60 to Dibaba's 8:26.20. Kenya's Lilian Rengeruk deserves special praise for her third place finish in 8:29.02 as she fell with 900 meters remaining but quickly got back up and contended for the win. Rengeruk, who celebrated her 22nd birthday today, was the World XC bronze medallist in 2017 (12th this year) and had run 14:36 in 2017 but only 15:01 last year.
3000 Metres – Women – Diamond Discipline
1 Obiri , Hellen KEN 8:25.60
2 Dibaba , Genzebe ETH 8:26.20
3 Rengeruk , Lilian Kasait KEN 8:29.02
4 Chepkoech , Beatrice KEN 8:29.83
5 Kipkirui , Caroline Chepkoech KEN 8:29.89
6 Kite , Gloriah KEN 8:29.91
7 Tsegay , Gudaf ETH 8:30.65
8 Can , Yasemin TUR 8:33.29
9 Hailu , Lemlem ETH 8:34.03
10 Kipkemboi , Margaret Chelimo KEN 8:34.65
11 Chemnung , Loice KEN 8:40.08
12 Taye , Ejgayehu ETH 8:40.96
13 Kiyeng , Hyvin KEN 8:44.59
14 Klein , Hanna GER 8:45.00
15 Mamo , Meskerem ETH 8:48.26
16 Chebet , Beatrice KEN 8:49.05
17 Kuria , Mary KEN 8:49.16
18 Cherono , Eva KEN 8:50.22
Chebet , Winny KEN DNF
Quick Take: This was a nice win for Obiri
With Almaz Ayana having not competed since November of 2017, Hellen Obiri has clearly been the world's best non-marathon distance runner. That being said, she's been a little vulnerable at 3000. Last year, she won only one of six 3000s that she ran (she won six of the seven 5000s she ran) and she came into today's race 2-4 against Dibaba at 3000. So for her to win at 3000 over Dibaba was significant.
Head-to-head, Obiri now leads Dibaba 11 to 8 according to Tilastopaja.eu.
Obiri vs Dibaba Career
1500: Obiri leads 5 to 3
3k: Dibaba leads 4 to 3
5000: Obiri leads 3 to 1.
Sprints
Danielle Williams Wins 100 Hurdles
Danielle Williams of Jamaica, the 2015 world champ, got the win in a modest by Diamond League standards 12.66. 2016 Olympic champ Brianna Rollins-McNeal only opened in 12.94 but Worlds is 5 months away.
100 Metres Hurdles – Women – Diamond Discipline Wind: +0.9 m/s
1 Williams , Danielle JAM 12.66
2 Amusan , Tobi NGR 12.73
3 Nelvis , Sharika USA 12.78
4 Clemons , Christina USA 12.83
5 Camacho-Quinn , Jasmine PUR 12.85
6 Herman , Elvira BLR 12.88
7 McNeal , Brianna USA 12.94
8 Hughes , Amber USA 12.97
9 Pedersen , Isabelle NOR 13.26
Women's 200: Dina Asher-Smith Crushes Field
Asher-Smith was the only woman in the world to dip under 22 seconds last year and she started out 2019 with a dominant run, winning in 22.26, nearly three quarters of a second ahead of runner-up Jamile Samuel of the Netherlands.
200 Metres – Women – Diamond Discipline Wind: +1.1 m/s
1 Asher-Smith , Dina GBR 22.26
2 Samuel , Jamile NED 22.90
3 Okagbare , Blessing NGR 23.14
4 Jefferson , Kyra USA 23.15
5 Tenorio , Ángela Gabriela ECU 23.28
6 Tarmoh , Jeneba USA 23.39
7 Francis , Phyllis USA 23.47
8 Atcho , Sarah SUI 23.89
Hylton , Shannon GBR DQ
Women's 400 hurdles: Muhammad cruises
Many have already handed the 2019 world title to American phenom Sydney McLaughlin, but Dalilah Muhammad, the 29-year-old reigning Olympic and two-time Diamond League champion, sent a message that she should not be forgotten by crushing the field to win in a meet record of 53.61. Muhammad got out hard, making up the stagger on Jamaica's Janieve Russell on her outside on the backstretch, before really taking off with 200 to go and pulling away to win by over a second.
53.61 is Muhammad's fastest time since the 53.50 she ran to take silver at Worlds in 2017, made even more impressive by the fact that this was her first hurdles race of the year.
400 Metres Hurdles – Women – Diamond Discipline
1 Muhammad , Dalilah USA 53.61
2 Spencer , Ashley USA 54.72
3 Ryzhykova , Anna UKR 54.82
4 Russell , Janieve JAM 55.28
5 Wells , Lauren AUS 55.60
6 Beesley , Meghan GBR 56.01
7 Nel , Wenda RSA 56.16
8 Van Der Walt , Zenéy RSA 56.45
9 Pedroso , Yadisleidis ITA 57.20
Men's 200: Ramil Guliyev opens up his world title defense with a sub-20
With no Noah Lyles, there wasn't quite as much excitement about this race. Canadian Aaron Brown led off the turn, but world champ Ramil Guliyev closed him down and pulled away to win fairly comfortably in the end, clocking the world's second sub-20 of 2019 to win in 19.99, Ecuador's Alex Quinonez getting up for second in 20.19. The two token Qataris in this race finished a well-beaten 8th and 9th, but both did manage to run PRs in front of the home crowd.
200 Metres – Men – Diamond Discipline Wind: +1.3 m/s
1 Guliyev , Ramil TUR 19.99
2 Quiñónez , Alex ECU 20.19
3 Brown , Aaron CAN 20.20
4 Richards , Jereem TTO 20.21
5 Edward , Alonso PAN 20.56
6 Mitchell-Blake , Nethaneel GBR 20.83
7 Reid , Leon IRL 20.93
8 Al Mamari , Jaber Hilal QAT 21.47
9 Barrow , Owaab QAT 21.55
Field Events
Men's Discus: Daniel Ståhl Breaks The Diamond League Twice
Sweden's Daniel Ståhl had a supreme night in the men's discus. He won with a Diamond League record throw of 70.56 in the third round — one of his three throws over the 70-meter mark on the day. Perhaps equally as impressive is he had six legal throws on the day and none were shorter than 69.50. Austria's Lukas Weisshaidinger was second at 66.90.
Coming into to tonight, no one had ever thrown 70 meters in a DL meet and yet Ståhl did it three times. Even more impressively, the men's DL discus record was the oldest one on the books: it dated back to the series' first year in 2010, when Poland's Piotr Malachowski threw 69.80 in Gateshead.
Ståhl said today's results were not a surprise.
"I had great power and I have been working on my technique a lot and training hard in the gym so I expected it and I am really happy. Training has been going very well so tonight was no surprise at all. It was a great atmosphere and the people working here are fantastic, I hope to return here for the IAAF World Championships and win again. The big focus though is always to have fun and big power."
Here is the perfect way to celebrate breaking the @Diamond_League men's discus record 3 times in a single competition. https://t.co/4GNmqxRHYA pic.twitter.com/w1VRmUOBE8

— LetsRun.com (@letsrundotcom) May 3, 2019
Discus Throw – Men – Diamond Discipline
1 Ståhl , Daniel SWE 70.56
2 Weisshaidinger , Lukas AUT 66.90
3 Hadadi , Ehsan IRI 66.78
4 Jagers III , Reggie USA 64.89
5 Harting , Christoph GER 64.49
6 Malachowski , Piotr POL 64.45
7 Finley , Mason USA 63.52
8 Stunes Isene , Ola NOR 62.63
9 Ibrahim , Moaaz Mohamed QAT 58.98
17-Year-Old Yaroslava Mahuchikh Wins High Jump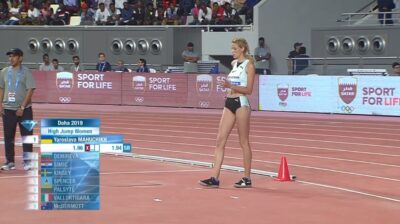 Everyone mark down the name Yaroslava Mahuchikh. The Ukrainian high jumper is only 17 years old and she made her Diamond League debut a smashing success by winning with a clearance of 1.96 meters. Mahuchikh is the World Youth champ and world junior record holder, having jumped 1.99, and is most definitely the real deal.
High Jump – Women – Diamond Discipline
1 Mahuchikh , Yaroslava UKR 1.96
2 Demireva , Mirela BUL 1.91
2 Kinsey , Erika SWE 1.91
2 Šimic , Ana CRO 1.91
5 Spencer , Levern LCA 1.88
6 Palšyté , Airiné LTU 1.88
7 Vallortigara , Elena ITA 1.85
8 McDermott , Nicola AUS 1.85
8 Radzivil , Svetlana UZB 1.85
Men's Pole Vault: Sam Kendricks Begins the DL Season with a Win
US world champ Sam Kendricks began his 2019 DL season on the wrong foot, as he missed his first attempt at the opening height of 5.31 meters. He missed again on his first attempt at the second bar, 5.46. But after sailing through 5.61 and 5.71, he was the only man to clear 5.80 meters on the night, which gave him the win over Olympic champ Thiago Braz of Brazil, the only other man over 5.71.
Second was a big result for Braz, as it was his best DL finish since 2016, the year of his Olympic title. In 2017, his best was 4th (with two no-heights) and last year his best was 5th (also with two no-heights).
Pole Vault – Men – Diamond Discipline
1 Kendricks , Sam USA 5.80
2 Braz , Thiago BRA 5.71
3 Yamamoto , Seito JPN 5.61
4 Lisek , Piotr POL 5.46
4 Obiena , Ernest John PHI 5.46
6 Myers , Charlie GBR 5.46
7 Filippidis , Konstantinos GRE 5.46
7 Lita Baehre , Bo Kanda GER 5.46
9 Joseph , Stanley FRA 5.31
Irwin , Andrew USA NM
Women's long jump: Caterine Ibarguen Prevails
Ibarguen may be 35 years old, but she's still an elite long jumper. The 2018 DL triple and long jump champ proved that tonight by jumping 6.76 meters in round five to hold off Ukraine's Maryna Bekh-Romanchuk, the Euro Indoor bronze medalist, by two centimeters. American Olympic champ Tianna Bartoletta had a very rough night as she recorded just one legal jump, 5.92 meters, to finish dead last.
Long Jump – Women – Diamond Discipline
1 Ibarguen , Caterine COL 6.76 +0.5
2 Bekh-Romanchuk , Maryna UKR 6.74 +0.4
3 Stratton , Brooke AUS 6.73 +0.1
4 Ugen , Lorraine GBR 6.62 0.0
5 Nettey , Christabel CAN 6.55 -0.1
6 Anang , Naa AUS 6.52 +0.3
7 Saunders , Sha'keela USA 6.37 -0.3
8 Proctor , Shara GBR 6.35 +0.3
9 Bartoletta , Tianna USA 5.92 -0.1
Men's Shot Put: Crouser Wins Battle of the Titans
Before tonight, there had only been 12 competitions in the history of the world in which two men threw 22+ meters. It's now 13, as Olympic champ Ryan Crouser of the US went 22.13 in round two, good enough to hold off world champ Tom Walsh of New Zealand, who threw 22.06 in round three.
Shot Put – Men – Diamond Discipline
1 Crouser , Ryan USA 22.13
2 Walsh , Tomas NZL 22.06
3 Romani , Darlan BRA 21.60
4 Hill , Darrell USA 21.28
5 Haratyk , Michal POL 21.18
6 Kovacs , Joe USA 20.83
7 Stanek , Tomáš CZE 20.61
8 Bukowiecki , Konrad POL 20.46
9 Suroor , Meshari Saad KUW 18.07
Talk about the action on our world famous fan forum / messageboard.