By LetsRun.com
May 3, 2019
Total dominance.
If today's Doha Diamond League was the final 800m for Caster Semenya on the international women's stage, it was a fitting sendoff. Francine Niyonsaba tried to stay with Semenya, but Semenya was totally dominant the final 200m and sprinted away to the win in 1:54.98, her 30th straight win at 800m, as Semenya just dipped under 1:55 for the fourth time in her career.
Prior to the start, all eyes were on Semenya and she received a warm reception from the crowd and raised her fist. Once the gun went off and the athletes emerged from their lanes after the first turn, Semenya settled in behind the rabbit Noélie Yarigo. Yarigo hit 400 in 56.7 with Semenya in 56.9 and Niyonsaba at 57.2. There was then a gap to Natoya Goule in 3rd. The rabbit soon dropped out as Semenya and Niyonsaba put on an exhibition on the backstretch, opening up a huge lead at 600 on the rest of the field (1:26.6 for Semenya, 3rd place was Nelly Jepkosgei at 1:28.4).
Niyonsaba had started to get gapped behind Semenya with 200 to go and Semenya would only extend the margin to the finish as the world got to witness one more time the dominance of Caster Semenya at 800. She crossed the line, received the winner's bouquet of flowers and tossed them into the crowd before receiving congratulations from her competitors who were left in her wake.
Niyonsaba held on for second and Ajee Wilson, who is poised to be the heir apparent at 800 if Niyonsaba and Semenya leave the event with the new IAAF hyperandrogenism rules, moved up to take third in 1:58.83.
Results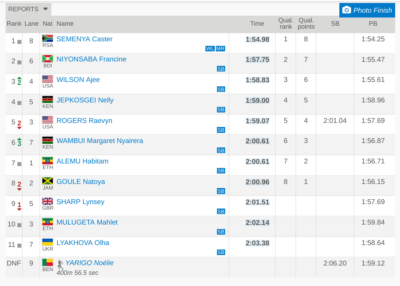 QT: Caster Semenya goes out a champion
Forget all the talk about hyperandrogenism and testosterone for a moment. Semenya has been the standard bearer in this event the last decade, and in particular since the end of 2015 when her winning streak began. It was fitting she pushed that streak to a nice round 30 today.
QT: This was by far the fastest season opener of Semenya's career
Semenya had raced a 200 this year and then won the 1,500 and 5,000 and 4×400 at the South African Championships. This was her first 800 of the year and it was by far her fastest opener of her career by a wide margin. Last year with the Commonwealth Games early in the year, Semenya raced a bunch of 400s before running her first 800 in 1:58.92, which was her fastest opener ever. Even later in the year in her Diamond League opener at Pre, she ran 1:55.92 which was her fastest Diamond League opener.
Today, there was a lot of speculation how Semenya would do since she was coming off of a 5000/1500/4×400 triple at the South African Champs and flew into Doha on late notice on Wednesday. The answer: very well.
After the race, Semenya said, "I'm excited winning here in Doha. The first race of the season is tough and you may not be able to predict how your body is going to respond to the push but the weather is great and it was wonderful tonight. For me, I believe nothing is hard in life because it is up to you how you take life. As an athlete, I believe in sportmanship and what sports teaches you is to keep pushing on despite all odds. I know life could be difficult at times but I'm a believer and I believe there is always a way to resolve issues. One of my firm belief is that there is always a way out for everything. So if a wall is placed in front of me, I jump it. I'm going to keep enjoying my life and live it. I will keep on training and running. To me, impossibility is nothing."
QT: What's next for Semenya?
Semenya naturally attracted plenty of media attention after her race today and had some interesting things to say to the journalists in attendance.
Caster Semenya's response when asked whether she will take the medication as per the ruling of CAS: "Hell no"
Also says she will not run the 5,000m again, saying it was part of her base training, nothing else.

— Pippa Field (@PippaField23) May 3, 2019
Just interviewed Caster Semenya. She has no plans to retire. Says she intends to compete at the world championships here in Doha in September #Athletics #CasterSemenya

— Ade Adedoyin (@ade_adedoyin) May 3, 2019
Caster Semenya says her plan is to defend 800m world title in Doha this September and won't switch events. "No man can tell me what to do"

— Andy Richardson (@AndyR_Sport) May 3, 2019
"How the hell am I going to retire when I'm 28?" Semenya told The Daily Mail's Riath Al-Samarrai. "I still feel young, energetic. I still have 10 years or more in athletics – it doesn't matter how I'm going to do it, what matters is I'll still be here."
Putting that all together, it seems as if Semenya is planning on appealing the CAS decision that was handed down on Wednesday, because under current IAAF rules, there is no way for her to compete in the women's 800 in Doha without lowering her testosterone (though we'd be interested to see what the IAAF would do if Semenya shows up in Doha in September and demands to run).