Shura Kitata (60:11) and Brigid Kosgei (65:50) Win at 2019 Houston Half as Emily Sisson (67:30) Just Misses AR!
by LetsRun.com
January 20, 2019
Shura Kitata learned his lesson.
Two months ago at the 2018 New York City Marathon, Kitata pushed the pace throughout the race, but wound up getting dropped during mile 23 on Fifth Avenue. Eventually, he charged back during the final mile in Central Park, but he left his move just a little too late. He ran 2:06:01 — the third-fastest time ever run in New York, but good for just second in the race behind Ethiopian compatriot Lelisa Desisa.
Article continues below player
Like our coverage from Albuquerque?
Kitata's timing was perfect today in Houston as he blew by another Ethiopian, Jemal Yimer, the third fastest half marathon in history (58:33 pb), to win the 2019 Houston Half Marathon in 60:11. Yimer was second in 60:14 with Kenyan Bedan Karoki, the 7th fastest half-marathon in history (58:42 pb), third in 60:18.
Despite cold temperatures (33 degrees Fahrenheit, 11 mph wind), the women's race produced some very fast times. Kenya's Brigid Kosgei, the reigning Chicago Marathon champion, made a big move just after 15k and pulled away to a convincing win in 65:50 — a personal best, course record, and the fastest time ever run in the Western Hemisphere. Behind her in fifth place, Emily Sisson ran 67:30 to miss Molly Huddle's American record — set in Houston last year — by just five seconds. Sisson had been on American record pace through 15k (she came through in 47:48, or 67:13 pace) but slowed over the final miles. Still, her time was the second fastest ever by an American woman on a record-eligible course.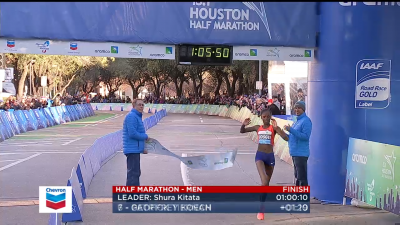 That Kitata, Yimer, and Karoki finished as the top three in the men's race came as no surprise as they were clearly the three most credentialed athletes heading into the race. Kitata was second in both the London and NYC Marathons last year, Yimer ran 58:33 (T-#3 all-time) at the Valencia Half in October, and Karoki ran 58:42 (T-#7 all-time) to set the course record at the RAK Half last February.
It took a while for them to separate, however. The lead pack hit 5k in just 14:30 (61:10 pace) and it looked as if the cold weather might derail any chance at a fast time. They picked it up over the next 5k (14:00), but despite a series of surges by a number of different athletes, no one would gain any meaningful separation. At 20k, four men were still in contention — the big three plus Tanzania's Gabriel Geay, the 22-year old Boilermaker champ (61:13 pb).
The final mile was hectic. With just over half a mile to go Geay had fallen off and Yimer made a move, immediately putting five meters on Karoki and Kitata. But as the lead truck turned off the course near the finish, Yimer followed it and chaos ensued as both he and Karoki, who had also followed, lost momentum and had to be directed back onto the course (it was hard to tell how much Kitata was affected as the broadcast switched camera angles after that mishap).
Eventually, Yimer did re-establish his lead, but Kitata — who, unlike New York, had bided his time patiently in the pack throughout the race, never making a move of his own — was still within striking distance a few meters back. As they headed into the final turn, Kitata finally played his cards. Yimer had no chance as Kitata streaked away to victory.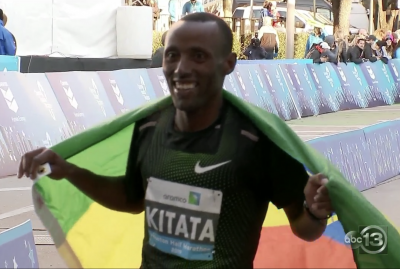 The top American man was Reed Fischer of Tinman Elite, the surprise fourth-placer in the 10,000 at last year's USA champs, who ran a big pb of 62:06 (previous PR of 62:57) to finish 10th, five seconds ahead of Parker Stinson (62:11), who ran a 27-second PR in his debut under the coaching of Dathan Ritzenhein. Australia's Patrick Tiernan easily took "top ex-NCAA runner honors" as he ran a big pb of 61:22 to finish 6th (previous pb of 63:53). Jim Walmsley, the accomplished ultramarathoner who was chasing an Olympic Trials qualifier, hit his goal on the nose as he ran 64:00 — the exact qualifying standard.
On the women's side, Sally Kipyego, running in her first race representing America– and just her second race of any kind in the last 26 months — finished 13th in 72:12.
Quick Take: We can't wait for the women's race in London
Earlier this week, the 2019 London Marathon elite field was released and we declared that the women's field, with seven sub-2:20 women, the greatest in history. Brigid Kosgei is one of those women as she ran 2:18:35 to win Chicago in October and today she yet again showed she's one of the world's very best on the roads. By running a 45-second pb today, Kosgei, who has been top two in her last three majors, showed she's likely to be a consistent sub-2:20 performer moving forward.
A big thing Kosgei has going for her is youth. Just 24, she's the only one of the five women with a sub-2:19 pb in London that is under the age of 33: Mary Keitany is 37, Vivian Cheruiyot and Gladys Cherono are 35, and Tirunesh Dibaba is 33 (2:19 performers Roza Dereje and Birhane Dibaba are both young as well at 21 and 25 respectively).
Quick Take: The finish was an all-around disaster
It's hard to say whether Yimer's wrong turn cost him the race. While it didn't look as if Kitata lost quite as much momentum as Yimer and Karoki, Kitata clearly had more in the tank in the final straight as he pulled away handily to win by three seconds. Would Yimer have been able to respond had he not made a wrong turn? We'll never know.
But that wasn't the only issue at the finish. Local station ABC13 was handling the broadcast and did an awful job handling the women's finish. After showing Kosgei cross the finish line, they cut to a close-up shot of Kosgei instead of showing the other runners still on the course, including Sisson who was chasing the AR.
Finally, the producers cut away from the close-up of Kosgei, but instead of showing the finish-line cam, they went to an interview of an oil executive and then to an interview of Kitata, who barely speaks English and required a translator. Anyone who wanted to know whether Sisson got the AR was pulling their hair out. Astute visitors got a glimpse of her just past the finish at the 61:31 mark and had to go to the online leaderboard (or the LetsRun messageboard) to confirm that she just missed the AR.
Quick Take: Jemal Yimer runs great but comes up just short yet again
Want proof that there is a lot of talent on the roads these days? Look no further than Jemal Yimer.
Only 22, today's half was the sixth of his career. His PR is 58:33 and the slowest he's ever run for a half marathon is 60:37 — he's also run 59:00, 60:33, 59:14 and 60:14 today — and yet he's never won a half marathon in his life. The reason? Competition. He's run some of the world's best half marathons, including RAK (2nd), Worlds (4th), Copenhagen (3rd), Valencia (2nd), and Houston (2nd).
That's pretty amazing if you ask us.
With as consistent as he is at the 13.1 distance, we can't wait until he make his marathon debut.
Quick Take: Some people are just made for the roads. Emily Sisson is one of them.
Sisson's camp was very high on her chances before today's race, with her coach Ray Treacy predicting a sub-68:00 and her training partner Molly Huddle saying she wouldn't be surprised if she broke the American record (67:25). Turns out Treacy and Huddle knew what they were talking about as Sisson have Huddle's record a serious scare and wound up becoming the second-fastest US half marathoner of all time (record-eligible course).
Sisson went out slowly, ran a very hard 10k in the middle, but slowed down just enough over the final 5k+ to miss the record.
Sisson's splits
5k: 16:09
10k: 31:49 (15:40)
15k: 47:48 (15:59)
20k: 64:03 (16:15)
Some women, such as Jordan Hasay and Paula Radcliffe, are just made to run long distances on the roads. For a long time, we've believed that Sisson was one of them as that's what Treacy told us in April of 2015, and she proved it today.
Consider this stat. Sisson's 10,000m personal best is 31:25. Today, she split 31:39 between 5k and 15k (a flat section of the course), her fastest ever 10k on the roads (she had run five 10ks on the roads before today, none faster than 31:47).
What does this mean for Sisson's future? Well for starters, it means that there will be a ton of hype surrounding her marathon debut in London in April. We were excited in 2017 when Jordan Hasay ran 68:40 and 67:55 in the leadup to her debut in Boston, and she delivered by running 2:23:00, the fastest debut ever by an American. Now Sisson is debuting on a faster course with a significantly faster PR in the half.
Second, it makes her a contender for the 2020 Olympic Trials in the marathon. Last summer, we predicted the 2020 Olympic team in the distance events and pencilled in Sisson in the 10,000. We said that only five women had a shot in the marathon: Huddle, Shalane Flanagan, Amy Cragg, Jordan Hasay, and Des Linden. Here's what we wrote:
Sisson is a classic grinder and while her best event may one day be the marathon, the marathon is too loaded right now for her to try to make the 2020 team. If she sticks in the 10k, however, she should nab a spot as it's not a particularly deep event domestically.
The latter part remains true: the 10k is her best spot to make the team. But Sisson's half marathon performance today shows that she certainly belongs in the marathon discussion — despite never having raced over 26.2 miles. No disrespect to women such as Kellyn Taylor, Laura Thweatt, and Sara Hall, who are successful, experienced marathoners, but talent trumps all. Sisson has the upside to compete with the likes of Cragg, Hasay, and Huddle on her best day. The others do not.
Even if Sisson doesn't make the Olympic team in the marathon, she's good enough that she could bounce back and likely make the team in the 10,000 on the track.
Quick Take: The jury is still out on Sally Kipyego
In her first race competing for the US, Kipyego finished 13th today in 72:12. That's not a great sign as she'll have to be in shape to hold that pace for twice as long if she is to make the Olympic marathon team in 13 months.
But we're not going to write Kipyego off. Heading into the race, no one knew what kind of shape Kipyego was in; now we have a starting point. And to run a good marathon, you need more than just a good buildup; you need a solid 12-18 months of training leading into it. Right now Kipyego, who missed all of 2017 and almost all of 2018, simply doesn't have that. But one of LetsRun.com's favorite mantras is "talent doesn't go away," and Kipyego, an Olympic silver medalist in London, is a monster talent. She could be in a very different spot by February 2020.
Quick Take: Kara Goucher struggles in return to the marathon
The 40-year-old Goucher stressed before Houston that she was running today's full marathon — her first since finishing 4th at the 2016 Olympic Trials — for her own joy, not for a time. And through halfway she was on pace to run 2:36. But she began to struggle after that point, running 19:34 for her split between 25k and 30k, and wound up dropping out before the 35k mark.
The winners of the marathon were Kenya's Albert Korir (2:10:02) and Ethiopia's Biruktayit Degefa (2:23:38) as Tyler Jermann (9th in 2:13:29) and Kelsey Bruce (6th, 2:31:53) took top American honors.
Quick Take: Jim Walmsley cuts it close
Walmsley, who last year set a course record at the famed Western States 100-Mile Endurance Run, stepped down from ultramarathoning to take a shot at an Olympic Trials qualifier in the half today. He just made it — he ran 64:00, which is the exact standard.
Walmsley admitted that he was nervous heading into the race with the do-or-die nature of his time goal, but that those nerves helped carry him to the standard. But he was worried all the way through the finish line.
"The clock did not have good vibes to it," Walmsley said. "You just see 1:03:52, :54, and just ticking and it was like, just quit looking at it and keep running. I saw :59 when I was going through. I don't know. I'm still waiting to see my name on the Olympic Trials qualifying list. Maybe I'll breathe a little easier after that."
Interview with Walmsley below courtesy of the Aramco Houston Half Marathon:
Full results can be found here.
More: David Monti's recap reveals that Kosgei was hoping to run sub-65 and has post-race quotes from Sisson: RRW Women Lead The Way In Houston With Fast Times In Half Marathon and Marathon .
Talk about the race on our world famous messageboard / fan forum: