The Greatest Women's Marathon Field Ever, Is This Molly Huddle's Last Chance to Run a Fast Time, & More Thoughts on the 2019 London Marathon
By Jonathan Gault
January 18, 2019
Once again, the Virgin Money London Marathon has outdone itself.
Almost every year, we find ourselves saying that London has put together the greatest marathon field of all time. And then another year passes, and we say it again.
We keep saying it because it's true. The world's best marathoners keep improving. Prior to last year, only five women had ever broken 2:19 in the marathon. Five women accomplished that in 2018 alone. And because London sucks up more of the world's best marathoners than any other race — four of those sub-2:19 women are running London this year (2:18:34 performer Ruti Aga isn't declared for any marathon in 2019 that we know of), and that doesn't include the fastest woman in the field, Mary Keitany (2:17:01 pb) — it stands to reason that the London field gets better every year as well.
Just how good is the 2019 London Marathon women's field?
Article continues below player.
It contains the reigning champions of five of the six World Marathon Majors. Only Des Linden, who is returning to Boston to defend her title, is absent. Plus it has the reigning champion of Dubai, the "seventh major," in Roza Dereje — who also happened to run a course record of 2:19:17 there last year.
No women's race has ever featured four women with sub-2:19 PRs (h/t Jon Mulkeen). London has five. Even better, all are still in their prime as all ran their PRs in either 2017 or 2018.
It contains four of the five fastest women of all time (Keitany, Tirunesh Dibaba, Gladys Cherono, Vivian Cheruiyot).
It's not hyperbole. This is the greatest women's marathon field of all time.
And we haven't even mentioned the men's field, which includes the entire top five from LetsRun's 2018 world rankings, led by a couple of guys you may have heard of: the world's first 2:01 marathoner, Eliud Kipchoge, and Great Britain's favorite son, Chicago Marathon champion Mo Farah. In all, there are eight men who have broken 2:05. If it's not the greatest men's marathon field ever assembled, it's certainly in the top five.
Plus American fans will have a reason to get up early to watch London this year — perhaps we should say "another reason" to watch, because we gave you about five in the introduction to this article — Molly Huddle will be going for a PR in London alongside her training partner Emily Sisson, who is making her much-anticipated marathon debut. Allie Kieffer and Chris Derrick are also running.
The race itself doesn't take place for another 100 days (April 28), so we still have a little over three full months to hype up the field. But we've got three quick thoughts on the fields below.
If you haven't seen the full elite fields yet, you can check them out here: 2019 London Marathon fields are out and are ABSOLUTELY AMAZING!! Field even includes Americans Huddle, Sisson and Derrick
1) Kipchoge remains the heavy favorite…but he'll have to beat a ton of studs to become the first man to win four London Marathons
As we mentioned above, LetsRun's entire top five from our 2018 men's marathon rankings will be running London this fall — Kipchoge, Shura Kitata (2018 London/NYC runner-up), Farah, Mosinet Geremew (CR in Dubai, 2nd in Chicago behind Farah), and Leul Gebreselassie (2:04:02 in Dubai, 2:04:31 CR in Valencia). Kipchoge, with his incredible 2:01:39 world record in Berlin last fall, is clearly on a different level than the rest of those guys. Not only is Kipchoge way faster than everyone else in this field (Wilson Kipsang, at 2:03:13, has the next-fastest PR in the field, but he's still a whopping 94 seconds off Kipchoge's best), he's also the most consistent marathoner in history: he's won 10 of his 11 career marathon starts, with his only defeat a 2:04:05 in his second career marathon in Berlin in 2013. Even on an "off" day, he's almost always better than everyone else in the world.
If Kipchoge runs his best, no one can touch him. There are three ways he could lose:
1) Injury/unforeseen circumstance. Kipchoge has never dropped out and has never appeared to have any fueling issues during a marathon (thanks Claus!). But sometimes marathoners are felled by things out of their control. It hasn't happened yet to Kipchoge, but that doesn't mean it's impossible.
2) Kipchoge declines sharply/begins to show his age. Kipchoge has shown no signs of slowing down — he set the freaking world record four months ago — but he cannot remain at this level forever. Remember Kipchoge is a guy who won a world title on the track – in 2003 – more than 15 years ago. Plus Kipchoge has already stayed at the top of his event longer than almost any marathoner in history — he hasn't lost a marathon in over five years, and London will mark four years with Kipchoge as the undisputed World #1 — so we're already in uncharted territory. Can he hold this form for another two years? Another five? No one knows. But eventually, the 34-year-old will either retire or slow down as Father Time is undefeated.
3) Kipchoge has an off day and someone else runs great. This is the most likely scenario. An off day for Kipchoge may still be something in the 2:03-high/2:04-low range, but there's enough talent behind him in this race that someone might be able to reach that level and defeat him. Kipsang and Stanley Biwott have both challenged Kipchoge in the final miles in London, and we even saw Guye Adola briefly take the lead over Kipchoge in the final 5k in Berlin in 2017. Of course, all three men lost those races.
2) This could be Molly Huddle's last chance to run a fast time
When a top American pro runs the London Marathon, it's usually for one reason: to run fast. Considering Boston doesn't have to pay Shalane Flanagan or Galen Rupp this year, we're sure they could have given her a bigger appearance fee than what she'll receive in London. But even though it doesn't feel like Huddle has been a marathoner for that long, this might be her last chance to run a truly fast time.
Think about it. Huddle is 34 years old right now. She told Runner's World she likely won't run a fall marathon in 2019, and if all goes to plan in 2020, she'll run the Olympic Trials and the Olympics, neither of which is going to be a fast race. So her next chance to run fast after this spring would not come until the spring of 2021, when she would be 36 years old. History says American female marathoners aren't still running PRs at that age. Check out the US all-time top 10:
| | | | |
| --- | --- | --- | --- |
| Athlete | PR | Race | Age at time of PR |
| Deena Kastor | 2:19:36 | 2006 London | 33 |
| Jordan Hasay | 2:20:57 | 2017 Chicago | 26 |
| Shalane Flanagan | 2:21:14 | 2014 Berlin | 33 |
| Joan Benoit Samuelson | 2:21:21 | 1985 Chicago | 28 |
| Amy Cragg | 2:21:42 | 2018 Tokyo | 34 |
| Des Linden | 2:22:38 | 2011 Boston | 27 |
| Kellyn Taylor | 2:24:29 | 2018 Grandma's | 31 |
| Kara Goucher | 2:24:52 | 2011 Boston | 32 |
| Laura Thweatt | 2:25:38 | 2017 London | 28 |
| Sara Hall | 2:26:20 | 2018 Ottawa | 35 |
And think about it from Huddle's perspective. What are you more likely to do in 2021: go to Boston, where you can pick up a bigger appearance fee, run in front of a home crowd, and face a weaker field; or go to London, where you won't get paid as much and face a much tougher field? She's already passing up one big(ger) paycheck to run London this spring and won't get any appearance fees for marathons in 2020. Going back to Boston in 2021 is the smart decision.
Which makes 2019 London even more important. Barring a 2011-like tailwind, London is a faster course than Boston, and Huddle is in her marathon prime. Americans of Huddle's stature rarely run London — Hasay, Flanagan, Cragg, Linden, and Goucher have never run it — but those that do have often done well. Both the American records were set in London (Kastor's 2:19:36 in 2006 and Khalid Khannouchi's 2:05:38 in 2002), and Ryan Hall ran very well there in his two appearances: a US debut record of 2:08:24 in 2007 and a 2:06:17 in 2008 (the fastest time ever by an American-born man at the time).
Huddle told RW she'd love to run in the 2:22-2:23 range, which is a reasonable goal given her times at other distances (30:13 in the 10,000, 67:25 in the half, both American records) and her most recent marathon result in NYC (4th in 2:26:44 in a big negative split) . The biggest issue could be finding someone to run with. Huddle's not going be able to keep up with the top group up front, who will be shooting for well under 2:20. There are four other women in the field with PRs between 2:20:00 and 2:28:00: Ethiopians Haftamnesh Tesfay (2:20:13) and Tadelech Bekele (2:21:40), Kenya's Linet Masai (2:23:46), and Australia's Sinead Diver (2:25:19), though Tesfay and Bekele, who was third last year in London before winning Amsterdam, will likely be shooting for much faster times than Huddle.
Of course, there is one other woman who could run with Huddle: her training partner Emily Sisson. That would be an ideal situation, of course, but the fastest debut marathon by an American woman is Jordan Hasay's 2:23:00. Would Huddle and Sisson's coach Ray Treacy trust Sisson to go out on that pace in her debut? We may learn more after we see what kind of shape Sisson is in at this weekend's Houston Half Marathon. But if Huddle and Sisson go out together in London, both women could stand to benefit.
3) Chris Derrick is America's best (non-Rupp) hope at a sub-2:10 in 2019.
In our first LetsRun.com podcast of 2019, our staffers were in agreement that, barring a fall marathon appearance by Galen Rupp (or Leonard Korir if he was to deb), no American man is going to break 2:10 in the marathon in 2019, but that prediction was made when we had no idea that Derrick was even running a spring marathon, let alone running London.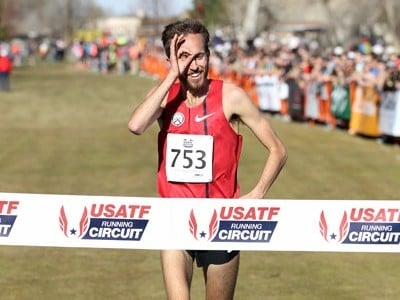 One of the reasons for the pessimism regarding an American sub-2:10 is where most of the top American guys are running this year. Most of America's top male marathoners are running Boston this spring (Shadrack Biwott, Jared Ward, Abdi Abdirahman, Scott Fauble, Dathan Ritzenhein) and Boston is not known as a fast course unless there is a tailwind. And it wouldn't surprise us to see most American marathoners punt on the fall marathon season in order put their entire focus on the Olympic Trials in February 2020. That leaves precious few opportunities for a top American to race on a fast course.
Enter Chris Derrick, the sole American man in the 2019 London elite field. Derrick's PRs at shorter distances (27:31 in the 10,000, 61:12 in the half) suggest he has sub-2:10 ability. Could he do it in London?
He should have some guys to run with. The Netherlands' Michel Butter (2:09:58), Belgium's Bashir Abdi (2:10:46), Canada's Cam Levins (2:09:25), and Brits Callum Hawkins (2:10:17) and Dewi Griffiths (2:09:49) all have PRs around 2:10. Several other guys in the field should be shooting for a time around that mark, such as Australian Brett Robinson, who wanted to run sub-2:10 in his debut in Fukuoka where he went out in 64:50 before dropping at 35k.
Is Derrick good enough to do it? He only ran 2:12:50 in his debut at 2017 Chicago, though in Derrick's defense, that was a tactical race (the winning time was just 2:09:20) and Jerry Schumacher likes his guys to be cautious in their marathon debuts. Last fall, he ran 2:13:08, good for 10th in New York (fourth American) — a performance that Derrick termed, in his own words, "almost good."
A 2:13:08 may seem like a long way away from 2:10, but one needs to remember that the New York course is probably at least 90 seconds slower than the London course.
That being said, the bottom line is if Derrick is to have a shot at sub-2:10 in London, he'll need to run better than he did in New York, for while London is a faster course than New York, 2018 New York had almost perfect conditions for running.
---
Discuss the 2019 London Marathon fields on the LetsRun.com messageboard: MB: 2019 London Marathon fields are out and are ABSOLUTELY AMAZING!! Field even includes Americans Huddle, Sisson and Derrick