What to Watch at 2018 NCAA Outdoors for Men: A Historic 400, A Battle of NCAA Champs in the 5K, & The Brilliance of Holloway, Saruni, & Kerr
By LetsRun.com
June 3, 2018
It's almost here. The 2018 NCAA Outdoor Track & Field Championships, aka the final meet at Hayward Field as we know it,start on Wednesday and run through Saturday.
While we can't guarantee that the final race at Hayward Field will be as exciting as the one that brought last year's meet to a close — Raevyn Rogers coming from behind to win the 4×400 for Oregon and clinch an unprecedented triple crown — this year's meet will once again be full of current and future stars.
Article continues below player
The NCAA is the best talent development system in the world. Which means that even when stars such as Christian Coleman and Emmanuel Korir, both of whom won titles at the 2017 NCAA championships, turn pro, there are replacements waiting in the wings — like USC's Michael Norman and Kentucky's Sydney McLaughlin, to name just two.
We realize that not everyone reading this article may have had the time to follow the entire NCAA track season. Fear not! We've gathered all the top storylines for the meet in one place so that you know which races to get most excited for. So read this article, get hype, and come back and visit LetsRun.com every day this week as we will have boots on the ground in Eugene starting on Tuesday and will have full recaps and analysis of all the action from NCAAs.
Below, we hit the top five men's storylines; our women's preview is coming soon.
Schedule/results * TV/streaming information * Men's entries
1. A men's 400 for the ages
Last year, Texas A&M's Fred Kerley had a season for the ages, running 43.70 to break the 25-year-old NCAA record held by 1992 Olympic champion Quincy Watts en route to NCAA and USA titles. Prior to Kerley, no collegian had ever broken 44 seconds, but it's very possible that in Friday's NCAA final, we could see multiple guys in the 43s.
It's no exaggeration to say that the 400 final at NCAAs will be close to the level of a World Championship final as the NCAA leader, Auburn's Nathon Allen, the NCAA runner-up outdoors last year, actually ran in the 400 final at Worlds last year for Jamaica and finished 5th, the same position he actually finished indoors at NCAAs this winter.
Allen is far from the only star in this race. Check out the 2018 world leaderboard (as of June 2). Half of the top eight will be at NCAAs:
1. 43.87 Steven Gardiner, The Bahamas
2. 44.23 Isaac Makwala, Botswana
3. 44.28 Nathon Allen, Auburn
4. 44.33 Fred Kerley, USA
5. 44.34 Nathan Strother, Tennessee
6. 44.37 Abdalelah Haroun, Qatar
7. 44.40 Michael Norman, USC
8. 44.55 Dwight St. Hillaire, Kentucky
But wait, there's more! Auburn's Akeem Bloomfield has "only" run 44.90 this year outdoors (#15 in the world), but he ran 44.86 indoors — good for #6 all-time (it took a world record from Norman to beat him at NCAAs). Houston's Kahmari Montgomery split 43.38 at the Penn Relays in April. Baylor's Wil London owns a 44.47 pb and made the U.S. World Championship team last year. Duke's Steven Solomon (44.97 pb) was an Olympic finalist in 2012, yet in this field, he's essentially an afterthought. In all, nine guys in this field have run sub-45 in 2018 alone. That means that a 44-second guy is guaranteed to miss the final. That's how good this field is.
While all of these guys would be worthy champions, the one man we can't wait to watch is USC's Michael Norman. The 20-year-old ran 44.52 to set the world indoor record at NCAA indoors in March, and he has yet to lose a race outdoors, sweeping the 200/400 at Pac-12s (windy 19.84/44.40). Most recently, he clocked an absurd 43.06 anchor leg on USC's 4×400 at regionals — the second-fastest in history, behind only Michael Johnson's 42.94 at the 1993 Worlds. Johnson ran 43.65 to win the individual 400 at that meet; we have no doubt that Norman is in sub-44 shape right now. He will certainly have the competition to push him in Eugene; we just hope that conditions are good enough on Friday to give him a chance to show how fast he can go.
MB: What will be the best race at Outdoor NCAAs?
2. The transcendent middle distance talents of Michael Saruni & Josh Kerr
Both of these guys already own NCAA titles and both have set the collegiate record in their event this year. Saruni, a Kenyan sophomore at UTEP, ran 1:43.25 at the Desert Heat Classic in Tucson on April 28 to break Donavan Brazier's two-year-old NCAA record; that time remains the world leader by some margin (Kenya's Wycliffe Kinyamal is second at 1:43.91). Kerr, a Scottish junior at New Mexico, ran 3:35.01 at the Bryan Clay Invitational in Azusa on April 20; that lowered the 3:35.30 collegiate mark of Villanova's Sydney Maree from 1981.
Both men are heavy favorites at NCAAs, but anything can happen at this meet. Here's how each man could go down.
Saruni
Saruni may be the NCAA indoor champion, but it did not come easily — he ran an awful race in the prelims this year and had to rely on a time qualifier just to make the final. And his two previous trips to NCAAs were both disasters: he was DQ'd at NCAA indoors in 2017 and fell in last year's NCAA outdoor final after a collision with teammate Emmanuel Korir, finishing last in 2:15. Plus he lost twice at his conference meet this year, although we're not too sure he was upset as his teammate won both races. As good as Penn State's Isaiah Harris (1:44.53 pb) is — he's been second at NCAAs twice and made the U.S. Worlds team last year — he can't beat Saruni when Saruni is at his best. But he's a better racer than Saruni, and if Saruni does something dumb, that could be enough for Harris to swoop in and steal the title.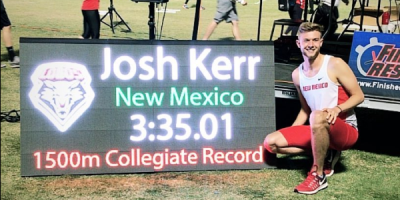 Kerr
If we could only bet on one man to win an NCAA title in Eugene this year between Saruni and Kerr, we would pick Kerr. Since he won his first NCAA title in March 2017, he has not been seriously challenged in NCAA finals. He won 2017 NCAA indoors by 2.20 seconds, 2017 NCAA outdoors by .47 of a second, and 2018 NCAA indoors by 1.34 seconds. And considering he set the collegiate record on April 20, he hasn't shown any signs of slowing down.
One worry could be that by running so fast so early — 3:35 in April is moving — Kerr may have peaked too soon. But last year, Kerr was able to follow up his NCAA title by making the British World Championship team at their trials in July, and he and coach Joe Franklin will likely have an eye on this year's European Championships in August. If the best argument against Kerr is that "he ran too fast," it's not a very good argument.
Really, the only argument that works against Kerr is history. According to Kevin Sully, No man has won NCAA mile/1500 titles indoors and out back to back years so maybe something fluky like a fall or food-poisoning could derail him.
If someone is to upset Kerr, we think it will be SEC champ Robert Domanic. He ran 3:54 for the full mile as a redshirt last year and leads the US in 2018 at 1500 (the U.S. #1 this year at 3:36.33). Another potential winner if Kerr falters is Oregon's Sam Prakel. Prakel made the NCAA final as a true freshman way back in 2014, and he's been terrific as a 5th-year senior in 2018. He took 3rd at NCAA indoors, and outdoors he has run 3:36.84 and won a loaded Pac-12 1500 that included Grant Fisher and 3:53 miler Sean McGorty.
3. How many points will Grant Holloway score?
Last year, as a true freshman at Florida, Holloway won the 110 hurdles and finished second in the long jump for a total of 18 points, giving Florida a 56.5-49.5 lead over Texas A&M heading into the final event of the meet, the 4×400 relay. With Texas A&M, the NCAA indoor 4×400 champions, favored to win the relay, Florida needed a fifth-place finish to guarantee its second consecutive team title. And because Holloway is a freakish track god, he anchored Florida to a fourth-place finish to ice the title. Oh, and did we mention he had the fastest anchor leg split? His 43.89 was even faster than A&M's Fred Kerley, who would win the U.S. 400 title two weeks later.
Again, Grant Holloway was a freshman when he did all this.
The 20-year-old has only gotten better in his second year in Gainesville. Indoors, he ran 7.42 to break the collegiate record in the 60 hurdles before replicating his outdoor triple (1st 60 hurdles, 2nd long jump, 3rd 4×400) to help the Gators to another national title. He enters the NCAA outdoor meet ranked #1 in the 110 hurdles (13.15) and #2 in the long jump (8.17m) and is expected to run legs on Florida's 4×100 and 4×400 relays.
Holloway is once again expected to lead the Gators to the title, and it's fun imagining how many points he might score. But we're most excited for his run in the 110 hurdles final. At last month's SEC championships, Holloway clocked 13.15 — a time that remains the world leader, and the fastest by a collegian since Renaldo Nehemiah's legendary 13.00 from 1979. It's unlikely that Holloway breaks 13 at NCAAs — when you're that fast, shaving off another .16 or more is incredibly tough. But when Nehemiah ran his 13.00, the world record (which he had set three weeks earlier) stood at 13.16. And Nehemiah was the same age — 20 — when he ran 13.00 that Holloway is now. We're not saying it's going to happen, but we can't wait to see Holloway try.
4. Can Justyn Knight close out his collegiate career with a 5k win against NCAA champs Grant Fisher & Andy Trouard?
The final men's individual event was a thriller last year, with Stanford's Fisher outkicking Syracuse's Knight and Arkansas' Jack Bruce over the final 100 meters to win an extremely tactical affair in 14:35.60. This year's race promises to be just as exciting. While Bruce did not qualify out of the West prelims (considering he ran 13:28 at Payton Jordan, we suspect some sort of injury was involved), Fisher and Knight both return. They'll be joined by another stud in Northern Arizona's Andy Trouard, the indoor 3k champ whose 13:21 at Payton Jordan puts him #2 on the 2018 NCAA list (Knight ran 13:18 in the same race).
Knight, Fisher, and Trouard are all NCAA champions already, and any one of the three could prevail in Eugene. Knight is the fastest of the trio at 13:17, and he also has the most decorated resume: he has two NCAA titles (XC, indoor 5k) to Fisher and Trouard's one and finished 9th at last year's World Championships in London. But while Knight can turn it over — his 3:36.07 1500 pb is #7 all-time in the NCAA — he can't change gears quite as well as Fisher (who outkicked him at NCAA outdoors last year) or Trouard (who outkicked him in the 3k at NCAA indoors this year). That said, he did beat both Trouard (in the 5k) and Fisher (in the 3k) at NCAA indoors, so he's still got a chance if it comes down to a kick.
Many expected big things from Fisher after he broke through to win his first NCAA title last year, but he has stagnated during his junior year. In XC, he finished 5th — the same as the previous year — and indoors he could only manage 4th in the 3k. And after winning the Pac-12 1500 with a savage kick last year outdoors, he finished 3rd this year on his home track. Still, Fisher remains a mega talent, and if he can win a second straight NCAA 5k title — something no American has done since Chris Solinsky in 2006-07 — it will go down as a successful season.
Since beating Knight in the 3k indoors, Trouard is 0-2 against Knight outdoors — the first was a spanking in the Bryan Clay 1500 (3:36-3:41) while the second was far more respectable in the Payton Jordan 5k (13:18-13:21). But Trouard proved indoors that past results do not necessarily indicate future performances as he bounced back from a 5th-place finish in the 5k to win the 3k. He's not someone we'd want to see on our shoulder with 200 meters to go.
5. Which collegiate records will fall?
We already mentioned above that the collegiate records in the 400 and 110 hurdles are vulnerable. And considering Michael Saruni has already broken the NCAA 800 record once this year, it's not out of the question that he could do it again at NCAAs. But those aren't the only marks under threat. Let's run through the others quickly:
4×400 relay (LSU, 2:59.59, 2005)
Though it has survived a few scares — Texas A&M came .01 from tying it in 2014 — LSU's 4×400 record has stood for almost 13 years. That was a special Tigers squad, and it was anchored by a special talent — a freshman by the name of Xavier Carter, who one year later would win the 100 and the 400 at NCAAs. But that mark may be living on borrowed time. Indoors, three teams ran faster than the old collegiate record at NCAAs, led by USC, which ran the fastest indoor time ever: 3:00.77 (not a world record, because of technicalities). That's actually faster than anyone has run this year outdoors, as USC has yet to really chase a fast time (they didn't even run the 4×400 at their conference meet). But with Michael Norman (he of the 43.06 anchor leg at regionals), 44.77 man Rai Benjamin, and solid depth behind them in Zach Shinnick (45.20) and Ricky Morgan, Jr. (45.44). Keep an eye on Texas A&M and Florida in this race as well.
Men's 400 hurdles (Kerron Clement, Florida, 47.56, 2005)
When USC's Rai Benjamin ran 47.98 at the West prelims, he became the first collegian since 2005 to break 48 in the 400 hurdles. Only four men have ever done it: Florida's Kerron Clement, LSU's Bennie Brazell (who had the misfortune of doing it in the same race as Clement), UCLA's Kevin Young (who would go on to set the world record of 46.78), and Benjamin. As with Holloway in the 110 hurdles, there's a big gap from 47.98 to 47.56, but Benjamin has at least an outside shot at the record.
***
Ranking the collegiate records in order of most to least-likely to fall, here's what we came up with:
1. 400 — Someone is running in the 43s, and we would not be surprised to see Norman run 43.6
2. 4×400 — Can USC shave three-tenths per leg off its indoor time? We say yes
3. 800 — Saruni has already run 1:43.25 this year, but soloing another 1:43-low is not easy
4. 400 hurdles — This would require a decent PR from Benjamin, but it's not unheard of
5. 110 hurdles — 13.00 is really fast
6. Any other record
---
Talk about the meet on our world famous fan forum / messageboard: MB: NCAA Champs is going to be bonkers (in the sprints, at least)
MB: What will be the best race at Outdoor NCAAs?