EUGENE, Ore. — The 2017 NCAA Outdoor Track & Field Men's Championships are in the books.
In the team battle, Florida repeated as they edged Texas A&M by two and there was a lot of fantastic sprint/field action led by Christian Coleman becoming the second man in NCAA history to win the 60 and 200 indoors and the 100 and 200 outdoors.
We recap all of that in a separate article (LRC Friday Rest of Meet Recap: Florida Repeats as Christian Coleman (100/200), KeAndre Bates (LJ/TJ) & Filip Mihaljevic (Shot/Discus) Earn Double Victories), but are starting our coverage with a recap of the four middle-distance and distance races from this afternoon/evening. Youth was served in the 800, 1500 and 5000 as three massive young talents got the wins. In the 800, freshman Emmanuel Korir of UTEP lived up to the hype. In the 1500, sophomore 19-year-old Josh Kerr of New Mexico was able to hold off a challenge from Ole Miss's Craig Engels, while sophomore Grant Fisher of Stanford won his first NCAA title in a tactical 5000. Fisher is the first American underclassman (freshman or sophomore) to win the 5000 in 28 years. In the steeplechase, senior Edwin Kibichiy PR'd to get the win.
Below we go into detail on those four races. We take the flat races in the order that they took place and then recap the steeple.
Men's 1500: Josh Kerr Completes The Mile/1500 Double
The NCAA men's 1500 final was expected to be a battle between New Mexico sophomore Josh Kerr and Ole Miss senior Craig Engels and that's exactly what it was. But in the end, Kerr was the winner as he pulled away late and won in 3:43.03 to become the first athlete to win the NCAA mile and 1500 titles in the same year since Leo Manzano did it in 2008. Engels finished third in 3:43.50 as just before the finish he left up ever so slightly and was passed by Michigan State sophomore Justine Kiprotich (3:43.54).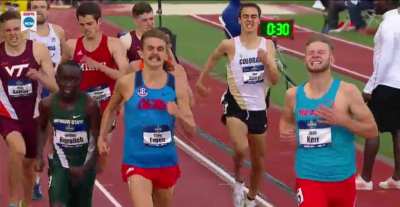 When the race started, Engels ran very hard for the first 50 as it seemed like he wanted to get the lead and slow it down. Kerr got out near the front as well and he and Engels were never separated by more than a few places from start to finish. The pace was far from quick (61.34, 2:03.94) but it increased a little bit on the third lap after Colorado senior Ben Saarel took the lead at 700. With a lap to go (2:48.78), Saarel led with Oklahoma State's Josh Thompson right next to him Engels and Kerr were right behind them. As Kerr moved up on the backstretch, Engels was following him from a few steps behind. Kerr went into the lead with just before 200 left and halfway around the turn, it was clear that it was a three-person race as Kerr led, with Engels right behind him and Kiprotich just behind Engels.
Engels stayed close to Kerr until about 50 meters remained and Kerr started to pull away.
Kerr, who is British, is, believe it or not, the first non-American champ to win the 1500 since Vincent Rono won in 2006 for South Alabama.
Results *Lap by Lap Splits
Place Athlete Affiliation Time
1 Josh KERR SO New Mexico 3:43.03
2 Justine KIPROTICH SO Michigan State 3:43.50
3 Craig ENGELS SR Ole Miss 3:43.54
4 Joshua THOMPSON SR Oklahoma State 3:44.34
5 Neil GOURLEY JR Virginia Tech 3:44.39
6 Andrew DUSING SR Miami (Ohio) 3:44.56
7 Jeff THIES JR Portland 3:44.59
8 Ben SAAREL JR Colorado 3:44.78
9 Vincent CIATTEI JR Virginia Tech 3:44.83
10 David TIMLIN SR Indiana State 3:45.41
11 Blake HANEY JR Oregon 3:50.51
12 Craig NOWAK SR Oklahoma State 3:52.60
Quick Take: Josh Kerr is stud but has more to do at the NCAA level
Josh Kerr is very, very good (first guy to complete the NCAA 1500-mile double in 9 years) and very, very young. He is a sophomore, but only 19 (he doesn't turn 20 until October).
For those of you who think he may have no more to accomplish at the NCAA level, think again. Kerr is not intending to go pro, although he will shift his focus this summer to trying to make the British team for the World Champs in London this year. He said there is more to accomplish at the NCAA level.
Kiprotich may be able to Kerr a run for his money, but even if he can't, Kerr talked about the NCAA record book as being something to target. His PR is 3:35.99 and the NCAA record is Sydney Maree's 3:35.30 from 1981.
Quick Take: Justine Kiprotich makes amends for regionals jersey mishap by taking second at NCAAs
Two weeks ago at regionals, Kiprotich was in danger of being eliminated without running a single step. Normally he puts his singlet and bib in his spike bag before every race, but he forgot to do it before his first-round race in Kentucky and was barred from racing. But Kiprotich, who admitted that the mishap was completely his fault, was ultimately allowed to run the next round anyway at regionals and proved he belonged by winning his heat to advance to NCAAs with the fastest qualifying time.
"Coming in [to nationals], coach told me, 'Man, people are going to be looking at you so give them a reason to not have to think otherwise.' In the back of my mind, I was like, "I've gotta do this to, I guess, bring my rep up back."
You could argue that Kiprotich benefited at regionals by not running the first round, but he ran both rounds here in Eugene and looked great in doing it, nipping Engels at the line for second.
"I'd say it was a perfect race," Kiprotich said. "Felt awesome coming with 400 to go. With 300 to go I made my move and was feeling great with that move."
Kiprotich, a redshirt sophomore, has made a massive improvement in just one year. In 2016, he was the Big 10 runner-up but he didn't even make it out of the first round of the East regional. But he bumped up his mileage this year and has been making smarter decisions about sleep and recovery and the result was a runner-up finish today. Kiprotich, who moved to the U.S. from Kenya in February 2010, said he doesn't have any plans to race this summer. As for U.S. citizenship, Kiprotich said that both of his parents and sister are U.S. citizens and that he's "kind of on the verge of like maybe becoming a citizen" but isn't sure whether he will pursue it fully or not.
Quick Take: Craig Engels was disappointed not to win, but he's not done: "I fully intend on making the World Championship team"
Engels admitted after the race that he didn't know Kiprotich was gaining on him on the home stretch and that made a mistake by not leaning at the line.
"He deserved second because he beat me, but I could have been second so easily," Engels said.
With 300 to go, Engels thought he was going to win. With 200 meters to go, Engels thought he was going to win. But with 100 to go, he began to worry, realizing that he wasn't gaining any ground on Kerr. Apart from not leaning at the line, Engels said that his other regret was not getting the lead with 200 to go.
"I guess I wish I had just taken it on Kerr with 200 to go, gotten into his head a little bit, but he was strong. I was trying to catch him the last 100 and didn't have it."
Though Engels was down after the race, he remains confident, saying afterwards, "I fully intend on making the World Championship team." Engels, who was 5th at the Olympic Trials last year, still needs the 3:36.00 IAAF standard, but said he isn't worried about that right now and will chase it after USAs should he make the team. He also said he'd like to break 4:00 in the mile — something that is a mere formality at this point given his 3:37 PR.
Men's 800: Emmanuel Korir Lives Up To The Hype
UTEP freshman Emmanuel Korir, who has run 44.53 for 400 and 1:43.73 for 800, is one of the greatest talents ever to set foot in NCAA competition and he showed that tonight by winning the NCAA outdoor 800 title in 1:45.03 in a race marred by Korir taking out his own teammate, Michael Saruni, from behind with a little less than 200 meters remaining.
The tangle between the two teammates may have cost UTEP a 1-2 finish as Saruni had the lead when he went down. Penn State sophomore Isaiah Harris, who was sixth at the US Olympic Trials last summer, ended up second in 1:45.40 with Georgetown's Joseph White third (1:45.73) as Saruni got up and finished last in 2:15.56.
The Race
Virginia Tech senior Drew Piazza took the field through 400 in 51.69 and was followed closely by Korir (51.90) and Saruni (52.08). As the runners approached 600, both of the UTEP runners got a little antsy. Saruni moved around Piazza on the outside while Korir tried the dangerous inside pass. As Korir tried to to tiptoe his way by Piazza on the inside, he visibly lost his balance but he never stepped inside the rail and once past Piazza, he seemed stable as he took at least 10 steps without incident before entering the final turn. As they entered the final turn, Saruni was a half stride or so ahead on the outside, but as he came inside for the turn, contact was made with Korir and Saruni went down hard. He slammed the track in disgust as his bid for glory was over.
Due to the contact, Korir lost some momentum and Harris, who was just 5th at 600, was having the best turn of anyone in the field. Heading into the finishing straight, Korir appeared a little vulnerable as he seemed out of rhythm but just as Harris got close to his shoulder with about 50 meters remaining, Korir found another gear and powered away to victory.
Video of race:
https://www.youtube.com/watch?v=VFsdl_YPvtk
Results
Place Athlete Affiliation Time
1 Emmanuel KORIR FR UTEP 1:45.03
2 Isaiah HARRIS SO Penn State 1:45.40
3 Joseph WHITE JR Georgetown 1:45.73
4 Robert HEPPENSTALL SO Wake Forest 1:46.68
5 Andres ARROYO SR Florida 1:47.28
6 Drew PIAZZA SR Virginia Tech 1:47.58
7 Devin DIXON FR Texas A&M 1:49.32
8 Michael SARUNI FR UTEP 2:15.56
Quick Take: Emmanuel Korir says he wants to run 1:40…eventually
Korir, a 21-year-old freshman, was asked about the tangle with Saruni after the race and his thoughts on the incident weren't totally clear, though he seemed to think the contact was out of his control (it was very hard to hear in the mixed zone as they placed the soft-spoken Korir right next to Harris).
"Saruni came in front of me and I was in space," Korir said. "I didn't have the control because I was in space…It was not my actual intention. The way you watch it, I wasn't expecting something like that. It was an accident, that is what I can say."
Though Korir was challenged in the homestretch, no one has beaten him this year. But his biggest test is yet to come as he will now head home to compete in the Kenyan Trials, which as usual are totally loaded at 800 meters. Korir is not afraid of the challenge, however.
"If Rudisha runs in front of me, I will be just behind him," Korir said. "…I am confident. Maybe I will even beat Rudisha."
The good news is that Korir won't have to beat Rudisha to make the World Champs team — in fact, he may not even have to race Rudisha as he Rudisha has a bye to Worlds as the defending champ (which means Kenya can enter four guys in London). Korir certainly is confident (and why shouldn't he be?) as he also said that he'd like to run 1:40 in the future. Rudisha's world record is 1:40.91.
"I came [to UTEP] with 1:46 and now I'm [at] 1:43," Korir said. "So there is a lot of improvement and I hope I will still improve because I am still working for it. Might be running 1:40. Might be…That is my goal. Because I know right now I might make it, or I will make it."
As for whether Korir will return to UTEP next year, he said he's not sure.
"I can't talk about anything for signing pro. If I will get a good chance, I don't know…"
QT: We feel bad for Saruni but are happy there wasn't a DQ
A yellow flag came up but ultimately there was no DQ for the fall. Do you think that was the right call? Watch the fall for yourself.
Would you dq someone for this? https://t.co/TTrFgm0lUt pic.twitter.com/gLHsVJvvDw

— LetsRun.com (@letsrundotcom) June 10, 2017
We also want to point out the idea that you can be DQ'd for fouling your teammate is kind of crazy if one is going to take the team part of the competition seriously. No football player (American or regular) has ever been called for a foul on his or her own teammate.
QT: Isaiah Harris Looks Forward to USAs
There is no shame in losing to Emmanuel Korir. Isaiah Harris gave Korir a run for his money on the homestretch and came up just short.
Now Harris will try to make the US team for Worlds. Last year Harris was 4th at NCAAs and 6th in the Olympic Trials 800m final.
QT: Joseph White Gets 3rd and Joins 1:45 Club
The Georgetown junior not only got 3rd, but he set a PR and went sub-1:46 for the first time.
QT Andres Arroyo helps Florida get team title 
Arroyo was an Olympic semi-finalist last year for Puerto Rico, but he often has failed to score points for Florida at NCAAs. Today he got four points for Florida in 5th place, while Texas A&M's Devin Dixon was 7th with 2 points. Switch their order of finish and Texas A&M is your national champ, so props to Arroyo for ending his Florida career with some valuable team points.
Messageboard talk: MB: 800M Final Men – strange tactics and tussle
Men's 5000: Grant Fisher Wins NCAA Title #1 By Outdueling Justyn Knight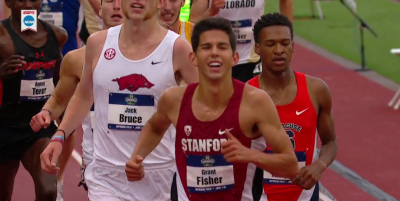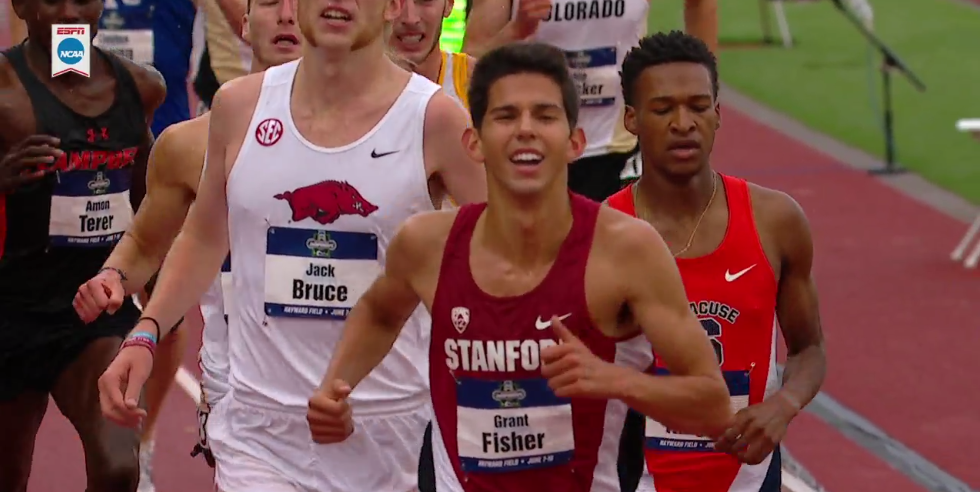 At the Pac-12 meet in mid-May, Stanford sophomore Grant Fisher showed that his speed was in great shape as he blew away everyone in a tactical 1500 final and won by nearly a full second. Thus it shouldn't come as a surprise that the winner of a very tactical men's 5000 tonight was Fisher. Fisher used a 4:05.75 final 1600 and 55.76 final 400 (28.2 final 200 as they misjudged their kicks a bit) to win the 5000 in 14:35.60, as Arkansas junior Jack Bruce was second in 14:35.88 and Syracuse junior Justyn Knight, who had the lead for most of the final 1500 and with 200 to go, was third in 14:36.23. Fisher's winning time was the slowest in an NCAA final since 1995.
The Race
Not much to say about this one other than the fact that it was very tactical to start as the first 1600 was run 5:07 and 3200 meters was hit in 9:51. The pack actually started to pick up the pace around 2600 as Campbell's Amon Terer decided it was time to stop jogging. After a 32-second first 200, all of the first six full laps from the finish line were run over 72 seconds for the leaders. All of the final 6 laps were run under 70 as Fisher's final 6 laps were 68.13, 69.17, 62.60, 64.48, 62.92 and 55.76.
Still, 12 guys still were with the lead pack at the bell as no one had pushed it very hard. Fisher and Knight were side by side in 4th and 5th. As they hit the backstretch, Fisher went wide to move up and Knight followed directly behind him. Then halfway down the backstretch, Knight went really hard as he clearly wanted the lead heading into the final 200. Fisher initially tried to hold him off but he then smartly settled in behind Knight (easy to say in hindsight now that we have the 200 splits) as they both were going to run slower for their final 200 than their penultimate 200. On the turn, Fisher stayed on the rail behind Knight, saving ground. Meanwhile, Bruce, who had been gapped by a few meters, was the one making a charge wide on the turn. As they hit the homestretch, Fisher finally moved out to try to pass Knight and found that Bruce was right on his own shoulder. Halfway down the homestretch, all three were basically side by side but Knight was headed backwards. Fisher got the lead with a little less than 50 meters remaining and would hold off Bruce for the win.
Video of final 200m:
Grant Fisher knows how to finish! Check out the final kick that won him the #NCAATF 5,000-meter title for @StanfordXCTF! #BackThePac

??? pic.twitter.com/LsvtZaGLan

— Pac-12 Network (@Pac12Network) June 10, 2017
Results *Lap By Lap Splits
Place Athlete Affiliation Time
1 Grant FISHER SO Stanford 14:35.60
2 Jack BRUCE JR Arkansas 14:35.88
3 Justyn KNIGHT JR Syracuse 14:36.23
4 Marc SCOTT SR Tulsa 14:36.57
5 Amon TERER SR Campbell 14:36.78
6 Chartt MILLER JR Iona 14:36.79
7 Joe KLECKER SO Colorado 14:38.03
8 John DRESSEL SO Colorado 14:38.40
9 Peter SEUFER SO Virginia Tech 14:38.44
10 Clayton YOUNG SO BYU 14:38.45
11 Zach PERRIN JR Colorado 14:41.50
12 Zach LONG SO Tennessee 14:42.94
13 Craig LAUTENSLAGER SR UT-Arlington 14:43.36
14 Daniel DE LA TORRE JR UCLA 14:43.49
15 Joe HARDY JR Wisconsin 14:43.50
16 Jonathan DAVIS FR Illinois 14:45.28
17 Julian OAKLEY SR Providence 14:45.63
18 Emmanuel ROTICH SO Tulane 14:50.62
19 Cole ROCKHOLD SO Colorado St. 14:50.92
20 Jason CRIST SR Indiana 14:53.63
21 Jacob CHOGE FR Mid. Tenn. State 14:55.95
22 Azaria KIRWA SO Liberty 14:59.12
23 Bryce STROEDE JR Oakland 15:00.50
24 Euan MAKEPEACE SO Butler 15:04.42
Quick Take: Grant Fisher takes the next step in a promising career by becoming an NCAA champion
Fisher entered Stanford with a ton of expectations as a two-time Foot Locker champion and sub-4:00 miler in high school. So far, he has risen to the challenge. Last year, as a true freshman, he was 17th at NCAA XC and ran 13:30 for 5,000 meters. This year, he moved up to fifth at NCAA XC and after a hip injury indoors, he's now an NCAA champion in just his second year of collegiate running.
How rare is that? Well Fisher, who was born in Canada but is an U.S. citizen, was the first American to win the outdoor 5k since Galen Rupp in 2009. And he's the first American freshman or sophomore to win it since Marc Davis way back in 1989. This kind of talent doesn't come around often.
Fisher said that he expected the race to be slow — not quite this slow — but was ready to run 64's or 74's — whatever it took to win. He said that his arms and legs were both feeling heavy from sprinting over the final 100 meters
"100 out, the finish line seems pretty close but also pretty far," Fisher said. "So, yeah, just tried to go to my arms and work my way there. Just one stride at a time. It took a while. It was a long home stretch."
Fisher was the only Stanford distance man to qualify for NCAAs — a rarity considering the Cardinal have been a distance power for decades.
"I was joking with Coach Milt before I warmed up for this and he's like, 'Oh, do you want me to come on your warmup with you?' And I was like, 'No, I'll be all right.'"
Fisher was confident that with better injury luck (last year's runner-up Sean McGorty has been banged up this year), Stanford will have more guys at the meet next year and said that he felt extra motivation to perform knowing that his teammates were cheering him on from afar.
Fisher said that he's not sure if he'll race USAs but he's exploring the option as he had fun last year at the Olympic Trials despite "getting [his] butt kicked."
Quick Take: Arkansas' Jack Bruce surprised everyone — even himself — by taking second
Bruce knew that he entered this race flying under the radar, but with 50 meters to go, he was right there battling it out with Fisher for the NCAA title. That was definitely a surprise to us, and it was a surprise to Bruce as well, as he said he would have been just as happy with fifth place as he was with second. But he proved today that he is a fine 5,000 runner (13:38 pb) with a big kick (56.19 last lap).
Bruce is only a junior, which means that next year's race should be exciting as well as the top three all return in 2018.
Bruce sported muttonchops for the meet in honor of fellow Aussie Hugh Jackman as his coach Chris Bucknam advised him to look as scary as he could for the race. Bruce did admit, however, that when it comes to hair, SEC rival Craig Engels has him beat with Engels' mustache/mullet combo ranking as superior to Bruce's muttonchops/man bun. 
Quick Take: Justyn Knight was disappointed to finish third today
Knight is generally one of the friendliest guys in the NCAA and while he certainly wasn't rude after today's race, his mood was far more somber than after his runner-up finishes in cross country and the 3k indoors.
Knight said that he didn't have a set plan going into the race as he's usually good at adapting to what each race presents.
"I don't have any regrets," Knight said. "I think everything's a learning lesson, you know. It wasn't my time to win, it's all in God's plan. It's just what it is."
Knight did his best to push the pace with a mile to go (Fisher had to close in 4:05 to win) but he did make a mistake by giving up the lead just before the bell as he was bounced around after that and had to expend precious energy in getting back in position to kick. It may not have mattered in the end, as Fisher's kick was superb today, but Knight may want to be more vigilant about protecting the lead in the future.
Knight's 2017 season isn't over, however, as the 20-year-old will run the Canadian championships in hopes of making his first World Championship team. Right now, his path looks pretty clear as he and Mo Ahmed are the only ones with the 13:22.60 IAAF standard.
Messageboard talk: Canadians go 1st & 3rd in the NCAA 5000m (Fisher was born in Canada)
Quick Take: Marc Scott said fourth place was an "average" performance for him
Scott, the 10,000m champ, said that he didn't recover from the 10k quite as well as he would have liked and as a result, he never felt good enough to make a big move to break up the slow race. Scott's fourth-place finish was still impressive as none of the three guys who beat him had 10 kilometers of racing in his legs from Wednesday night.
Scott will now head back to his native England to run the British Trials in the 5,000 (even if he makes it, he still needs the World Champs standard) but he said that long-term he'd like to stay in the U.S. to train and has some interest from pro groups.
Men's Steeple: Kibichiy Ends His Career In Style
Louisville senior Edwin Kibichiy lived up to his favorite status in the men's steeplechase as he basically led from start to finish before winning in a new personal best of 8:28.40 (previous pb of 8:30.71). Georgetown senior Darren Fahy had by far the best lap of anyone in the field (62.64 vs Kibichiy's 66.34) to get second in 8:31.08, just ahead of Oklahoma's Dylan Blankenbaker (8:31.17). Everyone in the top 5 had something to be proud of as they all PR'd. Ole Miss's MJ Erb was 4th (8:32.38) and Georgetown's Scott Carpenter was 5th (8:32.92)
Kibichy's last lap of 66.34 was just the sixth fastest of the night as he took all of the drama out of the race early. He gapped the field on the third to last lap to secure himself victory barring a fall or total blowup.
Results *Lap by Lap Splits
Place Athlete Affiliation Time
1 Edwin KIBICHIY SR Louisville 8:28.40
2 Darren FAHY SR Georgetown 8:31.08
3 Dylan BLANKENBAKER SR Oklahoma 8:31.17
4 MJ ERB SR Ole Miss 8:32.38
5 Scott CARPENTER JR Georgetown 8:32.92
6 Benard KETER SR Texas Tech 8:34.27
7 Troy FRALEY JR Gonzaga 8:35.38
8 Troy REEDER JR Furman 8:38.64
9 Emmanuel ROTICH SO Tulane 8:40.64
10 Jacob HESLINGTON FR BYU 8:44.28
11 Bailey ROTH SO Arizona 8:48.70
12 Noah SCHUTTE SO Portland 9:04.87
Quick Take: Kibichiy deserved this title
As a runner, the sport is a heck of lot more fun if you are improving. Kibichiy improved during all four years of his career at Louisville under coach Joe Walker both in terms of his seasonal best time and place at NCAAs.
Here is how Kibichiy progressed each year.
Year: PB/Place at NCAAs
Freshman Yr: 8:44.97, 11th
Sophomore Yr: 8:33.78, 9th
Junior Yr: 8:30.71, 3rd
Senior Yr: 8:28.40, 1st

That's textbook progression.
Kibichy showed a lot of emotion at the finish and afterwards said that he was just so grateful for the win as he came from such humble beginnings in Kenya. This was Edwin's first sub-8:30 clocking in the steeple. Kibichy never steepled before he came to America, but kept getting better and now is your NCAA champion.
Quick Take: Georgetown's Darren Fahy and Scott Carpenter used patience to both finish in the top five
Fahy and Carpenter's instructions from coach Brandon Bonsey before the race was to be patient and that approach worked as Fahy used a big kick to take second with Carpenter finishing just under two seconds behind in fifth.
Fahy said that when Carpenter came up on him with 300 to go, it provided him with a boost.
"I don't care losing to many people, but I don't want to lose to my teammate!" Fahy said. Still, he saved his last move until 150 to go, when he really began to kick, eventually running down Blankenbaker and edging ahead just before the line.
More: LRC Friday Rest of Meet Recap: Florida Repeats as Christian Coleman (100/200), KeAndre Bates (LJ/TJ) & Filip Mihaljevic (Shot/Discus) Earn Double Victories
Talk about the amazing meet on our fan forum / messageboard.