Sammy Watson Gets Her First NCAA Title, Karissa Schweizer Her Last, Allie Ostrander #2 and Jessica Hull #1
By LetsRun.com
June 9, 2018
EUGENE, Ore. — The final set of distance races at Hayward Field on the final day of the 2018 NCAA Outdoor Track & Field Championships had a little bit of everything. In the 800, Texas A&M Sammy Watson capitalized on her talent to win her first national title in 2:04.21. Oregon's Jessica Hull gave the home crowd one final champion to cheer for as she won a fast 1500 in 4:08.75. Boise State's Allie Ostrander joined Jenny Simpson as the only women to repeat in the steeplechase, front-running her way to victory in 9:39.28. And Missouri's Karissa Schweizer, beaten in Thursday's 10,000, bounced back to close out her fantastic NCAA career on top with a win in the 5,000 (15:41.58).
In between — and sometimes during — the races, the heavens opened, dumping rain, and even some hail, on a cool, wet late-spring day in Oregon. Full recap, analysis, and interviews of all the distance finals below in the order they were run. For a recap of crazy 4×400 that won the meet for USC click here, for video highlights of NCAAs click here.
Article continues below player
1500: Patience pays off for Jessica Hull
Just as in Thursday's prelims, UNH's indoor mile champion Elle Purrier was determined to make this a fast race, taking it out in 64.78 (4:03 pace) — even faster than her 64.93 split from the semis. At that point, Oregon's Jessica Hull was on her shoulder and it would remain that way all the way to the bell (3:04.16). Purrier was doing her best to string out the field, but with 400 to go, there were still seven women in the lead pack, and Hull, after waiting patiently for 1200 meters, could no longer resist and made a push for the lead down the back straight as Stanford's Christina Aragon moved up to third.Results
Purrier held her off, but Hull went again around the final turn, and got to the front with 130 to go, Aragon following into second as Purrier began to slide backwards. Though Stanford teammates Aragon and Elise Cranny were closing well, so was Hull, and the only woman who had a serious chance to get her was last year's runner-up, Nikki Hiltz of Arkansas, who was charging hard on the outside. Hull held strong, however, and closed out her first NCAA title in 4:08.75, her second pb in three days (she ran 4:10.09 in the prelims). Hull's 64.54 final 400 was just .02 faster than Hiltz's, but Hull had superior position throughout the race and used it to her advantage.
Results
1 Jessica HULL SO Oregon 4:08.75 PB
2 Nikki HILTZ SR Arkansas 4:09.14 PB
3 Elise CRANNY SR Stanford 4:09.49 PB
4 Christina ARAGON SO Stanford 4:09.59 PB
5 Rachel POCRATSKY JR Virginia Tech 4:10.84
6 Taryn RAWLINGS JR Portland 4:11.37 PB
7 Elinor PURRIER SR New Hampshire 4:11.56
8 Danae RIVERS SO Penn State 4:12.36
9 Grace BARNETT SR Clemson 4:13.01
10 Dillon MCCLINTOCK SO Michigan State 4:15.29
11 Janelle NOE JR Toledo 4:20.37
12 Martina RODRIGUEZ SR Memphis 4:22.08
Hull knew she had to stay patient, and she did
Hull was ready for a number of scenarios after the race, but was pleased that Purrier took it out fast.
"It's very fair," Hull said. "Everyone stays on their feet. There's not as much jostling."
Hull admitted that she's not a naturally patient runner, and she was getting antsy with 800 to go, but knew that she had to wait and stuck to that plan.
"[Oregon coach] Maurica [Powell] does every little bit of preparation for us when it comes to race plans and I have to trust that. And I trust it 100%. So I was like, okay, I can wait. It was kind of nice to feel like I was doing it right."
Hull's win capped a good weekend for Australians in the 1500 meters. Hull, from New South Wales, won today, making it an Aussie sweep after Wisconsin's Ollie Hoare of Sydney took the men's title yesterday.
After finishing 2nd for the 2nd straight year, Arkansas Nikki Hiltz said it felt like a win considering she had surgery less than 2 months ago
Hiltz said that obviously everyone wants to win, but given her recent medical issues that this afternoon's runner-up showing felt like a win. A month ago, the Oregon native said she said she thought she'd be watching this meet as a spectator.
And for good reason. Hitz opened up outdoors at SECs where she was 4th on May 13th. Now she's second in the country and with a PB of 4:09.14 to boot (previous pb of 4:10.80).
Hiltz, who began her career as an Oregon Duck, but transferred due to financial reasons, was effervescent in praise for the people at Arkansas who got her to the start line today and said the whole experience has made her realize that cross training really works. Hiltz now will be looking for a professional sponsor and will be represented by Hawi Keflezighi.
Ellie Purrier couldn't repeat her indoor magic
Indoors, Purrier won the NCAA mile title by essentially going wire-to-wire (Dani Jones pulled level with her late, but Purrier held her off for the win). She tried to do the same thing today, and with 200 to go, after successfully repelling Hull's challenge, it looked like she might repeat her indoor success.
But this was a strong field — the top four women all broke 4:10, something no NCAA woman had done yet in 2018 — and Purrier, despite her brave effort, was simply outrun over the final 100.
Elise Cranny was happy to be racing at a high-level after failing to qualify last year due to injury issues
Cranny, who PR'd by .05 today, said her career at Stanford isn't over as she's still got XC eligibility.
Stanford's Christina Aragon
Steeple: Boise State's Allie Ostrander Repeats
At an NCAA championships where only three of the 10 distance favorites lived up to their billing and won, Boise State redshirt sophomore Allie Ostrander easily came through and repeated as the women's steeple champion. Ostrander, who was picked to win by 95.2% of the people entering our prediction contest, went wire-to-wire as she led every time the runners crossed the finishing line, breaking things open on the penultimate lap (she led by 4.59 seconds at the bell) and cruising to victory in 9:39.28, not far off of her 9:38.57 pb. Behind Ostrander, the second, third and fourth placers all PR'd in their quest to stay with Ostrander with New Mexico's Charlotte Prouse finishing second in 9:45.25, Syracuse's Paige Stoner third in 9:46.98, and Michigan senior Claire Borchers 4th in 9:48.33.
Ostrander is just the second woman in NCAA history to repeat in the women's steeplechase, which was first contested in 2001. Three-time champion Jenny Simpson (nee Barringer) won back-to-back titles in 2008 and 2009 (and another one in 2006).
Results
1 Allie OSTRANDER SO Boise State 9:39.28
2 Charlotte PROUSE SO New Mexico 9:45.45 PB
3 Paige STONER JR Syracuse 9:46.98 PB
4 Claire BORCHERS SR Michigan 9:48.33 PB
5 Val CONSTIEN JR Colorado 9:48.40
6 Grayson MURPHY SR Utah 9:48.80
7 Courtney COPPINGER SR Kansas 9:49.04 PB
8 Cierra SIMMONS JR Utah State 9:49.33 PB
9 Sarah SCOTT JR Oklahoma 9:56.17 PB
10 Alsu BOGDANOVA SR Eastern Michigan 9:59.29
11 Devin CLARK SO Arkansas 10:03.70
12 Katy KUNC SR Kentucky 10:09.04
Allie Ostrander repeats but wants to keep running other events, too
Ostrander admitted that this year's title was a little easier than last year, when she had to come from behind to beat Elle Purrier. Ostrander was focused on winning this race, but her future plans are very much up in the air. She was asked about potentially going four-for-four in the steeple, and while she said that would be cool, she wants to keep running other events (she was 8th in the 5k today as well), including the 10,000, an event she has yet to contest.
Ostrander isn't sure what she'll do next. She said she's not sure if she'll race at USAs, and also said it's doubtful that she runs the grueling Mt. Marathon mountain race in her native Alaska.
"I won't be able to go home soon enough to train for it, so I don't want to do it without training," Ostrander said. "That would make me sore for about a month."
Paige Stoner keeps making history for the Syracuse women
With her third place showing today, Stoner has now recorded the highest finishes in Syracuse women's program history in both women's cross country (17th) and women's outdoor track (tying Jillian Drouin, who was third in the hep in 2007).
Stoner, who began her career at Lipscomb, revealed that she finds the training at Syracuse to be easier than at Lipscomb as she says there is more recovery built in.
New Mexico's Charlotte Prouse kept the faith after finishing 2nd at her conference meet and now she's second in the country
Women's 800 Sammy Watson wins her first NCAA title
World youth champion — check.
World junior champion — check.
NCAA champion — check.
18-year-old Texas A&M freshman Sammy Watson held off Middle Tennessee State's Abike Egbeniyi to win her first NCAA title in 2:04.21, as NAU's Ashley Taylor was third, Siofra Cleirigh Buttner of Villanova/Ireland fourth, and NCAA indoor champ Sabrina Southerland of Oregon 7th.
Watson's teammate Jazmine Fray, the NCAA record holder at 800 indoors, led the race held in a cool rain for the first 400m (61.08). Cleirigh Buttner was right with her and on the backstretch Cleirigh Buttner took the lead on the inside. Fray began to fade around the turn as Watson moved up to second and then Egbeniyi began to try to make a move on the outside of Watson. That is when Watson struck as well, making sure Egbeniyi could not box her in.
Watson took the lead at the start of the homestretch and Cleirigh Buttner would run out of steam, but Egbeniyi battled with Watson all the way to the finish. Watson glanced over her a few times but kept gutting it out. She leaned at the line and it was clear she was the winner but she stumbled to the track and fell on her back. There must have been some doubt in her mind as then she rolled over in the rain, glanced at the jumbotron, saw she was the winner and rolled back over with a big smile on her face. NCAA championship #1 in the books.
Results
1 Sammy WATSON FR Texas A&M 2:04.21
2 Abike EGBENIYI JR Mid. Tenn. State 2:04.33
3 Ashley TAYLOR SR Northern Arizona 2:05.01
4 Siofra CLEIRIGH BUTTNER SR Villanova 2:05.73
5 Olivia BAKER SR Stanford 2:06.18
6 Martha BISSAH SO Norfolk State 2:06.79
7 Sabrina SOUTHERLAND SR Oregon 2:06.99
8 Jazmine FRAY JR Texas A&M 2:07.34

Quick Take: Sammy Watson is only 18 years old
The time may not have been that impressive, but none of that matters. Watson's future is very bright and she ends her collegiate season with an NCAA title.
Watson still has not come close to the times she ran prior to entering college (2:01.78 indoors vs. 2:02.65 indoors at A&M) and 2:00.65 outdoors (2:02.20 at A&M), but the adjustment to college is not an easy one.
Watson acknowledged she thought she would run faster than she has this year saying, "The times, I expected so much more from me" but said she had to learn how to race with people who for once were on her level. In high school she was head and shoulders better than everyone else.
Watson relished the victory. "All the hard work paid off. All the trials, the tough workouts, and the doubts, it meant something and it came to something. I wanted this. I wanted this bad. Hopefully there's more in store the next few years and I can do better." When asked if she ever regretted not going pro after high school she added, "I have no regrets about not going pro because I know I can do that later."
QT: Jazmine Fray needs to learn how to race

Watson's teammate, Fray, ran 2:00.69 and broke the collegiate indoor record at 800 in her second 800 in college last year, but she, like Watson, is very raw as a racer. Fray likes to lead and that strategy works very well indoors where there is no wind, narrow straightaways, and twice as many turns, but outdoors Fray needs to work on her tactics. She let Cleirigh Buttner go by her on the inside on the back straightaway. It probably wouldn't have made a difference as Fray faded to last in 2:07.34, but it was a rookie mistake. NEVER get passed on the inside. This was the first outdoor final that Fray made, which is a step in the right direction, (she's been 4th and 5th indoors), but the 2:00.69 hints at the possibility of doing something much greater just like Watson.
Villanova's Siofra Cleirigh Buttner didn't have any regrets about going to the lead with 200 to go
Cleirigh Buttner said the move felt right but she just wasn't able to hold onto the lead over the final 100. She's said it's always been a dream of hers to run professionally so she's looking forward to continue with her career.
Northern Arizona's Ashley Taylor tried to tell herself that today's weather was Canadian weather
Oregon's Sabrina Southerland did not end her collegiate career the way she wanted
Women's 5000: Schweizer battles back from 10k defeat to go out as a champion
Two days after coming up short as the favorite in the women's 10,000, Missouri senior Karissa Schweizer came back and ended her illustrious collegiate career in style as she captured the sixth NCAA title, this one in the women's 5000. Schweizer won in 15:41.58 thanks to a 66.19 final lap, during which she passed Stanford's Vanessa Fraser early in the final 100.
Behind Schweizer, Furman senior Allie Buchalski, a two-time NCAA top 10er in XC, ended her collegiate career with a career-best showing in the track as she went from fourth to second on the last lap (15:42.77) thanks to a 66.53 final 400. Oregon junior Lilli Burdon was the only other runner with a sub-67 final lap (66.90) and that took her from fifth to third in 15:43.22. Stanford's Fraser, who tried to mimic the strategy of "take the lead before the bell and not give it up" that Stanford's Sean McGorty used to win the men's 5000 yesterday, faded from 1st to fourth (15:43.77) in the final 100.  Had she finished 2nd, Stanford would have won the women's team title (they ended up 3rd, two points out of 1st). 2017 NCAA cross country champ Ednah Kurgat, who led for most of the race until the late stages, ended up 6th in 15:46.31.
Counting cross country, this race had five NCAA champs in it. 2017 and 2018 steeple champ Allie Ostrander came back and scored in the 5000 once again (8th, 15:46.50), 2017 NCAA 10k champ Charlotte Taylor was 11th in 15:49.70, and Kansas' Sharon Lokedi, who won the 10,000 on Thursday, was 12th in 15:51.29.
Results
1 Karissa SCHWEIZER SR Missouri 15:41.58
2 Allie BUCHALSKI SR Furman 15:42.77
3 Lilli BURDON JR Oregon 15:43.22
4 Vanessa FRASER SR Stanford 15:43.77
5 Amy-Eloise NEALE SR Washington 15:44.41
6 Ednah KURGAT JR New Mexico 15:46.31
7 Jessica DROP SO Georgia 15:46.39
8 Allie OSTRANDER SO Boise State 15:46.50
9 Weini KELATI FR New Mexico 15:46.57
10 Erika KEMP SR North Carolina St. 15:48.62
11 Charlotte TAYLOR SR San Francisco 15:49.70
12 Sharon LOKEDI JR Kansas 15:51.29
13 Erin CLARK SR Colorado 15:51.80
14 Nicole HUTCHINSON JR Villanova 15:57.00
15 Savannah CARNAHAN SO Furman 15:57.42
16 Elly HENES SO North Carolina St. 15:57.69
17 Samantha NADEL SR Oregon 16:01.14
18 Alicia MONSON SO Wisconsin 16:04.46
19 Abbey WHEELER SO Providence 16:06.69
20 Rachel DADAMIO SO Notre Dame 16:07.39 PB
21 Katherine RECEVEUR JR Indiana 16:08.40
22 Morgan ILSE JR North Carolina 16:08.83
23 Hannah STEELMAN FR Wofford 16:09.63 PB
24 Bailey DAVIS JR Louisville 16:36.04
Quick Take: Schweizer and coach Marc Burns knew she could bounce back after finishing 3rd in the 10k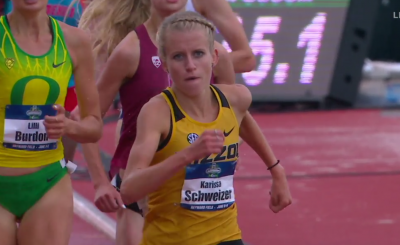 Schweizer was under a lot of pressure coming into this weekend. Even with five national titles under her belt, shoe companies put a lot of stock into how an athlete fares at their final NCAAs, and the fact that she was able to come back to win the 5k even after she was defeated in the 10k will win her some respect.
Schweizer and her coach Marc Burns had considered doubling at NCAAs last year, but ultimately elected to run the 5k only (which Schweizer won). But the seed had been planted, and this year, she wanted to do two events. Considering the 1500 and 5k finals would be held on the same day, they elected for the 5k/10k double, and though Schweizer fell short, she did so against a strong field that saw the top six women break a 30-year-old meet record.
"She actually was okay with the result because she knew the historical meaning of what happened out there and how fast they ran," Burns said. "I think her biggest piece of disappointment was this feeling that she disappointed people."
Burns quickly disabused her of that notion, pointing out that she had given everything she could, and "by the time we got back to the tent," Burns said, "she was like, 'I want to run the 5k right now.'"
Schweizer admitted that she felt "a little off" this morning with a hard 10k in her legs, but did her best to block it out.
"I wanted to battle back and prove that that wasn't me that day," Schweizer said.
She succeeded.
Schweizer is now the sixth woman to repeat as NCAA 5k champ, and the first to do so since Dartmouth's Abbey D'Agostino in 2012-13. She's also clearly the best pro prospect among graduating seniors in the distances (remember, she was 4th at USAs last year) so there should be some competition for her services as a professional.
Be a fan and talk about the action on our world famous messageboard: