USC Women Bring the Curtain Down on Hayward Field By Clinching the National Title in Dramatic 4×400 Relay
By Jonathan Gault
June 9, 2018
EUGENE, Ore. — If the Track Gods are real, if there is such a thing as "Hayward Magic," the women's 4×400 relay at the 2018 NCAA Outdoor Track & Field Championships is exhibit A.
The stakes: USC, the NCAA indoor champion in the relay, needed a win to clinch its first national title in 17 years; any other outcome would result in a Georgia victory. This was familiar territory for Georgia; last year, Oregon was in the same position as USC, needing a victory to prevent Georgia from winning the title. And in that race, Georgia was rooting for USC, only for the Ducks' Raevyn Rogers to nip the Trojans' Kendall Ellis at the line to break the Bulldogs' hearts.
Oh, and this was (probably, almost definitely) the final major race of the final meet at 99-year-old Hayward Field before the stadium is razed and rebuilt ahead of the 2021 World Championships (there was an all-comers meet after NCAAs). Pretty important stuff.
Article continues below player.
If you haven't seen the race…well, let's put this politely…what have you been doing? Watch it now:
You gotta see this! #ncaaTF pic.twitter.com/vT2sSrKkIR

— NCAA Track & Field (@NCAATrackField) June 10, 2018
If you have, then you'll know that what you witnessed was three minutes and twenty-seven-point-oh-six seconds of pure drama, a race that conjured once last roar as the runners streaked past the west grandstand toward the finish, one last collective cry of disbelief after a lean at the line, and one last legendary moment at a venue that has produced so many of them.
USC is the 2018 NCAA champion, and the Trojans did it in style, winning the 4×400 over Purdue, 3:27.06 to 3:27.13, and the team title, 53 points to Georgia's 52. Kendall Ellis is the hero, splitting 50.05 — a full two seconds better than any other anchor leg — to nip Purdue's fading Jahneya Mitchell (52.08) at the finish line after overcoming an enormous deficit. (25 meters? 30? 35? Whatever it was with 200 to go, it seemed too big).
But all of it almost never happened.
***
Just 15 minutes earlier, it looked as if the 4×400 might not impact the team title at all. The last individual finals, the discus and 5,000 meters, were being contested simultaneously, and if either broke differently, Stanford could have rendered the 4×400 meaningless. The Cardinal had 40 points and needed to get to 54 points, and seemed destined to get there — Valarie Allman held the lead through the fifth of six rounds in the discus, and her teammate Vanessa Fraser led the 5,000 with 200 to go. But neither could stay there; Allman fouled her final attempt as two women moved past her on their last throws just minutes before Fraser faded from first to fourth over the last half-lap. They would combine for 11 points to bring Stanford to 51; not enough to catch Georgia, and enough to keep USC alive.
At this point, USC head coach Caryl Smith Gilbert was, in her own words, "a wreck," but she pulled herself together and kept it simple as she sent off her 4×400 squad knowing a win would clinch the title.
"It's your moment if you want it," Smith Gilbert told them.
Throughout the year, Smith Gilbert, who became the fourth woman to coach an NCAA track champion, and the first since 2005, repeated a message to her charges: "life doesn't have to be perfect." That maxim would be tested in the 4×400.
After the first two legs by Kyra Constantine and Anna Cockrell, USC was in fourth place, 20 meters back of Purdue. The Trojans' third leg, Deanna Hill, could not make up any of that gap for the first 200 meters, but as she came off the final turn, she began gobbling up ground, first passing Florida into third and drawing level with Oregon in second by the final exchange.
Then: disaster. Hill extended the baton to Ellis, who had been upset 80 minutes earlier in the individual 400. But Ellis could not grab it cleanly; she was hung up, and by the time Hill fumbled the baton into her hand, colliding with Florida anchor Taylor Sharpe in the process, they had lost a second or more and were back to fourth.
But the baton was not on the ground. It was in the right hand of Ellis, easily the best anchor in the field.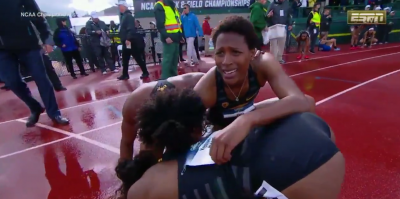 For Ellis, the scenario was flipped from 2017. A year ago, Ellis had to hold off Rogers in order for Georgia to win the national title. This year, she had to run down to Purdue to beat Georgia for the national title. But there was one constant: for the second year in a row, Ellis made an inside pass midway through the first turn. At the same spot. One of track's 10 Commandments — don't get passed on the inside — broken in the same race, in the same spot, with the same athlete taking advantage. If the Track Gods exist, they have a sense of humor.
Even after Ellis squeezed past Kentucky anchor Kayelle Clarke, she was still only in third place. With 200 to, she was stil in third, a full two seconds behind Purdue's Mitchell.
"I just don't know if Purdue is going to get caught," Jill Montgomery said on the ESPN broadcast.
"No, there's no way, unless they drop the baton," replied Dwight Stones. "Purdue's gonna win this."
But it wasn't over. One of track's simple pleasures — one runner slowing, another gaining — was playing out at Hayward Field one last time. One did not need to watch the finish to know the outcome; listening to the crowd, its screams picking up with every step Ellis took and crescendoing as she powered by a flailing Mitchell, was enough to know Ellis and USC had done it.
Maybe Hayward Field is still standing a year from now. With Phil Knight's millions powering a seemingly-inevitable rebuild, that seems unlikely. But if this was the final significant race, it was a fitting sendoff indeed. Caryl Smith Gilbert is right; life doesn't have to be perfect, and USC's final exchange certainly wasn't.
But the ending? Yes, that ending was perfect.
USC coach Caryl Smith Gilbert
USC's victorious 4×400 (from left: Constantine, Ellis, Cockrell, Hill)