Netsanet Gudeta Kebede of Ethiopia Sets Women's Only World Record of 66:11 at 2018 IAAF World Half Marathon Championships
By LetsRun.com
March 24, 2018
At each of the last two World Half Marathon Championships, the Kenyan women swept the medals, but today belonged to Ethiopia as they won both the individual and women's team title. 27-year-old Netsanet Gudeta Kebede led the way for Ethiopia as she dropped world record holder, Joyciline Jepkosgei of Kenya around 14km, and went on to set a world record herself, clocking 66:11 to run the fastest time ever in a women's-only race (Jepkosgei has the overall WR at 64:51). Gudeta wound up winning with ease as she had dropped the field by 15km before splitting 15:23 from 15k to 20k to build up an enormous lead. Her eventual margin of victory was an incredible 43 seconds over runner-up Jepkosgei. Kenyan Pauline Kamulu took bronze in 66:56, two seconds behind Jepkosgei.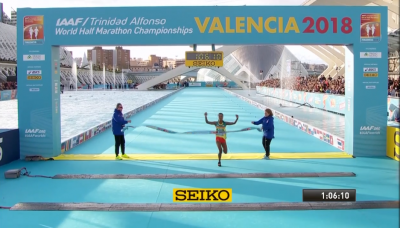 The victory was particularly sweet for Gudeta as she had been denied medals by the Kenyans in the past; in each of the past two editions, she finished as the top non-Kenyan (4th in 2016, 6th in 2014) but could not crack the podium. In all, Gudeta, who was the bronze medallist at the 2015 World XC Champs, took home at least $80,000 in prize money — $30,000 for the win, $50,000 for breaking Lornah Kiplagat's women's-only world record of 66:25, and a share of the $15,000 prize money awarded to the victorious Ethiopian team.
Article continues below player
Like our coverage from Albuquerque?
Emma Bates finished as the top American in 27th, clocking a PR of 71:45 as the US women finished 9th in the team standings.
Quick Take: A breakthrough performance by Netsanet Gudeta Kebede
Gudeta had some impressive results to her name before today but this was quite easily the biggest win of her career. She did it in style as well, as her winning margin of 43 seconds was the largest in this race since the great Mary Keitany in 2009.
Breakthroughs in Valencia are nothing new for Kebede, however, as she ran a PR of 1:15 there in 2015 to win the Valencia Half Marathon in 67:31.
Even though there were some high-profile scratches before the race (64:52 woman Fancy Chemutai, two-time World Half medalist Mary Wacera), Gudeta's performance today would have been tough to beat by anyone. If you're wondering, she has run one career marathon: she was 6th in Paris last year in 2:2:15..
Quick Take: Joyciline Jepkosgei has come back to earth, but silver is a good result in her first global championship
Jepkosgei had a year for the ages in 2017 with seven world records, including two at the half-marathon distance, but it is difficult to stay miles ahead of the rest of the world in any discipline, and Jepkosgei has come back to the pack in 2018. She was only 5th at the RAK Half last month, where Chemutai missed the WR by one second, and today she was 43 seconds behind the winner Kebede.
That's not meant to disparage Jepkosgei, however — silver in 66:54 today was an objectively good result, and she showed a strong fighting spirit as she reeled in Kamulu for the silver medal after being dropped.
Quick Take: Only running three athletes hurt Kenya in the team race
Ethiopia defeated Kenya for the team title (which is determined by adding the time of a team's first three finishers), 3:22:27 to 3:23:02, even though Kenyans ran two of the three fastest times on the day. But Kenya's #3, Ruth Chepngetich, who owns a 66:19 pb, could only manage 13th in 69:12, which meant Ethiopia claimed the team title by 35 seconds.
Kenya, of course, only started three athletes as both Fancy Chemutai and Mary Wacera were late scratches due to injury and Kenya had not entered alternates to replace them (the same thing happened to the U.S., BTW). Had they entered a full team of five, Kenya likely would have won. Their #3 would only have had to run 68:35, a time eclipsed by 24 Kenyan women last year.
Quick Take: African born runners dominated this one
African born runners took the top 14 spots in the women's race and the top 3 places in the team standings but that stat doesn't quite do the African born runners justice. Japan, which was fourth in the team standings after having medalled at the previous 9 World Half Champs, finished more than 10 minutes behind third-place Bahrain (3:33:57 to 3:23:39). In terms of time, Japan was actually closer to 13th place Ireland (10:09) than they were to third-place Bahrain (10:18).
Talk about the race on our messageboard.
More: Men's Recap: Geoffrey Kamworor Splits 13:01 5k – Yes 13:01 – At End of Race To Win 3rd Straight World Half Marathon Title In a performance that will be remembered for years to come, Geoffrey Kamworor got his hat trick.