A Legend in the Making: Geoffrey Kamworor Dethrones Mo Farah Despite Falling and Getting Trampled at World Half Marathon Championships
by LetsRun.com
March 26, 2016
Geoffrey Kamworor's greatest victories may well be ahead of him, but when the 23-year-old Kenyan's career is over, we doubt he'll recall many days more fondly than March 26, 2016. The World Cross Country champion and World Championship 10,000 silver medallist added to his growing legacy by dismantling the field in Cardiff this afternoon to defend his title at the World Half Marathon Championships, running a blazing 59:10 despite wet and windy conditions — and a fall at the start line. It wouldn't have mattered if a snowstorm broke out or if an earthquake split the road in two. Kamworor wasn't losing this race.
At the start, Kamworor slipped and fell and was on the ground for seven seconds being trampled by the masses as the elite men started with the thousands in the mass participation race. Somehow, he was at the back of the lead pack within 80 seconds and near the front within 90. From the opening miles, it was clear that the pace was going to be hot. The leaders came through 2 miles in 9:06 and hit 5K in 14:10 (59:47 pace) but Kamworor and countryman Bedan Karoki were just getting started. Karoki handled much of the early pacing duties and by four miles (18:16), the great Mo Farah had already fallen a few strides off the lead pack. That wasn't necessarily a sign that Farah was hurting, however, as he employed a similar strategy to win last year's Lisbon Half Marathon, dropping back when he felt the pace was too fast before coming back to win in a European record of 59:32.
Kamworor hit the front just after five miles and ratcheted up the pace, but by six miles (27:03; 8:47 for the two miles from 4 to 6), Farah was still only five seconds behind Kamworor and Karoki up front.
The turning point of the race, literally and figuratively, came just after six miles. As the course turned north into Cardiff Bay, Kamworor and Karoki used the wind at their backs to break apart the field. By eight miles (35:55), the hot pace had burned off everyone save Kamworor, Karoki and Ethiopia's Tamirat Tola (6th at World XC last year), but Tola wouldn't last much longer. Kamworor and Karoki, who had run side-by-side for much of the race with Tola drafting behind them, split apart, forcing Tola to choose which man to follow (Editor's note: Just as we urged them to do pre-race). Instead he picked neither, dropping back as the Kenyans sped off to hit 15k in 41:41 (58:37 pace) after a ridiculous 13:41 5k split and running 5k to 15k in 27:30. Farah was 22 seconds in arrears at this point back in sixth place. Even though he was well back, he was still well ahead of PR pace (he was on 59:08 pace and his pb is 59:22) and he'd smashed his own European 15k record of 42:29 by a ton (42:03).
The Briton's only hope was for the furious pace to catch up to the brilliant Kenyans, and they would slow somewhat over the final miles of the race as the race turned back into the wind and the weather worsened. But the deficit was far too great to overcome; by 12 miles, it was clear either Kamworor or Karoki would be the champion.
The two Kenyans had worked together as teammates in an unsuccessful attempt to take down Farah in the World Championship 10,000 last year and today were successful in their attempt to dethrone Farah. But now they were rivals, with just over a mile between them and a world title.
Just before 20 kilometers, the skies opened as the clouds began to pour on South Wales. The international TV feed momentarily went out, and when it returned, Kamworor and Karoki were soaked, but Kamworor had a healthy lead on Karoki, eight seconds at 20k (56:06/14:25 5k split). It would only grow to the finish as he coasted home for a 26-second victory in 59:10, an effort worth well under 58:54 once you account for Kamworor's early fall and the foul weather. Karoki wound up with a well-deserved silver while Farah dipped under 60:00 to earn Great Britain's first medal since 1993, outkicking Ethiopia's Abayneh Ayele for bronze.
Our quick take analysis appears below. Top 25 results at bottom of article. Full results here.
MB: Official 2016 World Half Marathon Discussion Thread.
*Farah gets destroyed, is everyone happy?
*Kenyan poster: We denied Mohammed Farah the luxury and the joy of performing the 'Mobot'!
*Let's Hear it Now Olympic 10k Farah or Kamworor?
*Why all the hate for Farah?
*Farah planning "tactical race"
Quick Take #1: A performance for the ages from Geoffrey Kamworor
Article continues below player.
On paper, Kamworor's race was truly impressive. He beat Karoki, a tremendous half marathoner who's in terrific shape and was undefeated at the distance for his life (4 for 4), by 26 seconds, and Farah, the world's greatest distance runner on the track, by 49. But looking at a results sheet doesn't do Kamworor's race nearly the justice it deserves.
That 26-second margin on Karoki all came in the final mile; it shouldn't be that easy to break a runner of Karoki's caliber. The wind was howling at the end of the race, blowing sheets of rain right into the faces of the runners, but it only served to pad Kamworor's lead, allowing him to fully demonstrate his strength advantage over the rest of the field.
Just as impressive, perhaps more impressive, was Kamworor's ability to get up from his fall at the start. As the gun went off, Kamworor slipped and an Ethiopian runner immediately fell on his backside. Kamworor was down for around seven seconds and in danger of being trampled not only by the 100-man elite field but the thousands of mass runners streaming in behind them. Was his day finished? Thankfully not. The Ethiopian helped Kamworor to his feet and within before one could even fully analyze what had happened, Kamworor had already recovered.
On the BBC broadcast, they showed the start and then a few seconds of running. They then showed a replay of Kamworor's fall and started to analyze what it all meant. Steve Cram was lamenting Kamworor's fall acting like he was going to be a non-factor in the race. "It's a shame for the race as well. You know we build this up. People around the world were really looking forward to Kamworor against his teammate Karoki and Mo Farah. His only hope is that things don't go out fast," said Cram.
| | |
| --- | --- |
| Overall | |
| Comfort | |
| Cushioning | |
| Durability | |
| Appearance | |
| Value | |
There was one slight problem for Cram. Kamworor had already caught up to the lead pack, as Cram was lamenting his demise. Kamworor had fallen, bloodied his knees, been trampled by some mass runners, lost roughly seven seconds on the field, gotten up and then sprinted and weaved his way through the field to catch the leaders all in less than a minute in a half. The guys up front were running roughly 68-second quarter pace yet Kamworor caught them that quickly.
Then he managed to go out and take it to Mo Farah.
Kamworor was obviously very happy to have defended his title.
"It's really great. It's really important for me. Actually I'm really happy to defend my title especially since I fell down at the start, but no problem, I stayed strong," said Kamworor on the BBC broadcast after the race. "Unfortunately, I fell down and I said [to myself], 'I will not give up. I'[ll] go after the champion[ship] and I am really happy and encouraged to win the race despite the challenge."
Kamworor admitted he wanted the world's best for 13.1 but the conditions made it impossible.
"I was trying to run the fastest time (ever) but it was raining a lot," said Kamworor. He added some words that will wet the appetite of all track and field fans, "I'm really looking forward to the [Rio] 10,000."
Speaking of the 58:23 world record, our man on the ground in Kenya for the next six months, Andy Arnold, watched this race sitting next to coach Renato Canova and Arnold says that Canova thinks Kamworor definitely could break the half marathon world record.
Arnold reports that when it became a two-person race between Kamworor and Karoki, Canova said Kamworor would win. "He said that given the conditions Kamworor is the strongest. 'Everyone suffers but Kam suffers less,'" Arnold wrote.
Below is a photo of the fall and a seven-second video below. See Kamworor (the guy in the white hat on in the front row) fall and then get up.
https://twitter.com/Cardiff2016/status/713739099144855552
Geoffrey kamworor falls at start of world half. https://t.co/eGYezMhneR pic.twitter.com/TlsVqR4g6x

— LetsRun.com (@letsrundotcom) March 26, 2016
Quick Take #2: Mo Farah is mortal, but now highly motivated
Farah ran a fine race to take third here today and though he later told the BBC he was disappointed in his performance as he always wants to win, he has nothing to be ashamed of. Kamworor's run today is on the shortlist of the greatest half marathons in history, and it would have taken a truly special effort to beat him. Farah has terrific strength, but it serves him better on the track, where he can better apply his 3:28 1500 speed.
Farah ran a smart race, as he knew he wasn't going to be able to run 59-low today; his best bet was to hope that Kamworor and Karoki died after the merciless early pace. And while that strategy allowed Farah to swoop in for the bronze, dropping Tola and Kenyan Simon Cheprot in the final miles before outkicking Ayele, the fact is that Kamworor and Karoki are aerobically stronger than Farah right now.
While we think Farah should be proud of his bronze as he clearly had to work very hard for it, Farah wasn't happy with the outcome.
"I'm disappointed today . There was great support from the home crowd so it would have been nice to come home with a win but a better athlete won on the day. The guys were strong and they just went for it and I couldn't quite go with it," said Farah on the BBC broadcast after race. "It was an incredible pace, I looked at the 10k pace and they were just going for it… It is a fast time (given the conditions) but just as an athlete you want to win."
When asked if it was hard to run stretches of the alone, Farah responded, "It's one of those things you go with it or you have to pay the price (by having to chase the leaders on your own)."
While a loss today didn't please Farah, it was a good thing for the sport. Not only did fans get to witness a historic performance by Kamworor, they got to see some of its stars race outside of the Olympics. They also received some hope that Farah can be beaten this summer in Rio or at least challenged. Farah still deserves to be the favorite in both the 5,000 and 10,000, but given that he's dominated the sport over the past five years, it makes things more interesting now that he has a loss on his record in a major race. The conditions and distance will be much different in Rio, so we can't read too much into today's results, but if Kamworor is stronger than he was in 2015 (which is certainly the case right now), he may be able to drop Farah in a 10,000, which is something we haven't seen since 2011.
That being said, today's loss isn't necessarily all bad for Farah as now he's extremely motivated.
"Rio's the aim. The guys are going to be strong in Rio. So I'm going to work hard. This just gives me massive motivation," said Farah.
Quick thought #3: The Unsung Winner of the Day – Ethiopia's  Guye Adola
When Kamworor fell at the start, the masses started to trample him. However, Ethiopian Guye Adola – the bronze medallist from 2014 – who was standing next to Kamworor at the start also went down behind Kamworor as he basically ran on top of the fallen Kamworor. Then, in a great act of sportsmanship, Adola helped Kamworor from  being totally trampled by shielding him and once Adola was up himself, he helped pull Kamworor off the ground.
Adola deserves MAJOR props for helping Kamworor get up. If you are his agent or know how we can get in touch with him, please email us as we want to feature him.
The fact that Adola went down with Kamworor at the start also illustrates how amazing Kamworor's recovery was. Adola appears to have never recovered as he was  only Ethiopian not with the leaders at 5k. The leaders hit 5k in 14:10-12 and four of the five Ethiopians in the race were right there with the leaders. Adola was not – he hit 5k in 14:25. The fact that Adola wasn't able to catch up to the leaders even though Kamworor did it within 90 seconds shows you how amazing Kamworor's recovery was.
Quick Thought #4: An okay day for Team USA
The U.S. wound up sixth in the team standings, one better than their 2014 placing, though times were slower than two years ago due to the horrid conditions. Coming in, we said that a top 20 showing by any American would be quite an accomplishment and Tim Ritchie nearly got there. Ritchie was the top man in 23rd in  63:49, with 2016 Olympian Jared Ward second across the line in 26th (64:05) and Scott Bauhs third man in 32nd (64:34). Ben Bruce, who DNF'd the Olympic Marathon Trials, had a rough day and was 56th while Jim Spisak didn't start the race.
23. Tim Ritchie 63:49
26. Jared Ward 64:05
32. Scott Bauhs 64:34
56. Ben Bruce 66:46 (non-scorer)
DNS Jim Spisak
Quick Thought #5: Ireland's Paul Pollock With The Non-African Born Performance Of The Day
There were a handful of non-African born runners in the top 20, led by Ireland's Paul Pollock who was 14th in 62:46. The rainy and windy conditions didn't seem to faze the 29-year old Irishman much at all as his pb is 62:10 (he's also a 2:15 marathoner). Britain's Callum Hawkins was 15th in 62:51 as Britain nearly earned the bronze in the team standings.
Full Results with team standings can be found here.
Quick Thought #6: Who's Got Kamworor's Hat?
He lost it in the fall. It could be a real collector's item.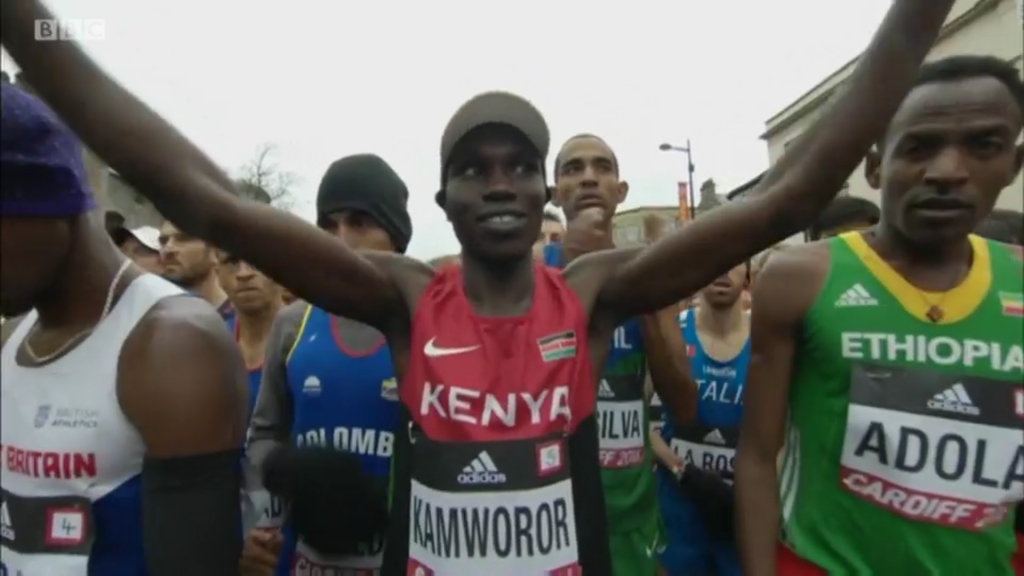 Top 25 Results appear below.  Full results and team results here.
Talk about the race on our world famous fan forum / messageboard: MB: Official 2016 World Half Marathon Discussion Thread.
*Farah gets destroyed, is everyone happy?
*Kenyan poster: We denied Mohammed Farah the luxury and the joy of performing the 'Mobot'!
*Let's Hear it Now Olympic 10k Farah or Kamworor?
*Why all the hate for Farah?
*Farah planning "tactical race"