2018 USA Indoors 800 Preview: Ajee Wilson Should Dominate, But Brazier vs. Windle vs. Murphy vs. Sowinski Is Must-See TV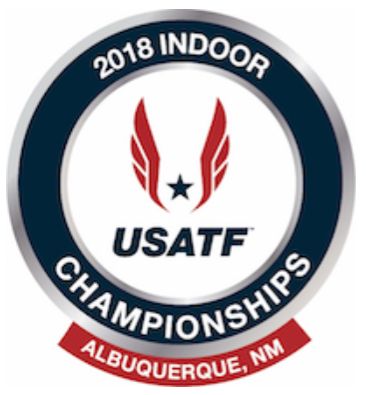 February 16, 2018 to February 18, 2018
By LetsRun.com
February 14, 2018
Believe it or not, it's already time for USA Indoors. And you're going to want to be watching because this is the meet that will determine Team USA for the only global championship of 2018: World Indoors. We're going to be previewing the mid-d and distance events all week long and will have boots on the ground in Albuquerque providing coverage of this weekend's big meet.
We start our previews with the 800 meters, an event in which Americans claimed three medals in the last edition of World Indoors in Portland (gold for Boris Berian, bronze for Erik Sowinski and silver for Ajee Wilson). Matching that total will be a tall order given the unpredictable nature of the 800 (especially indoors) but with Donavan Brazier and Drew Windle in fine form, Olympic medallist Clayton Murphy rounding into shape, and Ajee Wilson her usual dominant self, the U.S. has several potential medallists. Of course, they all have to make the team first, and with only two spots per event, space is limited.
Article continues below player
Here's what to watch for.
What: 2018 USATF Indoor Championships
When: February 16-18, 2018
Where: Albuquerque Convention Center, Albuquerque, N.M.
TV/streaming information * Schedule * Entries * All LRC coverage * 2017 LRC coverage
Men's 800 (prelims Saturday, 5:14 p.m. ET; final Sunday 5:33 p.m. ET)
Athletes in bold have the World Indoor standard (1:46.50 indoors in 2017 or 2018, or 1:44.00 outdoors in 2017)
| | | | |
| --- | --- | --- | --- |
| Name | PB | SB | Comment |
| Donavan Brazier | 1:45.11 | 1:45.11 | #2 US all-time indoors; has run 1:45 in back-to-back weeks |
| Drew Windle | 1:45.53 | 1:45.53 | #3 US all-time indoors |
| Samuel Ellison | 1:46.49 | 1:46.49 | Ran huge overall pb of almost 1 sec in Boston last week |
| Erik Sowinski | 1:46.57 | 1:46.57 | Reigning bronze medallist at World Indoors but doesn't have standard |
| Clayton Murphy | 1:46.13 | 1:46.61 | Olympic bronze medallist rounding into form after slow start to '18 |
| Russell Dinkins | 1:46.99 | 1:46.99 | Before last week, had never broken 1:48 indoors |
| Jesse Garn | 1:46.98 | 1:47.58 | |
| Joe McAsey | 1:47.38 | 1:47.77 | |
| Eliud Rutto | 1:46.70 | 1:47.92 | 2016 NCAA indoor runner-up |
| Quamel Prince | 1:48.01 | 1:48.01 | |
| Chris Giesting | 1:48.06 | 1:48.06 | |
| Christian Harrison | 1:48.21 | 1:48.21 | |
| Allen Eke | 1:48.41 | 1:48.41 | |
| Derek Holdsworth | 1:48.53 | 1:48.53 | |
| Mitchell Black | 1:48.57 | 1:48.57 | |
| Leo Manzano | 1:48.81 | 1:48.81 | Now 33, Manzano has to run 800 at USAs after not qualifying in 1500 |
| Nathan Roese | 1:48.84 | 1:48.84 | |
| James Gilreath | 1:46.70 | 1:48.99 | |
| Cas Loxsom | 1:46.13 | 1:49.05 | Ran 1:46 last year but has struggled since leaving Brooks Beasts |
| Brandon Lasater | 1:49.07 | 1:49.07 | |
| Harun Abda | 1:46.97 | 1:49.19 | 7th at '16 Olympic Trials |
| Luis Romero | 1:48.75 | 1:49.24 | |
Two of the three medallists at the 2016 World Indoor champs were American, but as of now, neither is going to be on Team USA in 2018. Gold medallist Boris Berian is a definite no. After missing the entire 2017 season due to an Achilles injury, he raced last week for the first time in 18 months and failed to break 1:50. He will be watching Worlds from home. Bronze medallist Erik Sowinski still has a chance, but to make the team he not only has to finish in the top two in Albuquerque but also hit the 1:46.50 World Indoor standard.
Sowinski's situation is the perfect case study for the argument we've been making for years, most recently in the Week That Was last month: if the U.S. has a bunch of people with the qualifying standard, it should be able to send whoever it wants to Worlds. Sowinski ran 1:46.98 in New York on January 27, in the process crushing two Americans who already had the standard (Cas Loxsom and Clayton Murphy). Sowinski then flew to Europe to take two more shots at the standard (and rack up points on the IAAF World Indoor Tour), coming close each time. In Karlsruhe on February 3, he ran 1:46.91; in Dusseldorf three days later, he ran 1:46.57. Ironically, his best chance to hit the standard would actually have been to stay home as Millrose was incredibly fast.
But because Sowinski was .07 too slow in Dusseldorf, the only way he makes this team is by running another PR in Albuquerque (the IAAF may accept athletes from the global descending order list if there aren't enough qualifiers in an event, but that's irrelevant in this case as USATF policy is to send the top two finishers with the standard). It would be a total bummer if Sowinski finishes in the top two at USAs and doesn't get to go, but that's a very real possibility as Sowinski is an excellent indoor runner: he was the U.S. indoor 800 champ in 2013 and 2014 and the 600 champ in 2017 — the last three times the meet was held in Albuquerque (he was also 2nd in 2016 in Portland).
While Sowinski's situation is unfortunate, it may wind up being irrelevant as there is plenty more talent in this event (and given the front-running nature of Donavan Brazier, we'd be surprised if the final is slow so it might take a sub-1:46.50 to make the team). And at the moment, no U.S. 800 star is shining brighter than Donavan Brazier. The 20-year-old has looked sensational in two indoor meets this year, running 1:45.35 at Millrose to move to #2 on the U.S. all-time list and bettering that with his 1:45.11 at last week's New Balance Indoor Grand Prix. Those two races show that Brazier is supremely fit. However, both set up perfectly for Brazier. Brazier is most at home when there's a fast pace up front and he's sitting just off the leader, and in New York, he had a rabbit to follow for the first 40; in Boston, he had a de facto rabbit for the first 600 in Berian.
USAs will be different, but if you're the fittest guy in the field — and it looks like Brazier is — that's still a massive advantage. Front-running isn't easy, but indoors it's easier than outdoors as there is zero wind. If Brazier can get to the front early and push hard for four laps, it's hard to envision anyone passing him. Brazier knows that it's to his benefit to make the race fast.
"I'm hoping if I'm in the race, it isn't ever tactical," Brazier told LRC last week. "And I'll change that if it is."
While that is bad news for everyone else, it may actually help Sowinski — if Brazier is committed to making the pace fast, Sowinski may wind up being dragged to the standard.
Brazier is still not a finished product tactically, but he's comfortable with his identity as a runner and has the experience of a full pro season under his belt, with three top-3 finishes on the Diamond League circuit and a U.S. title outdoors. He is the favorite at USAs.
Drew Windle was overshadowed by Brazier and Emmanuel Korir at Millrose, but he's also super fit right now as he ran 1:45.53 in New York — just .18 behind Brazier (who admittedly didn't go hard all the way to the line as he didn't realize how fast he was running with Korir so far ahead) and the third-fastest ever by an American indoors. As runners, Windle and Brazier are very different; while Brazier needs to be near the front, Windle is at his best coming from behind. While that's a viable strategy outdoors, it's much harder to pull off indoors where the turns art tighter and more frequent. Windle was only 7th at the bell at Millrose, and while he was able to move all the way up to 3rd by the finish, that still wasn't enough to defeat Brazier. We should note that, aside from Brazier, Windle has run almost a full second faster than anyone else in the U.S. this year.
Clayton Murphy is less than a year removed from his last U.S. title (he won the 1000 last year at USA Indoors) and he's proven himself a strong tactical runner when he has fitness to work with. That fitness was in doubt early this year when Murphy failed to break 1:50 in his first two races, with his 1:50.47, 7th-place showing at the Dr. Sander Invite on January 27 particularly disappointing. Though Brazier still spanked him at Millrose, Murphy ran a lot faster at that meet (1:46.61) and bounced back with a 1:48.36 win last week at the Husky Classic. Murphy is a big-time talent (remember, he ran 1:42 and medalled at the Olympics at 21) and that 1:46 at Millrose was enough to convince us that he should be taken seriously as a threat to win this weekend.
(MB: Clayton Murphy will win USAs here is why:)
In all likelihood, some combination two of those four (Sowinski, Brazier, Windle, Murphy) will be your team for Birmingham, though there is one more guy worth highlighting. The BAA's Sam Ellison, who prior to last weekend owned an outdoor PR of 1:47.46 and an indoor PR of 1:48.40, just scorched a 1:46.49 at Boston University on Saturday. That's serious running. The problem is that Ellison, whose best finish at NCAAs was 6th for Villanova at NCAA Indoors in 2014, hasn't raced in a championship meet for almost three years. And guess what meet it came at? The 2015 British Universities championships — after graduating from Villanova, he was a Fulbright Scholar at the University of Birmingham. While it would be a neat story if Ellison made the team and returned to his old college stomping grounds, he looks to be outclassed (and out-experienced) at USAs. The only other guy with the standard is Cas Loxsom, but considering he has failed to break 1:49 in his three races this year, he's not a threat to make the team.
LRC prediction: We'll take Brazier FTW and were tempted to take Sowinski for second given his indoor expertise. Then we remembered that Windle owned Sowinski last year (5-0 in 800s). Sowinski is as consistent as they come, but the 25-year-old Windle has a higher ceiling. We'll go with Brazier and Windle as your team.
[gravityform action="

polls

" id="642″ mode="

poll

" cookie="1 month" show_results_link="false" display_results="true" percentages="true" counts="false" ajax="true"]
Women's 800 (prelims Saturday, 4:53 p.m. ET; final Sunday 5:24 p.m. ET)
Athletes in bold have the World Indoor standard (2:02.00 indoors in 2017 or 2018, or 1:58.00 outdoors in 2017)
| | | | |
| --- | --- | --- | --- |
| Name | PB | SB | Comment |
| Ajee' Wilson | 2:00.09 | 2:00.90 | World Indoor silver in '16, World Outdoor bronze in '17; the class of the field |
| Raevyn Rogers | 2:00.90 | 2:01.73 | 5-time NCAA champ at Oregon now in 1st season as a pro |
| Charlene Lipsey | 1:58.64 | 2:02.05 | Incredible in '17 but looks to be back to normal in '18 |
| Ce'Aira Brown | 2:02.27 | 2:02.27 | Sliced 2+ secs off her indoor pb on Jan. 27 |
| Kaela Edwards | 2:02.33 | 2:02.33 | '16 NCAA mile champ now training under Joe Bosshard in Boulder |
| Hanna Green | 2:02.13 | 2:02.58 | 3-time NCAA runner-up now with OTC |
| Cecilia Barowski | 2:01.52 | 2:04.09 | 5th in 600 at USAs last year |
| Chrishuna Williams | 2:02.95 | 2:03.88 | 2016 Olympian |
| Meghan Manley | 2:04.09 | 2:04.09 | |
| Rachel Weber | 2:04.82 | 2:06.21 | |
| Savannah Colon | 2:06.61 | 2:06.61 | |
| Baylee Mires | 2:04.85 | 2:06.97 | |
| Hannah Fields | 2:05.21 | 2:05.21 | |
| Ericka Charles | 2:08.61 | 2:08.61 | |
As in the men's 800, there are only a handful of American women with the World Championship standard, which means that unless someone else breaks 2:02 at USAs, your team will be some combination of Ajee Wilson, Raevyn Rogers, Charlene Lipsey, or Cecilia Barowski.
Actually, who are we kidding? It's going to be Ajee Wilson plus one of the other three. Wilson was far and away the best American in 2017, and that gap has only widened in 2018. Brenda Martinez has moved up to the 1500 and isn't running indoors. And Lipsey, who ran 1:57 last year outdoors and made the final at Worlds, hasn't looked like the same runner this year. Wilson, meanwhile, has run 2:00.90 this year (.83 faster than any other American) and split a 1:58.37 on a relay at Millrose. Still only 23, Wilson is in her prime and barring a disaster (like this one), she'll be your U.S. champion.
The more interesting question is who joins her in Birmingham? The 21-year-old Rogers, who shares a coach (Derek Thompson) with Wilson and Lipsey, but not a training location (she's still in Eugene while everyone else is in Philadelphia) is the only other American under 2:02 this year and just beat Lipsey in Boston last week; her split in the 4×800 at Millrose was also 1.53 seconds faster than Lipsey's. She's the top candidate for runner-up honors behind Wilson.
But we're not totally discounting Lipsey. True, she hasn't looked like the same runner as last year, when she ran 1:58.64 at Millrose, but she was only .32 behind Rogers in Boston; that gap is small enough for us to envision her closing it at USAs.
Rogers or Lipsey is probably the other member of Team USA, but don't sleep on Ce'aira Brown of NJ*NY Track Club. The 24-year-old, who was 7th at 2016 NCAA Indoors for Hampton and missed a spot in the USA outdoor final by one place last year, beat Lipsey by a massive 1.47 seconds at the Dr. Sander Invite in January. More impressively, she split 2:00.45 in the 4×800 at Millrose — way faster than Lipsey and exactly the same as Rogers. Her strength also appears to be better than ever before as she ran a huge mile PR of 4:37 in December; previously her best 1500/mile mark was a 4:27 1500 last year. And while Brown still needs the World Indoor standard, we think it will take a sub-2:02 to make the team with setting the pace up front.
Brown's teammate Cecilia Barowski is the only other woman with the standard but considering she ran just 2:04.69 in her only 800 this year, she's probably not a threat to make the team.
LRC prediction: Wilson wins handily and Rogers joins her on her first senior U.S. team.
[gravityform action="

polls

" id="643″ mode="

poll

" cookie="1 month" show_results_link="false" display_results="true" percentages="true" counts="false" ajax="true"]
Talk about the 800 on our messageboard. MB: The 800 at 2018 USA Indoors Should be AMAZING. Who you got? Pick 2 of the following: Brazier, Windle, Murphy, Sowinski
PS. Can we add one other thing about the World Indoor standards? It's TOTALLY stupid that an indoor time from 2017 counts for qualifying for 2018. It doesn't make any sense. What purpose does that serve (well we guess it got people to race indoors last year)? But what you ran early in 2017 doesn't mean you are in shape in 2018. Our solution: only indoor times from December 2017 or later should count, but the standards should be made easier. And we like the fast outdoor standards as that way a studly Kenyan who doesn't run indoors could theoretically go while getting ready for Commonwealths in Kenya.