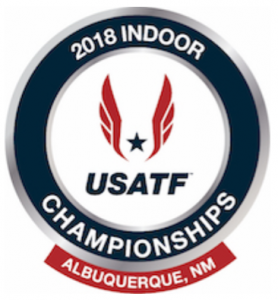 Albuquerque, NM
February 16, 2018 to February 18, 2018
*Event Website

Outside Letsrun
The performance also qualified Sloan for today's final.
In the women's 60H, Christina Manning (7.84) led the way ahead of WR holder Keni Harrison (7.87), Sharika Nelvis (7.91) and Olympic bronze medallist Kristi Castlin (7.94).
In the "our sport is weird" category, there were three heats of the men's 60 hurdles to eliminate one guy.
Houston cleared a PB of 5.83m to Kendricks' 5.78m.
Kynard was so mad when he failed to get the 2.33m standard that he "ripped off his number and spiked the crossbar." However, since no other Americans in Albuquerque have the standard, Kynard could probably still go via IAAF invite.
In the heptathlon, Devon Williams and 2015 national champ Jeremy Taiwo are in a close battle for first. *AP Recap Bougard came in looking for the American record, but finished 45 points. Afterwards she said that she wanted to hit high goals in her first four events "so when I got to the 800, I wouldn't have to be all out."
On The Boards
Navigate
Race Results
Analysis
Event Recaps
Event Previews
In The Past
Related Events