Rabat Diamond League Recap: Nijel Amos, Andre De Grasse, Elaine Thompson, Ryan Crouser Keep Rolling, Conseslus Kipruto Goes Out Injured, and The Moroccans Impress
By LetsRun.com
July 16, 2017
Sunday was a great day for Morocco as the country's two biggest stars, steepler Soufiane El Bakkali and middle-distance runner Abdelaati Iguider, both earned victories in front of the home crowd at the 2017 Meeting International Mohammed VI d'Atlétisme in Rabat, stop #10 on the 2017 Diamond League tour. El Bakkali set a personal best of 8:05.12 en route to a dominant win in the steeple, stamping himself as a gold-medal contender at Worlds in the process (Olympic champ Conseslus Kipruto was clearly not 100% and dropped out of the race due to injury). Iguider won the final event of the night, the men's 3,000, clocking 7:37.82 to hold off Spain's Adel Mechaal and send the lively crowd home happy.
Nijel Amos continued to roll and picked up his fourth straight win in the 800 in 1:43.91 (U.S. champ Donavan Brazier was third) while Brenda Martinez clocked her fastest 1500 in three years (4:02.75) but that was only good enough for third behind winner Angelika Cichocka of Poland.
In the sprints, the showdown between Olympic champions Shaunae Miller-Uibo and Caster Semenya over 400 meters fizzled as Miller-Uibo crushed the field in 49.80 while Semenya could only manage seventh in 51.53. Ryan Crouser maintained his perfect season to win the shot put with a 22.47 final-round toss.
Full recap, results and analysis below starting with the distance races.
Men's 800: Nijel Amos wins again as Donavan Brazier takes third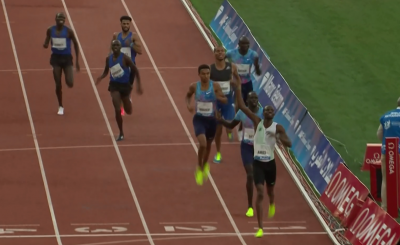 No disrespect to defending champion David Rudisha, but Botswana's Nijel Amos is now the favorite to win gold in London next month. The 23-year-old Amos has now won four straight races, three on the Diamond League circuit — 1:44.24 in Paris, a world-leading 1:43.18 in London and 1:43.91 today in Rabat.
Amos is by no means a lock for gold — one need only look back two years ago when he entered Beijing as the favorite and could not even make the final as Rudisha took gold — but he's stringing together big win after big win and looks very difficult to beat right now.
Amos, as he did in Paris and London, got to the lead early and held a five-meter gap on second-place Kipyegon Bett at the bell (49.81 for the rabbit, 50.4 for Amos). Bett was able to close the gap down and at 600 (1:17.10), he was well-positioned to strike, but Amos had another move left in him and accelerated as he hit the home stretch, powering away to take a comfortable win in 1:43.91. Bett held on for second in 1:44.28 as U.S. champ Donavan Brazier was third in 1:44.62.
Video highlight:
Article continues below player.
 Quick Take: Amos' race today was Rudishaesque
At Worlds in 2015 and the Olympics last year, Rudisha won his titles by controlling the race from the front before using his unparalleled speed to crush the field over the final 200 meters. Amos used a similar strategy today as he backed off from 400 to 600 before coming back with a 26.81 final 200.
Last year, Amos went out in the first round in Rio, but he was not at 100% after battling a calf injury. In the offseason, he changed coaches to Mark Rowland and he's shown over the last two weeks that he's back to his best. If he can navigate the rounds at Worlds — two years ago, he was in the slowest of the three semis (a race that included Rudisha) and he missed out on a spot in the final by .03 — he's a threat to do serious damage in the final. He'll be eager to avenge that performance in London, the site of Amos' 1:41.73 PR.
As far as Amos vs. Rudisha, Rudisha is the greatest 800 runner of all time, but Amos is five years younger and is #3 on the all-time list. With the way Amos is running this year, Rudisha will have to be close to his best if he is to defend his title.
Quick Take: Good and bad news for Donavan Brazier
The bad news for Brazier is that today's race did not go smoothly after he found himself in bad position early in the race.
The good news is that he still managed to run 1:44.62 and take third against a good field.
After 100 meters, it looked like Brazier was going to be able to slide into second behind Amos, just as he did in London last week, but he got shuffled back and by the 200-meter mark he was in sixth place and boxed in. On the homestretch, he tried to bounce outside to move up but found his path blocked by Ferguson Rotich. Still, with Amos threatening to run away with it up front, Brazier needed to move up and as a result he ran much of the first turn of the bell lap in lane 2. He kept fighting to move up on the backstretch and only got up to third by 600, but at that point he had spent a lot of energy and didn't have anything left to go after Amos. To his credit, however, he hung tough and defended his position over the final 100 to finish third.
Brazier may have been better served using a little extra energy early in the race and settling into second rather than running extra distance to move up later. But before the race, we suggested Brazier use this race to expose himself to different kinds of races. Brazier did that, and a run like tonight's could prove valuable at Worlds in the semis or final as it showed he can still finish in the top three even if he finds himself in a bad position early in the race.
What has become clear is that Donavan Brazier is absolutely capable of medalling in London this year. He's now finished third, second and third in his three Diamond League races in 2017 and is one of just four men to break 1:44 this year. That's terrific running for anyone, let alone a 20-year-old American in his first professional season.
Women's 1500: Angelika Cichocka Gets Second Diamond League Win, Brenda Martinez 3rd, Shannon Rowbury 6th
The big names of the women's 1500m were missing and it presented a great opportunity to pick up some Diamond League points and $10,000. Angelika Cichocka of Poland, a world indoor silver medallist at 800, took advantage, edging ahead of Morocco's Rababe Arafi just before the line to get the win in 4:01.93 as Brenda Martinez of the US, who had battled for the lead with 50m to go, finished 3rd. American record holder Shannon Rowbury was 6th in 4:04.73.
Rowbury was the only woman in this field who had ever been sub-4, so when rabbit Jenny Meadows took it out in 63.44 (sub-4:00 pace) it was a bit ambitious and the pace slowed the second lap, as the field let a slight gap open up on Meadows, who eventually hit 800 in 2:10.24.
Laura Weightman took the lead with 500 to go, but this one was very bunched at the bell (3:01.0), as Weightman led with Arafi in second, Kenya's Nelly Jepkosgei in third and Shannon Rowbury in 4th, as the entire field was in contention.
Arafi opened it up on the backstretch and opened a gap on the field, and Brenda Martinez responded best, being second around the final bend. Arafi hit the final straight a few steps in front of Martinez, who had narrowed the gap, but so had Cichocka, who was in 3rd. Halfway down the homestretch, all three of them were close together with Arafi leading. Martinez on the inside realized she couldn't go wide around Arafi and tried to change course and go inside, but she lost whatever momentum she had and fizzled out the final 50m. Cichocka, who started the bell lap in 7th directly behind Rowbury, kept coming on strong and passed Arafi for the win thanks to a 29.5 final 200.
QT: Shannon Rowbury's Struggles at 1500m Continue — Or Do They?

Shannon Rowbury is the American record holder at 1500 so she is judged on a different standard than everyone else. 4:04.73 for 6th place isn't a great performance for her, but as some have pointed out, Rowbury never broke 4:04 last year until after the Olympics. She ended up 4th in Rio and ran 3:57.7 to win the Diamond League final.
So was this run par for the course for Rowbury? We don't think so. If you go back to 2015, Rowbury ran 3:56.29 on July 17th to set the American record. Last year, she was more than competitive at the US champs. This year she struggled at USAs, granted she had run the 5000 the day before. The biggest difference is Rowbury doesn't have the World Championships at 1500 this year to redeem herself. She likely is doing more strength training now that she's running the 5000, but it's more than fair to say she's struggling at 1500 this year.
Men's Steeplechase: El Bakkali (and Evan Jager) now a gold medal threat as Olympic champ Kipruto drops out with injury
21-year-old Moroccan Soufiane El Bakkali gave the home crowd the victory they desperately wanted as he destroyed the field in the men's steeplechase, gaping Jairus Birech on the penultimate lap and cruising to victory in a new personal best of 8:05.12 (previous best 8:05.17). El Bakkali could have run faster but he was saluting the crowd with a half lap to go (and then again with 100 left) in celebration of the biggest win of his career.
Birech ended up second in 8:10.91 as he faded after going out aggressively (the rabbit ran the first km in 2:38; El Bakkali was several meters back of Birech as late as three laps remaining).
Just as significant as El Bakkali's impressive win was the DNF of 2016 Olympic champ and 2017 world leader Conseslus Kipruto. After hurdling the first water jump without touching the barrier, Kipruto might have landed a bit awkwardly as when he rounded the turn he put his head down a bit and proceeded to let almost the entire field come by him. He eventually tried to get going again but dropped out when he was more than 6 seconds behind El Bakkali at 2k. Here are Kipruto's full lap splits after 1.5 laps – 68.8, 65.9, 66.3, 67.1.
US 4th placer Andy Bayer was fifth in 8:16.73, not too far off of his 8:14.46 pb.
Video highlights:
Quick Take: With Kipruto injured, gold is there for the taking for Evan Jager
After the race, Kipruto confirmed he has an injury as he said, "I still have a lot of trouble with my right ankle. I decided to race and I was hoping the pain would stay away. But it was wise to leave this race and try to get healthy."
If he's not 100%, there is no big favorite for Worlds. Historically, Ezekiel Kemboi is the man to beat at Worlds but he's 35 and hasn't broken 8:30 this year. Kipruto is the world leader at just 8:04 with El Bakkali second. We'll find out a lot about Evan Jager next week when he races in Monaco.
And if you want a little humor, watch this water jump in the race:
Um, yeah, you can't do that, buddy… pic.twitter.com/4RjvWAdb8X

— Jonathan Gault (@jgault13) July 16, 2017
Women's Steeplechase: Krause powers home to victory
With world record holder Ruth Jebet a pre-race scratch, this race was wide open as only two women in it had broken 9:20 on the year (4 had done it in their career). With two laps to go, it was a three-person race. Two of the challengers were the two women who had run 9:15 this year – Norah Jeruto of Kenya (2016 African champ) and Gesa-Felicitas Krause of Germany (2015 Worlds bronze) and the third was 20-year-old Roseline Chepngetich (9:25.91 pb) of Kenya, the 2015 World Youth champ.
Heading into the final water jump, the top three were all together but Krause made a bold move and attacked the barrier on the inside of Jeruto and went from third to first. She never looked back after that and powered to victory in 9:18.87 over Jeruto's 9:20.51 as Chepngetich, who came to a near complete stop on the last water jump, was third in a big 5+ second PR of 9:20.69. Krause is very confident in her hurdling form as she made a nearly identical move on the next to last water jump.
"I am very happy because this is my first Diamond League win ever. I think I never finished higher than 5th in these races. This was a race on my level. It was not about fast times today but about winning the race. It is a great feeling to win a race like this," said Krause. "Today, I was able to show good tactics and a strong finishing kick. I will continue to work on that in a training camp next week in Switzerland."
American Stephanie Garcia tried to keep contact with the leaders for much of this race but she was struggling mightily with her hurdling technique once again. She ended up first losing contact before 4 laps remained but then nearly caught back up a lap and a half later, but she wasted a lot of energy in the process and ended up 8th in 9:40.63.
MB: Please Stephanie Garcia STOP running the Steeple
To everyone who think steeple hurdling technique doesn't matter at all . https://t.co/fwsB9C47V5 pic.twitter.com/nOkO46OAlK

— LetsRun.com (@letsrundotcom) July 16, 2017
Quick Thought: Krause maybe in the form of her life but the women's steeple is a lot better in 2017 than it was in 2015
Krause, who tried training some earlier this year in Ethiopia but didn't like it so she ended up going back to Kenya where she normally goes, has already PR'd this year (9:15.70) but she's facing an uphill battle to medal at Worlds in 2017 like she did in 2015. Six women this year have broken 9:10 (actually 9:08) whereas just one did it in 2015.
The splits in this race were somewhat similar to the splits at Worlds in 2015.
The first km split in Beijing was 3:09.96, 2nd was 6:22.27 and Krause medalled with a 9:19.27 so her last km was well under 3:00. Today the first km was 3:06.05, 2nd was 6:16.95 and Krause won in 9:18.87 so her last km was 3:01ish.
Quick Thought: The real big news in this one may have come before the start when Olympic champ and world record holder Ruth Jebet withdrew due to an injury she sustained after a fall in the Paris DL
Considering Jebet has only won one DL race this year, it's going to be hard for her to win the world championship title if she's not training full-out this time of the year.
Men's 3000: Abdelaati Iguider sends the crowd home happy
Just like last week's Anniversary Games in London, the final event in Rabat was the men's 3,000 where one of the home nation's biggest stars looked to close out the meet with a victory. And just as Mo Farah delivered for the fans last week, Abdelaati Iguider came through tonight, holding back a challenge from Spain's Adel Mechaal to win in 7:37.82. Mechaal was second — the same spot he finished behind Farah in London — in this non-Diamond League event.
Perhaps the only man more excited to run today than Iguider was his countryman Adil Briami, who served as one of the rabbits. The race began with a rare false start, and though most of the runners realized what was going on, Briami made it almost 200 meters before officials stepped on the track and informed him to stop.
"Maybe if I keep running long enough, they'll just forget about that whole false start thing" pic.twitter.com/uWcEB5okZ5

— Jonathan Gault (@jgault13) July 16, 2017
Once the race restarted, Briami went out hard and jostled with fellow rabbit Cornelius Kangogo for the lead on the first turn before towing the field through in an aggressive 59.5 for the first 400. He backed off from there and dropped out at 1k, at which point Iguider was the first racer (2:35.2). Shortly after that, European 5k champ Ilias Fifa of Spain moved into the lead and he would hold it through 1600 meters (4:08.8).
The race became interesting at 2k (5:10.2) as rabbit Kangogo had 15 meters on the field and was looking strong. Would he hang around and try to win it?
Kangogo seemed torn as he looked back frequently to check, even though he had completed his pacing duties (he was supposed to go through 2k). With two to go, his lead was down to a couple of meters over Iguider and Kangogo finally stepped off with 600 meters remaining as the real racing began in earnest.
Iguider led at that point with Mechaal on his shoulder, and at the bell they were joined by Bahrain's Zouhair Awad (tucked in on the inside) and another Moroccan, Soufiyan Bouqantar, who was trying to latch on at the back of the group.
Mechaal made a bid for the lead on the backstretch, but Iguider fought him off and was still in front with 200 to go. At that point, they began to separate and though Mechaal managed to keep it close, his form was all over the place, his head and torso rocking from side to side. Iguider, by contrast, was a picture of efficient power, all of his momentum serving to power him forward. He cruised home to win in 7:37.82 thanks to a 55.6 final lap (27.0 final 200) as Mechal grinded his way to a second straight runner-up finish over 3,000 meters.
Quick Take: The jury is still out on Abdelaati Iguider
Iguider has consistently run well on the big stage. Check out his recent major championship record at 1500 meters:
2008 Olympics: 5th
2009 Worlds: 11th
2011 Worlds: 5th
2012 Olympics: 3rd
2013 Worlds: out in semis
2015 Worlds: 3rd
2016 Olympics: 5th
But this year he hasn't done much on the circuit (best finish of 6th in four Diamond League 1500/miles) and though he won today, the field wasn't particularly strong, tthough Mechaal did beat some solid guys (Patrick Tiernan, Andrew Butchart, Eric Jenkins) last week. It's still hard to get a read on where Iguider is at right now; if he runs the 1500 in Monaco next week, we'll have a much better idea.
Men's 1500: Morocco goes 1-2-3
This non-DL event consisted of mostly Moroccans, with World U20 champ Kumari Taki of Kenya the most notable foreigner. But Taki could only manage fifth place as 24-year-old Brahim Akachab took the win in a personal best of 3:35.03.
Akachab has risen quickly from obscurity. As recently as May 1, his PR was still 3:42 but he clocked 3:37.53 on May 7 before going two months without racing. The Moroccan finally had another chance to showcase his skills today and he took full advantage, running another big PR to win convincingly.
1500 Metres - Men 
                                                                
    1 Akachab , Brahim                 MAR    3:35.03           
    2 Elkaam , Fouad                   MAR    3:36.26           
    3 Essalhi , Younés                 MAR    3:36.90           
    4 Letting , Vincent                KEN    3:37.96           
    5 Taki , Kumari                    KEN    3:39.52           
    6 Hedeilli , Takieddine            ALG    3:39.96           
    7 Akankam , Hicham                 MAR    3:40.21           
    8 Ben Zahra , Abdelkarim           MAR    3:43.07           
    9 El Jalaoui , Badr                MAR    3:43.68           
   10 Zahaf , Amine                    MAR    3:46.52           
      Bustos , David                   ESP        DNF           
      Jamma , Samir                    MAR        DNF           
      Seurei , Benson Kiplagat         BRN        DNF           
      Nabil , Oussama                  MAR        DNS
Sprints
Men's 200: Andre De Grasse wins his seventh straight race
US champion Ameer Webb had the lead coming off the bend, but Andre De Grasse showed a burst of speed to get the win as Zharnel Hughes of Great Britain held off 400 man Fred Kerley for 3rd.
De Grasse looked very smooth over the final 50 meters and though he lacks the sexy times of someone like Isaac Makwala, he wins races (this was his 7th straight, including four DL events) and always runs his best at the major championships. Wayde van Niekerk still has to be considered the favorite in the 200 in London, but if anyone is going to beat him, it will be De Grasse.
Video:
Wind +.4
Women's 400m: What a Letdown: Caster Semenya Runs 51.53 for Second to Last as Miller-Uibo Dominates
Olympic champ Shaunae Miller-Uibo dominated this one, winning by over a second in 49.80 over USAs 4th placer Natasha Hastings in (50.86) and US champ Quanera Hayes who was 3rd (51.08).
800m sensation Caster Semenya went out super, super slow and was never a factor, moving up to finish second to last in 51.53. Semenya has only run under 51 seconds twice in her life, but one of those was last year when she won the 400m at the Diamond League final in Brussels in 50.40, so many assumed she would go faster if pressed. Think again.
Whether you think Semenya can't run much faster (most of us), or that she's actually sandbagging to be allowed to keep competing without suppressing her testosterone, this one was an uneventful race. Semenya had an off day as did the Americans. Monaco may be more interesting, however, as commentator Steve Cram said that Semenya is planning to go for a fast time there.
 Women's 100: Elaine Thompson pulls away to win
Midway through the women's 100, double Olympic champ Elaine Thompson found herself side by side with Marie-Josée Ta Lou of the Ivory Coast, who was 4th in the 100 and 200 in Rio last year, but Thompson pulled away to win a meeting record 10.87 as Ta Lou was second in a big seasonal best of 10.90. Ta Lou was also second earlier this year in Rome and Paris.
"I'm pleased with my race. I came here last year and the organizers did a lot of effort for me," said Thompson after the race. "My races are going fine, I'm in the shape that I want to be in and I'm looking forward to the London W.C."
Women's 400 hurdles: Zuzana Hejnova picks up her first victory of the year
The Czech Republic's Zuzana Hejnova is the two-time defending world champion, but she hadn't been in that kind of form in her first three 400 hurdles races of 2017 as she was 4th in Eugene, 4th in Rome and 5th in Lausanne. But Hejnova ran a season's best of 54.22 today, and with most of the top Americans sitting this one out, that held up for the win.
Jamaica's Janieve Russell, who won in London last week, made a late bid for the win over the final two hurdles, but she could not close the gap in time and wound up second in 54.36.
Men's 100 meters: Ujah breaks 10
In this non-DL race that featured three guys who had run sub-10 this year, Chijindu Ujah of Great Britain, who hadn't broken 10.00 this year but has a 9.96 pb, got a narrow win in 9.98, just ahead of the Ivory Coast's Ben Youssef Meite (10.01) as Ujah just was slightly better over the final 30 meters.
Wind -.3
Field Events 
Men's shot put: Ryan Crouser puts on a show again
No one has been able to touch Ryan Crouser in the shot put all year, and that was the case once again in Rabat, where he was the only man to better 22 meters. Crouser accomplished that feat three times, going 22.21 in round two, 22.44 in round three and 22.47 in round six. World Championship bronze medalist O'Dayne Richards of Jamaica had a good day as well, setting a national record of 21.96 to finish second, but that toss would only have been good enough for the fourth-best throw in Crouser's series (barely).
Shot Put - Men 
                                                             Pts
    1 Crouser , Ryan                   USA      22.47          8
    2 Richards , O'Dayne               JAM      21.96          7
    3 Whiting , Ryan                   USA      21.26          6
    4 Bukowiecki , Konrad              POL      21.12          5
    5 Hill , Darrell                   USA      21.12          4
    6 Romani , Darlan                  BRA      21.08          3
    7 Birkinhead , Damien              AUS      20.44          2
    8 Elemba , Franck                  CGO      20.16          1
    9 Hassan , Mostafa Amr             EGY      19.58           
   10 Stanek , Tomáš                   CZE      19.50
Men's high jump: Ukraine's Andriy Protsenko earns his first career Diamond League victory
Qatar's Mutaz Essa Barshim has been the best in the world this year, but he was absent, as were his fellow Olympic medalists Derek Drouin and Bohdan Bondarenko and the result was a fairly mediocre competition. Six men cleared 2.27 meters, but only Protsenko could get over 2.29 and even that took him three attempts. He then passed to 2.33, which he failed to clear.
The result was that Protsenko won with a winning mark of 2.29, the lowest in a Diamond League event in over six years (Kyriakos Ioannou won with 2.28 in Oslo in June 2011).
High Jump - Men 
                                                             Pts
    1 Protsenko , Andriy               UKR       2.29          8
    2 Grabarz , Robert                 GBR       2.27          7
    2 Ivanov , Tikhomir                BUL       2.27          7
    2 Tamberi , Gianmarco              ITA       2.27          7
    5 Przybylko , Mateusz              GER       2.27          4
    6 Thomas , Donald                  BAH       2.27          3
    7 Yánez , Eure                     VEN       2.23          2
    8 McBride , Bryan                  USA       2.19          1
    9 Bednarek , Sylwester             POL       2.19
Men's Long Jump: Samaai of South Africa Edges Jarrion Lawson
Rushwal Samaai of South Africa edged by .02 former NCAA star Jarrion Lawson to get the win in 8.35. Rushwal took the lead in round 1, Lawson took it round 2, and Samaai retook the lead in round 3 and no one would improve.
Lawson has only jumped longer than this in two wind-legal competitions so he's in good form. Samaai likes Rabat, as he got the win here last year as well.
Long Jump - Men 
                                                             Pts    Wind
    1 Samaai , Rushwal                 RSA       8.35          8    +0.4
    2 Lawson , Jarrion                 USA       8.33          7    +0.7
    3 Berrabah , Yahya                 MAR       8.14          6    +0.7
    4 Lapierre , Fabrice               AUS       7.99          5    +0.1
    5 Mokoena , Godfrey Khotso         RSA       7.94          4    +0.6
    6 Lasa , Emiliano                  URU       7.91          3    +0.7
    7 Hartfield , Mike                 USA       7.80          2    +0.7
    8 Tornéus , Michel                 SWE       7.66          1    +0.5
    9 Gayle , Tajay                    JAM       7.41               +0.5
Women's Triple Jump:  Ibarguen returns to her winning ways on the DL circuit
Caterine Ibarguen, who suffered a rare defeated at the Rome DL (she had won 40 of her last 41 competitions before Rome), returned to her winning ways with a modest 14.58-meter third-round leap, more than enough to outclass Jamaica's Kimberly Williams' 14.31m. Ibarguen took all six jumps but came nowhere close to her 14.78m sb or the world lead of 14.96.
American Andrea Geubelle – who was third at USAs – was last at 13.33m, nowhere close to the 14.10m World Championship standard she needs.
Triple Jump - Women 
                                                             Pts    Wind
    1 Ibargüen , Caterine              COL      14.51          8    -0.3
    2 Williams , Kimberly              JAM      14.31          7    -0.2
    3 Papahrístou , Paraskeví          GRE      14.21          6    +0.3
    4 Rypakova , Olga                  KAZ      14.20          5    +0.3
    5 Petrova , Gabriela               BUL      14.11          4    +0.3
    6 Mamona , Patrícia                POR      13.94          3    -0.3
    7 Soares , Nubia                   BRA      13.69          2    +0.7
    8 Geubelle , Andrea                USA      13.33          1    +0.1
Women's javelin: Barbora Spotakova wins again
Spotakova, the 36-year-old two-time Olympic champion, unleashed a 68-meter bomb last week in London, her best throw in five years. She wasn't close to that tonight as her series was rather ordinary (three fouls), but her 63.73 first-round heave held up to give Spotakova her second straight DL victory.
Javelin Throw - Women 
                                                             Pts
    1 Špotáková , Barbora              CZE      63.73          8
    2 Ratej , Martina                  SLO      62.46          7
    3 Khaladovich , Tatsiana           BLR      62.38          6
    4 Gleadle , Elizabeth              CAN      60.43          5
    5 Winger , Kara                    USA      59.94          4
    6 Hjálmsdóttir , Ásdís             ISL      59.67          3
    7 Palameika , Madara               LAT      57.80          2
Men's Pole Vault: Wojciechowski's fine form continues
The hot form of Poland's 2011 world champ Pawel Wojciechowski, who set a new PB of 5.93m in his last competition in Lausanne, continued as he won with a first-attempt clearance at 5.70m. He then made a third-attempt clearance at 5.85m before calling it a day.
Olympic champ Thiago Braz of Brazil continued to struggle as he no-heighted just as he did at Pre. He hasn't gone higher than 5.60m outdoors this year.
Pole Vault - Men 
                                                             Pts
    1 Wojciechowski , Pawel            POL       5.85          8
    2 Holzdeppe , Raphael Marcel       GER       5.70          7
    3 Lisek , Piotr                    POL       5.70          6
    4 Barber , Shawnacy                CAN       5.60          5
    5 Kudlicka , Jan                   CZE       5.60          4
    6 Chiaraviglio , Germán            ARG       5.50          3
    7 Ferreira , Diogo                 POR       5.20          2
    7 Gruber , Hendrik                 GER       5.20          2
      da Silva , Thiago Braz           BRA         NM