2017 Bislett Games Recap: Jake Wightman Pulls Off A Huge Upset, A 16-Year-Old Runs 3:56 and A Woman's Wig Comes Off Mid-Competition
by LetsRun.com
June 15, 2017
Fans who watched the 2017 Bislett Games, the Oslo stop on the Diamond League tour, got a little bit of everything on Thursday evening. On the track, two precocious Norwegian talents delighted the home crowd. First, 16-year-old Jakob Ingebrigtsen lowered his age-group world record for the mile by running an incredible 3:56.29. Then, less than an hour later, 21-year-old Karsten Warholm set a national record of 48.25 to win the 400-meter hurdles.
In other action, there was a predictable win in the women's 800 (Caster Semenya) and a total shocker in the men's 1500 (Brit Jake Wightman defeating world champs silver medalist Elijah Manangoi) plus a slew of strange occurrences that included a rabbit forgetting to run the water jump in the women's steeplechase and a women's long jumper's wig falling off during the event.
We recap everything below, with results and analysis.
Article continues below player.
Talk about the meet on our fan forum / messageboard:
MB: Official 2017 Bislett Games – Oslo Diamond League Discussion Thread
MB: Jakob Ingebrigsten runs age 16 WR of 3:56.29 in Oslo!!! 
MB: WTF Wightman Some British guy I've never heard of just won the Oslo 1500
MB: Dafne Schippers Blatantly False Starts in 200 in Oslo But is Allowed to Run 
Men's 1500: Brit Jake Wightman springs the huge upset, joins Leo Manzano as only non-African man to win a Diamond League 1500/mile
Two years ago, a pale 22-year-old Scot with little name recognition outside of the British Isles went to Oslo and stunned a heavily-favored Kenyan to win the women's 1500.
Today, on the same track, another 22-year-old Scot followed in Laura Muir's footsteps, as Jake Wightman sprung a massive upset over 2015 World Championship silver medalist Elijah Manangoi of Kenya, just as Muir took down 2015 World Championship silver medalist Faith Kipyegon two years ago. Wightman, the 2013 European junior champion, PR'd by over a second to run 3:34.17 and become just the second non-African man to win a Diamond League 1500/mile (Leo Manzano, who won the mile in London in 2011, is the other).
The race got out quickly, with the rabbits hitting 400 meters in 55.87 and Olympic 4th placer Ayanleh Souleiman in third as the first racer. He was followed by Manangoi, home favorite Filip Ingebrigtsen and 2015 World Champs bronze medallist Abdelaati Iguider of Morocco. Though the rabbits hit 800 meters right on their assigned pace (1:53.06), they had begun to gap the field as Souleiman, Iguider, Manangoi and Ingebrigtsen were about a second-and-a-half behind. Still, it looked as if one of those men would take the win as they had separated from the rest of the pack.
However, Souleiman, who has not been in good form and would fade to 10th by the finish, didn't have it on this night. He split just 59.1 from 700 to 1100 meters from the front, but no one passed him, which meant that almost everyone was back into the race by the bell (10 guys were within 1.1 seconds of the lead).
Ingebrigtsen was right on Souleiman's shoulder, but the first guy to move was 800 specialist Marcin Lewandowski, who moved up to challenge on the backstretch and took the lead with 240 meters remaining. He didn't stay in front long, however, as Manangoi seized the lead just before the turn, followed by Wightman. Wightman stayed patient for the first half of the turn before making his bid for glory with 150 to go, and he immediately put some ground on the Kenyan and entered the final turn with the lead, Manangoi on his inside and Lewandowski on his outside.
Though Manangoi was trying desperately to respond on the inside, his patented late kick was not there and Wightman hung on for a famous win in 3:34.17, moving from ninth to first over the final lap thanks to 54.5 final lap. Just as at the Pre Classic, Manangoi had to settle for second while Lewandowski ran a three-second PR of 3:34.60 in third.
Results
    1 Wightman , Jake                  GBR    3:34.17          8
    2 Manangoi , Elijah Motonei        KEN    3:34.30          7
    3 Lewandowski , Marcin             POL    3:34.60          6
    4 Ingebrigtsen , Filip             NOR    3:36.74          5
    5 Torrence , David                 PER    3:37.19          4
    6 Grice , Charlie                  GBR    3:37.78          3
    7 Kiplagat , Silas                 KEN    3:37.81          2
    8 Holuša , Jakub                   CZE    3:38.19          1
    9 Elkaam , Fouad                   MAR    3:38.19           
   10 Souleiman , Ayanleh              DJI    3:38.55           
   11 Williamsz , Jordan               AUS    3:38.86           
   12 Ngetich , Hillary Cheruiyot      KEN    3:39.41           
   13 Gregson , Ryan                   AUS    3:41.35           
   14 Iguider , Abdalaati              MAR    3:41.79           
      Kiptoo , Elijah Kipchirchir      KEN        DNF           
      Rotich , Andrew Kiptoo           KEN        DNF
Quick Take: Who the heck is Jake Wightman?
As we mentioned above, Wightman was the European junior champ in 2013, and he showed more potential by running an impressive 3:35.49 just one day after his 20th birthday in 2014. But in 2015 and 2016, he only ran within two seconds of that time once. He did place third at the British Olympic Trials last year, but he didn't have the 3:36.20 Olympic standard and as a result had to watch the Olympics from home.
But he's been on fire this spring, with his win in Oslo his latest, greatest result. After entering the year with PRs of 1:47.13/3:35.49, check out what he's done in his last five races:
May 13: BMC Grand Prix (UK) 800 1st, 1:46.36 PR
May 27: IFAM Meeting (Belgium) 1500 1st, 3:35.93
June 2: adidas Boost Boston Games (USA) 800 5th, 1:46.07 PR
June 10: Folksam Grand Prix (Sweden) 800 1st, 1:45.82 PR
June 15: Bislett Games (Norway) 1500 1st, 3:34.17 PR
Running PRs is great, but doing so while winning races is even more impressive. This wasn't a top-notch Diamond League field, and two of the most accomplished guys (Souleiman and Iguider) clearly aren't in shape right now. But Manangoi had been running great in 2017 (win in Doha, second at Pre in 3:49); beating him was no small task. What a run from Wightman.
Running is in Wightman's blood, though we're not sure where he gets his top-end speed from as his parents were both long-distance specialists. His father, Geoff, who coaches Jake, was a 2:13 marathoner and now serves as a PA announcer at meets around the world, including the 2012 London Olympics. His mother, Susan Tooby, had a marathon best of 2:31 and finished 12th at the 1988 Olympics.
Quick Take: Yet another Scottish talent emerges
Wightman, like Muir and seemingly every young British talent these days, hails from Scotland. And as statistician Jon Mulkeen points out, not only do the top three Scots right now (Wightman, Chris O'Hare and NCAA champ Josh Kerr) all come from Scotland — they all run for the same club in Edinburgh! (Though O'Hare and Kerr are now based in the U.S.) Not bad for a city of just under 500,000 in a nation of 5.4 million.
MB: WTF Wightman Some British guy I've never heard of just won the Oslo 1500
Heck, the top 3 all belong to the same club (Edinburgh AC).

Probably first British club in history to have 3 sub-3:36 guys in one season.

— Jon Mulkeen (@Statman_Jon) June 15, 2017
Quick Take: Marcin Lewandowski is taking well to the 1500
Lewandowski was sixth in Rio in the 800, but he's been racing more 1500's this year (he turned 30 on Tuesday) and so far the results have been impressive. In March, he won the Euro Indoor champs in Belgrade and tonight, in his first-ever Diamond League 1500, he was third with a big PR.
Quick Take: What's up with Ayanleh Souleiman and Abdelaati Iguider?
Souleiman and Iguider finished 4-5 at the Olympics last year and have been fixtures on the circuit for years, but both have really struggled this year. Souleiman ran 3:41 in his season opener in Djibouti in March before running 3:40 in Doha and DNF'ing after falling down in Eugene. His 3:38.55, 10th-place finish tonight was actually an SB by over two seconds.
Iguider, who turned 30 in March, has not been nearly as bad (he was 6th at Pre in 3:52 and won a 1500 in Marseille in 3:35 on June 3) but he was awful tonight as his 3:41.79 was his slowest non-championship 1500 in over 10 years.
U20 Dream Mile: 16-year-old Jakob Ingebrigtsen does it again, runs 3:56.29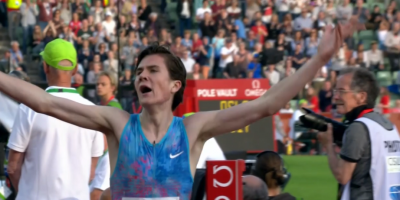 Three weeks ago, Jakob Ingebrigtsen amazed the world by becoming the world's youngest-ever sub-4:00 miler, clocking 3:58.07 at the Prefontaine Classic. After the race, Ingebrigtsen said he wanted to go faster, and racing on home soil in Oslo tonight, the did just that, smashing his age-16 world record by running 3:56.29 to earn the win in front of a roaring Norwegian crowd.
Though this was a U20 race, a couple of overage rabbits had to be brought in to pace the precocious Ingebrigtsen and they did a terrific job, with Ireland's Paul Robinson leading the field through 800 meters in 1:58.90 before giving way to Australia's Jack Rayner, who hit 1200 in 2:58.63. Ingebrigtsen ran near the front throughout, with Kenya's Brimin Kiprono the only racer willing to challenge him as he was actually ahead of Ingebrigtsen at the halfway point.
But Ingebrigtsen moved into second (first racer) at 900 meters and by the time he hit the bell just behind Rayner, he had built a lead of about seven meters on the chase pack. Rayner stepped off at 1300 meters and Ingebrigtsen was on his own. Though Morocco's Hicham Akankam did close the gap somewhat on the backstretch, Ingebrigtsen attacked again with 150 to go and that was it as he thundered down the home stretch to win in 3:56.29.
Results
U-20 Mile
1 NOR INGEBRIGTSEN Jakob 3:56.29 PB 
2 MAR AKANKAM Hicham 3:57.66 
3 MAR BEN ZAHRA Abdelkarim 3:58.58 
4 KEN KIPRONO Brimin 4:00.70 
5 NOR JEFFERSON BYRKJELAND Thomas 4:00.87 
6 BEL van de VELDE Tim 4:05.11 
7 NOR IRGENS Henrik 4:07.25 
8 BEL SISK Pieter 4:08.01
9 NOR JUVEN Sondre 4:08.64 
10 NOR SANDVIK Fredrik 4:13.67
Quick Take: Jakob Ingebrigtsen is simply incredible
3:56 at age 16 is just bonkers, but we'll try to add some context. If Ingebrigtsen (born September 19, 2000) was American, he'd either be a sophomore (old for his grade) or junior (young for his grade) and would have just hit the auto standard for USAs (3:56.50). Americans lost their mind last year when Drew Hunter ran 3:57.81 as a high schooler. Well Hunter was 18 years, 168 days old when he ran that time. Ingebrigtsen just ran over a second faster and he's only 16 years, 269 days old.
In track and field, we're always looking for the next big thing (commentator Stuart Storey made a Usain Bolt comparison on the broadcast today), but let's just appreciate how good Ingebrigtsen is right now rather than wondering how much better he could be down the road. And Ingebrigtsen says he still isn't done improving this year.
"I could have run faster today but it doesn't matter because it was a crazy experience," he told the IAAF.
Here were Ingebrigtsen's splits from tonight:
409: 60.1
809: 60.8 (2:00.9)
1209: 59.4 (3:00.3)
Mile: 56.0
MB: Jakob Ingebrigsten runs age 16 WR of 3:56.29 in Oslo!!! 
Women's 800: The Caster Semenya (and Francine Niyonsaba, and Margaret Wambui) show rolls on
Caster Semenya pulled away from Francine Niyonsaba in impressive fashion the final 100m to win the 800 convincingly in 1:57.59 as Niyonsaba held on for a clear second in a season's best of 1:58.18. Back in the battle for third, Magaret Wambui edged Lovisa Lindh (1:59.17 to 1:59.23), preserving the streak of Semenya, Niyonsaba, and Wambui not being beaten by anyone besides themselves since 2016.
This was the 25th straight win in the 800 (counting prelims) for Semenya.
The rabbit Sanne Verstegen took this out in 57.49 but only Niyonsaba wanted to go with the pace. There was a gap of a couple of meters to Semenya. Niyonsaba led at 600m in 1:28.03 with Semenya right on her. They both would pull away from the rest of the field on the final turn and then Semenya pulled away from Niyonsaba the final 100m.
Watch the race below.

Results
    1 Semenya , Caster                 RSA    1:57.59          8
    2 Niyonsaba , Francine             BDI    1:58.18          7
    3 Wambui , Margaret Nyairera       KEN    1:59.17          6
    4 Lindh , Lovisa                   SWE    1:59.23          5
    5 Bishop , Melissa                 CAN    1:59.89          4
    6 Hinriksdóttir , Aníta            ISL    2:00.05          3
    7 Almanza , Rose Mary              CUB    2:00.34          2
    8 Sharp , Lynsey                   GBR    2:00.41          1
    9 Hynne , Hedda                    NOR    2:01.05           
   10 Sum , Eunice Jepkoech            KEN    2:03.04           
   11 Eykens , Renée                   BEL    2:03.23           
      Verstegen , Sanne                NED        DNF
QT: A Big Step Forward for Niyonsaba
At the Pre Classic, Wambui challenged Semenya all the way to the line. Here Niyonsaba couldn't make it as close, but was the one challenging Semenya. Niyonsaba has only raced twice this year 1:59.10 at Pre, and 1:58.18 here. Could she be the one to end Semenya's win streak? At some point, someone will have to break up the big three of Semenya, Wambui, and Niyonsaba, but it didn't happen today. Near the end of the 2015 season (on July 29th) the Court of Arbitration for Sport ruled that female athletes with hyperandrogenism do not have to keep testosterone below a certain level, and since 2016 no woman has broken up the big three.
Women's Steeplechase: Sofia Assefa gets taken out by the rabbit and then loses the race in agonizing fashion
With the big four of the women's steeplechase in 2017 – the four women who have run under 9:02 this year – sitting this one out, the race was expected to go to Ethiopia's Sofia Assefa, the 2012 Olympic silver medallist who is #5 in the world this year at 9:07.06 as no one else in the field had run faster than 9:15.
However, Assefa had to overcome this early in the race.
Rabbit fail at #oslodl. https://t.co/c5z2Z7LF5d pic.twitter.com/mmrhNpfuoG

— LetsRun.com (@letsrundotcom) June 15, 2017
Another angle:
Another angle of rabbit fail at Oslo. https://t.co/c5z2Z7LF5d pic.twitter.com/2EVmaOnSpM

— LetsRun.com (@letsrundotcom) June 15, 2017
What you saw there was the 17-year-old rabbit Winfred Yavi of Bahrain via Kenya forget that she was supposed to go over the first water jump. She started to go around it and then hopped back in and a replay revealed that when she hopped back in she bumped into Assefa from behind and Assefa went down in the water.
Assefa got back into the lead pack and was content to run for the win. She and Kenya's Norah Jeruto were content to run behind Switzerland's Fabienne Schlumpf until the bell when Jeruto went into the lead. Assefa responded immediately and it was clear the race was going to be won by an African. Once they the backstretch, Assefa went into the lead and she'd maintain it until the final meters of the race. Jeruto was able to just get by Assefa in the closing meters of the race as a desperate Assefa threw out her right hand, knowing that victory was slipping away. Once in the lead, Jeruto awkwardly then put out her left hand in celebration of the win when there really wasn't enough of a gap to celebrate.
In the end, a happy Jeruto was the winner in 9:17.27 to Assefa's 9:17.34. Schlumpf finished third in a new Swiss national record of 9:21.65 (breaking her own 9:26.86 record). Schlumpf has already set national records on the road this year at 10k (32:10) and half-marathon (70:17). Albania's Luiza Gega sent a national record as well in 5th, 9:26.05.
Results
    1 Tanui , Norah Jeruto             KEN    9:17.27          8
    2 Assefa , Sofia                   ETH    9:17.34          7
    3 Schlumpf , Fabienne              SUI    9:21.65          6
    4 Kirui , Purity Cherotich         KEN    9:25.82          5
    5 Gega , Luiza                     ALB    9:26.05          4
    6 Jepkemei , Daisy                 KEN    9:28.88          3
    7 Chepkemoi , Joan                 KEN    9:31.84          2
    8 Getent , Tigest                  BRN    9:33.10          1
    9 Møller , Anna Emilie             DEN    9:34.30           
   10 Chemutai , Peruth                UGA    9:47.90           
      Krause , Gesa Felicitas          GER        DNF           
      Yavi , Winfred Mutile            BRN        DNF           
      Grøvdal , Karoline Bjerkeli      NOR        DNS
Sprints
Men's 100: De Grasses comes on late to win
Andre De Grasse won his first 100m of the year in his fastest wind-legal time of the year (10.01) as he edged Chijindu Ujah of Great Britain (10.02) and Ben Youssef Meite of the Ivory Coast (10.03).
Watch the men's 100 here:
Results
Wind: +0.2 m/s
                                                             Pts
    1 De Grasse , Andre                CAN      10.01          8
    2 Ujah , Chijindu                  GBR      10.02          7
    3 Meité , Ben Youssef              CIV      10.03          6
    4 Gemili , Adam                    GBR      10.13          5
    5 Brown , Aaron                    CAN      10.15          4
    6 Martina , Churandy               NED      10.19          3
    7 Prescod , Reece                  GBR      10.20          2
    8 Vicaut , Jimmy                   FRA      10.68          1
QT: What's Wrong with Andre De Grasse? Nothing
Andre De Grasse has been played up as a possible successor to Usain Bolt. A 10+ second win is not very impressive anymore, but De Grasse's fans should not be worried. De Grasse didn't break 10 in the 100 last year in a legal race until the Canadian champs on July 9th. Last year at Oslo he got the win in 10.07. He's already run 20.01 for 200m this year, a time he only beat once last year (in the semifinal at Rio). So from looking at results, the Olympic bronze (100) and silver (200) medallist is ahead of where he was in 2016.
Men's 400: 20-year-old Baboloki Thebe earns his first career Diamond League win
With many of the usual suspects in the 400 (Wayde van Niekerk, LaShawn Merritt, Kirani James) absent, this race was there for the taking for Botswanan youngster Baboloki Thebe, and he took advantage, running down Brit Matthew Hudson-Smith (who had built a sizeable lead by 300 meters) to win in 44.95 as no one else could break 45 seconds.
400 Metres - Men 
                                                             Pts
    1 Thebe , Baboloki                 BOT      44.95          8
    2 Hudson-Smith , Matthew           GBR      45.16          7
    3 Maslák , Pavel                   CZE      45.52          6
    4 Borlée , Kévin                   BEL      45.53          5
    5 Omelko , Rafal                   POL      45.83          4
    6 Conradie , Pieter                RSA      46.16          3
    7 Borlée , Jonathan                BEL      46.18          2
    8 Kåshagen , Mauritz               NOR      47.16          1
Men's 400 Hurdles: Karsten Warholm wins his first DL race at home as Kerron Clement struggles
Olympic champ Kerron Clement was one of the few marquee Americans to make the trip to Oslo and when it was over, he may have been regretting making the trip as he ended up dead last.
Clement got off well and had the lead at 200. However, it looked like he clipped the 6th hurdle ever so slightly and then he came to a near-complete stop at hurdle #7. From there, he was never able to recover.
Even if Clement had recovered, he would have had a hard time catching Norway's Karsten Warholm, who got an emotional win in front of the hometown fans in a new national record of 48.25 (previous pb and national record was 48.49). That was Warholm's second PB in the last week as he set a national open 400 record of 44.87 on Saturday, destroying his own national record of 46.10 (he had also run 45.9 indoors; prior to running 46.10 last year, the record was Quincy Douglas's 46.11, which had stood since 1999).
Warholm is a BIG talent. He's just 21. And a good athlete. In 2013, he was the world youth champion in the octathlon (100 metres, long jump, 110 metres hurdles, high jump, 400 metres, shot put, javelin throw, and finally the 1000 metres).
Clement has a lot of work to do to get ready for USAs. He's only run 49.40 this year. The good news is, as the reigning Diamond League champ, he has a bye into Worlds.
400 Metres Hurdles - Men 
                                                             Pts
    1 Warholm , Karsten                NOR      48.25          8
    2 Copello , Yasmani                TUR      48.44          7
    3 Barr , Thomas                    IRL      48.95          6
    4 Hann , Mamadou Kasse             FRA      48.97          5
    5 Mägi , Rasmus                    EST      49.10          4
    6 Hussein , Kariem                 SUI      49.37          3
    7 van Zyl , L.J.                   RSA      49.89          2
    8 Clement , Kerron                 USA      50.52
Women's 200: Murielle Ahoure wins it as Dafne Schippers' 25th birthday is spoiled with a DQ
For a minute, it looked as if the officials had granted Dafne Schippers a very generous birthday present. The Dutchwoman, the reigning world champ at 200 meters, committed one of the most obvious false starts you'll ever see, but complained to the officials that she had been set off by crowd noise and was allowed to compete.
The commentators were rightfully critical of the decision, with Stuart Storey on the international feed saying, "in a championship, that just not would have happened."
On the NBCSN broadcast, Ato Boldon said, "the thing to do if you can't hear and are in the blocks is to raise your hand… she's Dutch but she's got a big following in Scandinavia and I think that is the only reason she's been allowed back in. You don't get to just break before the gun and say 'Oh yeah, noise in the crowd (made me false start).' Technically she's supposed to be out."
The situation became even more controversial when Schippers, the heavy favorite, won the race handily.
But eventually, order was restored. The officials DQ'd Schippers retroactively as it turned out she had been allowed to run the race under protest. Even allowing Schippers to run under protest was a slightly controversial decision (we doubt she'd have been allowed to start if this happened at the Olympics), but as Jon Mulkeen pointed out on Twitter, "crowd disturbance" is listed as something that can result in an "allowable protest."
In the end, Schippers was rightfully DQ'd, which meant that the Ivory Coast's Murielle Ahoure, the 2013 World Champs silver medalist, was your winner in 22.74.
Update: The meet has changed it's mind. Schippers is now once again the winner.
200 Metres - Women                                Wind: +1.4 m/s
                                                             Pts
    1 Schippers , Dafne                NED      22.31          8
    2 Ahouré , Murielle                CIV      22.74          7
    3 Facey , Simone                   JAM      22.77          6
    4 Lückenkemper , Gina              GER      23.04          5
    5 Williams , Bianca                GBR      23.38          4
    6 Nelson , Ella                    AUS      23.42          3
    7 Gonska , Nadine                  GER      23.48          2
      Lalova-Collio , Ivet             BUL         DQ           

MB: Dafne Schippers Blatantly False Starts in 200 in Oslo But is Allowed to Run 
Women's 100 Hurdles: Pamela Dutkiewicz wins narrowly
Isabelle Pederson, the former world youth and junior champion, was competing before the home crowd and she got the best start and held the lead for most of the race. But Pamela Dutkiewicz of Germany and Olympic bronze medallist Kristi Castlin of the US were closing best, and Dutkiewicz got the narrow win over Castlin and Pederson. Castlin's time was a season's best and Pederson's a personal best.
100 Metres Hurdles - Women                        Wind: +0.8 m/s
                                                             Pts
    1 Dutkiewicz , Pamela              GER      12.73          8
    2 Castlin , Kristi                 USA      12.75          7
    3 Pedersen , Isabelle              NOR      12.75          6
    4 Talay , Alina                    BLR      12.90          5
    5 Porter , Tiffany                 GBR      12.93          4
    6 Zagre , Anne                     BEL      12.98          3
    7 Hildebrand , Nadine              GER      13.01          2
    8 Clay , Raven                     USA      13.07
Field Events
Men's High Jump: Barshim breaks the the 18-year-old meet record
The Bislett Games meet director, Steinar Hoen, Norway's 1994 European indoor high jump champion, really wanted Javier Sotomayor's meet record of 2.37m (7′ 9¼"), which had stood since 1999, to be broken and Qatar's Mutaz Essa Barshim gave him what he wanted with a world-leading 2.38m clearance (7′ 9¾"). After clearing 2.32m on his first attempt (no one else made that height), Barshim needed three attempts to get over 2.35m but only two to get over 2.38.
The field included all three of last year's Olympic medallists.
High Jump - Men 
                                                             Pts
    1 Barshim , Mutaz Essa             QAT       2.38          8
    2 Bondarenko , Bohdan              UKR       2.29          7
    3 Drouin , Derek                   CAN       2.25          6
    3 Seliverstau , Pavel              BLR       2.25          6
    5 Mason , Michael                  CAN       2.25          4
    6 Thomas , Donald                  BAH       2.25          3
    7 Grabarz , Robert                 GBR       2.25          2
    8 Zhang , Guowei                   CHN       2.20          1
    9 Ghazal , Majd Eddin              SYR       2.20           
   10 Bednarek , Sylwester             POL       2.20           
      Protsenko , Andriy               UKR         NM         

Women's long jump: Olympic champ Tianna Bartoletta wins it in the fifth round as Blessing Okagbare-Ighoteguonor has a bad hair day
Tianna Bartoletta of the U.S. had the best jump of the competition, going 6.79 meters in the final round to edge out leader Darya Klishina, who almost answered back by leaping a season's best of 6.75 meters in the final round.
However, this event will forever be known as the event where Blessing Okagbare-Ighoteguonor lost her wig on a jump. Watch it for yourself.
Results
    1 Bartoletta , Tianna              USA       6.79          8    +0.8
    2 Klishina , Darya                 ANA       6.75          7    +2.0
    3 Salman , Claudia                 GER       6.63          6    +0.9
    4 Proctor , Shara                  GBR       6.53          5    +1.6
    5 Bauschke , Melanie               GER       6.52          4    +1.0
    6 Ugen , Lorraine                  GBR       6.50          3    +0.7
    7 Okagbare , Blessing              NGR       6.48          2    +1.1
    8 Akpana Assa , Nadia              NOR       6.38          1     0.0
    9 Sagnia , Khaddi                  SWE       6.26               +0.9
   10 Sawyers , Jazmin                 GBR       6.20
Women's Discus: Perkovic Wins Her 16th Straight With Shortest Winning Throw Since 2015
Sandra Perkovic may have gotten her 16th straight win, but it wasn't easy. Perkovic trailed until her 4th throw and threw 66.79 to defeat Yaimi Perez of Cuba who threw 66.24. Since Perkovic began her win streak, after losing at the 2015 World Championships, this is the first time she has failed to throw 67 meters in a competition.
Discus Throw - Women 
                                                             Pts
    1 Perkovic , Sandra                CRO      66.79          8
    2 Pérez , Yaimé                    CUB      66.24          7
    3 Caballero , Denia                CUB      63.29          6
    4 Müller , Nadine                  GER      62.90          5
    5 Robert-Michon , Mélina           FRA      59.88          4
    6 Harting , Julia                  GER      59.02          3
Women's pole vault: 2015 world champ Yarisley Silva takes the win
Russian Anzhelika Sidorova, competing as an independent athlete, was the leader through 4.75m as she cleared that height on her first attempt while Silva and Germany's Lisa Ryzih could not. Both Silva and Ryzih then passed to 4.81, which Silva promptly made on her first attempt. No one else would clear another bar and Silva was your winner with a season's best as Olympic bronze medalist Eliza McCartney no-heighted.
Pole Vault - Women 
                                                             Pts
    1 Silva , Yarisley                 CUB       4.81          8
    2 Sidorova , Anzhelika             ANA       4.75          7
    3 Ryzih , Lisa                     GER       4.65          6
    4 Bengtsson , Angelica             SWE       4.55          5
    5 Newman , Alysha                  CAN       4.55          4
    6 Saxer , Mary                     USA       4.40          3
      Büchler , Nicole                 SUI         NM           
      McCartney , Eliza                NZL         NM
Men's Discus: Daniel Ståhl Wins
Sweden's Daniel Ståhl, the third longest thrower on the year at 68.36m, got the best of world leader Fedrick Dacres of Jamaica (68.88 this year), and won the men's discus with a sixth-round throw of 68.06m. Ståhl's 67.36m third throw would have been enough to win as well as Dacres was second in 67.10m.
Both men will be looking for the first global medal on the senior level at Worlds this year. Dacres was the world youth and world junior champ in 2011 and 2012.
Discus Throw - Men 
                                                             Pts
    1 Ståhl , Daniel                   SWE      68.06          8
    2 Dacres , Fedrick                 JAM      67.10          7
    3 Milanov , Philip                 BEL      66.39          6
    4 Gudžius , Andrius                LTU      65.90          5
    5 Harting , Robert                 GER      65.11          4
    6 Harting , Christoph              GER      64.13          3
    7 Malachowski , Piotr              POL      63.70          2
    8 Skagestad , Sven Martin          NOR      63.21          1
Talk about the meet on our fan forum / messageboard:
MB: Official 2017 Bislett Games – Oslo Diamond League Discussion Thread
MB: Jakob Ingebrigsten runs age 16 WR of 3:56.29 in Oslo!!! 
MB: WTF Wightman Some British guy I've never heard of just won the Oslo 1500
MB: Dafne Schippers Blatantly False Starts in 200 in Oslo But is Allowed to Run