2016 Foot Locker Recap: Reed Brown (15:01) & Claudia Lane (17:04) Use Big Kicks to Win a Pair of Thrilling Races
By LetsRun.com
December 10, 2016
What a way to end the cross country season. In a couple of thrilling races in San Diego, Texas' Reed Brown (15:02) and California's Claudia Lane (17:05) used big kicks over the final 200 meters to win the 2016 Foot Locker Cross Country Championships. Brown, who was only fourth at his state meet, used his 4:04 mile speed to sprint away from Finn Gessner and Seth Hirsch in the home straight, while Lane, a sophomore who led wire-to-wire, held off previously undefeated Nevada Mareno to claim the title. The top talent may have been at Nike Cross Nationals this year (Brown was only sixth in that race a week ago) but the best racing was unquestionably at Foot Lockers.
You can rewatch both races in their entirety here (boys' race starts at 2:28:56, girls' race starts at 1:43:38):
Article continues below player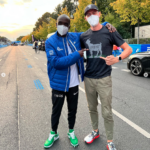 Kipchoge loves the 1:59:40 Shirt Get Yours Today
What a legend!
Boys' Race
Seth Hirsch (Omaha, NE), the top returner from last year, went to the front of the race early, and by 800 meters (2:19), he had a two-second lead on the field. It made sense that the diminutive Hirsch wanted to make it fast as it was noted on the broadcast that his 400-meter personal best is just 59 seconds. By the mile (4:46), FL Midwest champ Dylan Jacobs (Orland Park, IL) had joined Hirsch up front but there were five guys within two seconds of the lead, including Reed Brown (South Lake, TX), Connor Lane (Raleigh, NC) and FL South champ/NXN runner-up Sam Worley (San Antonio, TX). Jacobs took the lead as the field climbed the course's big hill for the first time, but both he and Hirsch were caught on the downhill as Brown really opened up his stride and made a hard move to the bottom. It would take more than that to break up the lead pack, however, as Hirsch was immediately on Brown's shoulder and passed him shortly thereafter.
Finn Gessner (Madison, WI), who had started slowly, made his way into the lead pack during the second mile and at two miles (9:44), he and Hirsch, both future Wisconsin Badgers, were running 1-2 with Tibebu Proctor (Seattle, WA) moving up into third. As they approached the hill for the second time, no one was creating any separation; in fact, it was the opposite as Brown and Lane joined the lead group up front. Hirsch led at the bottom of the hill, but he was passed by Gessner. They turned at the top, and as they headed downhill back toward the finish line, Gessner and Hirsch were once again running together up front until Brown used the exact same move as the first time they descended the course, powering by on the outside to take the lead.
"Where I'm from in Texas, there's absolutely no hills," Brown said, though he added his experience at Foot Lockers last year (he was 16th) taught him how to attack down the hill. "Just let yourself go down the hill because if you lean back that slows you down."
All three boys were close together with less than half a mile to go, and as they climbed toward the finish, Gessner opened up a small gap of about five meters on Hirsch and Brown. He still led as they crossed the road and hit the three-mile mark, but once Brown caught a glimpse of the finish line, he put his head down and shifted into top gear. Gessner was powerless to respond, as Reed pumped both of his fists as he crossed the finish line to win in 15:01.8. Gessner was second in 15:04.4 with Hirsch third in 15:04.8.
MB: WHAT JUST HAPPENED: REED MF BROWN!!!
Quick Take #1: Reed Brown was only 4th at his state meet and had lost his last four races coming in, but he is your 2016 Foot Locker champion
We already mentioned before the race how the top runner in the country — Casey Clinger — wasn't in this race, and after today's result, we stand by that belief (Clinger won NXN, 16 seconds ahead of Brown). But Brown is a more than deserving Foot Locker champion. His winning time of 15:01 was faster than Grant Fisher ran in either of his victories in San Diego, and to produce such a performance after flying out to the West Coast two weeks in a row and racing five weeks in a row in total is spectacular. Brown also has serious speed. As if today's race wasn't evidence enough, he also had the fastest mile pb in the field (4:04.73), set in the HS mile at the Olympic Trials in July, where he beat a stacked field that included Clinger. Brown will become very familiar with Hayward Field over the next few years as he is slated to attend Oregon next fall.
In many ways, however, Brown is an anomaly among Foot Locker champions. He was only fourth at the Texas 6A state meet (he lost to Worley, who was 2nd NXN/9th FL; Alex Maier, who was 5th NXN/5th FL; and Daniel Bernal, who was 10th NXN) and didn't win any of his next three races, either: NXN South (2nd), FL South (6th) and NXN (6th). He was only the second boy in the past 20 years to win Foot Lockers after failing to win his regional meet. But that's also a testament to the depth in the state of Texas last year, as four Texas boys finished in the top 10 at NXN (including half of the top six) and three Lone Star Staters were in the top 10 today.
Brown is an excellent miler and the broadcast said he already has two sub-4:00 mile attempts lined up this spring. If he were to accomplish the feat, he'd be the 10th U.S. high schooler to break the barrier — and the fifth in the last three years.
One other fact: in six of the last eight years, the Foot Locker champ has been an Oregon commit (Brown in '16, Drew Hunter in '15, Edward Cheserek in '11 and '12 and Lukas Verzbicas in '09 and '10). Of the group, only Cheserek has accomplished anything in a Ducks singlet, however, as Verzbicas suffered a serious injury in a bike crash while Hunter turned professional before enrolling in Eugene.
Quick Take #2: Mick Byrne will be happy with today's results
Wisconsin was 8th at NCAAs this year and looks to have a bright future as two of the top three finishers today (Gessner and Hirsch) will be in Madison next year. Three of Wisconsin's top seven at NCAAs were freshmen (including budding star Olin Hacker, who was second at Foot Lockers two years ago) and once Gessner and Hirsch are added to the mix, the Badgers could be very dangerous in the years to come.
Quick Take #3: Alexander Meier could be the next high school prodigy
Meier, a sophomore from Flower Mound, TX, was fifth at NXN last week (six seconds ahead of Brown) and fifth again today, the first time in six years that a sophomore boy had placed in the top 10. The top four finishers today were all seniors, making Meier the early favorite for Foot Lockers 2017. We'll certainly be watching the rest of his career closely.
Quick Take #4: There may not have been a dominant front-runner like Drew Hunter or Grant Fisher, but this race made up with it with incredible depth
Though conditions were great for running today (60 degrees, overcast, no wind/rain), you can compare times better at Foot Lockers than most meets as it's always run on the same course, usually in similar conditions. You can make the case that, thanks to Hirsch, there was a hard pace throughout, which boosted the times, but this race actually went out slower than it did either of the past two years (4:31 in 2015, 4:42 in 2014). Check out the finisher stats for the last 10 years below:
| | | | |
| --- | --- | --- | --- |
| Year | 10th place | # under 15:11 | # under 15:20 |
| 2016 | 15:19 | 7 | 10 |
| 2015 | 15:28 | 3 | 6 |
| 2014 | 15:27 | 1 | 7 |
| 2013 | 15:30 | 2 | 3 |
| 2012 | 15:32 | 3 | 6 |
| 2011 | 15:28 | 2 | 2 |
| 2010 | 15:25 | 2 | 4 |
| 2009 | 15:37 | 1 | 1 |
| 2008 | 15:44 | 0 | 1 |
| 2007 | 15:23 | 3 | 8 |
You'd have to go back to 2002 — a race that included Chris Solinsky, Bobby Curtis, Garrett Heath, Ben True and Galen Rupp — to find a race where 10th place was faster than today (15:16 in 2002) or where more people broke 15:20 (11 in 2002).
Girls' Race
Just as Weini Kelati did last year, pre-race favorite Claudia Lane (Malibu, CA) wasted no time and went right to the lead, and by 800 meters (2:35), she and FL Midwest champ Anne Forsyth (Ann Arbor, MI) had a gap of five meters on the rest of the field. Though the pace would slow over the next half mile, Lane would create separation between herself and the rest of the field, and by the mile (5:18), she had a few seconds on Forsyth and six seconds on Nevada Mareno (Raleigh, NC) in third. Mareno, last year's third placer and the girl many expected to be Lane's biggest challenger, said before the race that she did not want to go out too hard too early and stuck to her word, as she was only in seventh place at the 1k mark. But as Lane put the hammer down and dropped the rest of the field, Mareno gradually made up ground and by two miles she had shaved another second off Lane's lead (10:55 to 11:00). It was now a two-woman race to the finish between Lane, a 5:09 1600 runner who only began running last year as a freshman, and the Stanford-bound Mareno, who owned intimidating personal bests of 4:43 (mile) and 10:00 (two-mile).
Mareno began closing the gap in earnest during mile three and by the base of the hill she was right on Lane's shoulder. The two climbed the hill together but Lane took the downhill faster and by the time they hit the bottom with under half a mile to run, she led by 12 meters. Mareno fought to close it up again, but it was no use: Lane was rolling. With 200 meters to go, Lane put the final nail in the coffin, shifting into a sprint and padding her lead by a few more seconds, crossing to win in 17:04.8, the fastest time at Balboa Park since Aisling Cuffe's 16:53 in 2010. Mareno was second in 17:08.3, a time that would have won in each of the past five years (and 11 of the past 14), 27 seconds ahead of third-place Rebecca Story (Knoxville, TN). It was a fine performance, but it wasn't good enough to win on this day thanks to Lane's brilliance.
Quick Take #1: A fantastic run by Lane, who now has a chance to make history
Lane is the fifth sophomore girl to win Foot Lockers (and third in the last five years) and given her rapid development and her incredible run today, it's scary to imagine how much better she can be. NXN champ Brie Oakley smoked Lane when they raced two months ago at the Woodbridge XC Classic (15:53 to 16:16 over three miles) and while Oakley hasn't slowed down at all since then, winning NXN by 28 seconds, Lane has definitely improved, crushing the FL West field by 35 seconds and running a ridiculous time today. No boy or girl has ever won three Foot Locker titles, but if Lane can stay healthy, it's a possibility.
Kudos to Lane for her self-belief. She only took up running a year ago as a freshman, but she took it to some of the best runners in the country today, taking it from the gun and going wire-to-wire. That's not an easy thing to do, especially as a sophomore.
"I was really scared but I was ready to challenge myself," Lane said.
Quick Take #2: Nevada Mareno has nothing to be ashamed of; she simply lost to a better runner
Mareno ran a smart, patient race and found herself in position to win in the final mile, but Lane was stronger today. Perhaps she could have gone out harder, but that likely would have only made her more tired for the late stages of the race and resulted in her getting dropped earlier. Mareno now has a full indoor and outdoor season to improve on her already-tremendous times before joining a stacked Stanford squad next year.
This was just the second time in the last 31 years that two girls had broken 17:10 in the same race at Balboa Park. (Megan Goethals and Chelsey Sveinsson in 2009 were the others).
Discuss the races on our messageboard:
MB: Official 2016 Foot Locker Live Discussion Thread
MB: WHAT JUST HAPPENED: REED MF BROWN!!!
MB: Claudia Lane Footlocker champ
MB: THE Only HS XC race with World-Wide audience, Footlocker HS XC Championships, this Sat Dec 10, 2016
MB: Grace Ping should've run Footlocker.
MB: Seth Hirsch can only run a 59 second 400?!
MB: Claudia Lane Footlocker champ
MB: New Balance doing a great job sponsoring Footlocker
MB: Footlocker and NXN should merge