WTW: Mark Wetmore Works His 'Magic', Foreigners in the NCAA, What Rita Jeptoo's Doping Suspension Means For Her Coach and Agent + American Marathoners Bobby Curtis and Linsday Flanagan
The Week That Was In Running – October 24 – 30, 2016
by LetsRun.com
November 1, 2016
We kick off this week's weekly recap with talk about some of the NCAA D1 conference championships that were held last week, before talking a little bit about doping, proper marathon pacing and an epic match race.
Past editions of The Week That Was can be found here. Questions or comments? Please email us or post them on our fan forum.
*****
Foreign Men Rock It In NCAA Conference Action
We've always said it's much harder to be an All-American in men's cross country than women's cross country. Why? The amount of foreign competitors is way higher on the men's side than the women's (to be all-American someone needs to finish in the top 40 at NCAAs, regardless of whether they are American or not). That was proven last week as on the men's side, at least 17 NCAA men's D1 conferences were won by foreign-born runners, originally hailing from seven different countries (Australia, Canada, Eritrea, Great Britain, Kenya, Spain, Japan).
Article continues below player.
On the women's side, just eight women's NCAA D1 conferences were won by foreign-born runners, coming from just three different countries (Great Britain, Kenya and South Africa).
Men's Foreign Born Conference Winners – 17: The American (Luke Traynor – GBR), ACC (Justyn Knight – Canada), Big East (Patrick Tiernan – Australia), Big Sky (Futsum Zienasellassie* – Eritrea), Big South (Amon Terer – Kenya), Big 10 (Morgan McDonald – Australia), Big 12 (Benard Keter – Kenya), Conference USA (Jacob Choge – Kenya), MAAC (Kieran Clements – GBR), Mid-Eastern Athletic Conference (Khali Rmidi Kinini – Spain), Mountain West (Yusuke Uchikoshi – Japan), Ohio Valley (Gilbert Boit – Kenya), Pac-12 (Edward Cheserek – Kenya), SEC (Alex George – GBR), Southland (Charles Mathenge – Kenya), SWAC (Hassan Chepkwony – Kenya), West Coast Conference (Alex Short – GBR)
Women's Foreign Conference Winners – 8: Big South (Joan Maritim – Kenya), Big 12 (Sharon Lokedi – Kenya), Conference USA (Winny Koech – Kenya), Mid-Eastern Athletic Conference (Judith Kibii – Kenya), Moutain West (Alice Wright – GBR), Ohio Valley (Ann Asipan – Kenya), Pac-12 (Amy-Eloise Neale – GBR), Sun Belt (Annie Bothma – RSA).
*Zienasellassie was born in Eritrea but is now an American citizen.
More: MB: Over the weekend, Boise State's Yusuke Uchikoshi won Mountain West title – Has a Japanese runner ever been AA in XC?
###
With Boise State's Brenna Peloquin losing the Mountain West meet by more than 20 seconds (she finished 4th), the NCAA women's favorite now has to either be Michigan's Erin Finn (Big 10 and Pre-Nats champ), New Mexico's Alice Wright (Mountain West champ, 2nd at Wisco) or Notre Dame's Anna Rohrer (3rd Wisco, 1st at ACCs by 25+ seconds). Wright and Rohrer were just 1.5 seconds apart at Wisco.
#1 Colorado Crushes #2 Washington
The #1 vs. #2 matchup on the women's side between Colorado and Washington at Pac-12s ended up being a blowout as Colorado had seven finishers in before Washington even had three and eight before UW had five. Colorado won by scoring just 33 points. If an All-Star team from the entire Pac-12 raced Colorado, they would have only beaten the Buffs 27 to 33.
On the men's side of the ledger, #1 Northern Arizona certainly also ran well last week as they went 1-2-3-4-5-6 at the Big Sky Conference Cross Country Championships.
MB: Is Anna Rohrer now the favorite to win Nats?
*****
Colorado Men Win Pac-12s Yet Again – How Do They Do It?
One of the bigger stories of the week last week was the fact that the 7th-ranked Colorado men figured out a way to do what they've always done – win the Pac-12 cross country title. Colorado has won Pac-12s every year since they joined the conference in 2011. This time, they had to upset #2 Stanford and #3 Oregon as the third-ranked Ducks ended up just fourth in the conference as they also lost to Stanford and #10 UCLA.
Men's Pac-12 Results
1 Colorado 41
2 Stanford 47
3 UCLA 58
4 Oregon 94
5 Washington St. 130
6 California 163
7 Washington 187
8 Arizona State 225
9 Arizona 234
We thought it would be fun to see how the talent levels of the four top-10 programs compare. Colorado coach Mark Wetmore is viewed as a guru for developing talent, but do the stats back up that assertion?
You can judge for yourself below. We do know one thing – all of the schools have lots of big-time talent on their rosters. For example, here are the HS credentials of each of the four schools' #5 man at Pac-12s – Colorado's #5 ran 4:04/8:50 in HS, Stanford's ran a 8:53 3200, UCLA's ran 9:04 and Oregon's #5 ran 8:56 in HS and was the NXN champ.
| | | |
| --- | --- | --- |
| Colorado | Yr | HS Accolades |
| 3. Ben Saarel | Sr. | 4th FL, 4:02 mile, 8:45 3200 |
| 4. Zach Perrin | Jr. | 10th FL, 8:55 3200 |
| 6. John Dressel | So. | 3-time FL finalist, 2nd as a junior, 8:57 3200 |
| 9. Ryan Forsyth | So. | 9:09 3200 |
| 19. Joe Klekcer | R-Fr. | 4:04 mile, 8:50 3200 |
| 32. Reilly Friedman | R-Fr. | 4:21/9:21 |
| 42. Christian Martin | Jr. | 4:26/9:36 |
| 52. Ethan Gonzales | So. | 9:00 3200 |
| Stanford | Yr | HS Accolades |
| 2. Grant Fisher | So. | 2-time FL champ. 3:59/8:43 for mile/2mile. |
| 7. Sean McGorty | Sr. | 8:45 2-mile |
| 8. Thomas Ratcliffe | Fr. | 4:01.5 mile as part-time runner |
| 14. Garrett Sweatt | R-Sr. | 9:04 3200 |
| 16. Steven Fahy | Jr. | 8:53 3200 |
| 34. Alex Ostberg | So. | 9th FL, 8:43 3200 |
| 36. Blair Hurlock | Jr. | 8th FL, 8:58 3200 |
| 39. Jack Keelan | Sr. | 8:50 3200 |
| 47. Sam Wharton | Sr. | NXN champ, 6th FL, 8:56 3200 |
| UCLA | Yr | HS Accolades |
| 5. Ferdinand Erdman | Sr. | 3:45 1500 |
| 10. Jonah Diaz | Sr. | 6th NXN, 8:58 3200 |
| 11. Collin Burke | Fr. | 9:00 3200, 32nd FL |
| 12. Austin O'Neil | Sr. | 4:12 mi/9:20 3200 |
| 20. Daniel De La Torre | Jr. | 4:10/9:04 1600/3200 |
| 35. Garrett Reynolds | Fr. | 4:12 mile/8:58 3200 |
| 37. Jackson Marshall | So. | 4:18/9:21 1600/3200 |
| 44. Myles Smith | Jr. | 9:06 3200, 38th FL |
| 51. Millen Trujillo | Fr. | 4:11/9:13 1600/3200 |
| 55. Cole Smith | So. | 4:24/9:24 |
| Oregon | Yr | HS Accolades |
| 1. Edward Cheserek | Sr. | 8:39 2-mile, 2 FL titles. |
| 13. Travis Neuman | R-Jr. | 9:17 2-mile (8:36 3k) |
| 22. Levi Thomet | Fr | 15th FL, 8:48 2-mile |
| 28. Matthew Maton | So. | 3:59 mi, 8:58 2-mile (8:18 3k), 14:20 5k |
| 30. Tanner Anderson | So. | NXN champ, 8:56 3200 |
| 33. Sam Prakel | R-Jr. | 4:04 mile, 9:16 3200 |
| 43. Tim Gorman | Grad | Dartmouth times – 3:44/8:11 |
| 49. Austin Tamagno | Fr. | 5th FL, 1:50/4:01 mile,/8:54 3200 |
| 53. Jake Leingang | Sr. | 3rd FL, 4:05/8:51 3200/14:11 5k |
| 66. Bryan Fernandez | Jr. | 4:12/9:11 1600/3200 |
MB: Who squanders / develops the most talent? Colorado, Stanford, Oregon or UCLA?
MB: Is Mark Wetmore the greatest D1 NCAA XC coach of all time?? 
More: Pac-12 results *All NCAA XC Conference Results
*****
The Key Thing About The Rita Jeptoo Case That No One Is Talking About
Last week, marathon star Rita Jeptoo's drug ban for EPO was extended from two to four years (and she was also stripped of the 2014 Boston and Chicago Marathon titles which resulted in her losing the $500,000 WMM major title for 2013-14, which will go to Edna Kiplagat). Considering that the standard ban for drugs is now four years, we are pleased by the development. It did remind us how stupid the old drug laws were. A standard ban before 2015 was just two years but it could be extended to four years due to "aggravating circumstances." In this case, the Court of Arbitration for Sport (CAS) believed there were aggravating circumstances because it became convinced that Jeptoo was part of "a scheme or plan." In our mind, every EPO cheat in history has taken it as part of a scheme or plan. Unless you have a serious medical problem like cancer, you don't just end up with EPO in your system – you take it to get better at running. That's why we've always felt like EPO bans should result in a lifetime ban from the sport. There almost never is an innocent explanation for it being in your system.
Anyway, there is one key aspect of the CAS decision that no one is really talking about. One of the reasons why CAS found that Jeptoo took EPO as "part of a scheme or plan" was the fact that "she hid the visits to the doctor in question from her manager and coach."
Her agent and coach are two of the most prominent in the sport, Italians Claudio Berardelli (coach) and Federico Rosa (agent) and both were arrested this summer in Kenya for allegedly having a role in doping.
The CAS decision is certainly a boost to their claims of innocence. Remember, this summer Asbel Kiprop, Jemima Sumgong and many others rallied to their defense. This summer when we were asked about their arrest, we always responded with, "Let's let this play out. We're certainly aware that a 'blame the foreigners' mindset exists in Kenya."
More:  Rita Jeptoo's Doping Ban Is Extended To 4 Years; She'll Be 37 When Eligible To Return
*Abbott World Marathon Majors Awards Edna Kiplagat Series 2013-2014 Women's Title
****
A Tough Way To Run 2:25:27
At the Frankfurt Marathon, the early pace in both the men's (63:00 at halfway) and women's race (70:40) was hot. In the end, men's winner Mark Korir of Kenya held up pretty well, running 63:48 for his second half for a 2:06:48. However, women's winner Mamitu Daska of Ethiopia won in the most painful way possible – by barely holding on. She ran her second half in 74:47 as she won by 15 seconds in 2:25:27 over Germany's Fate Tola who went out in a much more modest 72:37.
Going out at a sustainable pace was key to two Americans finishing fourth in the race. Lindsay Flanagan was eighth at halfway after a 74:38 first half, but after running a 74:50 second half, she ended up fourth in 2:29:28. In the men's race, proper pacing was even more critical in Bobby Curtis finishing fourth.
Eleven men went out in the lead pack at 63:00-63:01. Curtis smartly avoided that and went out in the second pack in 64:58. He was just 16th at halfway (64:58) and while he faded a little over the second half (66:22 for 2:11:20), he ended up fourth as everyone else just totally cratered or DNF'd. It's worth noting that 12:50/26:49 man, Moses Masai, was in Curtis' group but only ended up running 2:13:23.
2:11:20 (which tied Curtis' pb) makes Curtis the second-fastest American marathoner in 2016 (behind only Olympic bronze medallist Galen Rupp) and 2:29:28 makes Flanagan America's fourth-fastest female (behind the three Olympians, Shalane Flanagan, Desi Linden and Amy Cragg). 2:11:20 also should book Curtis a ticket to the World Champs in the marathon next year which is what he wanted.
Should set me up well for World Champs selection (2/2) ?

— Bobby Curtis (@BobbbyCurtis) October 30, 2016
Since Curtis didn't break 2:10 in Frankfurt, 2016 will mark the second straight year that a single American male has failed to break 2:10:00 — unless it happens in New York on Sunday (only three Americans — Alberto Salazar, Ken Martin and Meb Keflezighi — have ever broken 2:10 in NYC). The US had at least one sub-2:10 every year from 2004 to 2014.
****
It's Ok To Make A Mistake – As Long You Own Up to It
At Slovenia's Ljubljana Marathon over the weekend, there was a bit of controversy. In the men's race, the leading trio of runners were on 2:07 pace when during the 40th kilometer they followed a police vehicle and TV truck on a turn that resulted them in running an extra 500 or 600 meters. The race ended up being 'won' by Laban Mutai, a runner in the chase pack that didn't make the wrong turn.
Thumbs up to race organizers for deciding to pay out full prize money including time and course record bonuses to the three that ran off-course. Race organizers estimate that the third man across the line, Levi Matebo Omari of Kenya (who ran extra distance) would have won with a time between 2:07:30-2:07:33 so they are going to pay him €20,000 for the win plus €3,000 more for a course record (which was 2:08:19) and €5,000 more for a sub-2:08.
More: Confusion at Ljubljana Marathon
****
A Trip Down Memory Lane
Last week on InsidetheGames.biz, Mike Rowbottom wrote a piece that we enjoyed on how 1996 Olympic 100m champ Donovan Bailey was and still is someone who always speaks his mind and produces a great quote like this one:
"I've always said that this race wasn't going to prove who was the fastest man in the world. What it was going to do was to shut Michael Johnson up."
That's what Bailey said in 1997 after his 150m match-race for $1,000,000 against 1996 Olympic 200/400 champ Michael Johnson. For those of you younger than 35, after the 1996 Olympics Johnson annoyed Bailey by calling himself the 'fastest man in the world' even though that title normally went to the 100m champ.
The two didn't like each other and they agreed to race over 150m for $1,000,000.
Here is how it ended up.
Johnson pulled up hurt in the race but Bailey says that's because Johnson knew he was going to lose, so he called him a 'faker and a chicken.' (Editor's note: It certainly looks like at that point Bailey was clearly ahead).
Track and field needs more rivalries like Johnson vs. Bailey. We think it's a shame Usain Bolt is only running the 100m at 2017 Worlds. We'd love to see Wayde van Niekerk race him in the 200m.
Bailey has some strong anti-doping comments that we totally agree with (wipe the WRs off the books from dopers) that you can read at the following link.
More: Mike Rowbottom: When it comes to speaking his mind on Michael Johnson or anti-doping, Donovan Bailey is no faker – and no chicken
****
Pete Kostelnick Actually Does What Robert Young Dreamed Of Doing
Earlier this year, Robert Young was exposed on the internet as a fraud when he tried to break the record for the fastest run across America. Last week, ultrarunner Pete Kostelnick broke the record by running across America – from San Francisco's City Hall to New York's City Hall, 3,067 miles in all — in 42 days, 6 hours, and 30 minutes. That comes out to be an average of 72.56 miles per day or 3.02 miles every single hour for 42 straight days.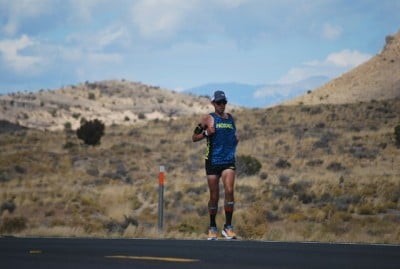 Very impressive.
It's kind of interesting to us that Kostelnick's run didn't garner more attention. It's been said the cover-up is worse than the crime. In running, it seems that the cheater got more publicity than the actual record holder.
More: Ultrarunner Pete Kostelnick Smashes Trans-American Record Averaging 72 Miles A Day For 6 Weeks Along the route Kostelnick battled snowstorms, 35 mph winds and having his support van totaled, but he managed to break the 36-year-old record by more than four days.
*****
Stat of The Week 
36.0 – percent of athletes at the Olympics when the Athletes Village opened up that hadn't been drug tested at all in 2016.
28.6 – percent of athletes at the Olympics that ended up being drug tested during the Games.
The figures come from a report put out by a group of independent observers that WADA had watching the drug testing in Rio.
More: MB: WADA's Independent Observers Blast Rio 2016 For Shoddy Anti-Doping Work The Brazilians weren't very organized and the anti-doping effort in Rio took a huge hit. There was no blood testing of any weightlifters. In terms of out-of-competition testing, they often hit less than 50% of their daily target. Zero footballers (soccer players) were tested out of competition. *Full Report Here
*WADA Insists Rio's Integrity Not Undermined By Revelation That Half Of Drug Tests Aborted Because Athletes Couldn't Be Found
*We 100% Agree Donovan Bailey: "I think for one you should press reset and get rid of all the records which were on the books if there has been a doping issue."
*****
Quote of the Week (that wasn't quote of the day)
"The removal of Mutko, the spider at the center of the doping web if WADA's reports are to be believed, has long been a silent demand if Russia wants to be reinstated ahead of its hosting of the World Cup in 2018 and that same year's Winter Olympics, according to inside sources.
"But while the recent staff reshuffles may suggest reform, the Kremlin 'is giving international sports authorities the middle finger,' says Yevgeny Slyusarenko, the deputy editor-in-chief of sports website Championat.com.
"Rather than risk appearing weak by caving in to international pressure, Putin has dealt with Mutko on his own terms, adds political analyst Konstantin Kalachyov. 'Instead of getting rid of someone, you give him a promotion,' he says.
"In the newly created position of deputy prime minister for sport, tourism and youth policy, Mutko will likely have more control, not less, over funds and sports infrastructure."
-excerpt from a Moscow Times article about how Russia's sports minister Vitaly Mutko was named deputy prime minister.
****
Recommended Reads
To read our favorite reads from previous weeks, go here.
****
Quotes Of The Day And Last Week's Home Pages
To see the actual quotes of the day from last week or last week's home page or any home page, go to our archive page.
Past editions of The Week That Was can be found here. Questions or comments? Please email us or post them in our running fan forum.