It's Official: Marathon Man Robert Young Exposed As A Complete Fraud After Independent Investigation
by LetsRun.com
October 1, 2016
Robert Young is an ultramarathon cheat.
Today Skins – the compression sportswear company that was the major sponsor of Young's attempt to break the world record for the fastest across the US run earlier this year – released the results of the independent report it commissioned on July 1 to see whether Young cheated during his record attempt, which ultimately was abandoned. The report says, "The evidence that we reviewed for this investigation indicates that Rob Young received unauthorized assistance in his attempt to run across the United States…most likely in the form of riding in or on a vehicle for large parts of the attempt."
As a result, Skins has ended its contract with Robert Young.
Article continues below player.
The 101-page report, which was written by Professors Roger Pielke, Jr. and Ross Tucker and can be read in its entirety at the bottom of this article, determined that Young cheated because they had access to the cadence data on the two TomTom watches that Robert Young used during his so-called record attempt and the data was often not consistent with someone actually running.
Questions about Young's run became an international story after Asher Delmott failed to see Robert Young running when he drove up and around Young's support team's RV in the middle of the night (early in the morning technically) in Kansas on June 5th. At that point in time, Young was on record pace and Delmott wanted to run a few miles with him but when he didn't see Young running he made a lengthy post on the LetsRun.com messageboard that he said was his "account of realizing this guy is faking it."
The messageboard thread started by Delmott – Robert Young fakes run across America – which included a link to videos of Delmott repeatedly failing to see Young running near the RV, soon became the fastest growing thread in LetsRun.com history. In less than two weeks, more than 7,000 posts were made on the thread, which now has more than 10,000 posts. During LetsRun.com's 16 years of existence, there have been many running frauds exposed on the messageboard in the past – with Kip Litton and Mike Rossi being the most famous – but never before had it been done live as the race was taking place. Young's record attempt was still going on as holes in his story were being uncovered and the internet sleuths didn't want to let him get away with it.
Time Per 1000 Posts
Post #
Time Elapsed
1000
3 days, 2 hrs, 48 minutes
2000
1 day, 22 hours, 57 minutes
3000
1 day, 5 hours, 42 minutes
4000
1 days, 15 hours, 41 minutes
5000
1 day,  12 hours, 31 minutes
6000
1 day, 3 hours, 49 minutes
7000
2 days, 19 hours, 14 minutes
8000
3 days, 16 hours, 36 minutes
9000
10 days, 3 hours, 55 minutes
10000
85 days,  20 hours, 37 minutes
Nor did a group of ultrarunners. Before Delmott had even started his messageboard thread, a group of ultrarunners had already become interested in Young's record attempt. After Delmott's post, a group of them calling themselves the "Geezers" led by Barkley Marathons race founder Gary Cantrell started to observe Young in person as he ran.
Unsurprisingly, after Delmott's post, and now under intense scrutiny and the direct observation of Cantrell and his crew, Young's pace dropped precipitously. Soon, he abandoned his record attempt, citing injury. However, Young still maintained his innocence and claimed he ran on record pace from California to Kansas.
Thanks to Skins stepping up and paying for the report by Tucker and Pielke, there is no doubt Young cheated as the TomTom cadence data is conclusive. TomTom watches record cadence and the cadence data reveals that Robert Young's cadence data did not match that of someone who was running.
The opening paragraph of the report:
The bottom line: The evidence that we reviewed for this investigation indicates that Rob Young received unauthorized assistance in his attempt to run across the United States.  We have identified no alternative plausible explanation for the data-of-record other than assistance, most likely in the form of riding in or on a vehicle for large parts of the attempt. 
As the report states:
It is clear that when Rob Young was running faster than 9 min/mile (64 sessions in total), there were a number of sessions with an implausibly low cadence. These sessions ranged in distance from 1.02 miles to 31.98 miles, and in pace from 4:56/mile to 8:51/mile. Of these 64 sessions:
39 had a cadence lower than 20 steps/min
18 had a cadence between 20 steps/min a 40 steps/min
Only three had a cadence greater than 90 steps/min !
Here are two graphs showing you the cadence of all of Robert Young's sub-9 minute/mile pace runs and what the corresponding cadence and stride length would have to be for those runs.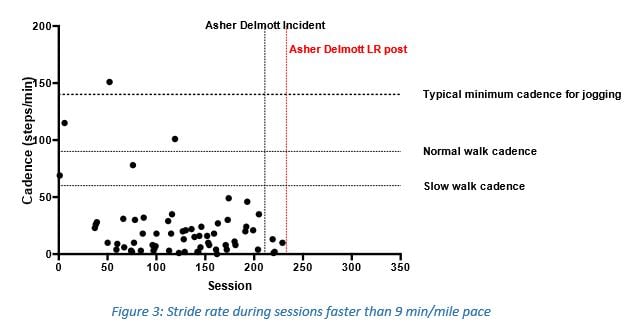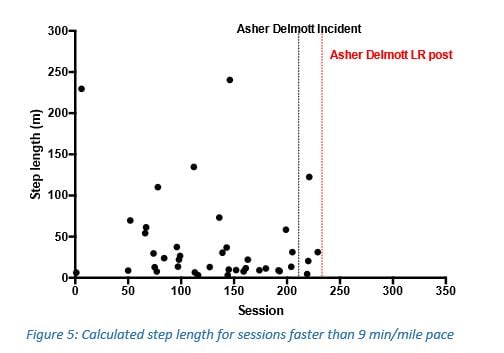 Here is a graph of his stride length for all 'runs' over 3 miles in length.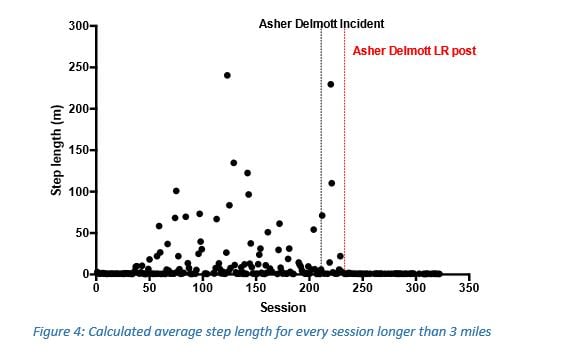 After Asher Delmott posted on LetsRun.com, the report states Young never recorded another sub-9 minute/mile pace session and his stride length became more consistent with someone actually running.
Based on his cadence, the report makes it clear that Young had to be traveling via vehicle regularly on his sub-9 minute pace 'runs', as otherwise, he'd have to be taking steps that are impossibly long for a human – often more than 50 meters long. Even a super elite runner like Kenenisa Bekele rarely breaks 2 meters on his stride length when he's racing a 10,000. Generally, the faster a human is moving, the more steps per minute they are taking. The report indicates that normal cadence for a walk is about 90 per minute, and for jogging it's about 140 per minute. A human being can't run anywhere close to 9-minute miles by taking 40 steps per minute. Basic math reveals their stride length would be impossibly long. At 9:00 mile pace, if one was running 40 steps per minute (360 steps per mile), it would mean that each step/stride was 4.47 meters (14.7 feet) long!
The report also made it clear that Young's night-time data, when it's easiest to cheat as fewer people are likely to see you, is particularly damning.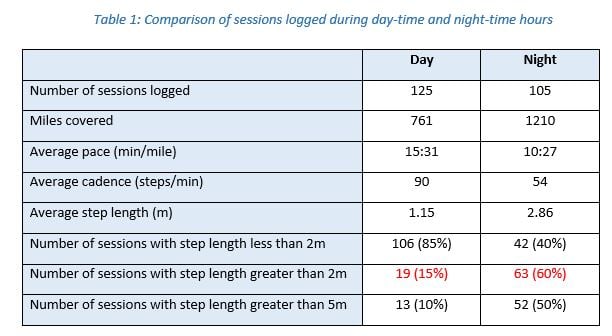 Look at that table closely. On 50% of Young's night runs, the watches recorded a cadence length of more than 5 meters long (16.4 feet). As a result, the authors stated, "We conclude that during at least more than half of his night runs, the watch covered all or part of the logged sessions in or on the vehicle."
Based on the cadence data, the evidence is overwhelming Robert Young regularly cheated on his record attempt. The only possible defense for Young would be that he failed to run with the watches, but he and a support staffer both denied that to the investigators, or that the watches were faulty. The investigators state they know the watches are working properly because "their measurement of cadence and related parameters clearly differs from day to night and is not consistently or uniformly wrong" and "after the LetsRun post, we observe the almost complete disappearance of infeasible and unrealistic cadence and step length data."
After Delmott started his messageboard thread and Young started to be observed by Cantrell and his cohorts, his cadence data suddenly turned into something you'd expect for an ultramarathoner (and his average pace slowed as well).
You can read the whole report at the bottom of this article. There is lots of other information including talk about deleted data and a highly questionable run that supposedly took place after the RV broke down in the desert.
The authors don't delve into whether or not they think parts of Robert Young's backstory are also suspect as they said they weren't hired to do that and they wanted to only deal with facts and not speculate.
However, we certainly find his entire backstory to be suspect. In his book Running Man, Young claims he started out as a runner by running three marathons in a 30-hour period that included less than four hours' sleep, getting FASTER on each one – 4:07, 3:28, 3:19. The idea that an untrained runner could do that is preposterous to us.
Want to know more about the Robert Young fraud? Go to the incredible website dedicated to this scandal: http://ryinvestigation.blogspot.com. Ryinvestigation.blogspot.com summarized a lot of the data suggesting Robert Young was cheating, and it did it without the TomTom cadence data.
Talk about the Robert Young scandal here on our 10,000+ post messageboard thread: MB: Robert Young fakes run across America.
The full report appears below.