By LetsRun.com
August 11, 2016
For 10 days every four years, the rest of the world tunes in to watch our favorite sport — track & field. That 10-day critical period is upon once again as the 2016 Summer Olympics kick off in Rio. As you might imagine, we here at LetsRun.com, the home of track & field on the internet, are pretty excited. Hopefully you are too!
Normally for big events like the Olympics, we'll put together in-depth previews of all the distance races. We're doing that again this year for the diehards, but we recognize that not everyone watching the Olympics has time to study up on all the events and major storylines in every event. That's who this article is for — the casual fan. Anyone can watch the Olympics and be amazed by Usain Bolt, but if you want to get the full viewing experience, you need to know what's going on.
What are the major storylines? Who will everyone be talking about once the Games are over? We can't tell you for sure — that's the beauty of live sports — but following the track & field on a day-to-day basis has given us a pretty good idea.
We hope that after reading our guide, you'll appreciate what you're watching from Rio a little more. And who knows? This might be step one of you becoming a full-blown track and field fan!
Article continues below player
If you already are a die-hard, then we encourage you to share this link with your non-diehard friends so they can better enjoy the Olympics and maybe become fans themselves. Share it with your co-worker, spouse, friend or neighbor who thinks you are a little weird for being obsessed with track and field.
This article is just a broad overview for the entire track and field action but come back later as each day we'll do a daily preview so you can understand what you are watching on tv.
Have you signed up for our free contest? Do so now: LRC Fantasy Track And Field At Its Finest: The $200,016 LRC Running Warehouse Rio Track And Field Prediction Contest Is Here!. Free and so simple that a non-track fan could win it.
Our Day 1 Preview is Here: The Friends and Family Guide to Day 1 of Track & Field at the 2016 Summer Olympics
The 3 Biggest Stories of the Games
1. Usain Bolt's final Olympics
Even if you know nothing about track & field, you still know who Usain Bolt is – the fastest man in the world. He's also  the greatest sprinter of all time, and it's not particularly close. When he set his world records in the 100 and 200 meters in 2009, Bolt redefined what was possible for a sprinter; it was akin to Babe Ruth taking the career home run record from 138 to 714. Four years ago, he became the first man to win the 100, 200 and 4×100 relay at consecutive Olympics, and if he pulls off the "Triple-Triple" this year, he will have a strong case for greatest Olympian of all time — in any sport. Bolt and Jamaica will be favored in all three races, so make sure you watch them as he's already announced this will be his final Olympics. However, he's not a certain lock for gold as he's not the world leader in either the 100 or 200.
2. Russian doping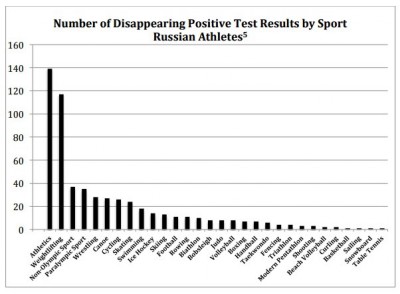 As you may have heard, Russia is at the center of one of the biggest drug scandals in sporting history. Investigations by the World Anti-Doping Agency revealed a state-sponsored doping regime that included stuff straight out of a spy novel. At the 2014 Winter Olympics in Sochi, members of the Russian intelligence service swapped out dirty urine samples for clean ones at the dead of night through a hole in the wall of the anti-doping lab. To speed up absorption and shorten the detection window, athletes drank literal steroid cocktails laced with whiskey (men) and vermouth (women). The doping epidemic infected every sport, but none more than track & field (the bar on the far left in the graph to the right). As a result, the entire Russian track & field team has been banned from the Olympics, with the exception of long jumper/model Darya Klishina, who has been cleared to compete since she trains in Florida and is drug tested independently there.
3. Caster Semenya and hyperandrogenism
Semenya, a South African 800-meter runner, through no fault of her own, is going to be one of the most controversial figures at the Games. The 25-year-old is the heavy favorite to win the women's 800 meters, has dominated that event all year long, clocking ridiculous times in the process. The problem is that Semenya has a condition known as hyperandrogenism that causes her body to produce far more testosterone than the average female.
What's the big deal you say, all elite athletes are genetic freaks of nature? Yes, Shaquille O'Neal is very tall and Michael Phelps has really long arms, but this is different. Hyperandrogenism is a word you don't encounter every day so let us make what seems like a complex issue simple: Do you think a woman who has internal testes (as does Semenya), should be allowed compete in the women's division in sports without lowering her testosterone levels? Do you think a transgender woman (like Caitlyn Jenner) with external testes should be able to compete as a woman without lowering her testosterone levels?
We do not.
Semenya came onto the scene out of nowhere in 2009 and was utterly dominant during her first year on the circuit as she crushed everyone at the World Championships. Her dominance, coupled with her masculine appearance and deep voice (listen to this interview we did with her in 2009) led to a slew of questions and tests. The situation wasn't handled well and became public in the wake of a leak. Eventually, the IAAF (track & field's international governing body) issued hyperandrogenism guidelines in 2011, which required hyperandrogenic females to keep their testosterone below 10 nmol/L if they wanted to compete as women on the circuit, either by undergoing surgery or taking medication. That's still a generous limit given the normal female range is 0.1 – 2.8 nmol/L. 10 nmol/L is in the low-to-average range for men; it's more than three times higher than the 3.08 nmol/L that 99% of women are below. It was a fair, workable solution.
However, last year, hyperandrogenic sprinter Dutee Chand of India challenged the ruling in the Court of Arbitration for Sport (CAS) and won. The court said there are no scientific studies proving that a woman with hyperandrogenism benefits from all of the extra testosterone that is produced by her internal testes and suspended the IAAF guidelines for two years. When that happened, we predicted that without treatment Semenya, who has been a middling runner in recent years, would instantly become the gold-medal favorite and we were proven to be correct. Semenya has returned better than ever, running absurd times even while clearly holding herself back during races. It's suspected that there may be other hyperandrogenic women competing in the 800 as well, but given the nature of the condition, it's impossible to confirm without access to confidential medical data.
Semenya's story could explode in Rio. Once she wins in Rio — and quite possibly breaks the world record — everyone will know Semenya's name. Brace yourself. This could get messy.
Some feminists will argue that Semenya's human rights are being violated if she has to take treatment. Our response to that argument is that there is no human right to compete in the Olympics. All Olympic athletes have to give up rights to compete in sport. For example, all athletes must must make themselves available during a 60-minute window each and every day between 5 a.m. and 11 p.m. for drug testing and all athletes must allow their private parts to be observed by a stranger (yes, they must watch your private parts during the test to confirm you aren't using fake urine) as part of the actual drug testing process.
The 3 Biggest Track Stars (Not Counting Bolt)
1. Ashton Eaton, USA, decathlon
The fact that Eaton isn't a bigger star already is evidence of just how far track & field has fallen. For much of the 20th century, America churned out Olympic champions in the grueling 10-event discipline: men like Rafter Johnson, Bill Toomey and Bruce Jenner, all of whom earned some degree of recognition outside of the track & field bubble. But track & field has become increasingly insulated, and Eaton's fame pales in comparison to his peers in other individual sports, such as Novak Djokovic and Rory McIlroy. That's a bad sign for track, because if you were to create the ideal crossover star in a lab, he'd look a lot like Eaton. This is what he has going for him:
He's the greatest decathlete of all time. He's the reigning Olympic champ, the two-time defending world champ and has broken the world record twice. Heck, two years ago, he took up the 400 hurdles — an event that isn't even run in the decathlon — and was ranked in the top 10 in the world. If the Olympic decathlon champion is "The World's Greatest Athlete," then you could make the case for Eaton as the greatest athlete of all time. At the very least, he's among the most athletic human beings who ever lived.
He's handsome and married to a beautiful wife in Brianne Theisen-Eaton — who just so happens to be a world champion herself and a medal favorite in the women's heptathlon.
He has a squeaky clean record. He's never said or done anything controversial, has never been linked to performance-enhancing drugs and always has a big smile in front of the camera. Everybody in track & field loves Ashton Eaton.
While all of that has not led to Bolt-like levels of fame, he will still be one of the faces of NBC's Olympic coverage.
2. Allyson Felix, USA, 400 meters/4×400 relay
A phenom since high school (she medalled in the 200 at age 18 in 2004), Felix has won four Olympic golds and two Olympic silvers in her decorated career and will be favored to add two more medals in the 400 and 4×400 relay in Rio (she could get a third if she's selected as part of the U.S.'s 4×100 relay squad). Earlier this year, the IAAF changed the schedule for Felix to attempt the 200-400 double — something achieved by just three athletes, male of female — but that plan went awry after Felix developed an ankle injury and finished fourth in the 200 at the U.S. Trials, leaving her off the team in the shorter event. Still, the telegenic Felix will command attention whenever she races in Rio.
3. Mo Farah, Great Britain, 5,000/10,000 meters
Farah pulled off the 5,000-10,000 double in his hometown of London four years ago and since then he's won everything in sight, repeating the feat at the World Championships in 2013 and 2015. His name has started to pop up in "Greatest Ever" conversations and while his critics point to his lack of world records and truly fast times, he is building a case as the greatest championship racer of all time. In Rio, he'll attempt to join Finland's Lasse Viren as the only men to win the 5,000/10,000 double at consecutive Olympics.
The 5 Athletes You Should Know More About
1. Eliud Kipchoge, Kenya, marathon
With a win, Kipchoge will cement his status as the greatest marathoner of all time (and many would argue he already deserves that title). At April's London Marathon — the most competitive marathon on Earth — Kipchoge smashed the course record and came just eight seconds short of the world record, clocking 2:03:05. He's won six of his seven career marathons (in his only defeat, the winner broke the world record) with an average time of 2:04:21 (4:44/mile or 14:44 per 5k). In the history of the world, only eight other men have even run 2:04:21 once. He also managed to win last year's Berlin Marathon with his insoles falling out, which we still don't fully understand how that was possible.
2. Joe Kovacs, USA, shot put
Kovacs has had the world's longest throw in the shot put in each of the past three years and is the defending world champion. His personal best, set last year, is 74 feet (22.56 meters), which ranks him eighth all-time, though many of the men ahead of him on the list were either suspected or convicted dopers. How far is 74 feet? Well, it's the equivalent of throwing something that weighs as much as a bowling ball almost the length of a tennis court.
3. Caterine Ibarguen, Colombia, triple jump
Ibarguen earned the silver medal in London four years ago. Since then, she's won 36 of her 37 triple jump competitions, including the last two world titles. She's clearly the most dominant triple jumper of her era, but the pressure on her in the first Olympics to be held in South America will be intense: at 32 years old, this could well be her final Olympics. Can she avoid the fate of the '16 Golden State Warriors and '07 New England Patriots and win the big one?
4. Wayde van Niekerk, South Africa, 400 meters
The 400 – one lap around the track –  is a brutal event — 44 seconds of all-out sprinting — and no one pushes it to the limit more than van Niekerk, who throws up after almost every race. Last year, he ran 43.48 to win the World Championships in Beijing, becoming the fourth-fastest man in history. After the race, van Niekerk collapsed to the track and eventually had to be stretchered off and taken to the hospital for exhaustion. We can only imagine what will happen if he somehow manages to take down Michael Johnson's legendary 43.18 world record.
5. Julius Yego, Kenya, javelin
That's not a misprint. Yego, the 2015 world champion in the javelin, is indeed from Kenya, a nation previously known for its distance runners and little else. But that didn't stop the 5'9″ Yego from wanting to chuck the spear. He taught himself how to throw by watching YouTube and last year recorded a throw of over 304 feet (92.72 meters) to move to #3 all-time. For a cool look at Yego's story, check out the video below.
The 3 Most Exciting Events
1. Men's 100 (final August 14, 9:25 p.m. ET)
The men's 100 will always be #1 on this list. It's the simplest of all global sporting events — no rules, no keeping score, just get from the start to the finish as fast as possible. Nothing can compare to the anticipation, the hush that falls over a packed stadium and the explosion of the athletes, the crowd and thousands of flashbulbs once the gun goes off.
2. Men's 800 (final August 15, 9:25 p.m. ET)
The 800 is 100 seconds of pure action, the Kentucky Derby of track. It's a crossover distance, attracting all body types from jacked long sprinters to skinny middle-distance runners. As the shortest race not run completely in lanes, the track can get very crowded as eight men moving at a near-sprint all battle to occupy the same space, leading to contact, chaos, and the occasional fall. It's short enough to keep the attention of the casual fan, but long enough for strategy to come into play. And the Olympic final always delivers, from American Dave Wottle's ridiculous comeback in 1972 to David Rudisha's mesmerizing world record in 2012.
3. Women's 100 hurdles (final August 17, 9:55 p.m. ET)
If you want proof of the craziness of the women's 100 hurdles, look no further than the U.S.'s Keni Harrison. The 23-year-old American has six of the seven fastest times in the world this year and broke the world record on July 22 but won't be in Rio because she was only sixth at the U.S. Olympic Trials, her only loss on the year. The three women who beat her out for the Olympic spots — Brianna Rollins, Kristi Castlin and Nia Ali — will be favored to sweep the medals, but one mistake, one clipped hurdle, could be the difference between gold and no medal at all. At last year's World Championships, the U.S. also had the three fastest entrants but left Beijing empty-handed.
3 Potential Breakout Stars
1. Vashti Cunningham, USA, high jump
Cunningham is the World Indoor champion in the high jump. She's also an 18-year-old who graduated high school this spring and the daughter of former NFL superstar Randall Cunningham, who serves as her coach. Cunningham demonstrates a poise beyond her years, whether she's lining up a jump or talking to a gaggle of reporters in the mixed zone. A legitimate gold-medal threat, she'll have to overcome Chaunte Lowe, the mother of three who defeated Cunningham at the U.S. Trials, and European champ Ruth Beitia, who at 37 is over twice as old as Cunningham.
2. Trayvon Bromell, USA, 100/4×100-meter relay
With 34-year-old Justin Gatlin nearing the end of his career, the 21-year-old Bromell, the bronze medallist at Worlds last year, may inherit Bolt's title as fastest man alive when the big man retires next year. Physically, Bromell is the opposite of Bolt: his Olympic bio lists him at 5'8″, 156 pounds. But the talent is there: he's the fastest teenager in history (he ran the 100 in 9.97 seconds as an 18-year-old; he's now down to 9.84). And like Bolt, Bromell has already proven himself to be a clutch performer, winning a surprise World Indoor title over 60 meters in March and overcoming an Achilles injury to tie his personal best at the U.S. Olympic Trials in July.
3. Devon Allen, USA, 110 hurdles
If you're a college football fan, you may be familiar with Allen, who caught seven TD passes as an Oregon wide receiver in 2014 before blowing out his knee in that season's Rose Bowl. But Allen's true talent lies in the hurdles, where he exploded with a huge personal best of 13.03 seconds to win the Olympic Trials on July 9. Jamaica's Omar McLeod, who went to Arkansas, has been the man to beat this year, but Allen is just .05 off McLeod's best and has a shot at the gold in Rio. McLeod is 22, Allen 21, so their rivalry could define the event for years to come.
3 Most Entertaining Athletes
1. Usain Bolt, Jamaica, 100/200/4×100-meter relay
For obvious reasons.
2. Ezekiel Kemboi, Kenya, 3000-meter steeplechase
Kemboi, a two-time Olympic champ, is the greatest steeplechaser of all time — a running event just under two miles in length where competitors must hurdle 28 barriers, including seven water jumps. Kemboi doesn't just have a devastating kick over the final 200 meters, he has the best celebrations, often drifting to the outside lanes of the track (while he's still running the race) before launching into a dance routine. Check out his greatest hits:
3. Guowei Zhang, China, high jump
Like Kemboi, Zhang, the 2015 World Champs silver medallist, is known to punctuate successful clearances by strutting his moves on the high jump mat.
Honorable mention: Gianmarco Tamberi, Italy, high jump
Unfortunately, Tamberi, the World Indoor champ, won't be in Rio, which is a loss for fans of eccentric facial hair. He shaves just one half of his face before every competition, leading to some interesting looks.
Most Controversial Athletes
1. Caster Semenya, South Africa, 800 meters
See: "The 3 Biggest Stories of the Games."
2. Genzebe Dibaba, Ethiopia, 1500 meters
Last year, Dibaba lowered her personal best in the 1500 – the closest race the Olympics have to the mile (it's about 18-20 seconds shorter than a mile) – by more than 5 seconds to 3:50.07 to break the women's 1500-meter world record, a mark many viewed as unbreakable given that the previous record was held by what many assume was a doped-up Chinese athlete. Then in June, Spanish police raided the hotel where Dibaba's coach, Jama Aden (as well as Dibaba and many more of his athletes) were staying in Sabadell and llegedly found the performance-enhancing drug EPO and other doping supplies. Aden was arrested and questioned by police but no formal charges from either the police or doping authorities have come out since then. Aden recently did deny all accusations against him in an interview. As for Dibaba, she was hurt at the beginning of the outdoor season and has only raced twice, dropping out of her first race on June 30 and running 3:59 (a fast but not unbelievable time) in her second on July 9. She'll be in Rio, but if she wins a medal, it will be accompanied by a boatload of questions.
3. Darya Klishina, Russia, long jump
As the only Russian athlete competing in Rio, Klishina is bound to face a ton of additional scrutiny.
4. Justin Gatlin, USA, 100/200/4×100-meter relay
Gatlin has served two drug suspensions, and though the first was a cheap one (explained here) for ADHD medication in college, the second, in which he was banned four years for "testosterone or its precursor" was justified. Gatlin's coach (subsequently banned from the sport) claimed he was sabotaged by his massage therapist but Gatlin has never admitted to intentionally doping and never apologized for testing positive. Gatlin missed a long time — he didn't race at all from mid-2006 to mid-2010 — but has gradually improved every year since returning. Last year, at 33, an age where most sprinters are crumbling, Gatlin ran his fastest times ever and took silver at Worlds in the 100 and 200 behind Bolt. He enters Rio as the world leader in the 100 at 9.80 seconds (Bolt has run 9.88) and hasn't lost to anyone other than Bolt since 2013. Gatlin's attitude toward his past (he repeatedly fused to discuss his doping positive last year) and his ability to run fast well into his 30's turned him into a pariah last year; even newly-elected IAAF president Seb Coe was openly rooting for Bolt to beat him at Worlds, saying "the sport, for all sorts of reasons, needs Usain to come through in Beijing." This year, the criticism of Gatlin has been minimal, but if he upsets Bolt in Rio, the haters may return in force.