American Keni Harrison Rebounds From Not Making Olympic Team in Incredible Fashion, Breaks 28-Year-Old World Record In Women's 100 Hurdles
by LetsRun.com
July 22, 2016
Motivated by a shock sixth-place showing at the 2016 US Olympic Trials that cost her an Olympic bid, Keni Harrison rebounded from that Trials heartbreak in the most amazing fashion Friday night at the 2016 Müller Anniversary Games in London as the 23-year-old ran 12.20 to set a new world record, breaking the 28-year-old 12.21 record of Bulgaria's Yordanka Donkova.
Harrison's race at the Trials was the lone hiccup she's had during a brilliant season as she's now won all seven of her other 100 hurdles competitions, never running slower than 12.66 in any of them.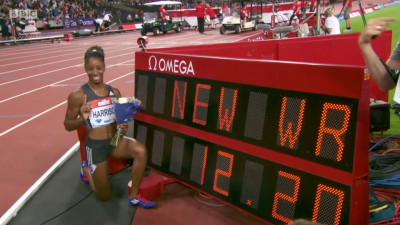 Harrison flashed her potential back in May at the Prefontaine Classic in running 12.24 to set the American record and after running 12.40 unchallenged in the heats on the fast track in London today, the record chase was on. She delivered with a terrific run, blowing away an Olympic-quality field.
Article continues below player.
Harrison got out to a terrific start before destroying the field over the final four hurdles. Initially, 12.58 flashed up on the screen as the time — but given the massive margin of victory and the quality of the field lined up against her, that couldn't possibly be right, could it? After a few seconds, the time was corrected, but Harrison didn't realize it right away. She had turned around and was heading back to congratulate her fellow competitors when the scoreboard was changed (12.58, rounded down to 12.57 was actually the time of the runner-up). It was only until fellow American Nia Ali pointed her attention to the scoreboard that Harrison noticed and broke down in tearful celebration.
Race video, results and analysis appear below.
The moment you are told the timers screwed up and you just set the world record. @KeniUSATF https://t.co/jAIM2zdHib pic.twitter.com/cOBf2LegqN

— LetsRun.com (@letsrundotcom) July 22, 2016
Race video
https://www.youtube.com/watch?time_continue=1&v=B8anuMyJU2k
Results
100 Metres Hurdles - Women Final                              Wind: +0.3 m/s
                                                            Pts
    1 Harrison , Kendra                USA      12.20         10  +0  WR
    2 Rollins , Brianna                USA      12.57          6        
    3 Castlin , Kristi                 USA      12.59          4        
    4 Ali , Nia                        USA      12.63          3        
    5 Talay , Alina                    BLR      12.66          2        
    6 Porter , Tiffany                 GBR      12.70          1        
    7 Zagre , Anne                     BEL      12.94                   
    8 Ennis-Hill , Jessica             GBR      13.04                   
      Stowers , Jasmin                 USA        DNF
100 Metres Hurdles - Women Heats Race 1                       Wind: +0.3 m/s

    1 Ali , Nia                        USA      12.69                   
    2 Rollins , Brianna                USA      12.74                   
    3 Ennis-Hill , Jessica             GBR      12.76                   
    4 Zagre , Anne                     BEL      12.78                   
    5 Porter , Tiffany                 GBR      12.82
    6 Roleder , Cindy                  GER      12.88
    7 George , Phylicia                CAN      13.17
    8 Hildebrand , Nadine              GER      15.78

100 Metres Hurdles - Women Heats Race 2                       Wind: +0.2 m/s

    1 Harrison , Kendra                USA      12.40                 WR
    2 Stowers , Jasmin                 USA      12.58                   
    3 Castlin , Kristi                 USA      12.67                   
    4 Talay , Alina                    BLR      12.74                   
    5 Ofili , Cindy                    GBR      12.95
    6 Harper Nelson , Dawn             USA      12.96
    7 Coward , Jacqueline              USA      12.98
    8 Clay , Raven                     USA      13.00
Quick Take #1: The BBC's Rob Walker Summed Up Harrison's Race Perfectly
Post-race, an emotional Harrison was interviewed on the BBC broadcast by Rob Walker. He did an excellent job with the interview and we give you some of Harrison's quotes below. But Walker summed up Harrison's performance with the following statement near the end of the interview:

"You've broken a 28-year-old world record. It's just the most amazing way for you to bounce back from heartache. You're not in Rio but you've proven tonight that you are a great, great champion."
Walker started the interview by noticing Harrison was clearly in a very emotional state. "You have taken our breath away with that performance – just a phenomenal, phenomenal run. We can see the emotion in your eyes," said Walker.

"Yeah, you know not making the Olympic team. I was just really upset and I wanted to come out here and do what I know I could have done. My coach has been behind me this whole time and I'd like to thank God that I'm healthy. I was coming out here with just a vengeance to show these girls what I have," said Harrison, who appeared to be on the verge of tears throughout the interview.
Harrison added that her fast run in the heats gave her the confidence she needed.
"You know after running 12.4 (in the prelims) it got my confidence back. You had one bad day [at the Trials] but I still knew I had it in me and I just put all my faith in God and just ran as hard as I could today.
"I'm just at a loss for words right now. I just trained hard for this moment. Good luck to the girls running in Rio. I'm just shocked right now."
In the mixed zone, Harrison told RunBlogRun, "Not making the Olympic team I told myself 'go after that world record.' That's the only thing that kept me going and training harder … I still feel like I have a lot left in me, I still have three races left so I['m] definitely going to be trying to break that again."
Quick Take #2: How big of an aberration was Harrison's Trials result?
Harrison has six of the seven fastest times in the world this year (Brianna Rollins' 12.34 to win the Trials is #3), set the American record in May and just broke the world record in her first post-Trials meet. As we noted at the time, Harrison's 12.62 at the Trials was her second-slowest mark of the year (only her 12.66 in horrible conditions in Stockholm was slower) and it went down as her only defeat of the year in a final (she was also second in her prelim at the Trials). If Harrison competed in any other country on Earth, 12.62 would be enough to get you on the team. But with the depth in the United States (the top 7 women and top 24 times this year are American), even the fastest hurdler of all time has to bring her A game at the Trials to make the team.
Quick Take 3: Which Would You Rather Have – Olympic Gold Or The World Record?
On the BBC broadcast, Michael Johnson certainly made the case that the world record is more special.
"The thing is I said to Denise (Lewis) right before that race, I said, "She's out here to break a world record to make up for that (the Trials).
There are two things that every track and field athlete wants. You want an Olympic gold medal and you want a world record. She's already got one and she's still at the very beginning of her career. She has so much ahead of her. Will that make up for it? Absolutely. World records are special. That record stood for 28 years. Someone is going to be Olympic champion (next month) and someone is going to be Olympic champion in 2020. That record could stand for another 28 years and that is one of the things in terms of your resume that you want at the top – world record holder. And now Keni Harrison can she's the world record holder."
Quick Take #4: Stuart Storey was happy to see Donkova's record go down
Donkova didn't fail a drug test, but many of the world records set by Eastern Europeans in the 1980s are very suspicious and Donkova's is no exception. Of course, there's no way to prove that Harrison is clean, but the track world will sleep better tonight with the record in Harrison's name.
Talk about Harrison's amazing run on our world famous fan forum / messageboard: MB: 12.20 World Record for Keni Harrison!!!!!!!!
More Friday London Coverage: Usain Bolt Wins and Shows He's Healthy, Brandon McBride Comes Close, Silas Kiplagat Is Still Really Good and Is Shaunae Miller, Not Allyson Felix, The Favorite in The 400? Day 1 of the London Anniversary Games was full of quality.
Move over Kelly Holmes- Laura Muir is the New British Record Holder at 1500m
Full Results: 2016 London Anniversary Games Track and Field Results