Nick Symmonds Is Back, Wins 6th U.S. Title As Erik Sowinski And Cas Loxsom Punch Their Tickets To Beijing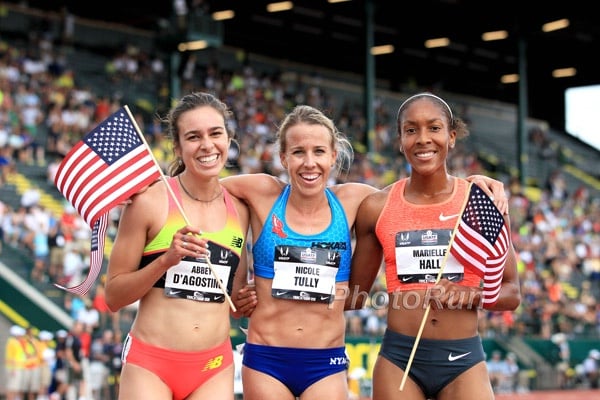 June 25, 2015 to June 28, 2015
by LetsRun.com
June 28, 2015
EUGENE, Ore. — American Nick Symmonds came into the 2015 USATF Outdoor Championships tied for 15th on the 2015 US list of fastest 800 meter runners but he left as a six-time champion as he came from behind in vintage Symmonds fashion to win in 1:44.53. Erik Sowinski (1:44.84) and Cas Loxsom (1:45.35) earned their first bids to outdoor Worlds in second and third.
Reigning U.S. champ Duane Solomon, who had won the last two US 800 titles, delivered on his promise to take this one to the "Twlight Zone" as he hit 600 just off of world record pace (1:16.34, which is 1:41.78 pace) after going through 400 in 49.76. After the semifinals, Solomon had explained his logic for wanting to be aggressive in the final when he said, "It's just a way you can break the field. If they try and go with me they are going to break down…If I tie up at that pace I'm not going to tie up a lot. I've done a 700 going world record pace, not tying up at all."
Article continues below player
Solomon's effort was brave but in the end was the one that tied up – and tied up a lot. He came to a complete stop 20 or 30 meters from the finish, went down to his knees before eventually getting up and finishing in last in 3:08.74.
The Race (race video here)
Loxsom (50.00/1:16.71) and Sowinski (50.28/1:16.93) were the only ones to go with Solomon's hot pace. At 400, they were the only one within three-quarters of a second of Solomon and 600 the only ones within a second of him (Symmonds was 4th some 1.16 seconds back), but the pace proved to be too hot for all three of them. Solomon couldn't make it to the finish line without stopping and Loxsom barely found enough to hold off 4th-placer Clayton Murphy of Akron (1:45.39). Sowinski held on pretty well as his final 200 of 27.92 was third-best in the field.
It's often been said that the 800 is won by the man who slows down the least and that was true this afternoon.
Symmonds' 200 splits were 25.22 – 26.06 – 26.24 and 27.03. Results after quick takes.
Quick Take #1: Never Doubt Nick Symmonds: "I hate running from behind. I hate being a sit and kicker, but you've got to play the cards you're dealt"
There were a ton of doubts surrounding Nick Symmonds entering the championships. He missed most of last year. As a result he had never had great success with his new coach, Danny Mackey. His best 800 the last two years was 1:46.37.
None of that matters any more. Nick Symmonds is your 2015 USA Champion, as he won the USA crown for the 6th time.
After the prelims, Symmonds said, "The veterans, the guys like Duane and I, who are pretty much in this to win medals, we have to make the team on our 'B' game. I was able to do that in my 20s. I don't know if I can do that at 31."
Post-race today, Symmonds said he even contemplated retirement last year when he was injured, as he wasn't sure he still could be the best, but Brooks stood behind him and encouraged him to keep going.
Now he heads towards Worlds on the definite upswing. He tied his sb with a 1:46.37 in the first round, then ran 1:45.95 in the semis and 1:44.53 in the final.
As for the race, Nick said, "all morning I was saying prepare yourself for the fight, you've got to prepare yourself for the action," knowing that Duane Solomon was going to take it out quick in the "Twilight Zone." 150 meters into the race, Symmonds was five meters behind the field and said he thought, " "You're not doing that (being prepared)" and he had to "start moving."
The rest of the race was executed very well as Symmonds ran a two-second positive split, going 51-53. Symmonds said most of the top 800s are run with a two-second positive split and he knew coming in he could do 51-53. He said he wasn't sure it would be good enough to win, but thought it would get him on the team.
Symmonds acknowledged it was easier for him to go from last to first because Solomon took it out so hard, so he wasn't having to pass people in lane 3.
Symmonds was perfectly positioned for the final 100m. He said, "My favorite moments in track and field are when you are 110 yards out and know you have it in your legs."
The rest was history as Symmonds got by Erik Sowinski for the win and then Symmonds said he had to decide what to do to celebrate. He stuck his tongue out and then flexed for the Hayward Field faithful, showing off his Run Gum tattoos on his biceps.
As for his come from behind tactics, Symmonds said he does what he has to to win. "I hate running from behind. I hate being a sit and kicker, but you've got to play the cards you're dealt," saying he has 48-second quarter speed while some of the others have 45.
QT #2: It's Hard Not to Feel for Duane Solomon
Duane Solomon literally ran himself into the ground. He promised to go out at WR pace through 600 and while he didn't do that he did go through in 1:16. Solomon paid the price the final 100m. He gave up the lead with 100m to go and soon the entire field was about to by him and Solomon was on all fours on the track unable to run anymore. He was totally spent.
Solomon said he "made a really hard move" from 500m to 600m and felt that. From 600 to 700 he said his mechanics started to falter and the final 100m he said he "felt like I was blacking out."
It was similar to what happened to Solomon in Monaco last year, when he stepped off with 100 to go.
Solomon made no excuses and tipped his hat to the guys who finished in the top three. "The guys who made the team deserve to be on it." Solomon added, "I just need more races. Two races isn't enough. I was hoping making the team would buy me some time to get ready for Beijing."
In retrospect he said if he had gone out in 50 and 1:17 he could have made the team, but that was not the plan. He executed the plan laid out for him except for the final 100m.
QT #3: A Huge Day for the Brooks Beasts
The Brooks Beasts have had some success, but until today they had no one on a Worlds team. It's hard to be considered a top group without anyone going to the World Championships. That all changed with the men's 800 where Nick Symmonds got the win and Cas Loxsom hung on for his first Worlds team. Two World Championship team members and the champion of the 800 definitely served as some big-time validation for the Beasts.
Loxsom was glad to make the World Championship team. In the semis, he had kept running hard to the line get under 1:45 for the first time, and was glad that did not backfire on him here today.
QT #4: Erik Sowinski Makes Team USA
Erik Sowinski had never made a Worlds team either and that all changed today. He said, "I'm excited. All the work paid off. Second place, can't be so upset with that."
Quick Take #5: Forget Boris Berian. Clayton Murphy Has Gone From 1:50 to 4th at USAs in Six Months
Murphy, a 20-year-old true sophomore at Akron, was more of a 1500/5k guy as a freshman and entered 2015 with a PR of 1:50.03. He decided to focus on the 800 this year and the results have been phenomenal as he has PR'd seven times, including all three rounds at USAs. He finished a surprising third at NCAA indoors in 1:47.06 and followed that up with another third at NCAA outdoors.
1:47.06 was still his PR entering USAs, but he was confident he could go faster in the right race (NCAAs was slow and he only ran 1:49.52) and that's exactly what happened as he ran 1:46.35 in the first round, 1:45.78 in the semis and 1:45.59 in the final today. He was just .24 of a second away from making the team to Beijing.
We didn't ask Murphy specifically about professional plans, but he seems fully intent on returning to Akron and running cross country for the Zips in the fall (he's got great range as he was fourth at the MAC Championships and ran 30:43 for 10k to take 23rd at the Great Lakes Regional last year).
After NCAAs, Murphy said his plan was to step up to the 1500 in 2016 but he's still planning on talking to his coach before finalizing that decision.
OTB: Duane Solomon: 3:08
*Duane Solomon Going to Take 800m Final to Place only Nick Symmonds Can Go, Plans On Being at WR Pace at 600
Results
| Place | Name | Affiliation | Time | | 200m | 400m | 600m | 800m |
| --- | --- | --- | --- | --- | --- | --- | --- | --- |
| 1 | Nicholas Symmonds | BROOKS Beasts | 1:44.53 | | 25.22 [25.22] | 51.27 [26.05] | 1:17.50 [26.24] | 1:44.53 [27.03] |
| 2 | Erik Sowinski | NIKE | 1:44.84 | | 24.56 [24.56] | 50.28 [25.73] | 1:16.93 [26.65] | 1:44.84 [27.92] |
| 3 | Casimir Loxsom | Brooks | 1:45.35 | | 24.33 [24.33] | 50.00 [25.68] | 1:16.71 [26.72] | 1:45.35 [28.64] |
| 4 | Clayton Murphy | Akron | 1:45.59 | | 24.70 [24.70] | 50.84 [26.14] | 1:18.31 [27.48] | 1:45.59 [27.28] |
| 5 | Ryan Martin | ASICS | 1:46.04 | | 24.47 [24.47] | 50.60 [26.13] | 1:17.80 [27.21] | 1:46.04 [28.24] |
| 6 | Shaquille Walker | B Y U | 1:46.60 | | 24.77 [24.77] | 50.96 [26.19] | 1:18.10 [27.14] | 1:46.60 [28.51] |
| 7 | Michael Rutt | Hoka / N J N Y | 1:48.75 | | 24.85 [24.85] | 51.12 [26.28] | 1:18.40 [27.29] | 1:48.75 [30.35] |
| 8 | Duane Solomon Jr | Saucony | 3:08.74 | | 24.01 [24.01] | 49.76 [25.75] | 1:16.34 [26.59] | 3:08.74 [1:52.40] |
| Split | Intermediate Leader | Time | Fastest Split | Time |
| --- | --- | --- | --- | --- |
| 200m | Duane Solomon Jr | 0:24.01 | Duane Solomon Jr | 0:24.01 |
| 400m | Duane Solomon Jr | 0:49.76 | Casimir Loxsom | 0:25.68 |
| 600m | Duane Solomon Jr | 1:16.34 | Nicholas Symmonds | 0:26.24 |
| 800m | Nicholas Symmonds | 1:44.53 | Nicholas Symmonds | 0:27.03 |
Screenshots from the final 200 from NBC Broadcast